Justin Sutherland grew up in the suburbs of Minneapolis, but his culinary education as a child stretched around the world. Sutherland's culturally rich upbringing centered around his grandparents, who have roots in Japan, Mississippi and Norway. "I have a lot of different points to reflect back on from my childhood. Having these meals where we'd have collard greens, sushi and lefse all at the same dinner," he reflects.
Sutherland was drawn to the kitchen at a young age. When spending time with his Japanese grandmother, Masako Blagsuedt, he would ask to visit her vegetable garden to see what he could dig up. His favorite discoveries included tomatoes, cucumbers and green beans. He'd then head into the kitchen, where he would chop up his harvest, an experience that inspired him to become a chef.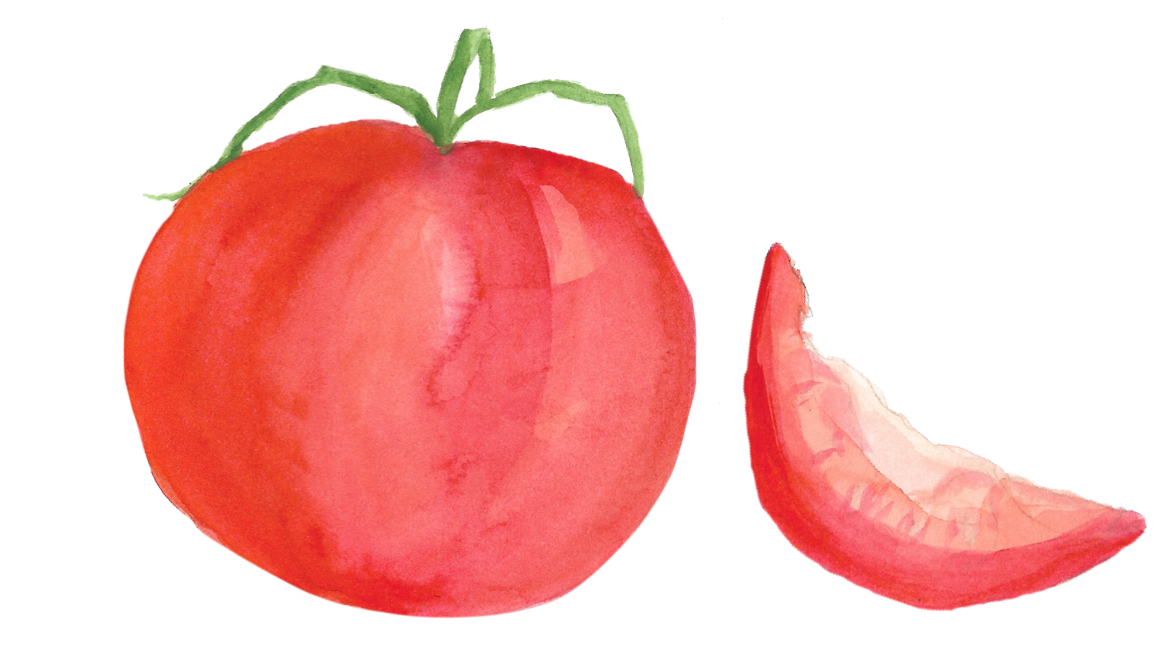 Just out of college with a business degree in tow, Sutherland tried his hand at selling mortgages. He quickly realized that sitting in a cubicle made him miserable. After reflecting on what he enjoyed most in life, he landed in culinary school and instantly knew that he had made the right move. "Culinary school felt like where I was meant to be," he says.
Sutherland's rise as a chef has been almost meteoric. After finishing culinary school, he worked in some of the best kitchens in Atlanta and then in the Twin Cities. In 2016, he got the chance to put his own stamp on a local restaurant when he took the reins at Saint Paul's Handsome Hog. Since then, he's played a part in shaping the dining experience at several Twin Cities restaurants and even at Allianz Field, home of the Minnesota United FC. His newest venture includes a nod to his Japanese grandmother: O Bachan, in the Potluck dining hall at Rosedale Center, is named in her honor.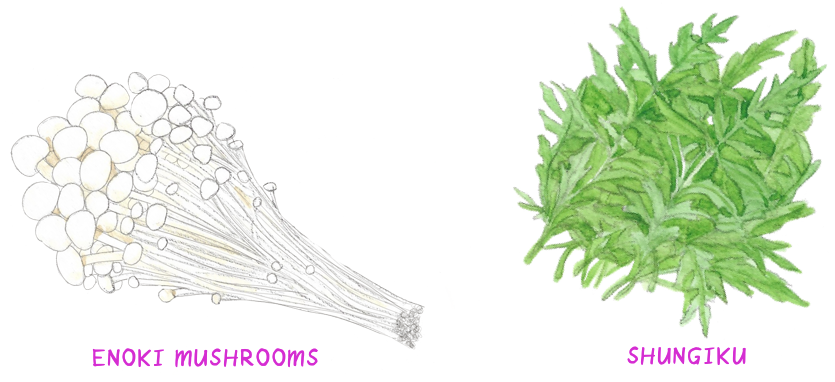 But it was two national television appearances that really put Sutherland on the culinary map. The first, a stint on Iron Chef in 2018, brought him full circle. "My grandmother and I watched the Japanese version of Iron Chef when I was a kid. That was our show. That's where I fell in love with it," he says. Sutherland walked away a winner, besting Iron Chef Alex Guarnaschelli in a battle featuring lamb. In 2019, he competed with chefs from across the country on Top Chef, and experience you can learn a bit more about in this bonus clip:
Want to try your hand at Justin's grandmother's sukiyaki? You can find the ingredients for the dish at any Asian grocery store. You can also substitute other ingredients based on your own preferences.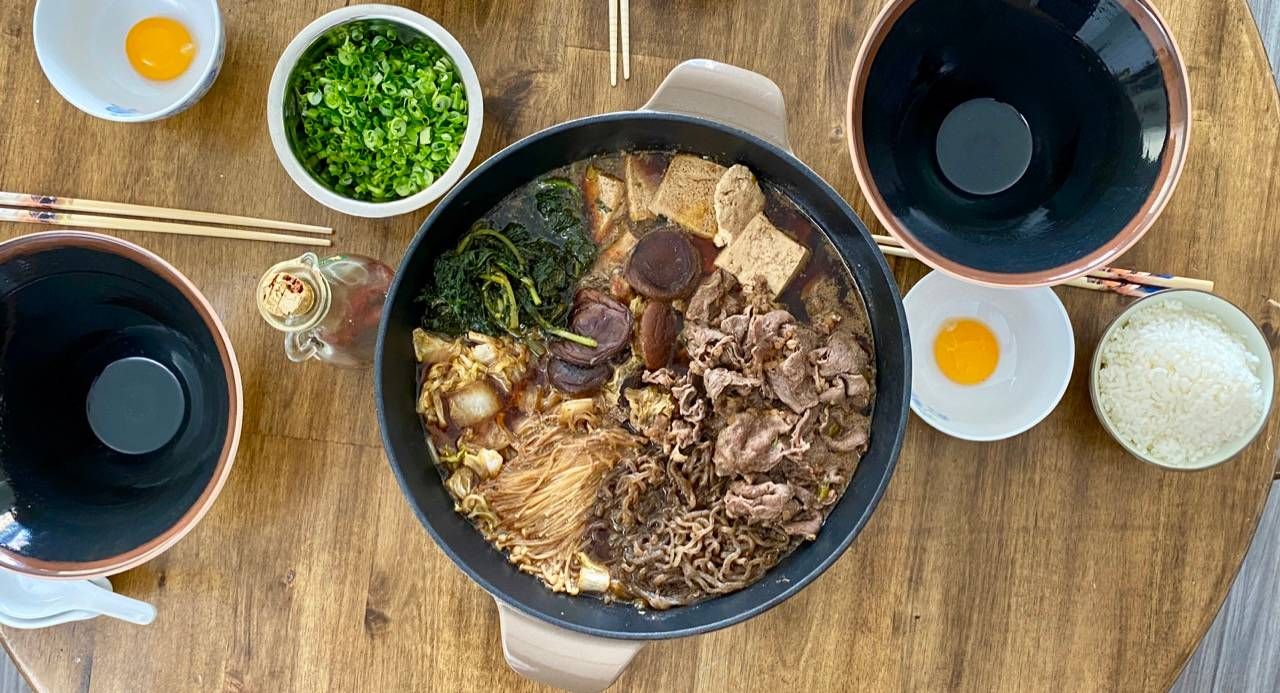 Sukiyaki
By Justin Sutherland
Serves 4
Ingredients
For the Sauce:
4 tablespoons dry sake
1/2 cup mirin
1/2 cup soy sauce
2 tablespoons brown sugar
For the Sukiyaki:
1 block firm tofu, sliced into 1/2 inch thick squares
10 dried shitake mushrooms, rehydrated in hot water
1 package enoki mushrooms, rinsed and ends trimmed off
4 cups napa cabbage, chopped
4 cups shunginku (chrysanthemum greens), washed
6 scallions, sliced (white and green parts separated)
1 bundle shirataki noodles
2 tablespoons vegetable oil
16 oz thinly sliced beef
4 cups dashi stock (mushroom soaking liquid or chicken stock)
4 cups steamed rice
Directions
In a pot over medium heat, combine the sake, mirin, soy sauce and brown sugar. Bring to a boil. Make sure all the sugar is dissolved, then remove from heat and set aside.
Prepare all your sukiyaki ingredients and set aside.
Heat vegetable oil in a large pot or tall skillet. Add white parts of the scallions and sauté for 2 minutes.
Add the sukiyaki sauce and 2 cups of the dashi stock to the scallions. Bring to a boil.
Add your ingredients to the pot in sections - napa cabbage, tofu, both types of mushrooms, shunginku and shirataki noodles.
Cover the pot and bring to a boil. Reduce heat and simmer until the ingredients are cooked through, about 5 minutes.
At then end of cooking, add the sliced beef and cook for an additional 2-3 minutes.
Remove from stove, sprinkle with green parts of the scallions.
Serve with rice.
Need more Relish in your life? We've got you covered with additional episodes.
Host: Yia Vang
Illustrator: Xee Reiter
Created by: Amy Melin and Brittany Shrimpton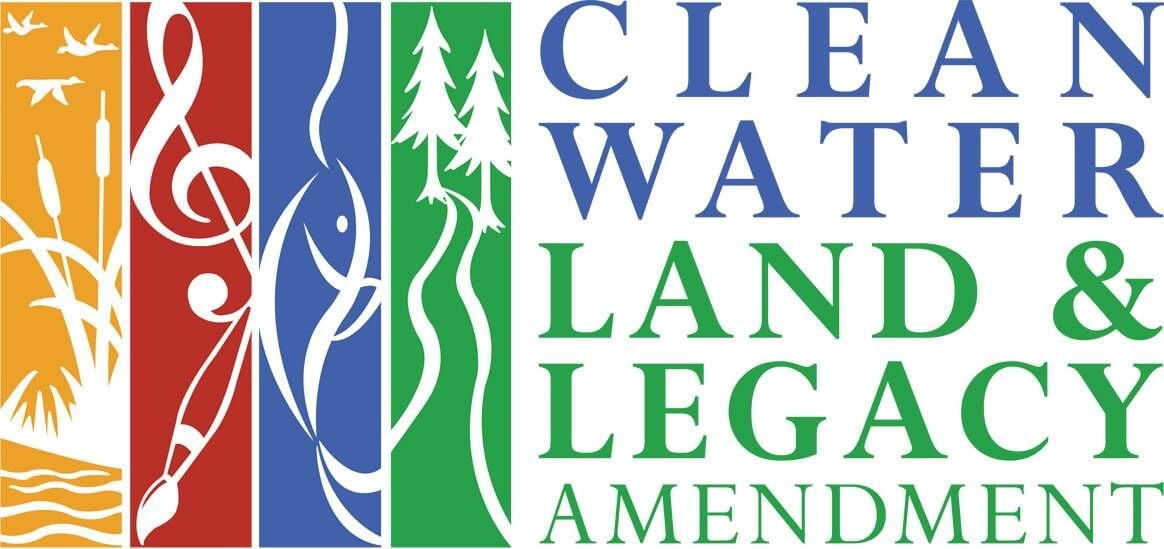 This story is made possible by the Arts and Cultural Heritage Fund and the citizens of Minnesota.
Relish host Yia Vang spends some quality time in the kitchen learning the secrets of his mother's delicious Hmong-style steam buns. Prepare to be delighted – and hungry.
Nordic Waffles founder Stine Aasland aims to convey the comforts of her Norwegian home in the waffles she makes, using her mother's now-famous recipe. Thinner than Belgian waffles, the Scandinavian variety is served with myriad toppings. To taste them is to love them. Good thing we have the recipe.
Chef Rhagavan Iyer conjures up the comfort food of his childhood spent in Southeast India with this recipe for Smoky Yellow Split Peas, a curry dish with "assertive, balanced" flavors. Good thing you can follow his recipe.