Relish: Raghavan Iyer's Smoky Yellow Split Peas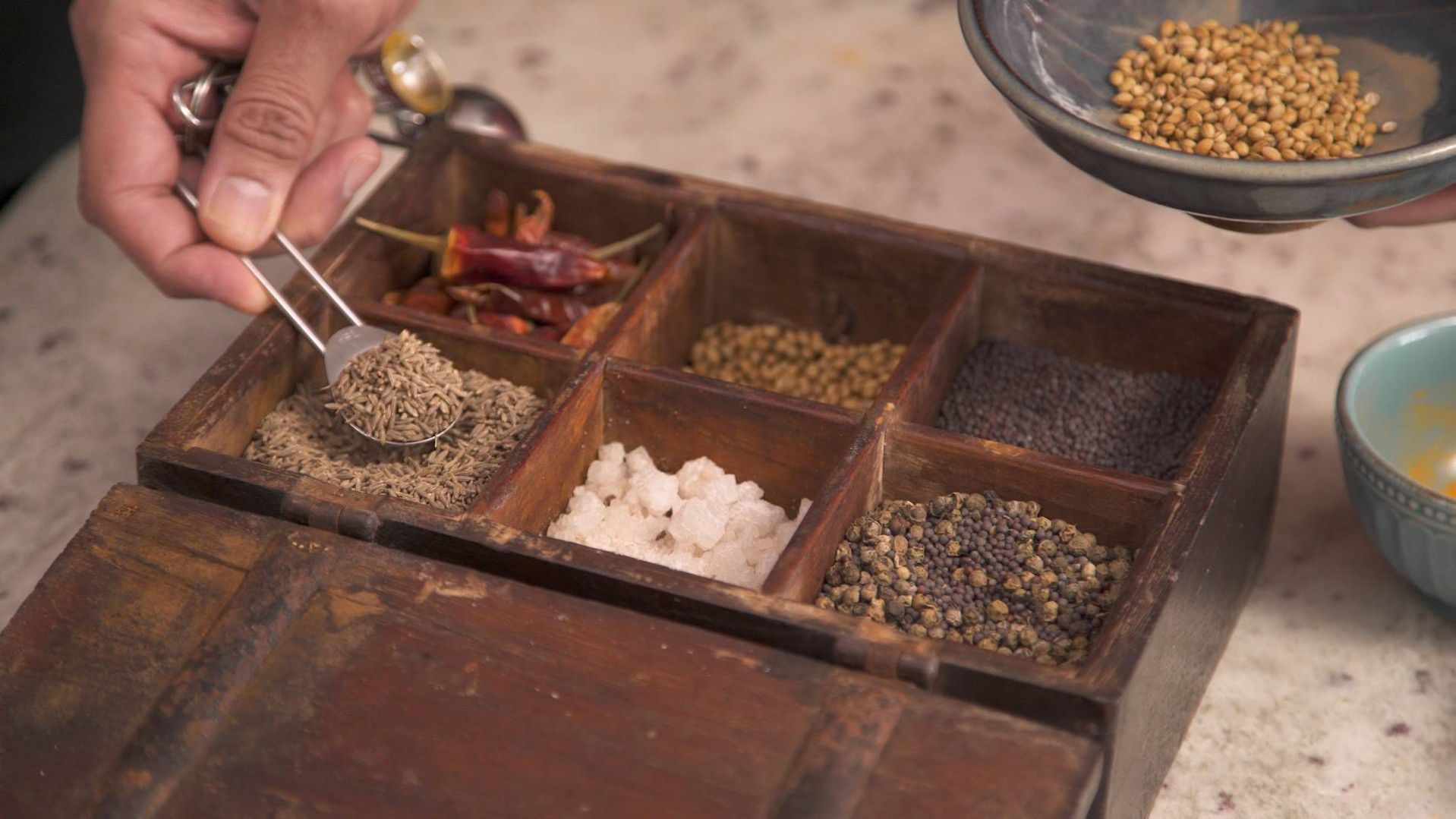 Chef Raghavan Iyer pulls a jewel box-like antique spice box from a shelf, lifts the cover and reveals six evenly spaced compartments filled with whole spices. Once the lid is open, the smell of chile de arbol, cumin, coriander and Himalayan salt waft up into the air.
Chef Iyer dips a teaspoon into the cumin and turns to Chef Yia Vang to explain, "There are eight different flavors that can be derived from a given spice, depending on how they are treated when cooking." Depending on the approach with each spice, the flavor profile of an entire dish can be significantly transformed.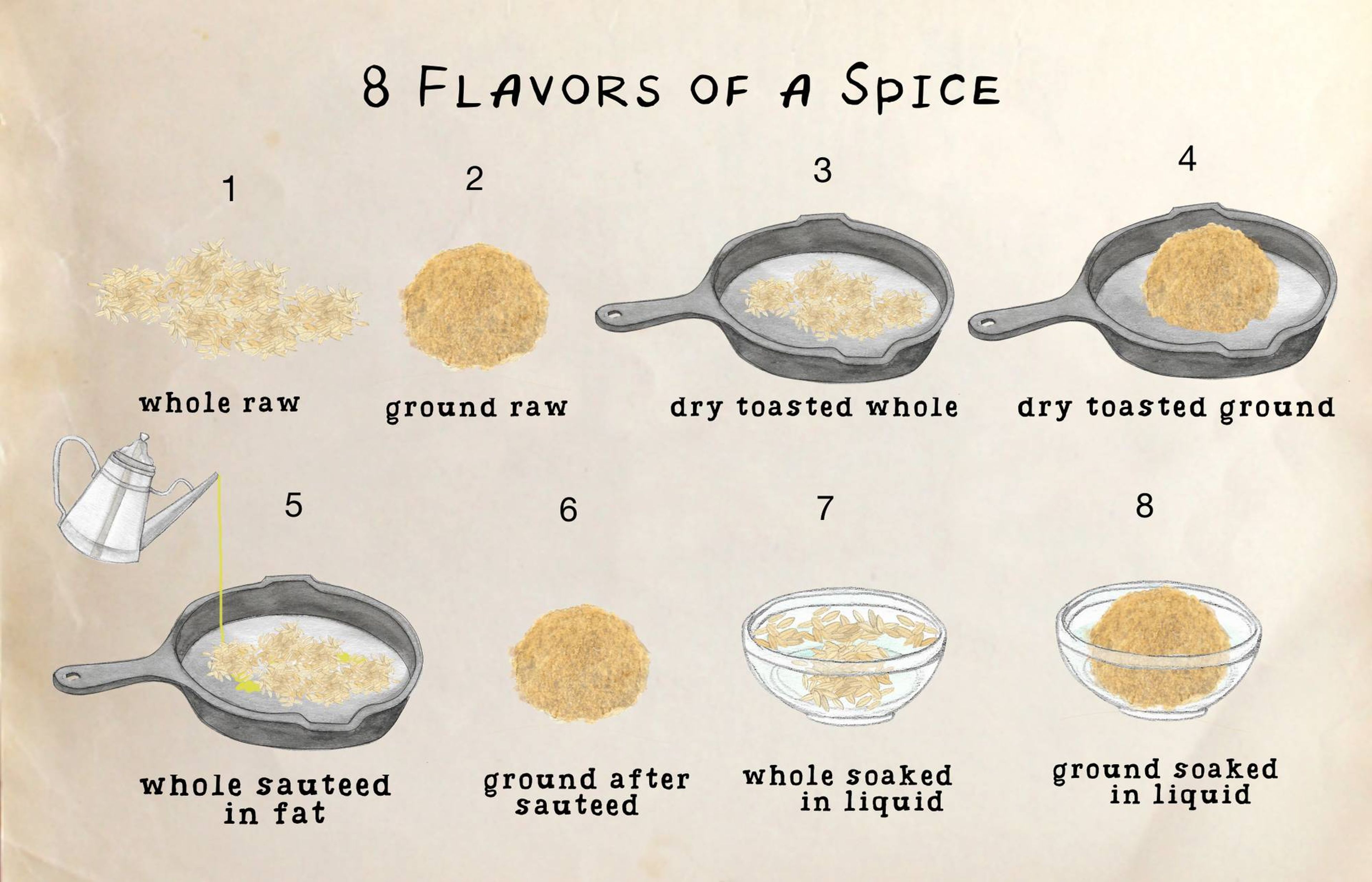 "Oftentimes people say, 'Oh, here's cumin seeds and I'm going to use it the way I want to use it.' And I've always said, for that particular recipe, there's a reason why we do it that way, because it also exemplifies the regionality of how people are working with those spices," he says. As an award-winning cookbook author, Iyer understands exactly how to transform a given dish with just the right preparation of spices.
"So even though you may have cumin seeds being used all across India, the way they are used in particular regions varies," he says.
For the "Smoky Yellow Split Peas" curry he makes with Chef Vang, he plans to grind the spices after dry-toasting them. This technique is common in Southeast Indian, where Chef Iyer grew up.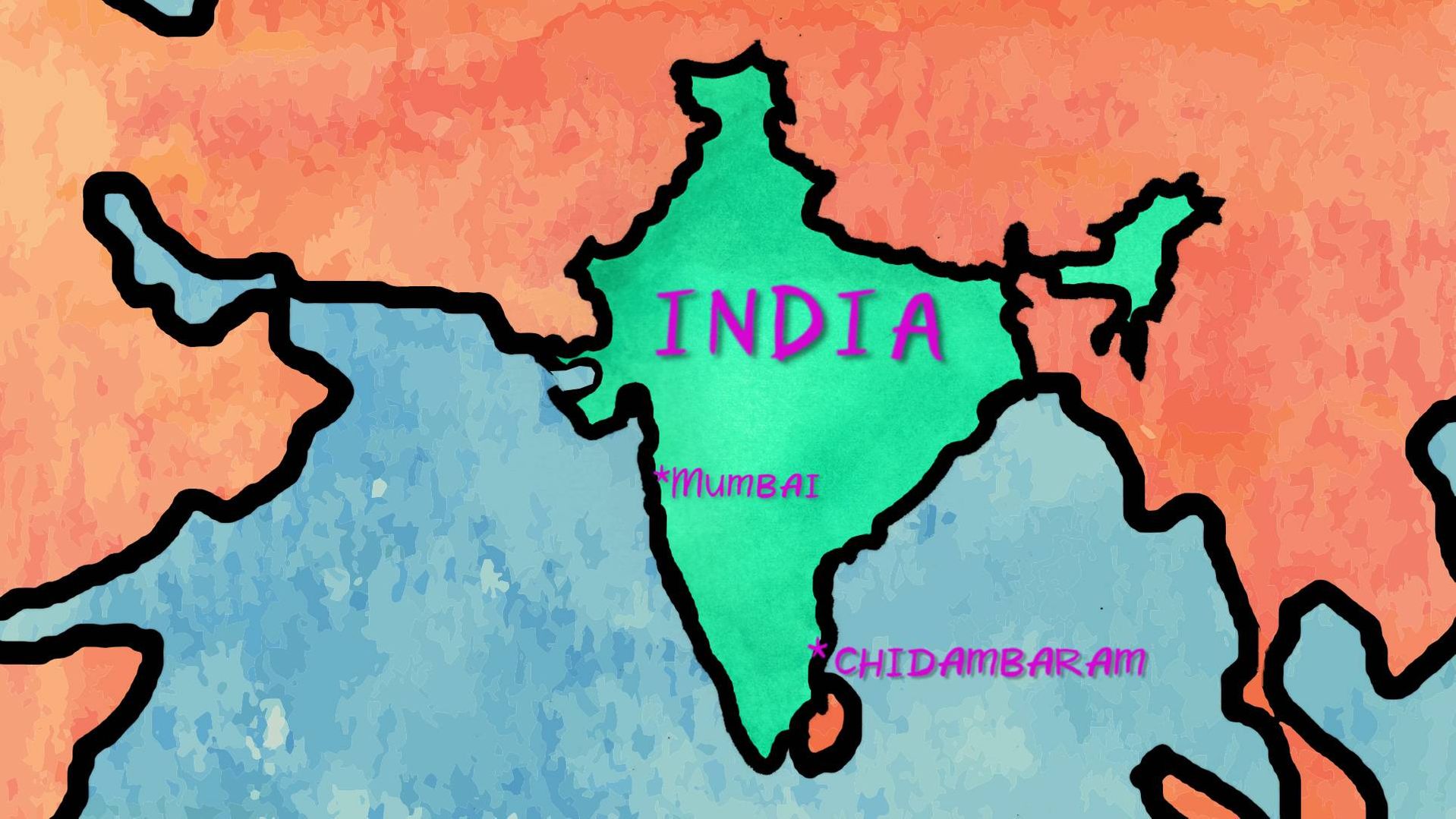 Though he was raised in Mumbai, his family roots stem to Chidabaraum, and his Tamilian Brahmin heritage meant that his family ate vegetarian dishes, a tradition reflected in his "Smoky Yellow Split Peas" curry, which is packed with legumes, potatoes and toasted spices. Made often in his childhood home, this curry reminds him of the comfort foods of his youth. Another favorite? Steamed rice lentil cakes, or idlys.
Two years ago, Chef Iyer was diagnosed with stage IV cancer. While undergoing chemotherapy and radiation, he noticed that the most common nutritional plans presented by the hospital were those based on a European or Mediterranean diet. While he often enjoys those cuisines, he longed for the comfort food of his youth. That experience sparked an idea, and he is now embarking on a project to develop recipes and food plans that specifically cater to the nutritional needs of those going through cancer treatments. Along the way, he hopes to broaden the cultural horizons of recovery foods.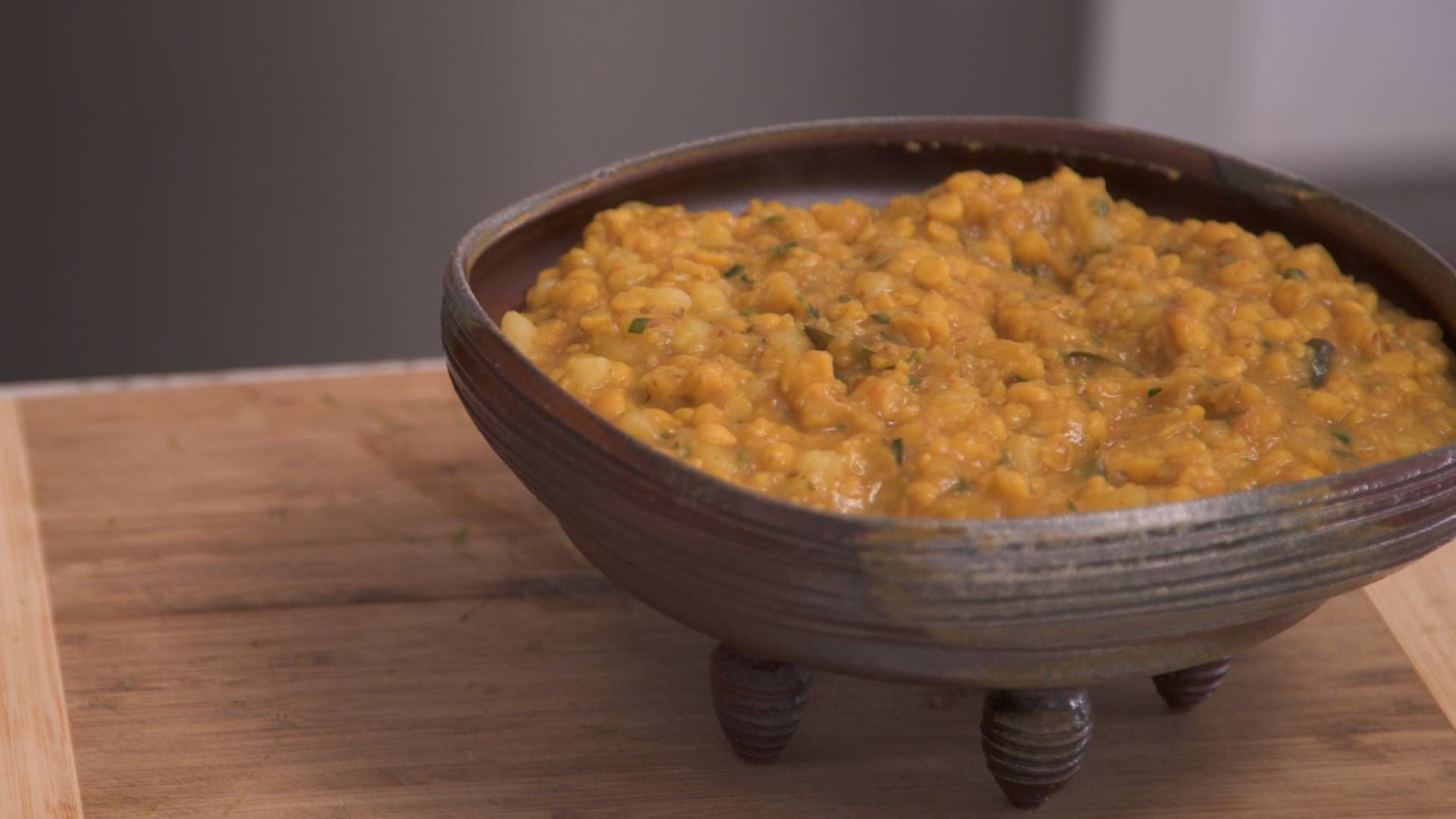 SMOKY YELLOW SPLIT PEAS
by Raghavan Iyer
An inexpensive way of infusing proteins, fiber and body-building nutrients to one's diet, vegetarian or otherwise, dals are a cornerstone of India's meals. These easy-to-find peas are effortless to cook and require no pre-soaking. The spicing techniques in this recipe hail from the southeastern region of India, where roasting spices to yield nutty-hot flavors is the key to creating a layered flavor experience. While simplifying the number of spices used in this recipe, Chef Iyer has maintained the authenticity of the dish in terms of its assertiveness and balance. Be sure to have some steamed white rice to absorb all that saucy goodness.
Makes 6 cups
Vegan; Gluten-free
1 cup yellow split peas
1 pound potatoes (Yukon gold or russet), peeled and cut into 1/2-inch cubes (soak them in cold water to prevent browning; drain before use)
1/4 teaspoon ground turmeric
2 to 4 dried red cayenne chiles (like chile de arbol), stems discarded
1 tablespoon coriander seeds
1 teaspoon cumin seeds
1 medium-sized tomato, cored and diced
2 tablespoons finely chopped fresh cilantro leaves and tender stems
1 1/2 teaspoons coarse kosher or sea salt
PROCEDURE
1. Place the peas into a medium-sized saucepan. Cover them with water and rinse the grains by rubbing them in between your fingertips (Chef Iyer just uses the fingers of one hand to do it). The water will become cloudy and may have some debris like the odd skin from the peas (even though they are skinless) or dust from the packaging. Drain this water. Repeat three to four times until the water, upon rinsing the peas, remains clear. Measure and pour 4 cups water into the pan and bring it to a boil over medium-high heat. You will see some foam arise; scoop it out and discard it.
2. Add the potatoes and turmeric to the peas, stirring once or twice. Lower the heat to medium-low and cover the pan. Stew the mélange, stirring occasionally, until the peas are tender, but still firm-looking, and the potatoes are cooked, 20 to 25 minutes.
3. While the peas and potatoes cook, preheat a small skillet over medium-high heat. Once the pan feels hot (a palm held close to the bottom will feel the heat), usually will take 2 to 4 minutes, sprinkle the chiles, coriander and cumin into it. Toast the spices, shaking the pan very frequently, until the chiles blacken and smell smoky-hot, and the seeds turn reddish brown and smell incredibly aromatic (nutty with citrus undertones), 1 to 2 minutes. Transfer this spice blend to a blender jar and plunk in the tomato. Puree, scraping the insides of the jar as needed, to make a smooth, reddish-brown paste with a smoky aroma that is sure to knock your socks off.
4. Once the peas are cooked, scrape the spicy (as in well-seasoned) tomato paste into the pan. Chef Iyer usually pours some of the liquid from the pan into the blender jar and processes it for a brief second to wash out all the goodness into the water. Pour the washings back into the pot. Stir in the cilantro and salt.
5. Crank up the heat to medium-high and vigorously boil the dal, uncovered, stirring occasionally, to allow the flavors to mingle and the sauce to slightly thicken, 12 to 15 minutes. If you wish for a thicker sauce, mash some of the peas and potatoes with the back of your spoon. Serve warm.
TIPS
• Even though dals are great draped over a bed of steamed rice, try them with wedges of flatbread dunked in. The dish makes a great appetizer when crusty baguettes or other yeast breads are warmed, sliced, and served alongside.
• Yellow split peas that are available in every U.S. supermarket are slightly different than the variety that grows in India. Chef Iyer finds the US variety nuttier and more corn-like in texture than those grown in India, which are from a variety of garbanzo beans that have a dark brown- to almost blackish-colored skin. When the legume's skin is removed and the grain split in half, you get the variety of yellow split peas in India called chana dal. The green split peas (what you generally use for split pea soup with ham hock) are a perfect stand-in for the yellow variety should you wish to use them instead.
• Puree any leftover dal in a blender or a food processor to yield an almost pate-like spread. Try and drain off a bit of the excess liquid before you do that. This option reminds Chef Iyer of a Greek skordalia (potato puree with garlic) but with more texture and oomph.
Need more Relish in your life? We've got you covered with additional episodes.
Host: Yia Vang
Illustrator: Xee Reiter
Production Assistance: Amanda Mosborg
Created by: Amy Melin and Brittany Shrimpton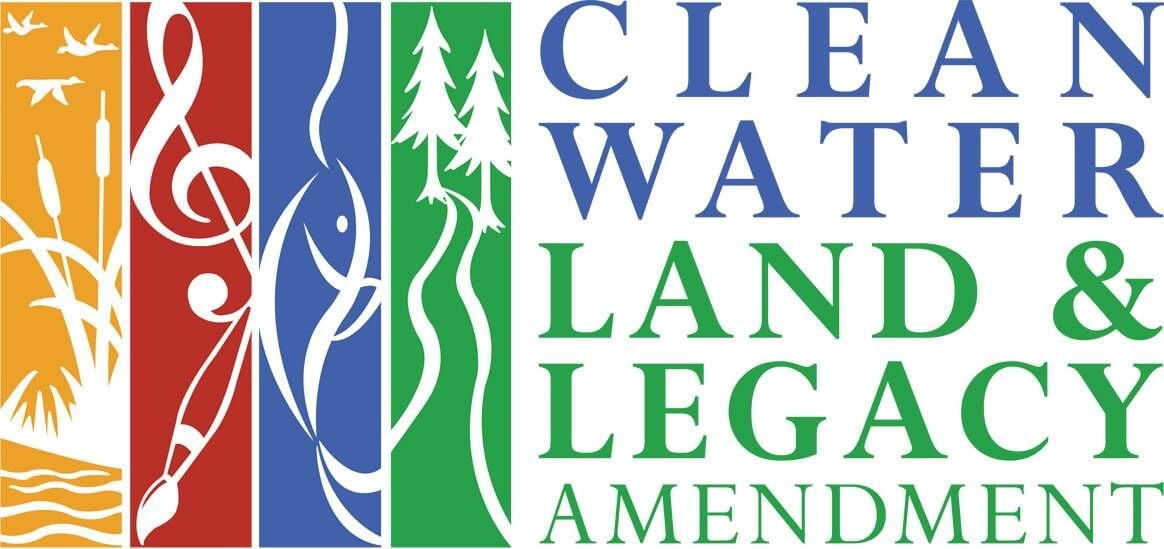 This story is made possible by the Arts and Cultural Heritage Fund and the citizens of Minnesota.
Like Chef Iyer, Nordic Waffles founder Stine Aasland aims to convey the comforts of her Norwegian home in the waffles she makes, using her mother's now-famous recipe. Thinner than Belgian waffles, the Scandinavian variety is served with myriad toppings. To taste them is to love them. Good thing we have the recipe.
Relish host Yia Vang also teamed up with Chef Jamal Hashi to make the spice-infused Somali dish, Gedo Masala. Known as the "Cape of Spices," Somali cuisine is rich in layered spice-driven flavors - and according to Hashi, no jar of powder will suffice. The key is to toast your own blend. Find out how.