Relish: Two Recipes with American Hazelnuts by Beth Dooley
WATCH: Local food lover and cookbook author Beth Dooley takes you from farm to kitchen with the versatile American hazelnut. Chef Yia Vang hosts. 
SCROLL DOWN TO FIND THREE RECIPES WITH HAZELNUTS AS A CORE INGREDIENT
The American hazelnut: Did you know it's a native plant to Minnesota? James Beard award-winning cookbook author, and all-around champion of local farmers and fare Beth Dooley uses the delicious nut three ways in her tasty recipes.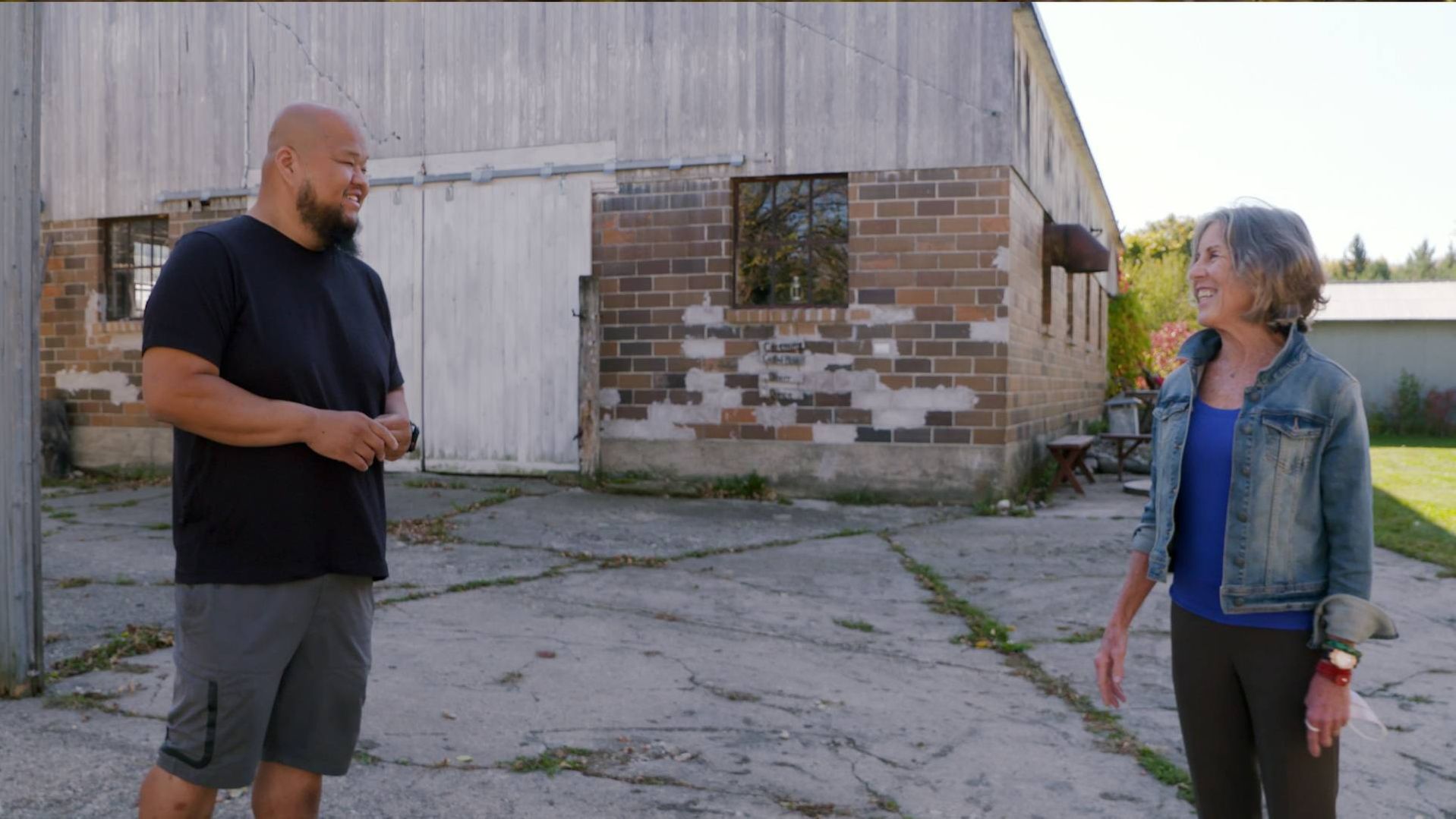 On a warm, breezy autumn day Chef Yia Vang and the Relish crew meet celebrated local foodie Beth Dooley at Sharing Our Roots Farm in Northfield, Minn. "I'm so glad you're here, Yia! This is one of my favorite farms," she says. "We both know that how food is grown and where it comes from makes a huge difference in flavor."
Dooley has long been a champion of local farmers and food, a passion she evangelized years ahead of when eating local and the "farm to fork" movement became trendy, Chef Vang is quick to point out. Some of that passion came from a beloved grandmother. "I had a wonderful grandmother who was a really good cook, who had a fabulous garden."
Dooley grew up in New Jersey and has fond memories accompanying her grandmother to buy produce at local farmers markets. Her grandmother would stop and talk with each of the famers in their stands.
Years later, Dooley moved to Minnesota and found that the most flavorful food here was grown locally. "It tastes better because it's grown in really nutritious soil. It tastes better because it's not traveling millions of miles to get to our table, and it tastes better because it's in season and because it's super fresh," she explains.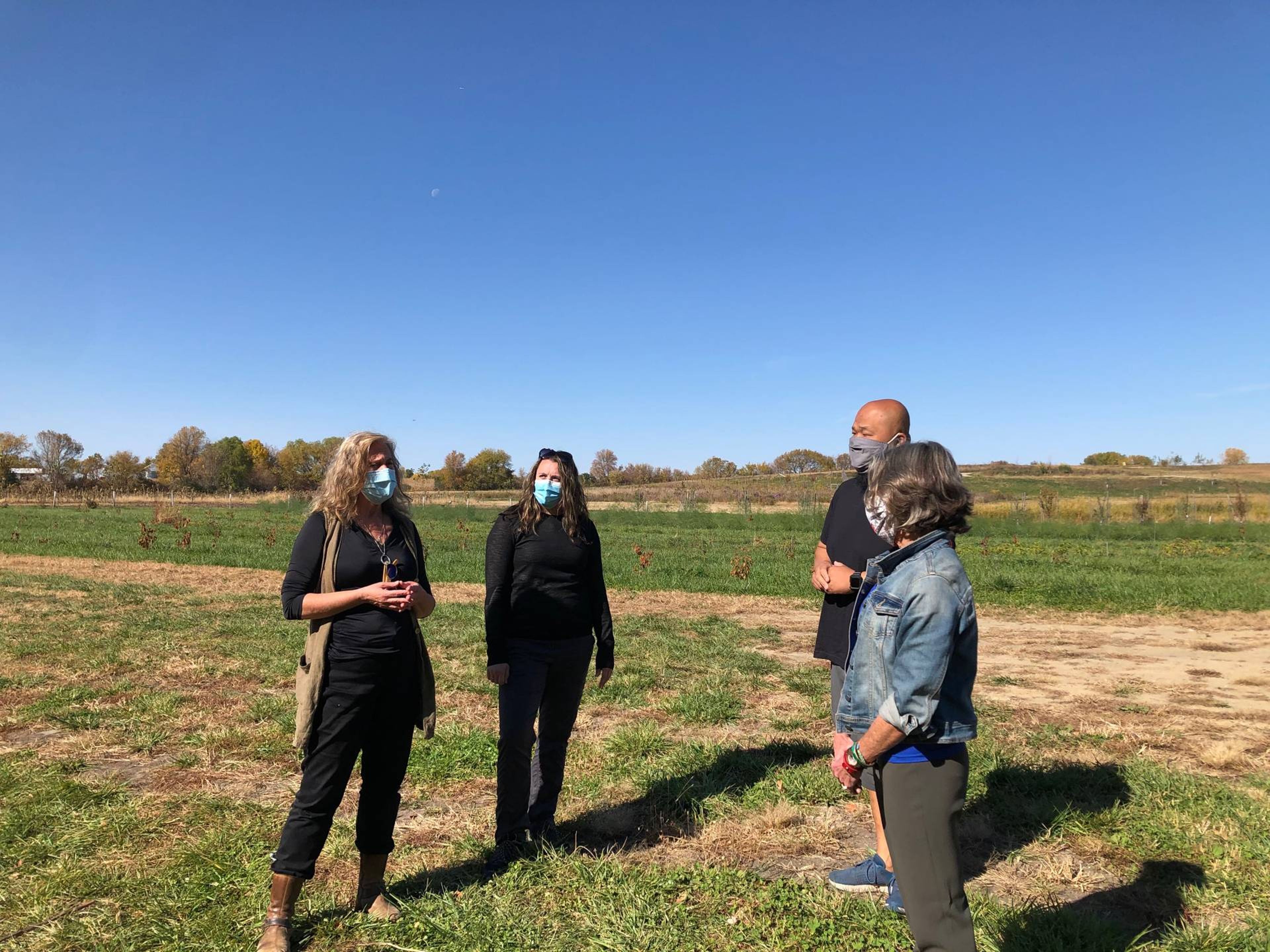 Touring Sharing Our Roots farm, Director of Agrarian Partnerships Julie Ristau and Executive Director Heidi Anderson explain that, in three short years, the soil on the farmland has been transformed through regenerative farming practices. Historically, the land was commercially farmed with corn and soy, crops that extract nutrients from the soil when habitually planted. However, by cover-cropping to return nutrients to the soil, planting a variety of crops, introducing livestock and filtering the water that goes into the creek (and ultimately the Mississippi River), the entire ecosystem of the land has improved.
American hazelnuts count among the crops Sharing Our Roots grows. Farmer Wyatt Parks shares that the Minnesota varietal they are growing has a smaller kernel than commercial varieties from Oregon, but packs a punch of flavor and has significant benefits on the environment.
While visiting the farm, Parks shared a few surprising facts about hazelnuts: Hazelnut shrubs are effective at taking excess nitrogen out of the soil, and they capture carbon in the air and transfer it to the soil. The roots systems of hazelnut shrubs rival the dimensions of a room in a house - they can extend 12 feet down into the soil and spread 12 feet across on either side. On average, hazelnut shrubs reach harvesting maturity in five to seven years; however, if maintained properly, the plants will produce for 100 years.
The hazelnut shrub produces three different products that cooks can use in their kitchens. First, of course, the nut, itself. Second, the nuts can be pressed for oil. And finally, they can be ground into a meal-like flour.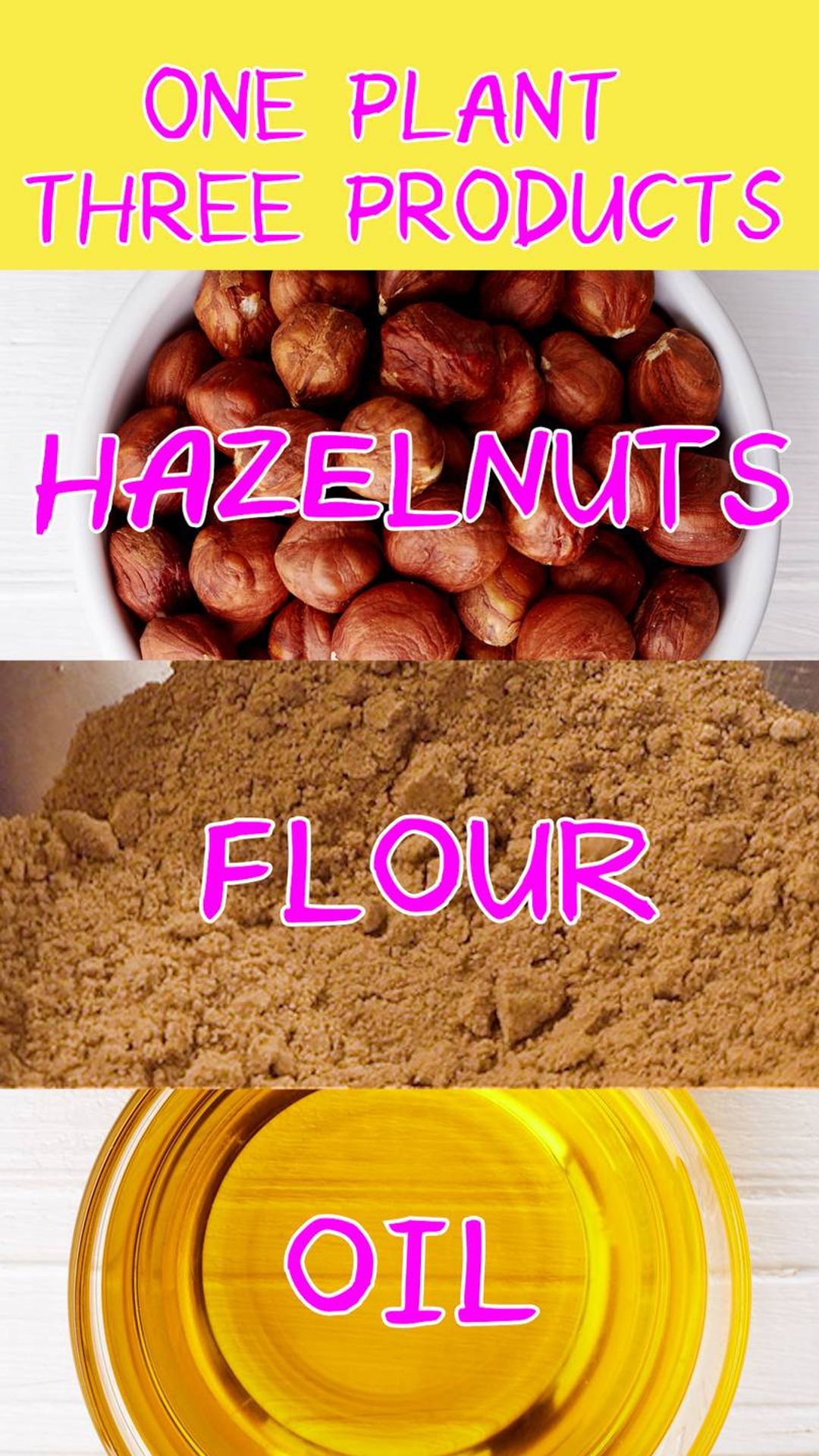 After bidding farewell to the folks at Sharing Our Roots farm, Dooley and Vang head to Kitchen Window to make  two of Dooley's delicious recipes that incorporate all three hazelnut products in delicious affect: Apple, Cranberry and Squash Salad with Maple Hazelnut Vinaigrette and Hazelnut Parmesan Crisps.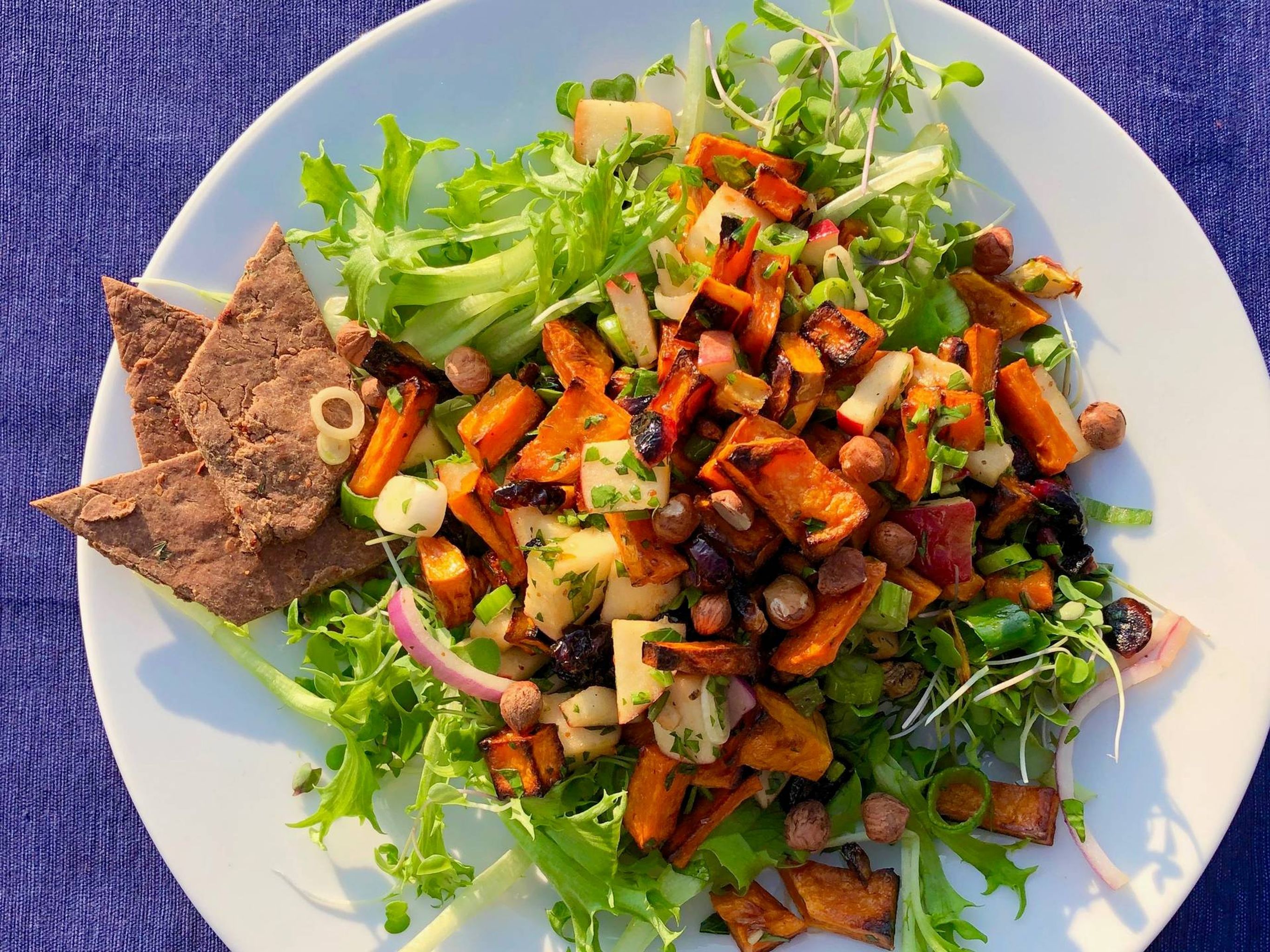 APPLE, CRANBERRY & SQUASH SALAD W/ MAPLE HAZELNUT VINAIGRETTE
By Beth Dooley
Serves 4 to 6
INGREDIENTS FOR VINAIGRETTE 
2 tbs apple cider vinegar
2 tbs maple syrup
2 tsp Dijon mustard
2 tsp chopped shallots
¼ cup hazelnut oil
INGREDIENTS FOR ROASTED SQUASH 
1 small winter squash, about 1-1/2 pounds, peeled, seeded, cut into 1/2-inch slices
Hazelnut oil
Coarse salt
INGREDIENTS FOR SALAD 
3 scallions, trimmed and sliced ½-inch thick
1/2 cup cranberries
1 small apple, cored and diced
Salt and freshly ground black pepper to taste
4 to 6 ounces torn spinach or mixed salad greens
1/2 cup toasted hazelnuts*
DIRECTIONS
In a small bowl, whisk together the vinegar, maple syrup, mustard and shallots. Slowly whisk in the hazelnut oil.
Preheat the oven to 400 degrees. Spread the squash on a sheet pan and drizzle with the oil, then sprinkle with the salt and pepper. Roast the squash for about 20 to 25 minutes, turning once, until tender and nicely browned.
Turn the scallions, cranberries, apple and the roasted squash into a large salad bowl then toss in enough dressing until the ingredients are nicely coated.
Arrange greens on a large platter or individual plates, then pile the squash mixture over the greens and top with the toasted hazelnuts.
To toast hazelnuts: Spread the nuts on a baking sheet and roast in a 350-degree oven until the peels begin to slightly crack and the nuts smell toasty, about 5 minutes. Remove and set aside.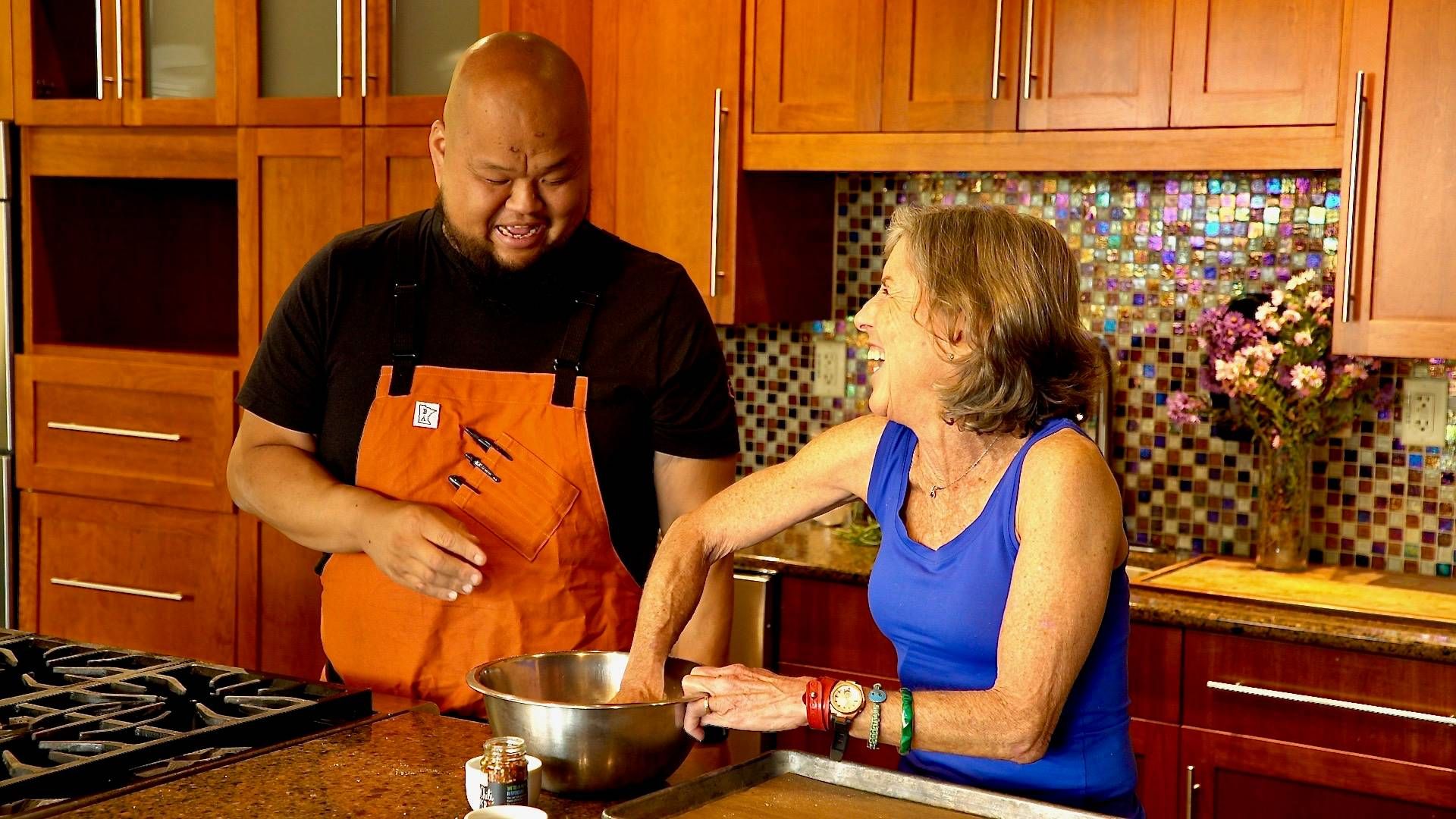 HAZELNUT PARMESAN CRISPS
By Beth Dooley
Makes about 48 crackers
INGREDIENTS
1 cup hazelnut flour
½ cup grated parmesan cheese
1 egg white
2 tsp chopped fresh thyme
Generous pinch coarse salt
Generous pinch red pepper flakes
DIRECTIONS
Preheat the oven to 275 degrees F. Cover a baking sheet with parchment paper.
In a large bowl, mix all of the ingredients together to form a stiff dough. Turn the dough out onto the prepared baking sheet, it will be very crumbly.
Using a rolling pin and your hands work the dough into a thin rectangle.
Place a second parchment sheet over the dough and then use a rolling pin or a Hazelnut oil bottle to roll the dough out to 1/8-inch thick.
Using a pizza cutter or bench scraper or sharp knife, cut the dough into 48 rectangles.
Bake until the crackers are crisp, and the cheese is melted and has started to darken, abut 35 to 45 minutes. Remove the sheet from the oven. Allow the crackers to cool on the baking sheet and then remove and continue cooling on a wire rack. Store them in an air-tight container for up to 1 week.
Need more Relish in your life? We've got you covered with additional episodes.
Special Thanks: Dan Darvell, Manni, Kitchen Window, Sharing Our Roots
Production Team: Carrie Clark, Matt Ehling, Terry Gray, Anne Guttridge, Amy Melin, Eric Pagel, Brittany Shrimpton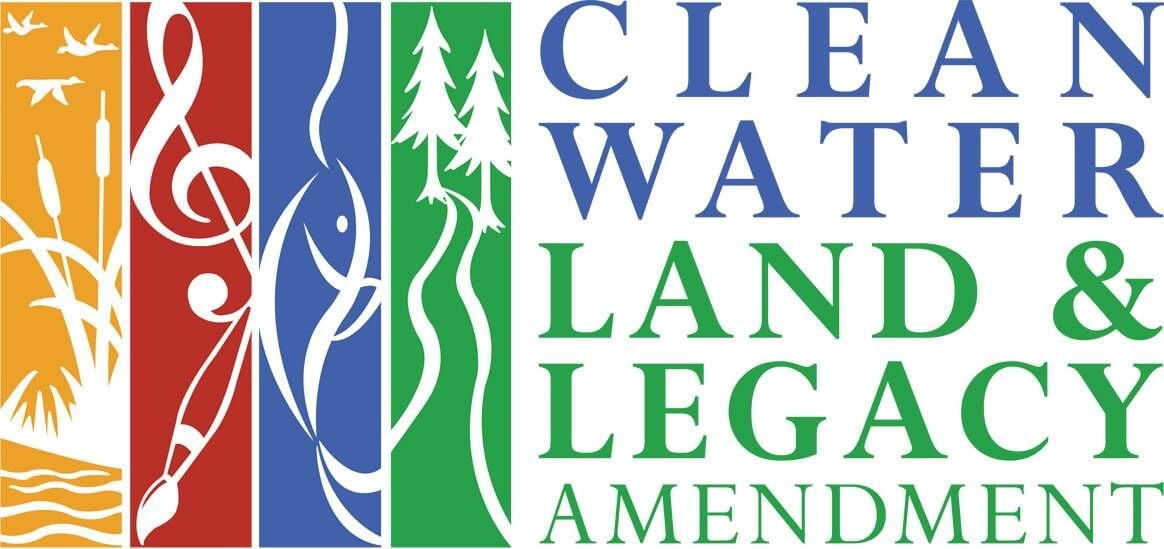 This story is made possible by the Arts and Cultural Heritage Fund and the citizens of Minnesota.
With 60 varieties of heirloom corn in Mexico, Minnesota-based chef Gustavo Romero makes tamales that take him all the way back home, to the memories and flavors he's most fond of. And in this episode of Relish, he shows you how to make tamales in your own kitchen.
When Chef Karyn Tomlinson's mother asked her what special meal she wanted for her childhood birthdays, her answer was always the same: pot roast. Now an acclaimed chef in her own right, she shares her Grandma's Pot Roast recipe (and a few ideas on how to kill time while the delicacy is cooking in the oven).
Know someone in your life who needs this Soul Food Fried Chicken Sandwich by Chef Gerard Klass? Maybe it's you? Don't waste a minute – make it today!