Relish: Batata Kachori, a.k.a. Indian Street Food, by Jyotiee Kistner
WATCH: Discover how to make the traditional Indian street food, batata kachori, with Chef Jyotiee Kistner as your guide in the video above. Chef Yia Vang hosts. 
SCROLL DOWN TO FIND THE RECIPE FOR BATATA KACHORI
"I am going to eat all of these!" Chef Jyotiee Kistner laughs as she carefully scoops her favorite Indian street food, batata kachori, out of the oil and places it on a plate. Chef Yia Vang joins her at Kitchen Window to learn more about the deep-fried delicacy.
A kachori is a deep-fried snack that comes in many variations throughout India. Batata kachori is particular to chef Kistner's home city of Pune.
Pune is a city of 7 million a few hours southeast of Mumbai. It's a known for its expansive software industry and as the hub of culture for its state, Marharashtra. Kistner explains that the city has a balance of the modern and traditional.
Batata kachori features a dough made of tapioca flour and batatas, or potatoes. Chef Kistner explains that "batata" is the Portuguese word for "potato," one that is commonly used in India because the Portuguese introduced the root vegetable to the country. In the traditional recipe, coconut, raisons, cashews, cilantro and chilies, and a pinch of salt, cumin and sugar are spooned into the dough before being delicately fried and ultimately gobbled up.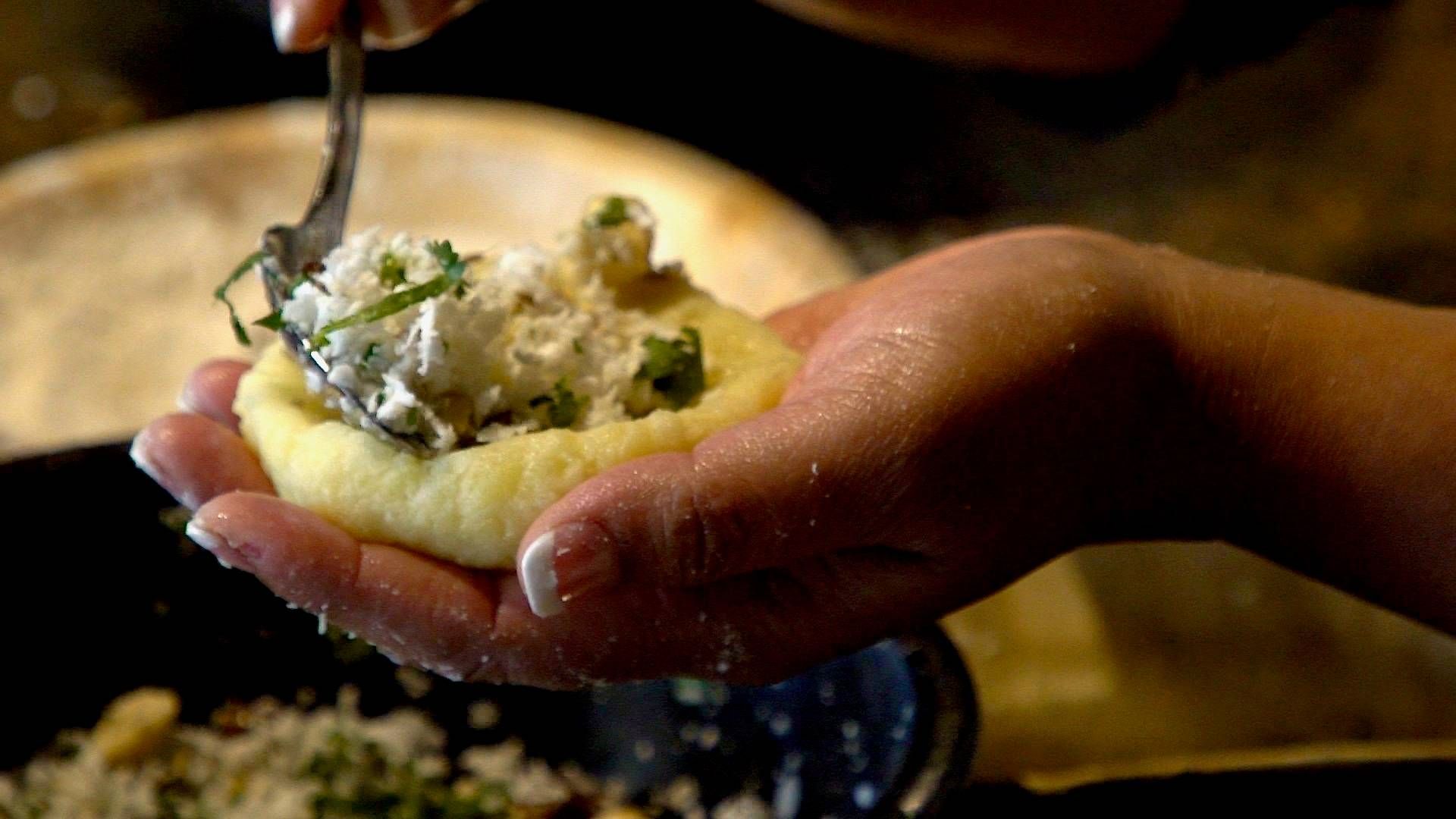 Fasting Food
Chef Kistner learned to make these by observing her father, who had a small catering business, as well as her neighborhood street vendors specifically on Mondays, Thursdays and Saturdays when this fasting-food was served.
"This kachori is a fasting food in India," Kistner explains to Chef Vang. She goes on to say that fasting in India is most often done within a religious context, "You may know there are many many gods in India... Each day of the week is assigned to a god. So people worship that god and they will do fasting." She continues that there are certain foods that people may not eat, and then some foods, like fruits or this specific kachori, that are acceptable. "It's super tasty. I believe people wanted to fast, but [at the] same time they also wanted to get their tastebuds encouraged," she laughs.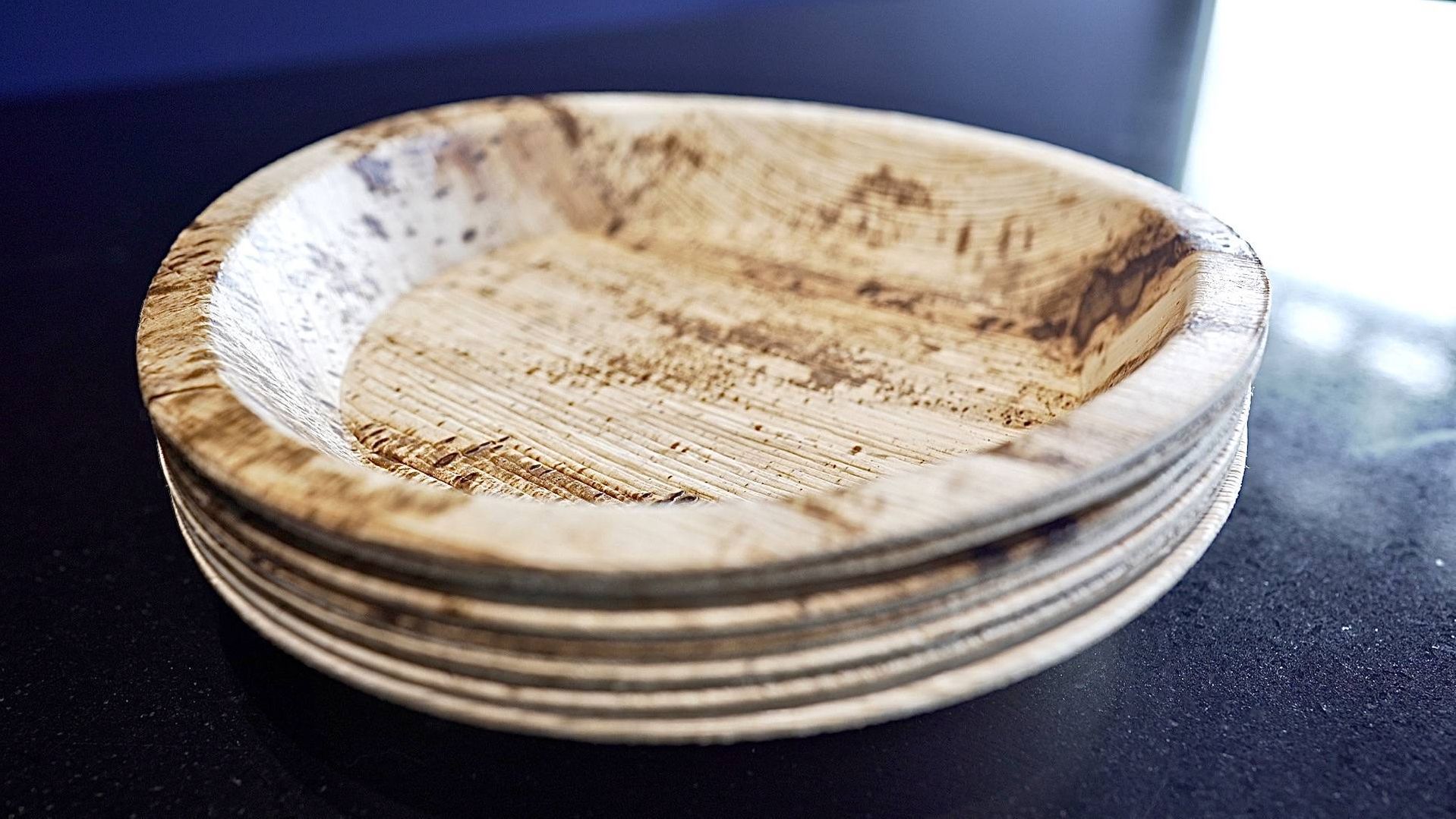 Plates from Pune
The plates on which chef Kistner serves the kachori also have a strong tie to her home. "This plate is made with banana tree [bark]. This is a modern version of a plate we traditionally use." She relays, "When I was kid, I do remember there was a huge activity in our family when there is a festival coming up and the whole family is gathering." She explains that the children were given bunches of banana leaves that they would then "sew them together with a small bamboo stick. Then you just wash it and use it as a plate."
After the plate was used, it would be given to a cow as an offering. "So we worship cow, cow is kind of a god. And that plate will go to cow. [The] cow will eat that and then recycle it through cow, you know?" From the hand-sewn leaf plates or modern manufactured bark ones, to recycling through a cow, she jokes that India has been practicing zero waste for a long time, but it was never called that; it was just a part of the culture.
But you don't need a plate made from banana trees or to engage in fasting to enjoy these delights. Try your hand at the recipe below (including a riata chutney to pair with the kachori) or find Chef Kistner at her food truck, Muddy Tiger Indian Street Food, in the Twin Cities.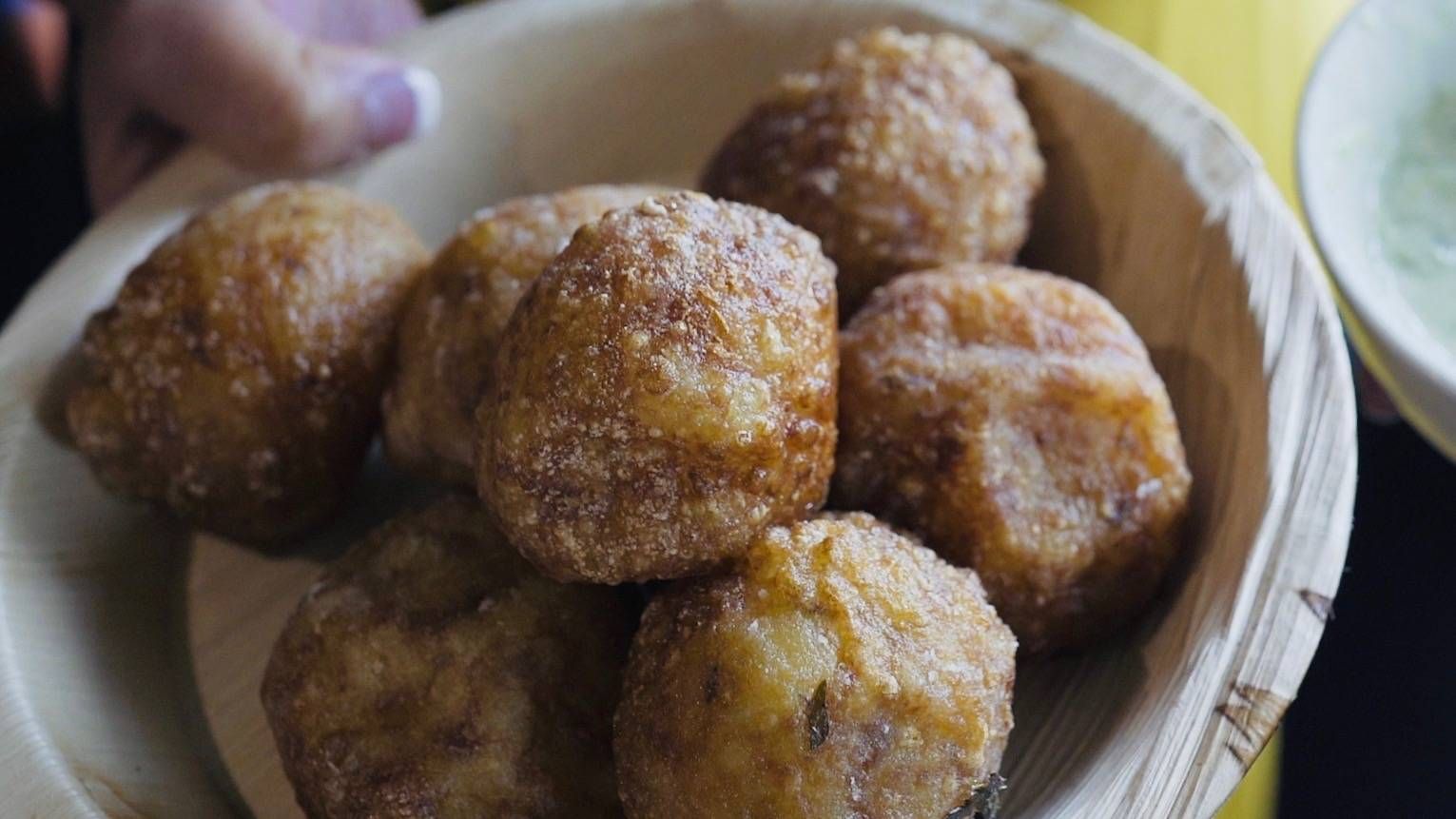 BATATA (POTATO) KACHORI
By Jyotiee Kistner
INGREDIENTS
Oil/Ghee to fry
DOUGH
2 potatoes, medium-steamed, then mashed
Tapioca flour or corn flour (2-4 tbsp)
1 tsp roasted cumin seeds
Salt to taste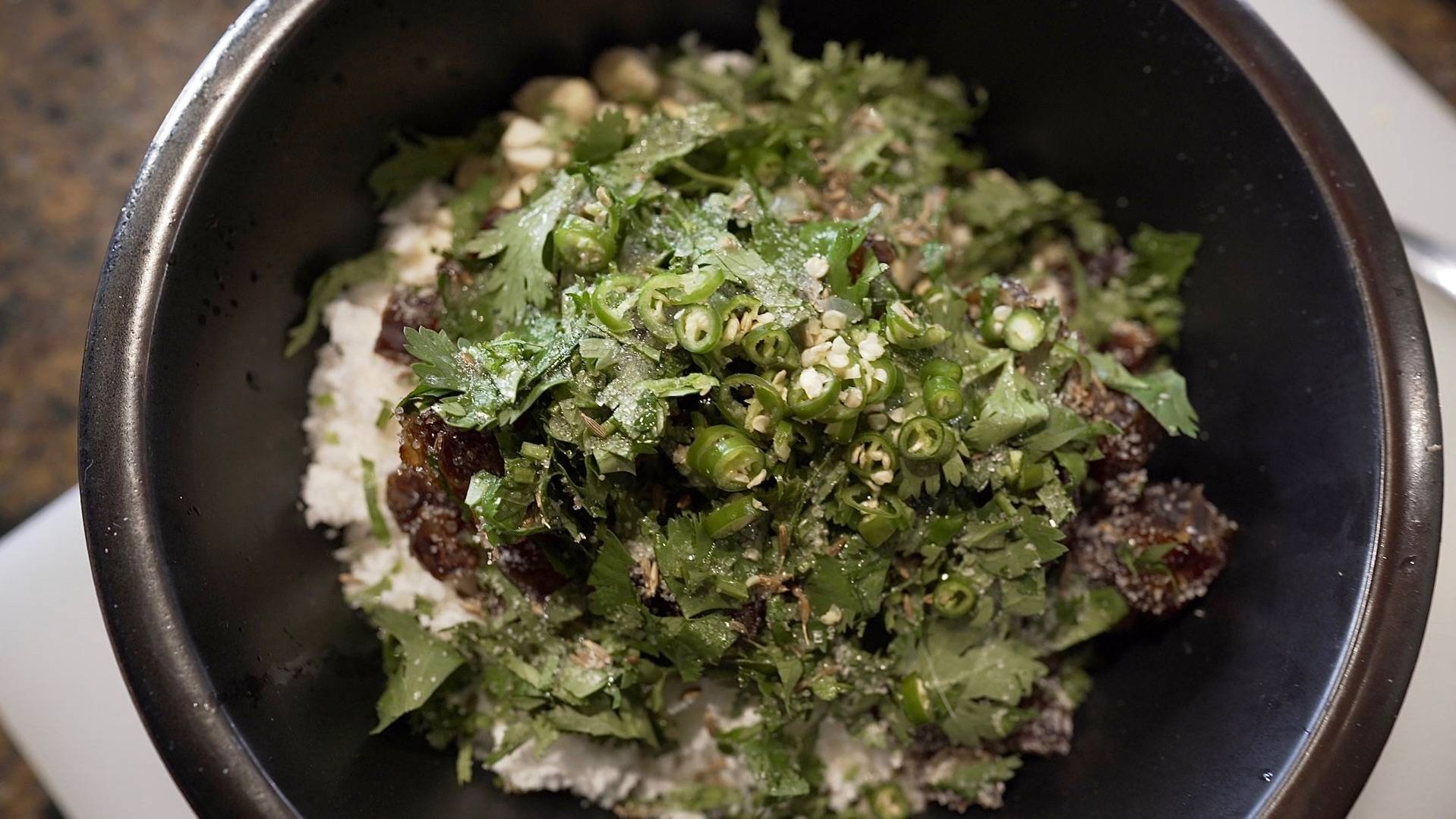 FILLING
1 cup grated coconut
2 green chilies, finely chopped
1/4 cup golden raisins or 5-6 dates ( remove the seeds, cut into small pieces)
6-7 roasted cashews
1 tsp roasted cumin powder
1/2 cup fresh cilantro
Juice of 1/2 lime
PREPARATION
In a mixing bowl, add mashed potatoes, salt, flour and cumin seeds. Mix these ingredients to form a dough. Do not add water. If potatoes have a lot of moisture, add more tapioca/corn flour.
Divide dough into small portions and make lemon-sized balls, cover with a damp cloth and set aside.
In another bowl, mix coconut, chilies, raisins/dates, salt, cumin powder, cilantro, and lemon juice. Mix well.
Apply some ghee to your palm. Take a dough ball and flatten it in hand until it's 3 inches in diameter.
Add 2 tbs of coconut mixture. Pull all sides of the dough together and make a ball. Repeat for the rest of the dough.
Heat oil/ghee in a pan, on low to medium heat, and when it gets hot, drop the potato balls and fry on medium heat until golden brown.
Take out and set on a paper towel to remove excess oil/ghee.
Serve batata (potato) kachori while it's warm with chutney.
RIATA CHUTNEY
INGREDIENTS
1 cup grated cucumber
1 green chili, finely chopped
1/2 cup yogurt
3-4 tbsp roasted peanut powder (optional)
2-3 tbsp fresh cilantro
1/2 tsp sugar
Salt to taste
PREPARATION
In a bowl mix all ingredients for chutney.
Need more Relish in your life? We've got you covered with additional episodes.
Special Thanks: Dan Darvell, Manni, Kitchen Window
Production Team: Carrie Clark, Anne Guttridge, Amy Melin, Eric Pagel, Brittany Shrimpton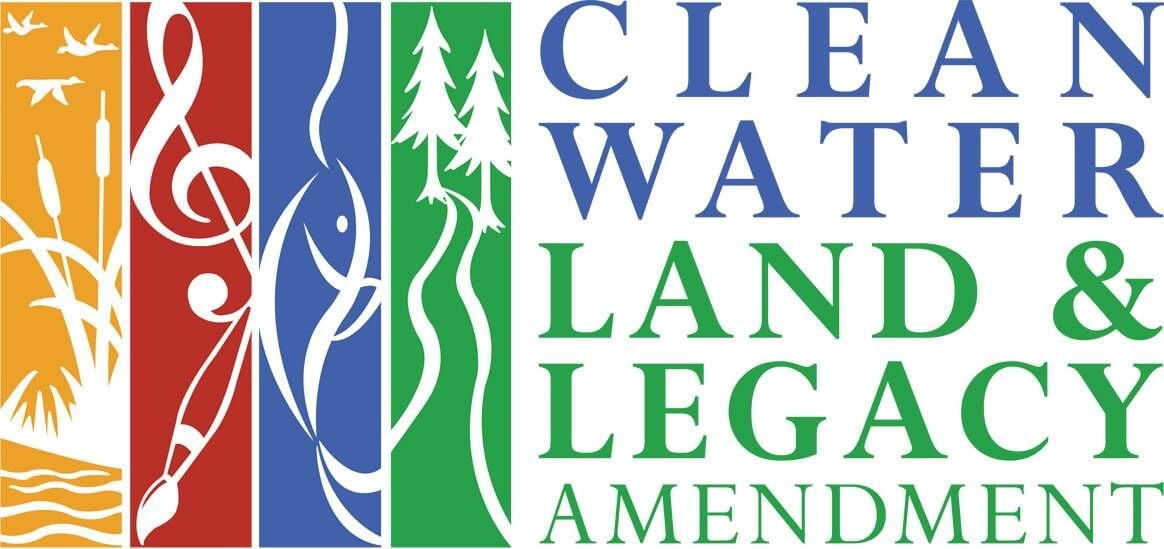 This story is made possible by the Arts and Cultural Heritage Fund and the citizens of Minnesota.
Relish host Yia Vang spends some quality time in the kitchen learning the secrets of his mother's delicious Hmong-style steam buns. Prepare to be delighted – and hungry.
Know someone in your life who needs this Soul Food Fried Chicken Sandwich by Chef Gerard Klass? Maybe it's you? Don't waste a minute - make it today!
When Chef Karyn Tomlinson's mother asked her what special meal she wanted for her childhood birthdays, her answer was always the same: pot roast. Now an acclaimed chef in her own right, she shares her Grandma's Pot Roast recipe (and a few ideas on how to kill time while the delicacy is cooking in the oven).