Why Penumbra Theatre's Sarah Bellamy Says 'More Theater. Period.'
The theater company's Artistic Director shares her journey into leadership and her hopes that future generations will no longer have to "argue for theaters of color."
Theater is in Sarah Bellamy's blood. She grew up in and around Penumbra, the theater company founded in 1976 by her father, Lou Bellamy. From her first appearance on stage at six months old to myriad positions within the theater, her experiences laid the foundation for her current role as the theater company's Artistic Director - a role she took on when her father retired in 2017.
Perched on the Penumbra stage, she effortlessly answers questions about her experiences growing up in the theater business, the challenges - and the joys - of following in her father's footsteps, and her ambitions for Penumbra's future. In this particular instance, Sarah Bellamy is the play that holds your attention, her thoughtful, wicked-smart commentary a mesmerizing dialogue that grips you in your seat.
With that in mind, here are a few additional thoughts curated from our conversation with Sarah.
Entry into Leadership
"It was the most magical experience growing up inside of the theater community. It emboldens you and helps you realize that the things people dream of can become a reality. That was a profound lesson for me as an artist and also eventually would be a very profound lesson for me as an organizer and social justice advocate.
One of the unique things about Penumbra Theatre and my entry into leadership here was that I was in a co-artistic directorship with my father for four years. During that time period, we had to learn each other really differently. We'd worked together for a number of years, but in different capacities. We weren't exactly engaging in each other's realms as deeply as we would be in a co-artistic directorship. And my sense of how I might curate a season was very different from his process. My father goes out, and he experiences the world, and he comes back and he says, 'Here's what we're going to do.' It's almost like coming down from the mountains with the tablets, you know, and I was like, 'I want to thematize things, I want to plan for a year of engagement.'
And there was tension there. I mean, he'd been doing it literally for 40 years, so he had to learn to make room for my process. We built a really respectful rapport with one another in that regard. My father, he is one of those people who's kind of all in or all out, and for him to be with me and to be willing to make room for me and stick around to support me at the same time… I know it was deeply challenging and he was really great at it. It's been one of the most profound experiences of my life to get to know my father that way. He's a really cool person. I miss him here a lot. He's a lot of fun."
Working with Dad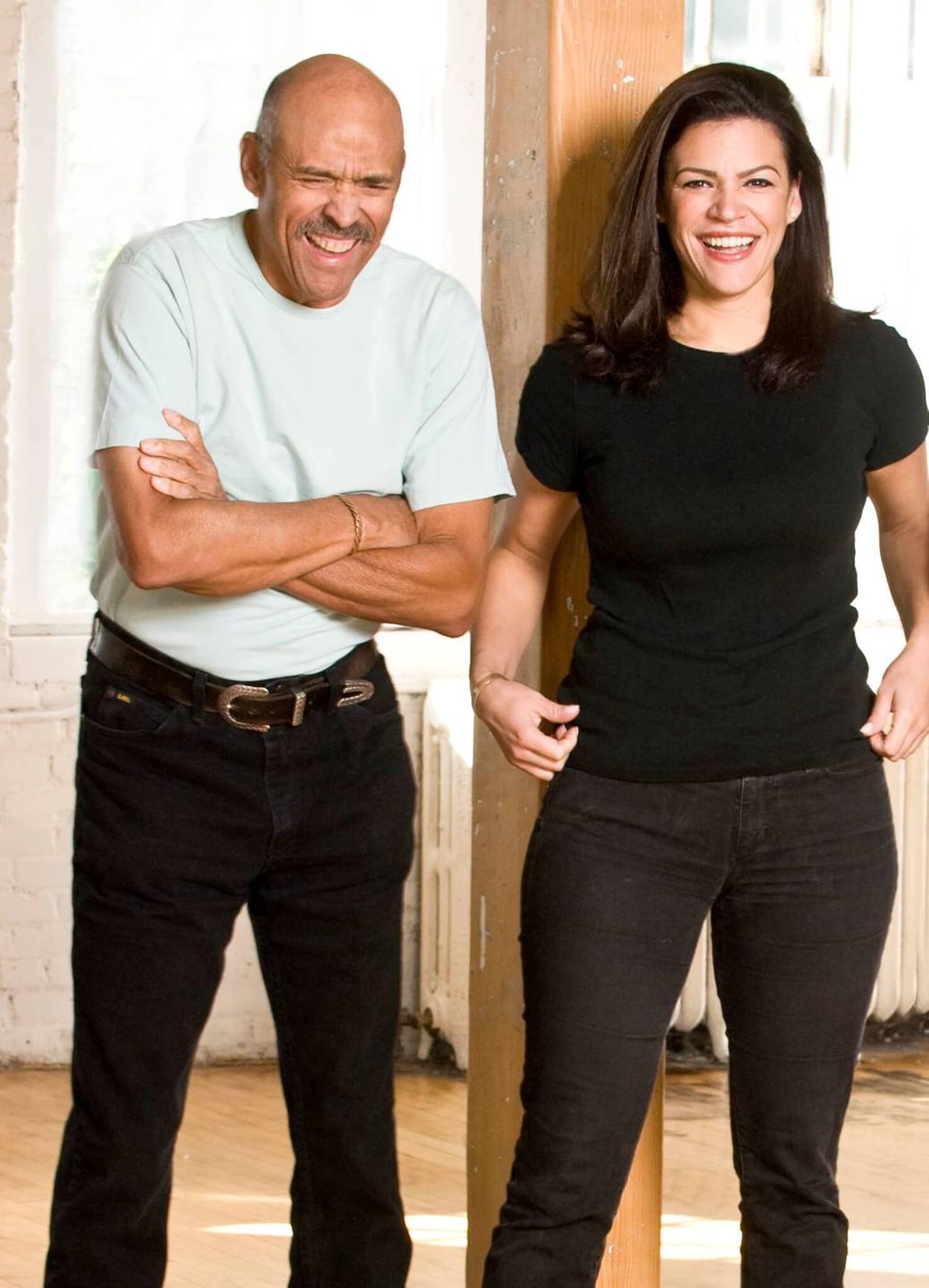 "My father, Lou Bellamy, and I co-directed a play last season at Penumbra. We had produced for colored girls who have considered suicide / when the rainbow is enuf here once before at Penumbra Theatre, but we wanted to really offer a fresh take. And in particular I selected that play during 2018 because of the conversation that we were having around sexual harassment and misconduct all over the country, and inside of our administration in the White House. So it felt really current in a way that was surprising for something that was written in 1974.
My father and I spent a fair amount of time really delving deeply into the concept for the show. And what came out of it was absolutely spectacular. I am so, so proud of that play and of that process. It was an amazing experience. He really let me lead. My father stepped in when he knew that I needed help, but he trusted me. And honestly, I think one of the most powerful things I could hear as a child responsible for stepping into this place that has such an important legacy and was his dream that he shepherded for as many years as he did, was that he believed I could do it. And that I had done enough at a certain point where he wasn't worried any longer. He wasn't worried about me and he wasn't worried about this place. He let go. And that was amazing. And I was ready to fly at that point."
Education and Outreach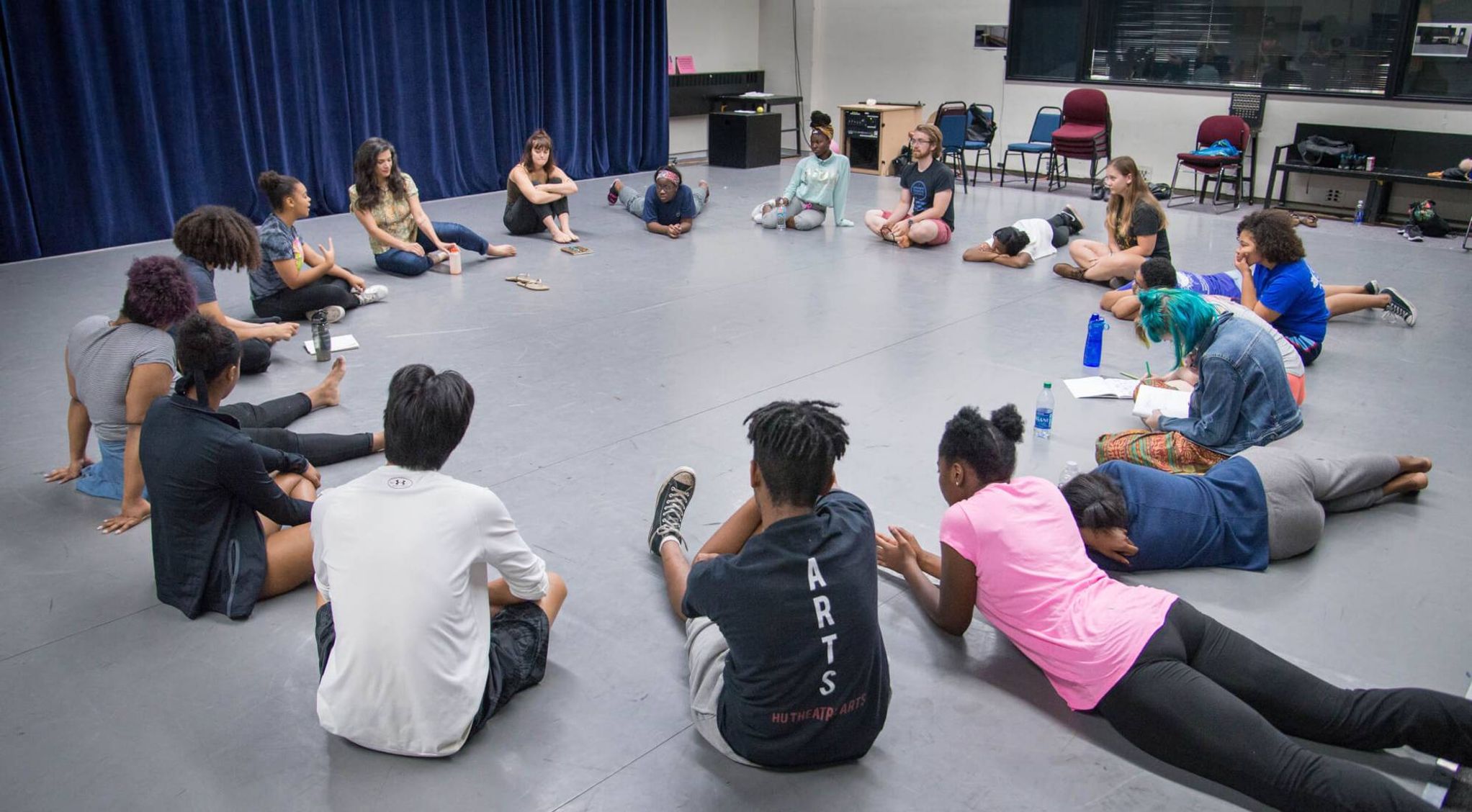 "In addition to the plays that we produce, we do a lot of education and outreach training, including racial equity training. We have a leadership program for young adults called Summer Institute. It's a really robust and a wonderful community to be a part of.
I spent a lot of my years growing up figuring out how to navigate different spaces. My work as an adult working with artists and youth has been to encourage myself and all of the people that I work with to show up as authentically and as wholly as possible so that you become really the same person in as many places as possible. And that's a great joy when you feel like you can show up like that."
Beyond the Stage
"I think one of the things that I've been really interested in since I was given the opportunity to step into a leadership position here at Penumbra is how to use the platform that we have to expand our impact beyond the stage. That was always the intent of this work. I mean, when I go back to the founding principles of the black arts movement, it wasn't navel gazing. It was an intended, major shift in the social fabric of society. So, what we try to do is use the plays as really a springboard for deeper conversation and civic engagement around the issues that we stage.
Since I've been the Artistic Director, we've taken on a couple of different projects. For example, we canvas the neighborhood to make sure everyone is registered to vote. We've had volunteers walk people to the polls. It felt really, really important as part of our citizenship and as part of our practice of being in community that we helped people participate in the making of our collective future.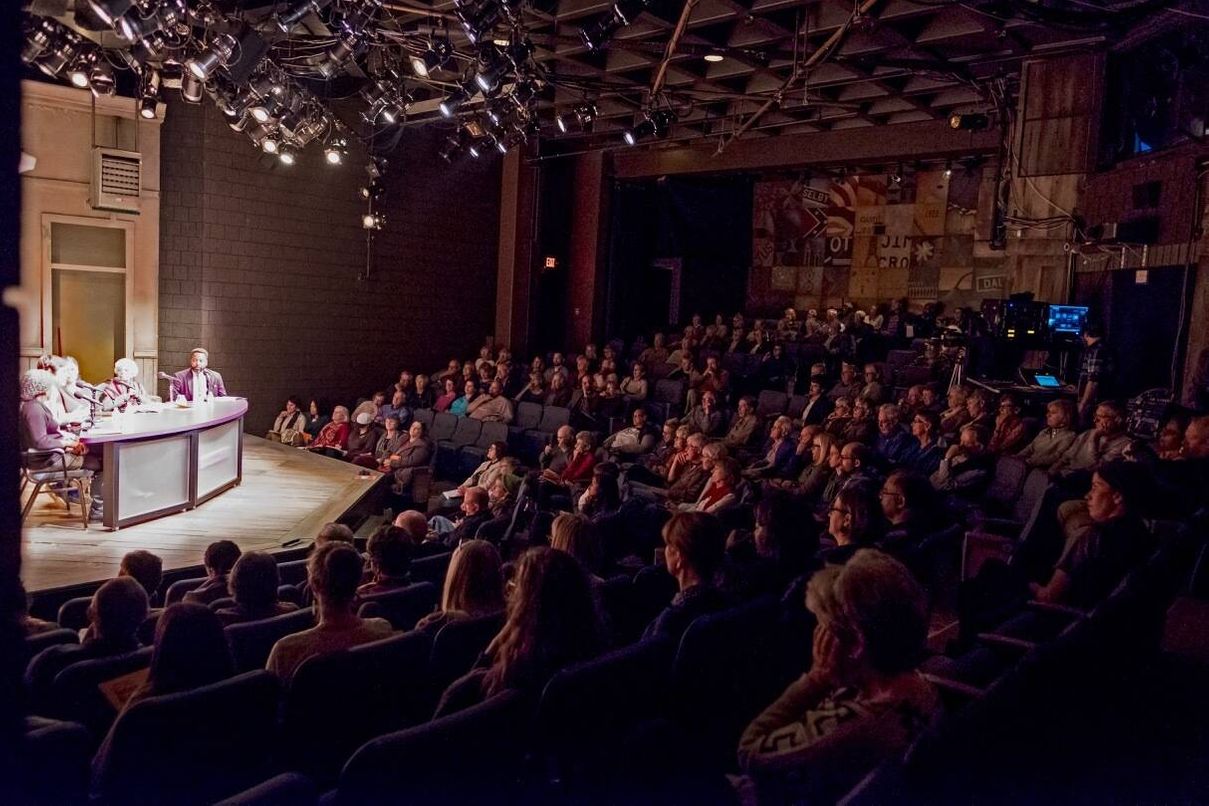 We have quarterly Let's Talk events. These are conversations that really try to address the many, many issues that we're facing as a nation today. They range in topics. We had one after Ferguson that was tremendously powerful. The entire theater was packed, and we actually had to put video out into the lobby for people that wanted to participate because we didn't have enough seating. We've had conversations with members from the Black Panther Party during their anniversary year to talk about their early advocacy. I mean, they were teenagers when they started, and it's amazing to meet them now in their sixties and seventies, and for them to be able to reflect on their life of advocacy work and activism.
And then we have conversations that are truly homegrown to Minnesota, like our My America initiative. We put a call out for stories about people's experience with being an American. We ended up with 12 incredible artists who ranged in age from 14 to 74. We had a majority of people of color, coming from all walks of life. They created a story about their experience with America and we shared those stories here in this space. It was so profound and so healing.
Minnesota is part A Prairie Home Companion, and also much more. So our ability to really reflect the diversity of this state to honor the legacy of the indigenous folks on whose land we're occupying. To acknowledge the transients of this Rondo community that used to house one of the most powerful and politically powerful black communities in the country. And to think about who we are today with this footprint. It's amazing because you feel like you're in this flow of history, you're in the river. It's really cool to be able to use art to engage people around the issues that matter most for our lives."
Importance of Self-Care
"I was profoundly lucky to be given a Bush Fellowship in 2015, and that was really a two-year journey. It was an exploration of my leadership style, how I wanted to show up, what I felt like was essential for my own practice and also for Penumbra. I think one of the things that has become like a fierce passion for me is that women and people of color don't often afford themselves the opportunity to practice self-care, especially those that are working within a social justice framework. We go, we go, we go, and then we burn out and we can't afford to burn out right now. So part of what I really tried to lean into and learn about was practices for sustainability. Poet and activist Audre Lorde said:
'Caring for myself is not self-indulgence. It is self-preservation, and that is an act of political warfare'
I think it's both standing fully, authentically in who we are, and also realizing that because of who we are, we're going to need extra care. And running a nonprofit is like a ping-pong game. You're constantly just this thing and this thing and this thing, and it will take everything that you have and more. So very early into my Bush Fellowship, what I realized is, if I'm going to deeply contemplate my leadership style, if I'm going to understand the potential impact that I can have for this organization in this community, and if I'm going to practice what I preach, then I need to make time to do that.
So I created this thing I call my Thursdays, which is a day away from the office for me. I go to a coffee shop and I read things that I find inspiring and challenging, and I write. I'm a writer. That's how I think. That's how I move through the world. It helps me organize my thoughts. So my Thursdays eventually became my integration day because it's the place in time where everything can kind of come together and be synthesized, and it makes me more useful, more resilient, more resourced to do my work. I encourage my team to do it as well. I think Google understood this. You have to give people room to think and to synthesize. We can't just be constantly chasing after a thing that needs immediate response.
I grew up with incredible mentors in this work, who I think also were workaholics. I don't want to do that. And I don't want to require that of my staff. I want them to feel powered up and buoyant and jubilant as best they can because we're taking on really, really tough stuff. And there's a reason why it's called a play. It's supposed to be fun. So, we have to hold on to the fun."
Special Thanks: Tiffany Johnson, Amy Thomas, Groundswell, Sarah Decker
Additional Media: Ann Marsden, Allen Weeks
Minnesota Music: Lowray, Noah Hoehn, The Applebaum Jazz Piano Duo, When We Land
Production Team: Amy Melin, Brennan Vance, Ezra Gold, Joe Demko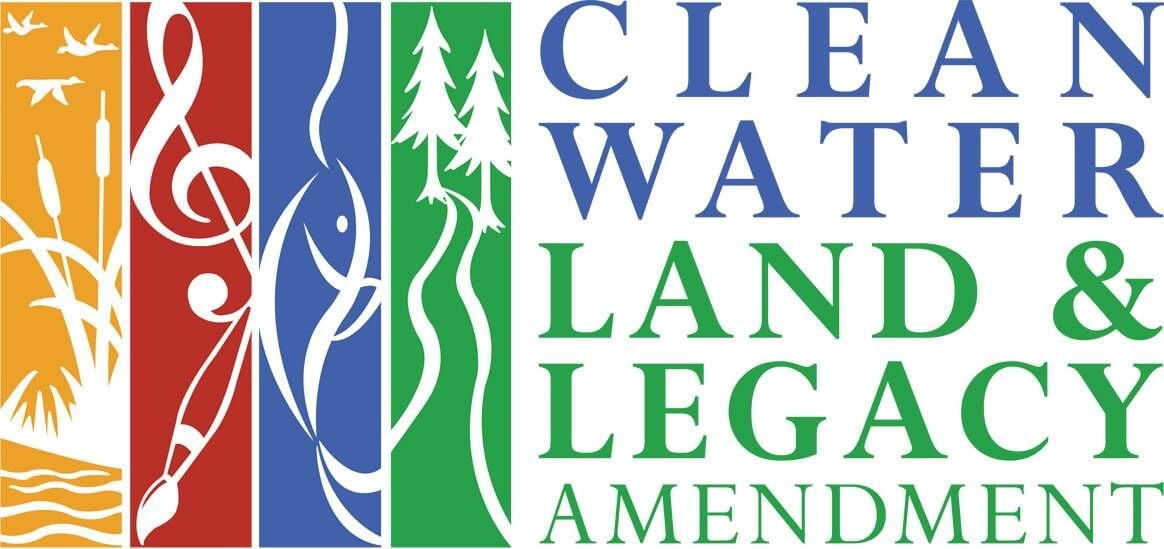 This story is made possible by the Arts and Cultural Heritage Fund and the citizens of Minnesota.
Ojibwe/African-American theater artist Sir Curtis Kirby III believes in the power of the play to transform the lives of the young, Native American artists he directs at the Ikidowin Youth Theater Ensemble. 
Minnesota is home to more than 440 theaters - so it's safe to say it's always "play time" somewhere in the state. Explore 10 theater companies that bring an incredible range of artistic experiences and perspectives to Minnesota audiences. 
Two young, aspiring filmmakers dreamed of making a TV show about their love for Faribault, Minn., history. The best way to learn? By making a TV show. Their cable access show 1855 recently became fodder for a stage production that brings the town's history to life in an entirely new format.