Which legislative leader's side dish is the tastiest of them all?
Five local lawmakers walk into a TV studio for a side dish showdown...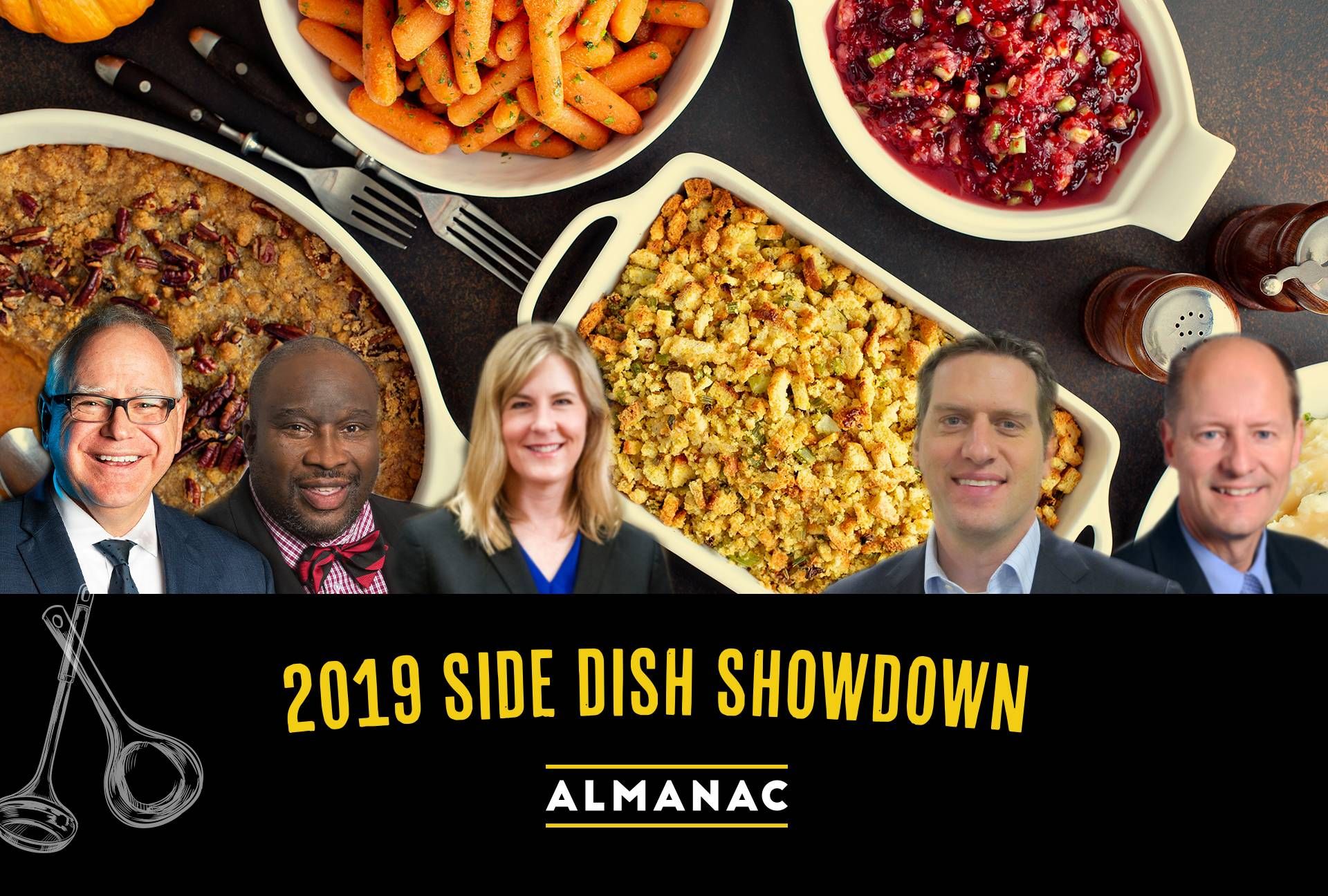 James Beard once said that food is the common denominator that brings people together. While Minnesota lawmakers may be accustomed to debating their different approaches to policy, we asked them to duke it out in a little friendly food competition, aptly dubbed "The Almanac Side Dish Showdown." After all, sometimes a side dish presents some serious questions:
Should you use cream of mushroom or cream of chicken soup as your side dish goo?
Does Jell-O mixed with whipped cream really constitute a salad?
To bake or not to bake?
In the end, it doesn't matter who won. What matters more is that everyone was able to set aside their differences for a moment to laugh and talk and eat.
So in the spirit of breaking bread together, we share a collection of tasty recipes from some of Minnesota's political leaders (along with the one-and-only Chef Yia Vang).
Cookie Salad
Governor Walz brought an old-fashioned Midwestern recipe that often makes an appearance after dinner at their family's Thanksgiving gathering.
INGREDIENTS
1 c. buttermilk
1 pkg instant vanilla pudding
1 8 or 12 oz. whip cream or cool whip
1 can mandarin oranges (drained)
1/2 pkg fudge striped cookies
DIRECTIONS
Mix together buttermilk and vanilla pudding. Add whip cream and mandarin oranges. Just before serving, crush 1/2 package fudge striped cookies and mix in/sprinkle on top.
Roasted Acorn Squash
Speaker Melissa Hortman's simple squash recipe will make your Thanksgiving prep a breeze.
INGREDIENTS
4-6 small acorn squash
2-3 lbs. cubed butternut squash
2 tbsp. melted butter
1/2 c. butter
Brown sugar, to taste
DIRECTIONS
Preheat oven to 450 degrees F.
Halve acorn squash, removing and discarding seeds and centers. Bake until tender, approximately 40 minutes.
Roast butternut squash in 2 tablespoons melted butter, approximately 40 minutes or until tender. Puree cubed butternut squash in food processor in two batches, with 1/4 cup butter in each batch.
Scoop pureed butternut squash into acorn squash halves. Top with butter and brown sugar to taste.
Crispy Roasted Rosemary Sweet Potatoes
Senator Paul Gazelka's entry from The Comfort of Cooking blog is sure to please!
INGREDIENTS
Serves 4
3 tbsp. butter, melted
3 tbsp. olive oil
1/4 tsp. crushed dried rosemary, or 1/2 tsp. fresh
3 lbs. (3-4 medium) sweet potatoes, peeled and sliced thinly
Kosher salt and freshly cracked black pepper, to taste
DIRECTIONS
Preheat oven to 400 degrees F.
Combine melted butter, oil and crushed rosemary in a small bowl. Pour 2 tablespoons of butter-oil mixture in the bottom of a 2-quart baking dish. Arrange potato slices vertically in the dish. Add a sliver of shallot between every few slices of potato. Brush top with remaining butter-oil mixture. Season generously with salt and pepper.
Cover dish with foil and roast for 1 hour, covered, until potatoes are tender (If your potato slices are thicker than shown, you may need to increase cooking time). Increase oven heat to 450 degrees F. Remove foil and roast another 10-15 minutes, until tops of potatoes are browned and crisp.
Wild Rice Dressing with Pickled Cranberries and Winter Squash

Representative Kurt Daudt's entry looks complicated, but it's worth the work.
INGREDIENTS
5 c. cooked wild rice, warm to room temperature

1 small delicata squash
2 tbsp. olive oil
1/4 c. dried cranberries
1 tbsp. sugar
1/4 c. apple cider vinegar
1/8 tsp. crushed red pepper flakes
8 tbsp. unsalted butter (1 stick)
3 shallots, peeled and finely diced
1 tbsp. chopped sage
2 tsp. chopped thyme
1/4 tsp. black pepper
1/3 c. walnuts, coarsely chopped
2 tbsp. fresh orange juice
1 garlic clove, lightly crushed
DIRECTIONS
Preheat oven to 425 degrees. Slice the ends off of the squash and then slice lengthwise. Scoop the seeds out of the squash and slice the squash into 1/4-1/2 inch thick slices crosswise so that you have crescent-moon shaped slices. Toss sliced squash with olive oil and season with salt to taste. Arrange squash on a sheet pan in one layer. Roast squash in oven, flipping over once, until it is browned and crisped at the edges, about 35 minutes total.
While squash is roasting, combine cranberries, sugar, vinegar, 1 tsp. salt, and 2 tbsp. water in a small saucepan and bring to a boil over medium-heat. Reduce heat to a simmer and continue cooking until sauce has reduced and the cranberries are plump, stirring occasionally. Once reduced, pour cranberry sauce into a small mixing bowl. Add crushed red pepper flakes to the cranberry sauce and stir.
In a skillet, melt 4 tbsp. butter over medium-low heat and add shallots, season with salt. Cook shallots, stirring occasionally, until they are translucent and beginning to caramelize. Add in chopped herbs and season with 1/4 tsp. black pepper. Cook shallot and herb mixture until fragrant, scoop mixture into a large mixing bowl.
Wipe out skillet and return to stove. Melt remaining 4 tbsp. butter over medium-low heat. Once butter has melted, add chopped walnuts and toast walnuts until they are fragrant, about 8 minutes. Add walnuts and butter to the shallot mixture.
Once the cranberry sauce has cooled to room temperature, add fresh orange juice and crushed garlic clove. After 10 minutes, fish out the garlic clove and discard.
Add wild rice, squash, and cranberry sauce to the shallot-walnut mixture. Toss to combine.
Aunt Adrian's Rigatoni Baked Mac and Cheese

Senator Jeff Hayden's family recipe will satisfy even the pickiest eaters.
INGREDIENTS
1 lb. Rigatoni Pasta
2 8 oz. blocks of Extra Sharp Cheddar Cheese
2 8 oz. blocks of Colby Cheese
1 16 oz. bag of Shredded Cheddar Cheese
2 cans of Cheddar Cheese Soup
DIRECTIONS
Preheat oven to 350F. Lightly grease a large casserole dish and set aside. Combine blocks of cheeses, shredded, in a large bowl and set aside.
Cook the pasta al dente according to the package instructions. Remove from heat, drain, and place in a large bowl.
Spread a thin layer of pasta in casserole dish. Sprinkle with shredded blocks of cheese. Repeat layers; top with remaining pasta.
Pour cheddar cheese soup over pasta.
Sprinkle bagged shredded cheddar cheese all over pasta.
Uncovered, bake for 30-45 minutes, or until cheese is melted.
Bonus Recipe! Grilled Sweet Potato with Coconut Crema

Chef Yia Vang's mouth-watering sweet potato recipe was not part of the competition (for obvious reasons), but he generously shared one of his favorite side dishes for all of us to enjoy.
INGREDIENTS
3 Whole Sweet Potatoes
1 tsp. Salt
2 tsp. Oil
1 tsp. Cumin
1 tsp. Coriander
1 tsp. Smoked Paprika
1 tsp. Black Pepper
1/2 c. Sour Cream
1/3 c. Coconut Cream
1/4 c. Fresh-squeezed Lime Juice
DIRECTIONS
Cut the sweet potatoes into wedges and add salt and oil to cover.
Put the wedges on a hot grill until tender.
Mix cumin, coriander, smoked paprika and black pepper into a spice mix.
Toss the sweet potatoes - hot off the grill - in the spice mixture.
Mix sour cream, coconut cream and lime juice to make the crema.
Drizzle crema over sweet potaotes.
As you gather together with friends and family this holiday season, we wish you constructive conversation, happy memories ... and unforgettable side dishes!
Union Hmong Kitchen Chef Yia Vang is the host of our new web series, Relish, in which he explores the intersection of food and culture with some of the Twin Cities most creative tastemakers. Check out the first episode as he makes Hmong-Style Steam Buns with his mom.
This isn't the first time that Almanac has inspired legislative leaders from both parties to set aside their differences. At the Minnesota State Fair this summer, Governor Tim Walz, DFL House Speaker Melissa Hortman and Republican Senate Majority Leader Paul Gazelka agreed to work together to combat the rising cost of insulin and to address gun violence prevention. See it to believe it.