Trial & Tribulation Bonus Episode: How do we protect our emotions during the Chauvin trial?
As we near the end of the first week in Derek Chauvin's trial for killing George Floyd, many of our close friends and family members may be feeling the sting of reopened wounds. With a string of emotional witness testimonies, four from people who were all minors at the time of George Floyd's death, we've heard a common theme: They are haunted by what happened in May 2020. Many of them testified to how much they blame themselves for not intervening on George Floyd's behalf.
That testimony can also serve as a powerful trigger for people who suffer from generational racialized trauma - so we turn again to therapist and author Resmaa Menakem, who offers some strategies on how to cope as the intensity of the trial gains steam and brings people back, not only to May 2020, but to all of the other times Black men and women have been killed by police.
Kyeland Jackson, Host & Reporter:
Hey, y'all. It hasn't been long, but I'd be lying if I didn't say that things have been rough. Testimonies for the trial of Derek Chauvin have been traumatizing. We've seen one juror break down into tears over George Floyd's death. Kids who should be worrying about school have had to recount the shame and guilt that they felt from watching a man die. Many of us are so busy getting by that, we don't notice the toll that this trial is taking on our minds, on our bodies, on our souls. So making time to care for ourselves feels more important than before. So here's the question. How do we protect ourselves mentally and spiritually through the trial?
Resmaa Menakem, Author & Racialized Trauma Therapist:
If you're gonna listen and watch this trial, first thing to do is orient yourself. Look around, look behind you, look up, look down, let your body know that there's nothing behind it. Look for places to leave, look for places to escape, look for doors, exit doors, look for windows. Remind the body that you're here right now. Okay?
Ground yourself. Notice your feet inside your shoes. Notice your booty on a chair or something like that. Notice your... Breathe, right? Have somebody there with you, right? Hold their hand. Touch, self touch is important. You notice something happening in your neck, touch your neck and give it support. These are not Jesus hands. These are just ways to give your body support in things that are showing up in the body. Just support it.
So you may notice something in the heart, something in the stomach, just support that. Rock, hum, wail, do those pieces and more than anything, pause and stop. When you notice the overwhelm, talk to other people, move, but pause and stop. So you notice the overwhelm is starting to begin to be too much. Turn it off, get up, move, walk, go outside, call someone on Zoom. Do whatever it is that you need to do. But put in a lot of breaks. A lot of breaks.
Don't override as Black people, one of the ways we survived... we have survived this brutality is not only tapping into joy and love and laughter with each other right? And communing with each other. One of the ways we survived is to override everything. We override anything that comes up, we override get to it and let's just move through it, right? And what I want us to do is pay attention to that and we notice that that's happening on a more frequent basis. Stop, reach out to people, get up, walk, move, right? So that's what I would say.
In terms of white people, I would say the white people watch it. Watch the whole thing. You can do some of the same things I've said, but just watch the whole thing, come back to it, right? And begin to get together with other white bodies and deal with race specifically, race specifically that has a 400- and 500-year-old charge to it that white folks have not developed any type of collective efficacy around. White people have no idea about race. None. Collectively have no idea. And they have to begin to work with this with each other's bodies.
Kyeland Jackson:
When times are hard, it's important to lean on ourselves and on the people that are around us. We need to check on each other. You need to take care of yourself. We'll get through this the way that we always have, together. Until next time, peace and love.
Special Thanks: Resmaa Menakem
Production Team: Jess Bellville, Kevin Dragseth, Danae Hudson, Kyeland Jackson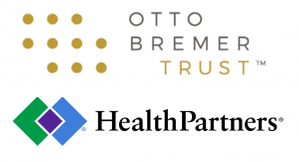 This story is part of the digital storytelling project Racism Unveiled, which is funded by grants from the Otto Bremer Trust and HealthPartners.
As the trial of Derek Chauvin begins on March 8, 2021, communities of culture are going to experience that burning, suffocating feeling of trauma all over again. In the first episode of the weekly series, Trial & Tribulation: Racism and Justice in Minnesota, we talked to trauma expert, therapist and author of My Grandmother's Hands: Racialized Trauma and the Pathway to Mending Our Hearts and Bodies, Resmaa Menakem about how people can cope right here, right now, as the trial stirs up old and new wounds.
As jury selection began in the murder trial of former MPD officer Derek Chauvin in early March, Minnesotans – and others around the world – got an inside look at how implicit and explicit forms of bias work against people of color as prospective jury members. In the second episode of Trial & Tribulation: Racism & Justice in Minnesota, we talked to a variety of experts on how the jury system does – and does not – work for Black Minnesotans. 
Data Reporter Kyeland Jackson left Louisville, Ky., Minnesota shortly after George Floyd was killed by Minneapolis police. In "Tethered: How Race and Policing Binds Minneapolis to Louisville," he hones in on the racism-fueled policing disparities that led to both Floyd's and Breonna Taylor's deaths.