Trial & Tribulation: How can Black Minnesotans find healing in the wake of George Floyd's murder?
When George Floyd was killed under the knee of former MPD Officer Derek Chauvin on May 25, 2020, the world heard him say, "I can't breathe," and Minnesota's communities of culture (and those across the globe) felt a pinch in their own throats. After all, people of color live with the weight of racialized, history-rooted trauma every day - and when another Black person is killed, brutalized or treated unfairly by police, that boiling pot of trauma, roiling under the surface, spills over. As the trial of Derek Chauvin begins on March 8, 2021, communities of culture are going to experience that burning, suffocating feeling all over again. So we talked to trauma expert, therapist and author of My Grandmother's Hands: Racialized Trauma and the Pathway to Mending Our Hearts and Bodies, Resmaa Menakem about how people can cope right here, right now, as the trial stirs up old and new wounds.
If you or someone you know needs help dealing with the impacts of racialized trauma, here are some resources:
Heartful Healers' Coalition: Community Healing
"Community healing through Heartful Healers Coalition is a project that brings together not just Healing Touch providers but also other healers who provide psychotherapy and an array of powerful complimentary healing modalities."
National Alliance on Mental Illness, Minnesota Chapter: Resources for Diverse Cultural Communities
"Multicultural communities face unique challenges in accessing mental health treatment and receiving care that is free from racism, homophobia, and other biases. Furthermore, there may be higher levels of stigma, language barriers, and the healthcare system can be culturally insensitive. We must recognize these issues and provide resources and support to address them."
Minnesota Compass: Racial Equity Resource Directory
"The Racial Equity Resource Directory continues to serve as a hub for finding and connecting with people, programs and organizations working together to increase cultural competence and combat institutional racism."
Minnesota Department of Health:Resources in the Wake of Community Trauma and Beyond
"[A list that] includes tools for further action and education within family and communities about race and racism. Racism is a critical public health issue that impacts all aspects of our health, especially mental well-being."
READ THE TRANSCRIPT OF THE INTERVIEW
Resmaa Menakem:
Black and Brown bodies are dealing with this trauma that is unceasing, and if we don't give it context, we will put the defect inside of us. We will think that something is wrong with us.
Kyeland Jackson:
Hey, y'all. It's been almost a year since our Black and Brown communities felt centuries of historical trauma erupt with the killing of George Floyd. Almost a year, since our rage exploded into protest on the streets of Minneapolis, of Louisville, of communities across the world. Almost a year since we saw the system sworn to protect us, do what it always has, cut an uneven number of our lives short. Since then, times have been harder for people who look like you and I. The COVID pandemic has kicked communities of culture while we're down, destroying our bodies, draining our wallets and robbing us of opportunities to support each other. So this giant ball of trauma has festered in our bodies and now the trial of Derek Chauvin will re-traumatize us all over again.
Kyeland Jackson Cont.:
Downtown Minneapolis is looking more like a police state as authority secure the city. But just the sight of those barricades stairs up to pain for a lot of us. After all, barricades have been used to jail and divide unequal shares of Black people, not to protect us. So here's the question: How can we get through this time and maybe even find some healing?
Resmaa Menakem:
Well, when you live in a society where the white body has deemed itself the supreme standard by which all bodies humanity shall be measured. What happens is, is that you, before your Black body even lands on the planet, your mama's and your daddy's Black bodies have had to contend with white body supremacy with that piece. So that cortisol and stuff that's in their bloodstream, and them having to have to deal with this type of stuff, that does something that, by the time you get that and by the time they are raising you, you are learning from what their bodies are recoiling from in the structure and what their bodies are leaning into in this structure. So what happens is that all of that stuff never really gets dealt with when incidents like this happen, but they are present.
Resmaa Menakem Cont.:
When we then see brother Floyd or sister Brianna Taylor or the countless number of Black bodies, even going all the way back to the 4,500 lynchings that happened to our people that were purposely put in places where Black people would see it, so as to instill terror in our bodies. The barbed wire that they're putting all around and the 3,000 troops coming in in order to prep for the trial - all of that speaks to our bodies as horror and terror. Three months before the Chauvin trial, people may have been noticing this tightness, this constriction in the nervous system, this constriction in the space around them. And what you're doing is saying no, there's something to that. That the closer we get to something that has a potential to be dangerous or terrorizing or traumatic, the more our bodies can begin to kind of constrict and protect.
Resmaa Menakem Cont.:
And so this Chauvin trial three months before and three months after is when we need to watch for people that may be dealing with anxiety issues, issues around depression. Those pieces are so important to help people understand that it is not just personal, it is also historical. It is also intergenerational. It is also because our bodies, our Black and Brown bodies, our bodies of culture are dealing with this trauma that is unceasing, that this stuff may be triggering all of the other pieces. And so that stuff is not personal, it is structural. It is philosophical. So we must develop healing ways and healing methods and ways of holding each other communally, not just individually. Because our individual strategies are not enough to contend with the communal brutality, the communal terror of seeing a Black body destroyed like it was in front of our very eyes.
Kyeland Jackson:
Part of the trauma that we share is the belief that the system will acquit these officers. That once again, there'll be no justice for a Black life taken by police. Trials for the killers of Emmett Till, Philando Castile and countless others have reminded us that the system is rigged against our communities. And as officials build barricades in fear, that rage will shake Minneapolis. We can't help but think that history will repeat itself.
Resmaa Menakem:
This is why Black folks and bodies of culture, right now, before this trial are holding our breaths. You can see it in our face, there's this bracing. Because we know that so often in situations like this, the Black body does not get justice. So as we're watching this, hoping that we can have some justice, we're also bracing for the fact that we probably won't.
Kyeland Jackson:
So how do we make it through, how do we hold each other up? And how do we move ahead with the weight of traumas from the past and the present continuing to press on our necks?
Resmaa Menakem:
A lot of times we ask people, "How you doing?" And we really don't want to know how they're doing. And asking questions like, "Did you eat breakfast today? How are the kids? Are you sleeping well? Are you getting out? Are you breathing? Are you communing with people?" Those are the questions that actually help to support our ways of dealing with the persistent trauma and historical trauma that exists, especially for those of us in Black and Brown bodies. We have to create in our communities what I call wailing spaces, retrieval spaces. Spaces and houses where people can come and sit, have their mask on and be there with other bodies and rock, other Black bodies, other Brown bodies, other red bodies be there and rock. Not give advice, but rock.
Resmaa Menakem Cont.:
Let people cry and grieve because they're not just crying and grieving what is happening in terms of the trial. We're crying and grieving and needing to wail because of what has happened and continues to happen to our people and it shows up in an acute way in these types of situations. And so I'd like for us to start to begin to think about developing wailing spaces, be more softer with each other, beginning to create a context for what it is that we're dealing with, acknowledging that we're not defective. Like during this time we have to do it and we're going to have to do this for the next three years. So one of the things that happens that people don't pay attention to is that we saw brother George Floyd get murdered. And what I know as a trauma therapist is that usually from one to three years is the most acute time where that stuff activates around the same time each year.
Resmaa Menakem Cont.:
And because we don't have context for it, when we start to go into depression or we start to go into this, "Man, I don't know what's going on." We start to put the defect with us, something must be wrong with me. Not what happened to me a year ago and now my body, is it starting to kind of reactivate to that again, because it's the anniversary of it. And so what I hope that we begin to do is to begin to develop remembrances. Like I know something that they're doing over on 38th and Chicago, as people come to that place, they remember that. And so those vibrations, those feelings, those emotions, those thoughts, those images, all of that stuff can be put into context. That's one of the things that helps us heal through this stuff.
Kyeland Jackson:
Take care of yourself, Minnesota. Get help, share your story and show up for others. We've persevered through this before, and we'll get through this now. Peace and love.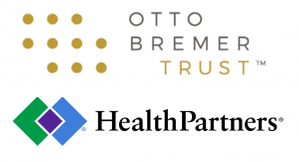 This story is part of the digital storytelling project Racism Unveiled, which is funded by grants from the Otto Bremer Trust and HealthPartners.
To demonstrate the healing power of therapy, Sanni Brown-Adefope agreed to attend a recorded session and explore the trauma that has affected her life. Dr. Sheila Sweeney, of Peaces 'n PuzSouls, partnered with Sanni to take her through a healing reflection of her past. Dr. Sweeney is a psychotherapist with a special interest in the mind, body and soul connection. Watch the full session.
On January 28, 2021, the Twin Cities PBS digital storytelling project Racism Unveiled hosted a live Zoom panel titled "Flight, Fight and Flow: Self Healing" aimed at examining the ways in which Black Minnesotans are affected by trauma, and how we can begin or continue our healing journey. Packed with insight and guidance, discover the six key takeaways illuminated by the event.