Relish: Hassan Ziadi's Spice-Infused Walleye Tagine
Like many ocean-flanked countries, Morocco's coastal waters churn up a mix of cultural influences. Situated in the northwestern corner of Africa, the country's coastlines run along both the Atlantic Ocean and the Mediterranean Sea. Spain is just a three-hour trip from Tangiers. Take a stroll on any street in the port city, and you might hear a chorus of Arabic, French, Spanish and the native Berber spoken around you - and those cultural roots have a strong influence on Morocco's cuisine.
Chef Hassan Ziadi was raised in Morocco's capitol, Rabat, and his culinary passion came to a boil while cooking alongside his grandmother. "I was always the one who got the first taste, and she'd ask me if it needed more salt, spices, harrisa or something," he recalls.
Need more Relish in your life? We've got you covered with additional episodes.
Harissa, a North African hot pepper sauce, along with rose water, cinnamon, saffron and a host of spices are trademarks of the Moroccan cuisine he makes at the Midtown Global Market eatery Moroccan Flavors, which he owns with his wife and fellow chef Raja Samlali. All of those hallmark spices blend with mouth-watering complexity in Chef Ziadi's tagines.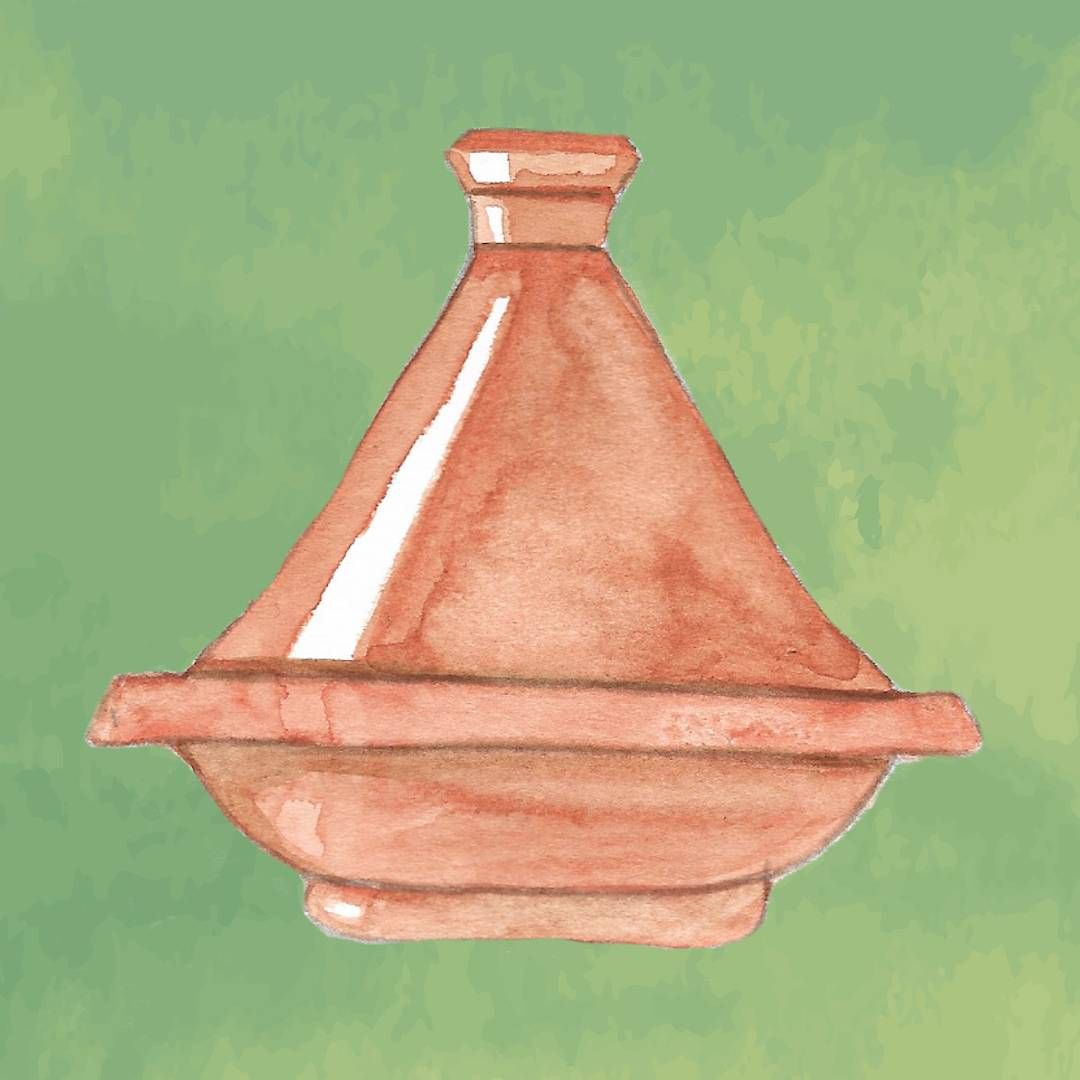 Tagine, Chef Ziadi explains, is both a slow-cooked stew and the pyramid-shaped stoneware in which it's traditionally prepared. But even if you don't count a tagine among your stoneware collectibles, he says that a simple lidded sauté pan will also do the trick.
The advantage of the traditional way is that the stoneware's unique shape encourages food to be simultaneously cooked from the bottom and steamed from the top.
In a tagine, a marinated protein sits atop garlic, onions and vegetables, though the dish can also be made fully vegetarian or vegan. A pour-over of marinade, called chermula, is added for moisture and flavor, creating a stew-like consistency. Each chermula recipe differs based on the protein or vegetables featured. (This is where all the spices and harissa come into play.)
Chef Ziadi's favorite adaptation of this slow-cooked stew is fish tagine - and for this Relish episode, he prepares Minnesota's own walleye as the featured swimmer. Other Moroccan tagine favorites use sardines, red snapper, shrimp, lamb, meatball, beef, chicken or vegetables as their base.
Like many meals in Morocco, tagines are often eaten communally. In his family, his grandmother would begin slow cooking a tagine in the morning when the kids went off to school and the adults to work. Over the lunch hour, the family would return home to gather and share the tagine before returning to school or work.
While his love for cooking was triggered in his Moroccan home, that passion has taken him all over the world.
He's worked in Washington, D.C., France, Germany, Dubai and Qatar, and has worked his way up from dishwasher to executive chef in five-star hotels.
When Chefs Ziadi and Samlali were about to welcome their first child, he suggested the family plant roots in Minneapolis, where he had lived in the 1990s. With its good education, opportunities and immigrant friendly communities, the city had earned his respect - so building a new life in Minnesota seemed like a logical choice.
When the family moved to Minneapolis, they opened Moroccan Flavors, specializing in the everyday fare of their home country. The small operation is more simple than the hustle and bustle of the five-star experiences they used to serve up, but it also provides them with an opportunity to work together as a family.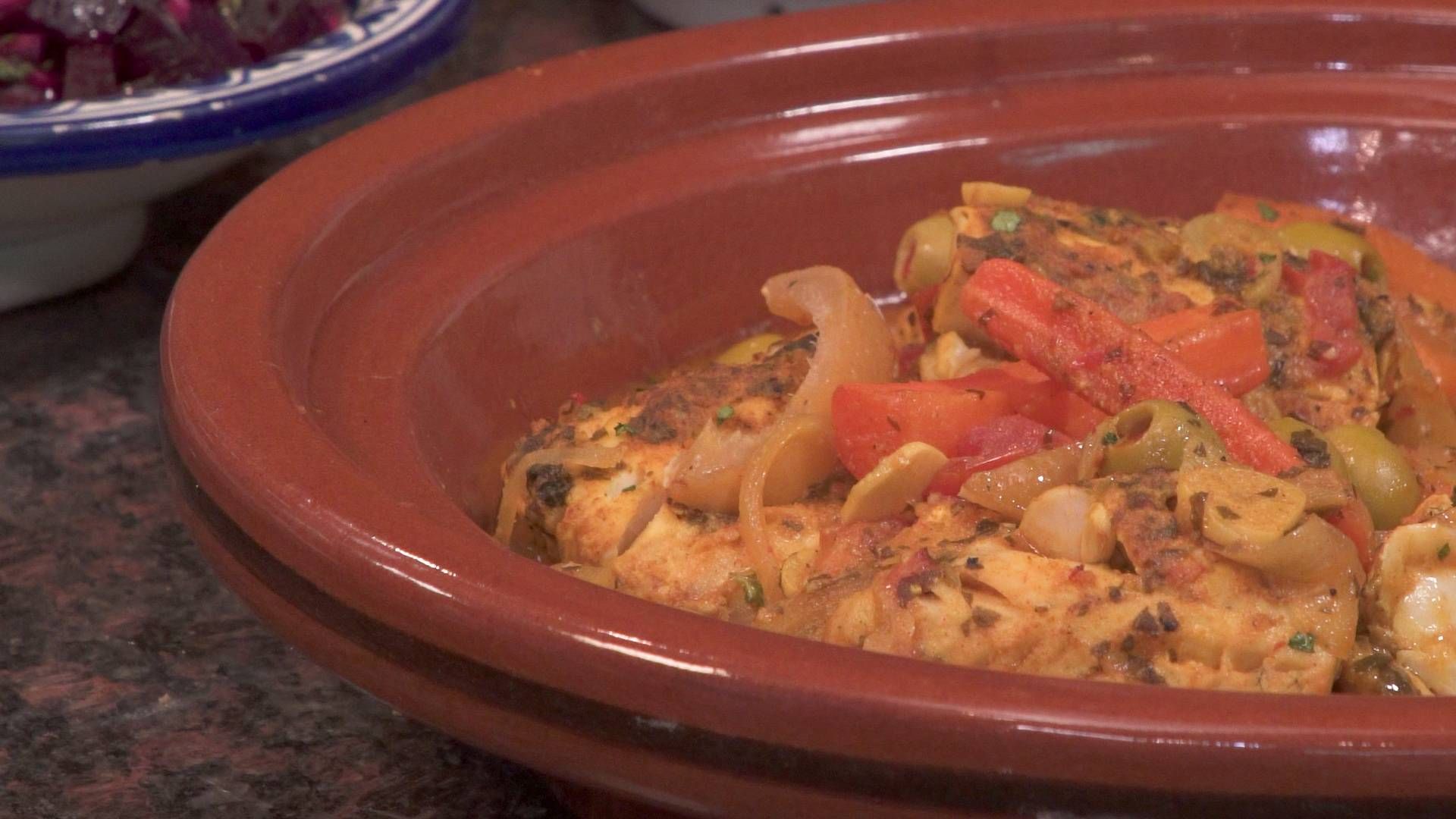 Fish Tagine with Vegetables
by Hassan Ziadi
 Serves 4
1/2 cup olive oil
1/2 cup shopped fresh parsley
1 lemon, juiced
6 gloves garlic, minced
1 teaspoon ground paprika
1/2 teaspoon ground ginger
1/2 teaspoon ground cumin
1/2 teaspoon salt
1 teaspoon Harissa or chili flakes
1 1/2 pounds walleye fillet cut in 4 cm size
1 tablespoon olive oil
1 large onion, diced
1 large carrot, peeled and cut into matchsticks & blanched for 10 minutes
2 sweet potatoes, peeled , diced & blanched for 10 minutes
3 tomatoes, seeded & cut in brunoise style
1 tablespoon of fresh parsley
1 cup of Spanish green olives
1/2 preserve lemon cut in julienne style
PROCEDURE
1. Make chermula: Mix 1/2 cup of olive oil, 1/2 cup of parsley, lemon juice, garlic, paprika, ginger powder, cumin, salt, pepper & harissa in large bowl. Add walleye and marinate in refrigerated for 1 hour.
2.  Heat 1 tablespoon olive oil in tagine or large pot. Layer onion, carrot, sweet potatoes & tomatoes. Remove the walleye from the marinade and spread evenly over the vegetables. Pour the rest of the marinade over the vegetables & add 2 cups of water.
3. Cover the tagine or the pot tightly and cook over low heat until the sweet potatoes are tender, about 1/2 hour
4. Garnish with olives, preserve lemon & parsley
Serve with baguette or turmeric rice.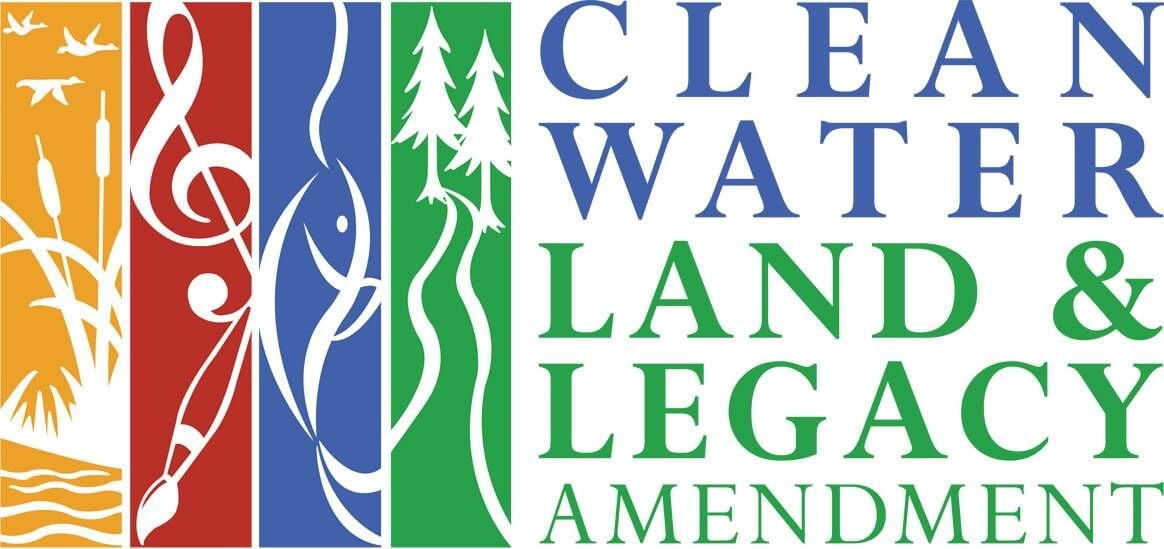 Craving some new flavor combinations in your life? Let chef and restauranteur Sameh Wadi, who runs Twin Cities eateries World Street Kitchen Milkjam Creamery and Grand Catch, be your guide. Bonus: You'll also find a recipe for his Blood Orange Salad with Oil-Cured Black Olives and Mint.
Like Chef Ziadi, local chef - and Iron Chef and Top Chef star - Justin Sutherland drank up inspiration from his grandparents and their blend of Japanese, Norwegian and Southern-American cultural influences. You won't want to miss the chance to try your hand at making his Japanese grandmother's recipe for sukiyaki, a one-pot meal of epic deliciousness.