Pregnant in the Time of Coronavirus: Two Women Decide to Forgo Hospital Births
Emily Brookshaw of Edina had planned to give birth to her first baby in the hospital. But then – just two weeks before her due date – the pandemic hit.
"Going to the hospital, it was like, 'Why do I want to go to the hospital... where all the sick patients are going?'" Brookshaw says.
And so, 38 weeks into her pregnancy, Brookshaw and her husband, Justin Green, started searching for non-hospital birth options. She found certified midwife Emme Corbeil, who has been providing pre- and postnatal care and home births for the last 12-plus years. Corbeil doesn't usually accept clients so close to their due dates, but, because of COVID-19, she's willing to make an exception if the woman has had all of her prenatal appointments and is a normal, low-risk pregnancy.
"It was the most comforting feeling to make that change and just knowing I could stay home... in my safe place," Bradshaw reflects on her decision to give birth at home.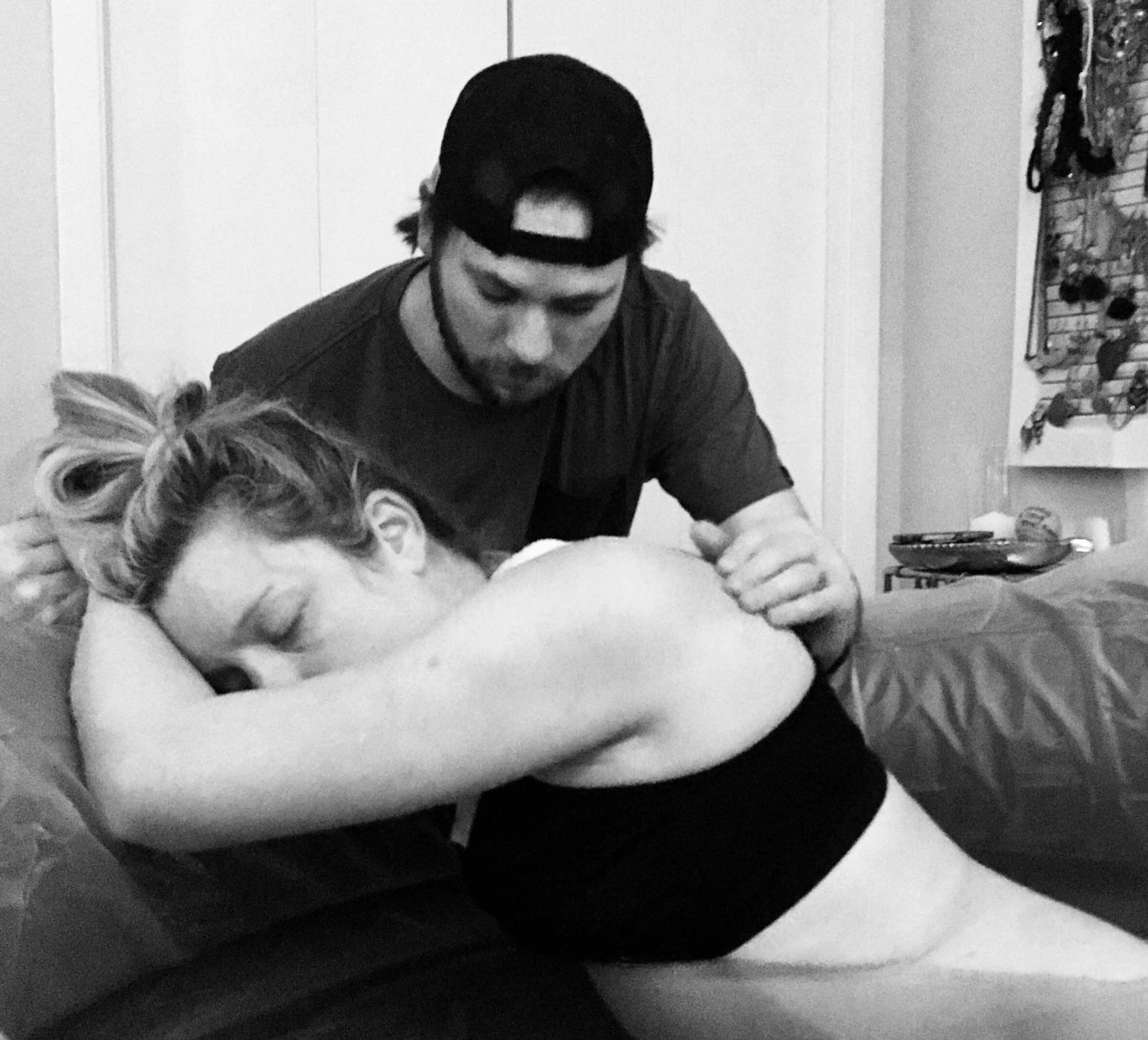 "[Home birth] is safe as long as you have a trained attendant and low-risk pregnancy," says Corbeil, who always practices with another attendant. Both are "certified and practiced in neonatal life support and basic CPR and all of the sort of emergency maneuvers and things necessary to keep the birthing person and the babies safe." But, if complications arise, Corbeil is prepared to call 911 and transfer the woman to a hospital.
Editor's Note: As the COVID-19 crisis unfolds in Minnesota, certain details in our stories about the impact of the virus may become outdated within hours, days or weeks of our publication. For the most up-to-date information about the coronavirus in Minnesota, please visit the websites for the Office of Governor Tim Walz and Lt. Governor Peggy Flanagan or the Minnesota Department of Health.
Minnesota is one of only 2 states in the country that allows for midwives to practice home births without a license.  While COVID-19 poses a conundrum for pregnant people who have become wary of the hospital during this time, but are not low risk enough to qualify for certified care, many experts don't recommend giving birth at home without the presence of a trained attendant.
Out-of-hospital, or community, births have been on the rise in the United States in recent years, even though approximately 99% of American births still happen in a medical facility. According to the American College of Obstetricians and Gynecologists, births at hospitals and accredited birth centers are the safest options. As someone who is also grappling with pregnancy during a pandemic, I talked to my doctor about my options a few weeks ago. In her opinion - and despite the pandemic - hospitals are still a safe, if not the safest, option for pregnant women during this time.
But accredited birth centers, which follow national standards and CDC safety guidelines for COVID-19, are also safe options, according to birth center owners. Birth centers are usually staffed by midwives, and offer pre- and postnatal care, as well as labor and delivery assistance.
"Community Birth has always been a good option for low-risk people" says Rebecca Polston, owner and director of Roots Community Birth Center. But they have become an increasingly popular option for those who want to avoid the restrictions that hospitals have imposed - particularly around limiting support partners, especially doulas or trained labor support persons - as a result of COVID-19.
People like Anna Granias. Granias had planned to give birth to her first child at Regions Hospital in Saint Paul.
"It was around 37 weeks of pregnancy that my husband and I were sort of like, 'Whoa, they're changing restrictions and rules at the hospital,'" says Granias, who lives in Minneapolis. "And one investment we made was to have a doula, and that was really important to both of us, for both of our experiences."
Due to coronavirus-triggered restrictions, Granias would now have to choose between having her husband or her doula with her at the hospital. So she looked into other options and found The Minnesota Birth Center, where Patricia Hinck is the director.
Hinck says that staff has been following CDC guidelines to screen people coming into the center and that they are also limiting support people to two (a partner and doula). Because birth centers are smaller than hospitals and are not treating patients with symptoms, they can be a bit more flexible with the number of support people attending the pregnant woman.
"We have been getting a lot of inquiries of transfer of care to us," Hinck says. "We don't want women transferring just out of fear. We want to be a good fit for them - we want the birth to be the one they want."
Birth centers are considered to be very "low interventionist," meaning they provide labor support without narcotics or epidurals for pain management. While the midwives at accredited birth centers have equipment to handle most minor emergencies, they transfer a birthing person to the hospital or call 911 in the case of more serious complications, such as a labor that is not progressing properly, births that require a c-section or other medical interventions.
Ultimately, that's what happened to Granias. She loved the fact that her doula could join her at the birth center, and that the facilities included large birthing tubs and other tools that assist in natural labor, but after six hours in labor at the center, her midwife started to get concerned about dehydration and exhaustion, and suggested that she be transferred to the hospital. While there, Granias ended up needing an epidural, assistance with a vacuum and - finally - a c-section.
While parts of her labor were difficult, Granias acknowledges that "the care was just incredible in every place that we were," from at home with her doula to the birth center with her midwives, and at the hospital with the doctors and nurses. In the end, for Granias "there was still beauty in the O.R." Once her baby boy, Basil, was born, "the fear of COVID and the pandemic kind of melted away for a little while... and from here on out, it has really just been pure joy".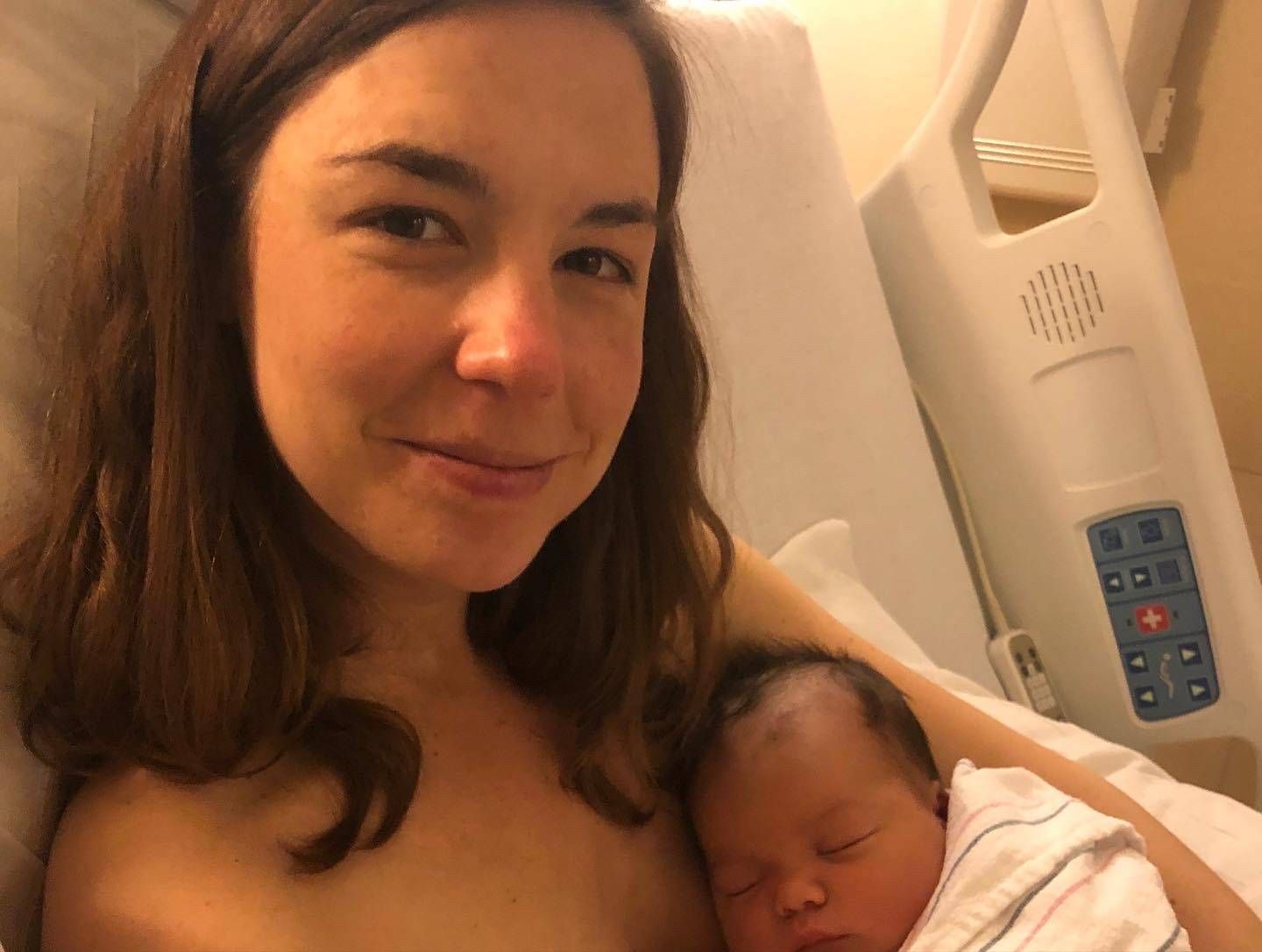 While there are a number of options for community birth in the Twin Cities, they are not available for everyone. Outside of major cities, limited options are still available, but in the event of an emergency, transfer time to the hospital may be more significant. Additionally, women need to be low risk in order to qualify for care from accredited birth centers and licensed midwives. That means "one baby, head down, no more than one c-section and no underlying health concerns," Polston says.
As for cost, birth centers take varying degrees of insurance and some, including Community Roots, are in-network with every healthcare provider, including Medicaid - though home births are not covered by insurance in the state of Minnesota.
Polston hopes that COVID-19 might shed light on some of these inequities. "I think that the pandemic is really bringing to light our profit-driven healthcare system," she says, an issue that illuminates the need for "an integrated system where people can be seen wherever they want. I think that it's brought to light our disparities around access within communities."
Polston also hopes that COVID-19 places a spotlight on the positive role community birth options can offer during this time.
"One of the other things that the pandemic is really bringing up is that, you know, [birth centers] are great extensions of a larger reproductive healthcare system.... So one of the things that we've done is we've reached out to our local hospitals to make sure that they know that, if they become overloaded, they can refer to us."
In some states, this is already in the works - and may be an option in Minnesota as well. In New York, auxiliary maternity units are being planned to help take the pressure off overloaded hospitals, a move that Governor Andrew Cuomo has supported.
These units "are not birth centers, but they are low-risk maternity units outside the hospital, that hospitals can shift their volume to," says Dr. Amy Johnson-Grass, owner and Executive Director of Health Foundations Birth Center and Women's Health Clinic in Saint Paul, and president of the board of American Association of Birth Centers.
Ultimately, Polston says that, by working together, birth centers, midwives and hospitals can alleviate some of the anxiety pregnant women are feeling because of COVID-19.
"We don't know what the future is going to look like - none of us do," Polston cautions. "We don't know because we've never done this. And I think that it is an important thing to realize that we are another facility here in communities that can help support those physicians and nurses who may need to care for people".
While the choice of where to birth one's baby is an intensely personal one, there are many people and organizations available to help women find the right options for themselves and their babies during this wildly unprecedented time.
In you are pregnant and/or looking for resources for pregnant women during this pandemic additional information can be found here:
The World Health Organization (WHO) has a Q&A of Pregnancy, Childbirth and Breastfeeding available here.
Centers for Disease Control and Prevention (CDC) in the United States has a pregnancy/breastfeeding and COVID-19 page here
ACOG Practice Guidelines: The American Congress of Obstetricians and Gynecologists published a practice advisory here.
More from our "Pregnant in the Time of Coronavirus" series here.
Every day, the headlines surrounding what we do and don't know about COVID-19 seem to shape-shift – and for pregnant women, the simultaneous abundance and lack of information can prove especially vexing. Even though New York City hospitals have now been ordered to allow the presence of one support partner in the delivery room, there was a brief time in which they were banned. Explore one woman't experience of giving birth alone in our "Pregnant in the Time of Coronavirus" series.
Diagnosing and treating patients with the novel coronavirus comes with different challenges for rural and regional healthcare systems located outside major metropolitan areas. One Greater Minnesota reporter Kaomi Goetz interviews Essentia Health's Chief Medical Officer Dr. Peter Henry about the challenges that rural medical facilities face during a pandemic.
As Minnesotans looks for ways to show their support for healthcare workers on the front lines of the COVID-19 pandemic, we took a look back in time to celebrate the contributions that four women – all named Ruth – made to the state's public health system.