Pregnant in the Time of Coronavirus: I Gave Birth Alone
One woman in New York City shares her story of delivering her baby alone at the hospital, while her husband could only watch via FaceTime.
Until a week ago - when the news cycle first surfaced information about some hospitals in New York restricting support partners in labor and delivery - I had never even thought about the possibility that I might have to give birth alone. Facing public outcry, the Governor of New York, Andrew Cuomo, issued an executive order on March 28, 2020 that banned this practice in the state. But if other states' hospital systems, including Minnesota's, become overwhelmed by COVID-19 cases, could such a ban become commonplace? There's no certain answer to that question.
Editor's Note: As the COVID-19 crisis unfolds in Minnesota, certain details in our stories about the impact of the virus may become outdated within hours, days or weeks of our publication. For the most up-to-date information about the coronavirus in Minnesota, please visit the websites for the Office of Governor Tim Walz and Lt. Governor Peggy Flanagan or the Minnesota Department of Health.
Last week, I talked to my doctor about the likelihood of this happening in Minnesota, but I also really wanted to talk to someone who had actually experienced this predicament - someone who could share insight about this possibility, and maybe a little much-needed hope.
Katie Houben, 35, lives in Brooklyn, N.Y., with her husband, Gertjan, and son, Wim. Just one week ago, she she gave birth to her second son, Marcus, at New York-Presbyterian Brooklyn Methodist Hospital. For most of her pregnancy, the only challenge she grapped with was whether or not she should try for a VBAC (Vaginal Birth After Cesarean). But when her second son was still in a breech position at 36 weeks, she resigned herself to the fact that she would need to have a cesarean. "I was pretty upset about it," Houben acknowledged. "And then everything just shifted."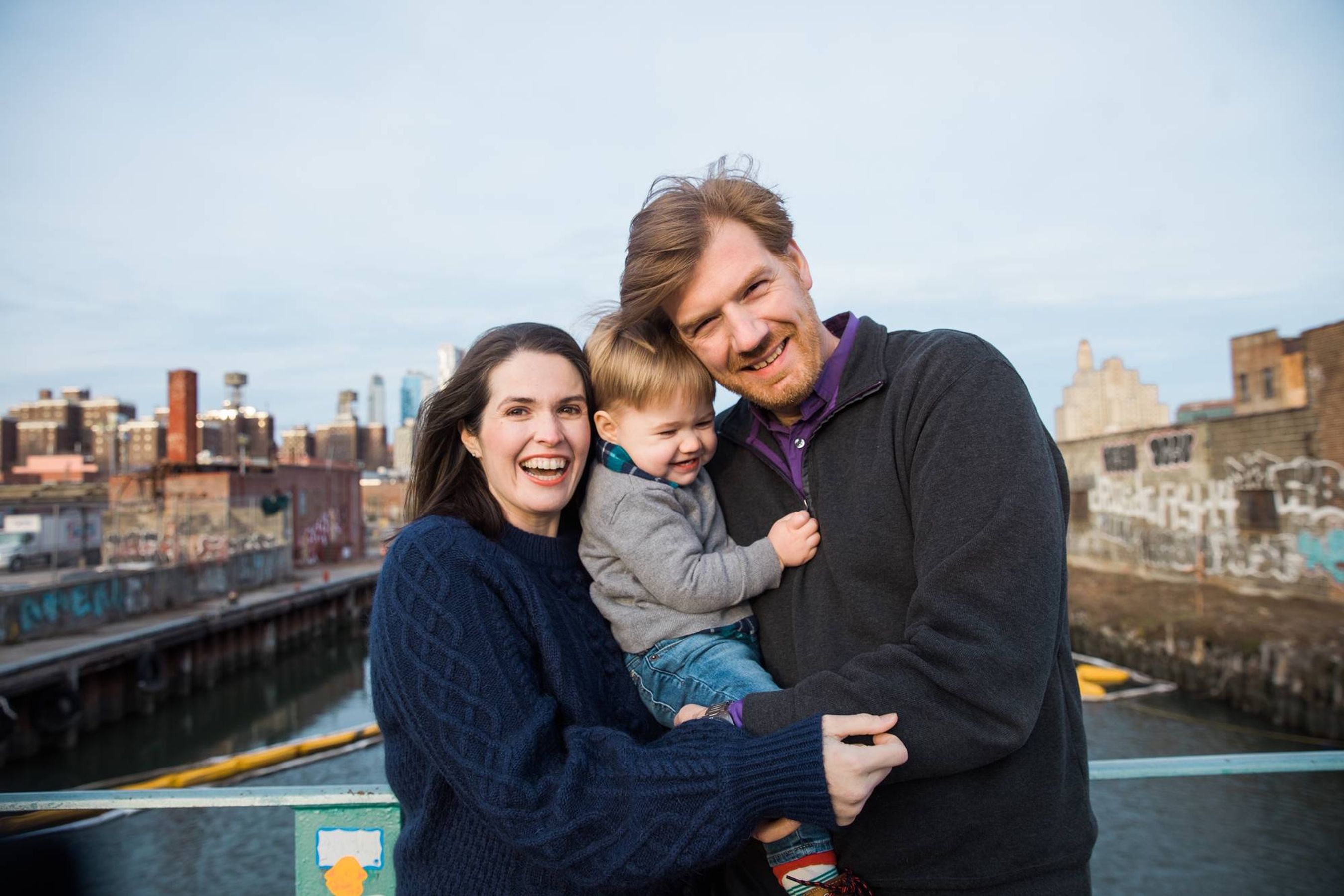 It was the middle of March, and more cases of COVID-19 were being reported in New York. Her husband, a lighting designer, started working from home, and many of his summer shows were canceled. She had to make the difficult decision to tell her parents, who are in their 60s, that they shouldn't make the trip up from Texas to take care of her eldest son when she went in for her cesarean.
As more and more of their friends fled New York, and childcare for their two-year-old son proved difficult, the Houbens forged ahead with their plans for their scheduled c-section on March 25th. But on the Sunday before the surgery, they received some devastating news: The hospital where they were planning to deliver - the hospital at which they had formed a deep bond to the midwifery team during the birth of their first son - no longer allowed ANY support partners into labor and delivery.
This new reality, one in which Katie would have to give birth alone and in which her husband would not get to see the birth of his son, seemed completely unbelievable. Up until the night before the planned c-section, they heard rumors that the hospitals might be pushed to back-track the ban on support partner. "[But then] I found out that that was just for public hospitals and not private hospitals. And I was delivering at New York Presbyterian, and that was a private institution."
So at 11 am on Wednesday, March 25th, the Houben family rented a car, and Katie's husband and son dropped her off at the front doors of the hospital to walk in alone. "It's really hard, you know, going in there and not knowing what the situation was going to be like inside. And then, when you first entered the lobby, it was like coordinated chaos," Katie recalled. However, "Someone noticed me right away and said, 'Do you need to go up to the fourth floor or labor and delivery?' I said, 'Yes.' And I was sobbing."
Despite the traumatic situation, everyone at the hospital was incredibly kind. "The woman who was helping me in triage prepare for the operation was the same woman who had helped me for my first, and I remembered her right away. And that was really comforting because this is a woman I'd only met once in my life, but she was familiar and really warm and kind. And that made me feel very safe," Katie said. Much of the hospital staff apologized to her about the situation as well; this was not a reality that any of them wanted, even though the restrictions were intended as precautions to keep both care providers and patients safe.
Luckily, she continued to feel a certain lull of safety when she got into the operating room.  "I think I'd been so afraid that I would be laboring alone or, you know, going through this operation alone. And I really wasn't. I had a room full of people who wanted to protect me and wanted to deliver this baby successfully."
That's when Katie discovered some happy news: Her husband could "attend" the birth via FaceTime. "So even though he wasn't there, he was there... That was the thing that I was most worried about, is that he wouldn't get to experience this, and I was so happy that he could".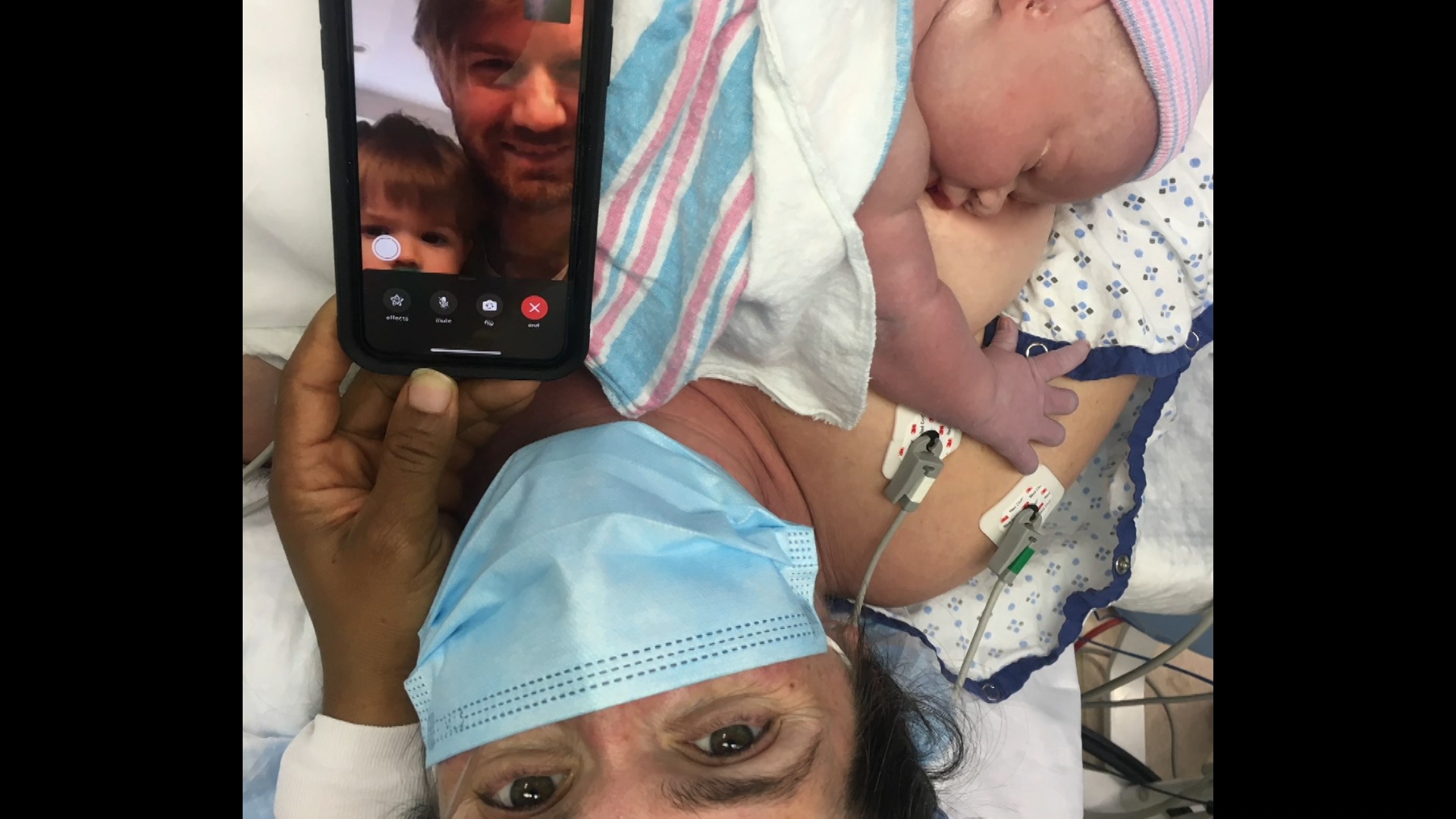 While the birth was joyous, her recovery alone in the hospital was difficult and lonely. In addition to recovering from major abdominal surgery, Katie now had a new infant to take care of, though she couldn't leave her hospital room for even a short time. Thankfully, the hospital allowed her to go home after only 50 hours instead of the standard 72. Once home with her family, reality set in. "I was so happy to be home, but it doesn't stop, you know. The number of cases keeps rising. The peak is still weeks away, and now we have an infant, and all you want to do is protect them."
But the arrival of Marcus also brought a fresh perspective. "Every time I look at Marcus, I think this will end, and you will be strong and you will not remember this...  And all I want for you is to be happy and healthy. And I have faith that that will happen. I have faith that he and his brother will be okay, and that we will be okay as a family, that we're going to get through this together.
"He's given me a lot more hope than I had a few weeks ago."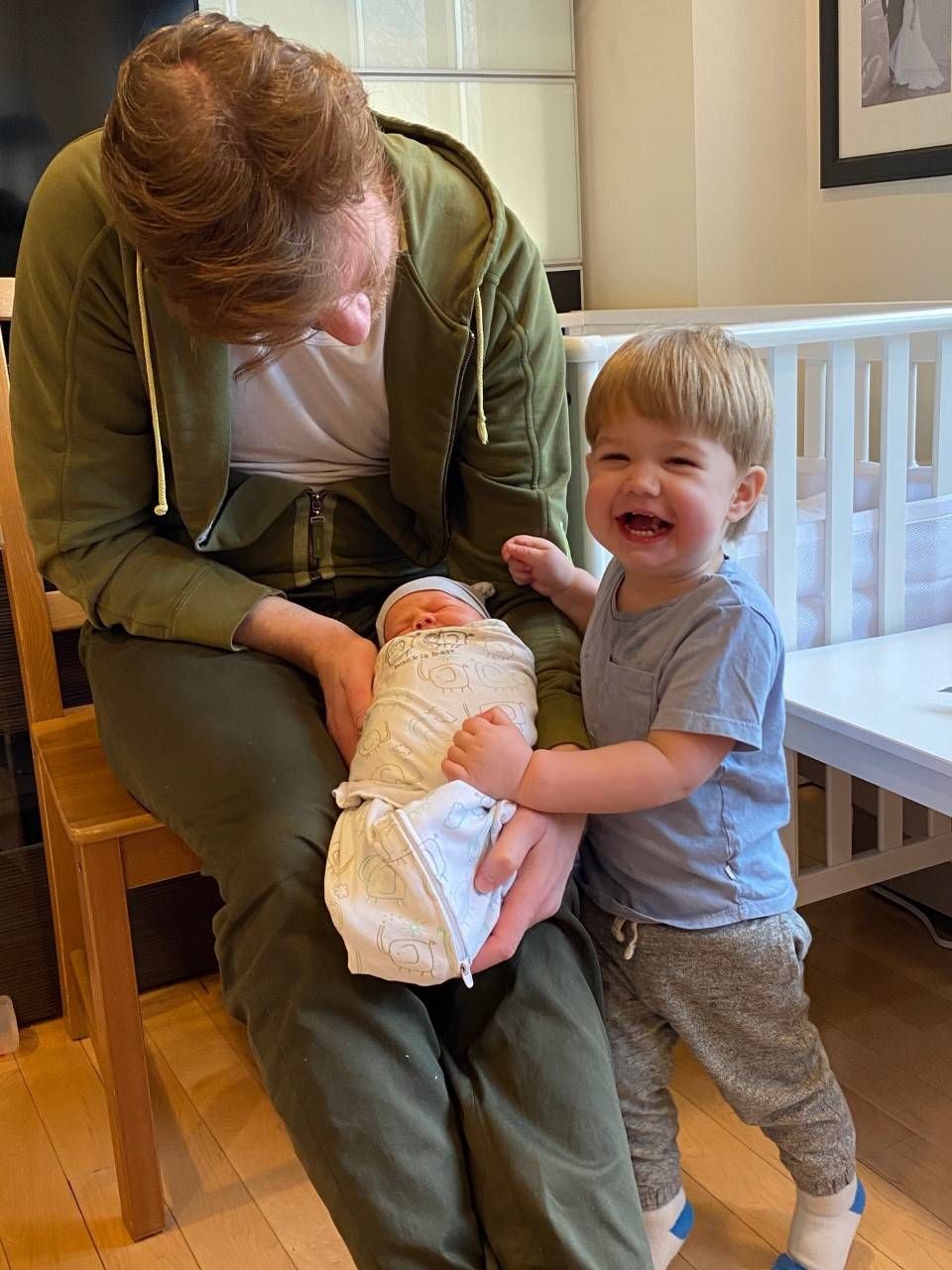 The World Health Organization (WHO) has a Q&A of Pregnancy, Childbirth and Breastfeeding available here.
Centers for Disease Control and Prevention (CDC) in the United States has a pregnancy/breastfeeding and COVID-19 page here
ACOG Practice Guidelines: The American Congress of Obstetricians and Gynecologists published a practice advisory here.
More from our "Pregnant in the Time of Coronavirus" series here.
While there's still a lot that medical experts don't fully understand about to coronavirus, its impact on pregnancy also remains a mystery. But Twin Cities PBS Producer Kate McDonald assembled some of the facts that we do know. 
As Minnesotans looks for ways to show their support for healthcare workers on the front lines of the COVID-19 pandemic, we took a look back in time to celebrate the contributions that four women – all named Ruth – made to the state's public health system. 
Because the COVID-19 pandemic is an evolving issue in Minnesota, Twin Cities PBS is producing a weekly show, Coronavirus: An Almanac Special, where we share practical information from trusted medical sources so all Minnesotans know how to prepare for the coronavirus.