Muslim Shero Nimo Omar Fights for Labor Rights
Physical spaces hold the power to transform us. Consider a classroom, a masjid, an urban park or any other place that becomes the scene of a seminal memory.
For Nimo Omar, an Ethiopian prison changed her life.
Nimo grew up in Rochester, Minn., and spent much of her childhood in Ethiopia, memorizing Qur'an, learning Islam, and delving into the cultures that she embodies today.  Reflecting on those experiences, she cherishes them the way that we might fondly recall the first-grade classroom where we learned to read.
While on her way back to the United States at the age of 15, Nimo was unjustly detained by Ethiopian immigration, separated from her brother and jailed for three days. Those three days were spent in the company of migrants caught on the border of Ethiopia and Sudan. Those three days turned the tides of her life.
"My life changed because I saw the privilege that I have. I have the resources, the money, the citizenship," Nimo remembers.
The cell was occupied by seven women, including Nimo, who absorbed the stories of the others. They had slept in the desert without food, been attacked by dogs, then abused by immigration officers and deprived of water for days.
"I was a Black Muslim girl from America. And I was the source of hope for them because they wanted to go to the United States," Nimo says.
The women asked her questions about what it was like to be American — and about how Nimo stayed strong, even when her American privilege could not protect her from imprisonment in Ethiopia.
For Nimo, the answer was simple: faith.
During those three days, "that's when I knew faith meant so much," she says. "It grounded me when I went through adversaries. It reminded me that there's something bigger, that there's something more."
And to become a source of faith for other women — by leveraging her newly discovered privilege — was almost as moving.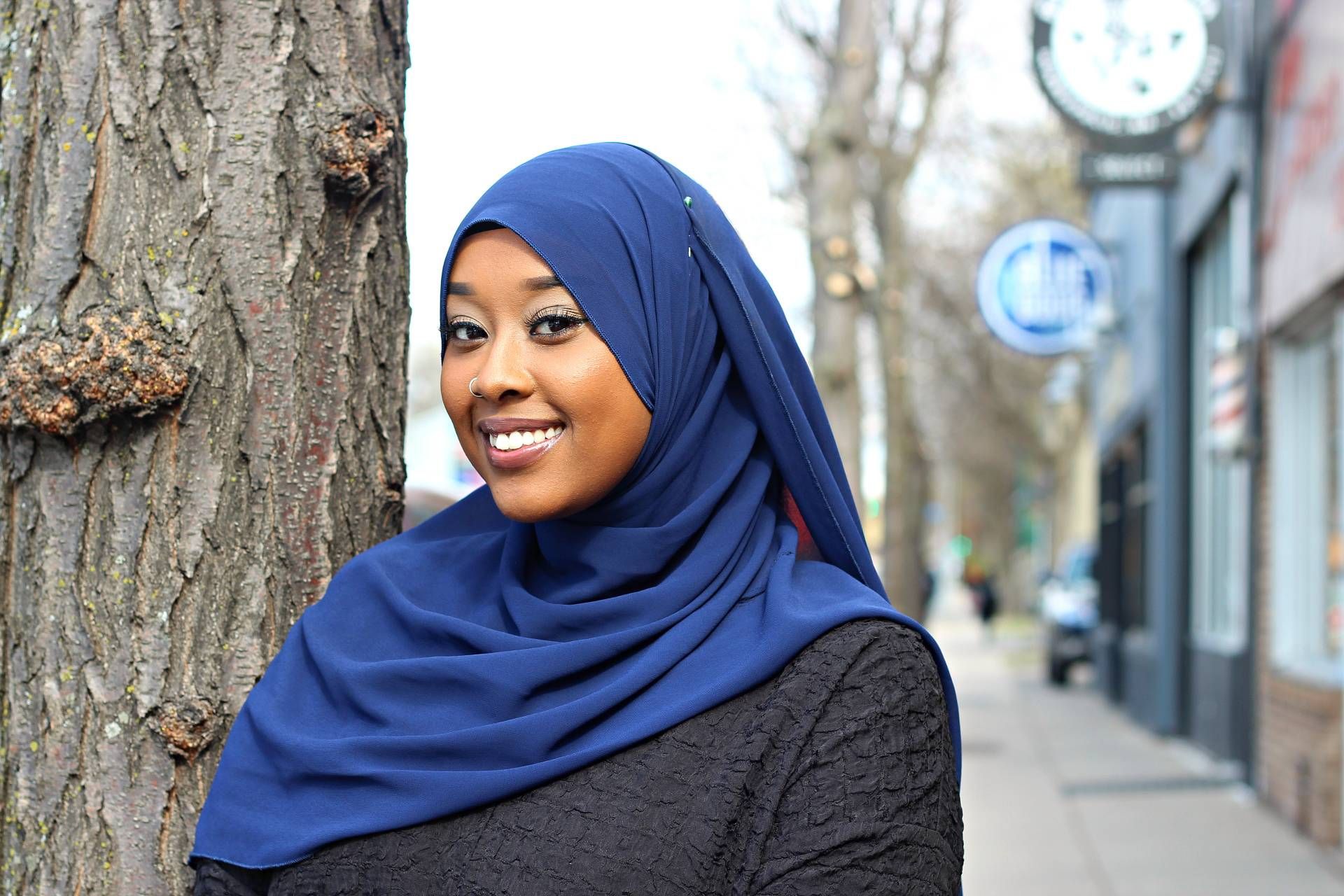 As she grew older, that defining experience in an Ethiopian prison shaped the course of her life in the U.S., and her participation in the occupation of the Fourth Precinct in Minneapolis after the police shooting of Jamar Clark and the protest at Standing Rock Indian Reservation after the approved construction of the Dakota Access Pipeline.
In the fall of 2016, a caravan of 148 indigenous and Latinx youth travelled to the Standing Rock Reservation to learn more about the conflict surrounding the Dakota Access Pipeline. Discover more about their journey and what they learned along the way.
Nimo's journey as an activist began in college, when she joined the Minnesota State College Students Association (MSCSA), and became a platform representative for four colleges and universities in the metro area. As a platform representative, she advocated on behalf of more than 100,000 students across Minnesota for federal policies that would advance affordable public higher education.
"I was able to start articulating what it means to make change at a policy level, and I was connecting with people of color across the country," she says.
Then one day, Nimo got a call from a friend at the Minneapolis-Saint Paul International Airport, where she and other East African workers were struggling to unionize. Nimo immediately stepped in to organize a month-long campaign for unionization.
"By the mercy of God, I was successful in making that happen, in making sure that the workers' voices were heard," Nimo reflects.
That experience marked her transition from activism to organizing. "I didn't really understand what I was doing in the moment," she says. "But now I look back and I see that I was organizing."
From her first successful labor-rights campaign to now, Nimo's efforts as an organizer have grown into a nonprofit organization: Awood Center, which she founded in 2017. After conversations with the airport workers, she came to understand the critical need in her community for information about workers' rights.
Awood — which means "power" in Somali — is building economic and political power among workers in the East African community. At Awood, Nimo is creating a culturally and linguistically relevant space to build unity and develop the next generation of leaders in Minnesota's diverse East African communities.
Awood holds trainings on a monthly basis, on topics from capitalism to American labor movements to systems of power and oppression. Nimo leads popular education workshops for East African working class residents, with the goal of developing new leaders in the community who can continue training their friends and neighbors.
Nimo frequently receives calls from workers who have experienced religious discrimination — denied their right to pray, for example, or working in conditions that would not permit them to fast during Ramadan. Awood partners with the Minnesota chapter of the Council on American-Islamic Relations (CAIR-MN) and works out of their office space so that workers can access lawyers when necessary.
Awood's work — particularly with Amazon workers fighting for their right to pray, fast and secure safe working conditions — has landed Nimo in Bloomberg, TIME Money, Minnesota Public Radio and other prominent news outlets. But when she reflects on her journey, she notes that there have been successes and sacrifices.
"Grassroots organizing is not easy," Nimo admits. "The day-to-day of dealing with real-life humans, to shift and change them to become leaders — my patience has been tested." Unlike some professional callings, organizing doesn't revolve around sitting at a desk all day long. Rather, it requires being in the field and on the ground, where your community can count on you.
In her work with the East African community, Nimo often faces a distinct challenge: helping people who never saw a successful labor campaign in their home countries understand America's long history of organizing around laborers' rights. She frequently gets questions about why she doesn't take the fight to the federal level. They ask her, "Why aren't you lobbying or trying to legislate?"
Nimo's philosophy is bottom-up, not top-down. "The biggest breakthroughs that we've had in this country are because people organized from the ground-up to make change," she says.
And while she recognizes the obstacles that she and her community will continue to confront, Nimo is hopeful that another breakthrough is on the way.
"It's a long road ahead of us, but I'm passionate, and I'm really hopeful that the current workers will step up and become the future leaders," Nimo says. She remains grounded in a hadith that she summarizes like this:
"Whoever is in service of their sister or brother is in service of God."
She and her sisters and brothers are planting a seed, Nimo believes. "I don't know what it will look like — maybe it will be an apple tree that provides food. Or a palm tree that provides shade."
But Nimo's efforts are growing something new, something fresh, something full of hope. From advocate to activist to organizer, Nimo is blazing a trail for justice. As a Muslim Shero of Minnesota, she is the change that we want to see, on the ground and grounded in her faith.
As Lead Storyteller at Reviving Sisterhood, Sarah Gruidl writes for the Muslim Sheroes of Minnesota storytelling project, centering the lived experiences and the diverse accomplishments of female trailblazers and change-makers.
In collaboration with Reviving the Islamic Sisterhood for Empowerment (RISE), we've shared a range of stories about Muslim Sheroes in Minnesota – women who are making a difference in their community without waiting for permission. Get inspired by their stories. 
In a city rocked by anti-immigrant activism, Muslim Shero Ayan Omar strives to build a bridge of understanding between Muslims and non-Muslims in St. Cloud, Minn. Discover more about her efforts.