Residents, Landlords and Advocates Wrestle with COVID-19 Eviction Orders
Janet Kitui is stressed out. As a state employee and a mother of three, Kitui has worked hard to afford the chance to call Edina her home. She moved into a one-bedroom apartment with her 19-year-old daughter last year. There were no issues then, but the coronavirus restrictions of 2020 have dried up jobs and opportunities, dramatically changing things as a result. Kitui's daughter moved out two months ago, and Kitui can no longer afford to pay her monthly $1,700 in rent.
On March 17, Kitui was given an eviction order because she could not pay the rent - but just one week later, Governor Walz issued an executive order to stop most evictions in order to prevent the spread of COVID-19. Kitui is still in that apartment, and the moratorium on the executive order was extended to August 12. But she is struggling to find a new home and worries about whether or not she can afford the costs if her daughter moves back in.
"I'm not yet close to even getting a pre-approval letter from the bank yet," Kitui said, referencing her work to buy a home in Edina. "I'm close, but I'm far … If this moratorium is lifted and they say, 'You're out,' I either will be out on the streets or scramble to find somewhere else."
Kitui and thousands of other Minnesotans are struggling with the possibility of being evicted later this year. Many of those in danger of eviction are among the state's more vulnerable individuals, and they could be homeless before 2020 comes to a close. 
Preparing for a Surge
Every year, more than 17,000 people are evicted in Minnesota. Data from the state Judicial Branch shows that the average has decreased over time, yet nearly half of those evictions come from Hennepin and Ramsey Counties.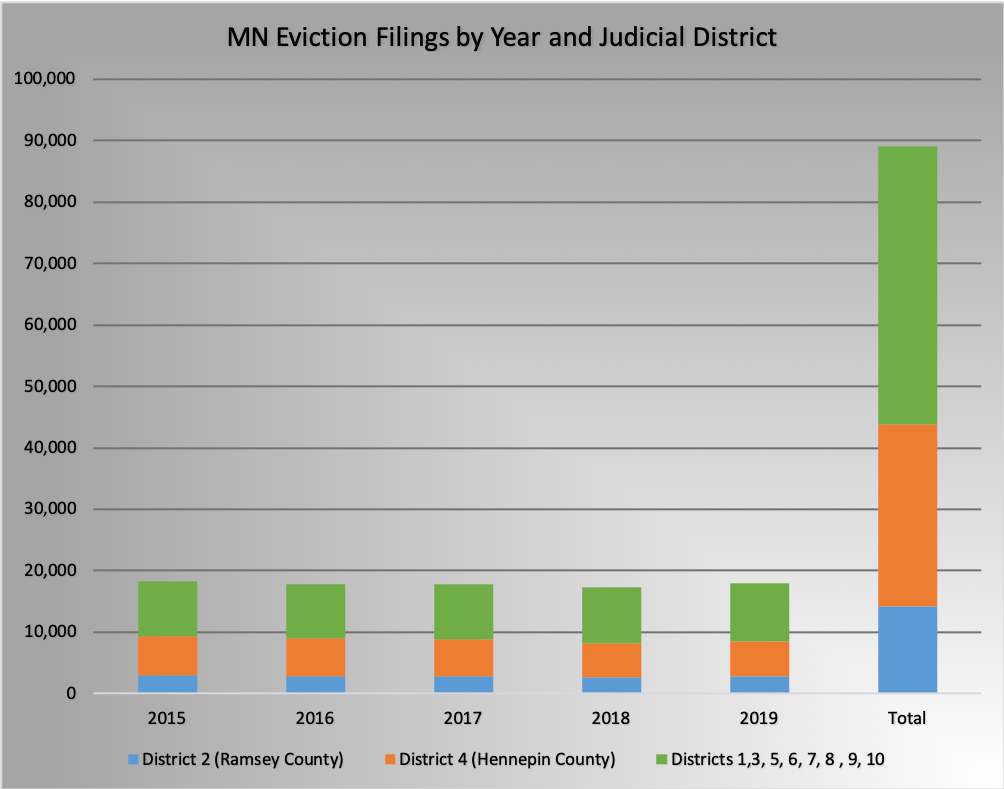 This year, more than 3,000 evictions were filed across the state before Governor Walz ordered a temporary pause. Cases dwindled to just under 200 after that, and eviction courts shut down in an effort to prevent the spread of the coronavirus.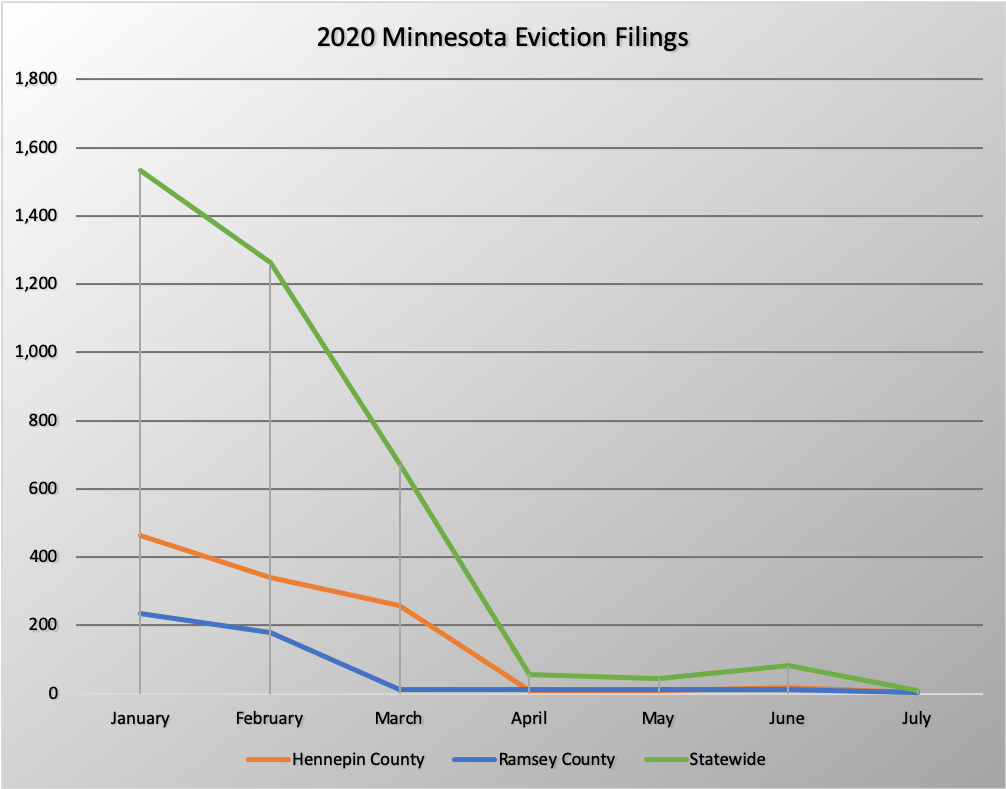 However, the moratorium does not exclude everyone from eviction - and tenants are still expected to pay all that they owe when the moratorium ends. Kitui says she has continued paying her rent since being served an eviction notice, but the stress is mounting.
"You are just digging yourself into a hole even deeper. It's challenging climbing up, and that means you have other things to give up," Kitui said. "When you're stressed out, your normal operations, even doing your normal work, is going to suffer. So there are indirect costs that come with that, both for my mental health [and] my physical health. We'll never know the full extent of the stress until the day I drop."
After receiving her eviction judgement, Kitui asked Mid-Minnesota Legal Aid to help her retain her housing.
Managing Attorney Luke Grundman said that vulnerable populations are at a high risk of eviction, and 87% of their clients' households are headed by women. An eviction can have serious implications for them, but it is not uncommon across Minnesota.
"Even in greater Minnesota and communities like Willmar and in St. Cloud, places [where] the relative population of people of color is not nearly as large, [they're] still disproportionately represented in eviction cases," Grundman said, adding that an eviction puts families on track to experience poverty- and health-related issues. "Their kids will have worse health outcomes. Their kids will have worse school outcomes because of the instability of having to move all of the time. That one eviction has put them on a course of life that will make things a lot harder for themselves and their children - potentially even their grandchildren."
Ryan Baumtrog, Assistant Commissioner of Policy & Community Development with the Minnesota Housing Finance Agency, explained that housing assistance for people impacted by COVID-19 is a critical need that his department is trying to meet. Baumtrog said there is no sign that the weekly $600 in unemployment insurance benefits will return, and he expects that people of color in Minnesota will be disproportionately impacted by COVID-19's effects as they have been in other parts of the country.
After suing the Centers for Disease Control and Prevention, The New York Times analyzed federal data, and discovered that Latinx and Black Americans are three-times more likely to contract COVID-19 and two-times more likely to die from the disease as the country's white residents. 
"In the State of Minnesota, people of color [are] more likely to be housing instable, be evicted, experience homelessness and sleep outside," Baumtrog said in an email. "In our selections/administrators for the [COVID-19 Housing Assistance Program] we will be evaluating their plans and ability to reach out to and to serve disparately impacted populations such as African Americans, American Indians, etc."
Governor Walz announced this week that a $100 million housing assistance program would use federal dollars to prevent evictions and homelessness. Walz also issued an executive order that would ease some landlords' concerns and possibly hasten Ms. Kitui's eviction.
Striking a Balance
As President and CEO of the Minnesota Multi-Housing Association, Cecil Smith represents 1,900 people that he said manage more than half of the state's available rental market. Smith said that, so far, his members have collected a smaller percentage of rent than last year, but that they are well above the national average. Still, some of his members have reported renters who are abusing the moratorium by hosting parties, breaking their lease agreements and worsening others' quality of life. Smith said many landlords are not rushing to evict tenants - but they want more options for responding to bad behavior.
"We believe more people have moved out because of badly behaving neighbors than if we had been given the opportunity to address the anti-social behavior," Smith said. "We're not asking immediately for the eviction moratorium, lease termination moratorium, to end for non-payment. We've just got to be able to deal with circumstances that are really troubling."
Governor Walz's executive order this week partly answered those concerns, granting landlords a chance to evict people who damage property or were told that a sheriff could force them out before the moratorium began. Because she was given such an order before the moratorium started, a sheriff could be ordered to evict Ms. Kitui on August 4. 
Saint Paul's neighborhoods of color have a disproportionate number of vacant buildings than areas primarily occupied by white residents. That fact has a direct impact on crime rates, public-health risks and quality of life. Data reporter Kyeland Jackson examines the links between vacant properties and the city's racial disparities.
George Floyd's police killing has brought together communities in a show of resilience – but it's also revealed deep-seated racial inequities in access to healthy food now that the Lake Street area, where many grocery stores were damaged or destroyed, has become a food desert. Almanac reporter Kyeland Jackson examines how that lack of food access is actually rooted in racism-charged issues related to access to jobs and opportunities to build wealth.