Muslim Shero Nadia Abuisnaineh Shares Her Love of the Night Sky With Others
When Nadia Abuisnaineh received her first telescope, the experience proved to be a milestone akin to losing a first tooth or picking out a first family pet.
Growing up in a close-knit family with nine siblings, Nadia wanted something that she could call her own. And while some children fondly remember the day that their parents brought home a new puppy, Nadia will never forget the night that she set up her new telescope.
"As long as I can remember, I was always fascinated with science, and then as the years combined, I became fascinated with astronomy," she says. The telescope sitting in her family's backyard was the embodiment of her burgeoning interest in space, one that would motivate her to one day become an educator and NASA Solar System Ambassador.
But Nadia wasn't the only one in the household with an itch to explore the furthest corners of space. She inherited her curiosity in and deep appreciation of the universe from her grandmother.
"I'll never forget it. One night when we were living in Palestine, there was a full moon, so she told us that we were all going to sit out on the balcony. She sat down, looked up at the moon, and started doing her remembrances of Allah [Arabic for God]," Nadia recalls.
Staring out into the night sky was "part of our childhood," she says. "It was just something that we did with our grandma."
The experience was also something that she shared with her siblings, who were equally transfixed by space and science. The telescope may have belonged to Nadia, but she eagerly invited her sisters and brothers to join her in their backyard for nightly star gazing. "Even now they reminisce and say, 'Remember when we used to go out and watch the shooting stars and look at the International Space Station?'"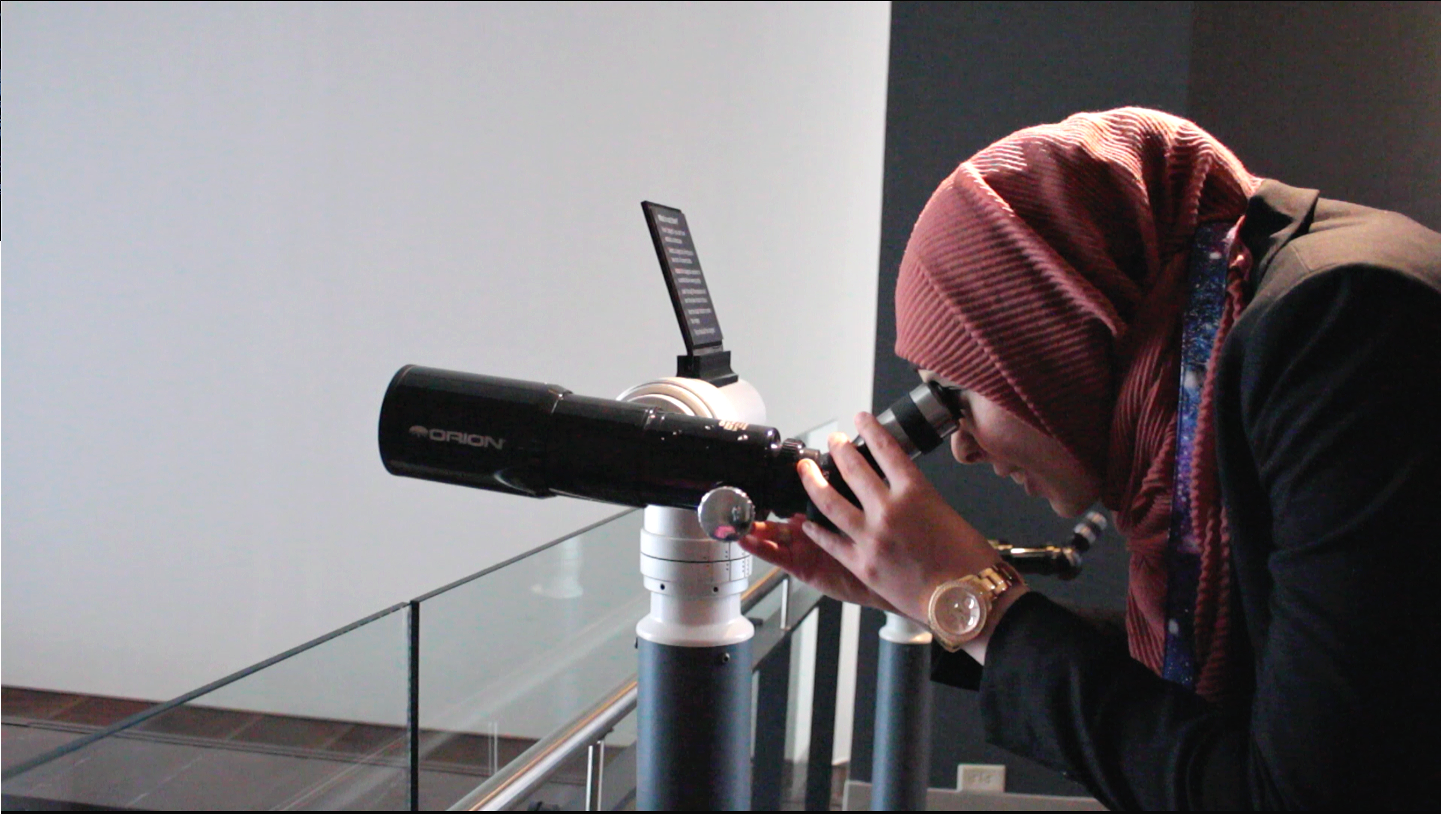 As she remembers those formative experiences, her smile shines, her eyes glitter - and it becomes clear why her siblings enjoyed those moments. After all, Nadia has a special gift: Just by virtue of her exuberance and joy, she creates an unforgettable experience for anyone on the receiving end of her time and knowledge.
Her passion brings into full focus what may seem faraway and a little fuzzy to us, whether it's the stars, the moon or the call of Islam to study the universe.
---
Around age 15, Nadia set her sights on becoming an astronomer. Not only did she love space, but she also excelled at science and math. "So once college came around, I was ready," she says. "I went for a degree in astrophysics."
She says it like it's no big deal.
But analyzing the mysteries of distant planets and swirling galaxies requires far more than fascination. Astrophysicists must be able to sift through mountains of data, make elaborate calculations and master mind-boggling theories.
Scholastics aside, Nadia faced additional challenges. "I was alone, basically. I was not only the only girl - I was the only Muslim girl." In her introductory course at the University of Minnesota, in a lecture hall filled with 150 students, there were only two other women, neither of whom were Muslim.
Even looking around that room, Nadia never once considered abandoning her passion. "I would sit in lecture and just think, 'Wow, this is so fascinating.' I never wanted to skip class."
Her first thought when she walked out of the final exam? "That was so much fun!" Nadia laughs. "That's when I knew that I was in the right place."
As she continued with her program in astrophysics, Nadia's thoughts turned to her post-graduation plans. As much as she loved the study of space, she wasn't sure about spending the rest of her life doing research. Remembering what had drawn her to the field in the first place - those starry nights in her family's backyard, staring through her telescope and pointing out the planets to her siblings - Nadia realized that she wanted to teach.
"It's my personality. When I enjoy something and I share it with someone, I get really happy," she smiles. "I see that in my son now - when he loves something and shows me, he's so happy. That's exactly how I was."
---
When Nadia graduated, she took some time off to pursue another passion - motherhood.
"Just because I dreamed [of doing] astrophysics, just because I dreamed [of doing] something cool with space - that doesn't mean I never dreamt to become a mother," she says. Because parenthood is, in itself, a full-time job, Nadia put her professional dreams on hold.
Then one day while Nadia was browsing on Facebook, a post from NASA caught her eye. They were looking for something called a Solar System Ambassador. Out of curiosity, she clicked on the link to learn more about the opportunity. "Oh wow, I could actually do this," she remembers thinking. "The hours are flexible. The involvement is not that much. It's really on my own time."
Of course, she was a shoe-in.
As a Solar System Ambassador, Nadia joined a team of volunteers across the country who speak to the public about NASA's missions and space exploration programs. Since she took on the role, she has presented at schools, libraries and museums across the state - most recently at the University of Minnesota's Bell Museum.
To celebrate the 50th anniversary of the Apollo moon landing, the Bell Museum welcomed a special exhibit into its space. Created by a UK-based artist, the "Museum of the Moon" features images of the moon's surface taken from a NASA spacecraft mission and stitched together across a balloon measuring more than 20 feet in diameter.
"My first reaction when I saw it was, 'Wow, it really looks like somebody grabbed the moon from outside and just put it inside the museum,'" says Nadia. "It looks so realistic, and it's wowed many of their guests."
As a NASA Solar System Ambassador, Nadia was the one to introduce this stunning display, telling museum visitors about how the moon has captured our attention all throughout human history.
"Mythologies, moon goddesses, Romeo and Juliet, and ultimately a sign of God's magnificent creation. Since the beginning of time, all humans have looked up at the night sky, seen the moon and at some point marveled at it."
She smiles at her captive audience. "And it is quite a marvelous thing."
---
Since then, Nadia's intelligence, enthusiasm and pure joy for space earned her a dream job. The Director of the Bell Museum recruited Nadia to become their Statewide Star Party Coordinator, leading and organizing a series of events dedicated to observing the night sky - the same night sky that she sat under with her siblings, the same moon that she admired with her grandmother.
"Allah created the universe for us, and He made it beautiful for us," says Nadia. "This is what I tell people. Not only did He make it beautiful for us, He made it complex for us.
Student of our universe and teacher of our community, Nadia reminds us of the interconnected beauty and complexity of our world. Grounded in faith and guided by knowledge as an astronomer, ambassador and teacher, Nadia is truly a Muslim Shero of Minnesota.
As Lead Storyteller at Reviving Sisterhood, Sarah Gruidl writes for the Muslim Sheroes of Minnesota storytelling project, centering the lived experiences and the diverse accomplishments of female trailblazers and change-makers.
In collaboration with Reviving the Islamic Sisterhood for Empowerment (RISE), we've shared a range of stories about Muslim Sheroes in Minnesota – women who are making a difference in their community without waiting for permission. Get inspired by their stories. 
In a city rocked by anti-immigrant activism, Muslim Shero Ayan Omar strives to build a bridge of understanding between Muslims and non-Muslims in St. Cloud, Minn. Discover more about her efforts.