Gaelynn Lea's Pandemic Year of Music and Activism
When the singer-songwriter and disability rights advocate from Duluth, Minn., saw how Covid-19 was disproportionately affecting people with disabilities and other vulnerable groups, she decided to raise her voice and do something about it in her hometown.
READ THE TRANSCRIPT OF THE AUDIO INTERVIEW
Nancy Rosenbaum: In March 2020, a couple of weeks before the first Covid lockdown, musician Gaelynn Lea was getting ready to go on tour. Gaelynn is singer-songwriter who's known for her fiddle music.
Her first stop on this tour was Denver, Colorado. In the weeks leading up to her departure, some of the first reported cases of Covid-19 in the United States were starting to make headlines. Just to be extra safe, she decided to order some face masks and hand sanitizer. Then on March 10th, she and her husband left their home in Duluth, Minnesota, and they started driving south toward the Rocky Mountains. By the time they reached Lincoln, Nebraska, Gaelynn wondered if they just should turn around.
Gaelynn Lea: I called my friend who's a doctor. I remember this. On the morning of the 12th. And I said should I cancel my tour? And she's like yes. And she said the problem is you're gonna make people have to choose between wanting to see you live and then being safe. And some people aren't going to choose being safe.
Nancy Rosenbaum: Gaelynn was especially worried about her fans getting sick  -- particularly her fans with disabilities. In addition to being a musician, Gaelynn is also a disability rights advocate. She was born with a disability called osteogenesis imperfecta or brittle bone disease. In her case, there was a chance that she could be really high risk for complications from Covid.
Gaelynn Lea: The issue is that I have, it's called restrictive lung disease. Cause I have scoliosis that's so bad there's a point in my spine where it's like a 90 degree angle. So my lungs are pretty compromised in their capacity. My issue is like I don't want to find out what happens if I get it.
Nancy Rosenbaum: Gaelynn decided to cancel her tour. And by mid-March, she and her husband were back in Minnesota...slowly settling into their new life in lockdown.  For Gaelynn, that meant figuring out how to produce live virtual concerts on YouTube. It also meant never leaving her studio apartment.
Gaelynn Lea: 
Clip: So we are live from Duluth, Minnesota. We can call these the in-studio apartment sessions because that's where I am, is our studio apartment and I'm going to play some different tunes...
At the beginning you know my husband and I definitely felt like okay we're all in this together we're all staying home, we're all being careful. We didn't know a lot so we didn't even really see our parents outside for the first couple months. So we were really locked down. But then as I started to read the studies coming out about the way people with disabilities and people in nursing homes were being adversely affected and it wasn't just that people weren't wearing masks at work, although that in some cases was part of it, but it was that there was community spread and so it always was coming in from the outside. So it seemed like the most minimal thing that we could be doing was wearing masks.
I mean people with developmental disabilities specifically like ones that live in group homes -- they were dying at a higher rate than any other group in America including people in nursing homes which is like we weren't getting that story enough. It should have been more of an outrage, and it felt weird like for the first time ever my group of people in society basically didn't matter is how it felt. Like I've never felt quite that alienated from the rest of society. So I felt like the one thing that I could do would be to work in my hometown sphere. So I wrote an open letter to the mayor about having a mask mandate.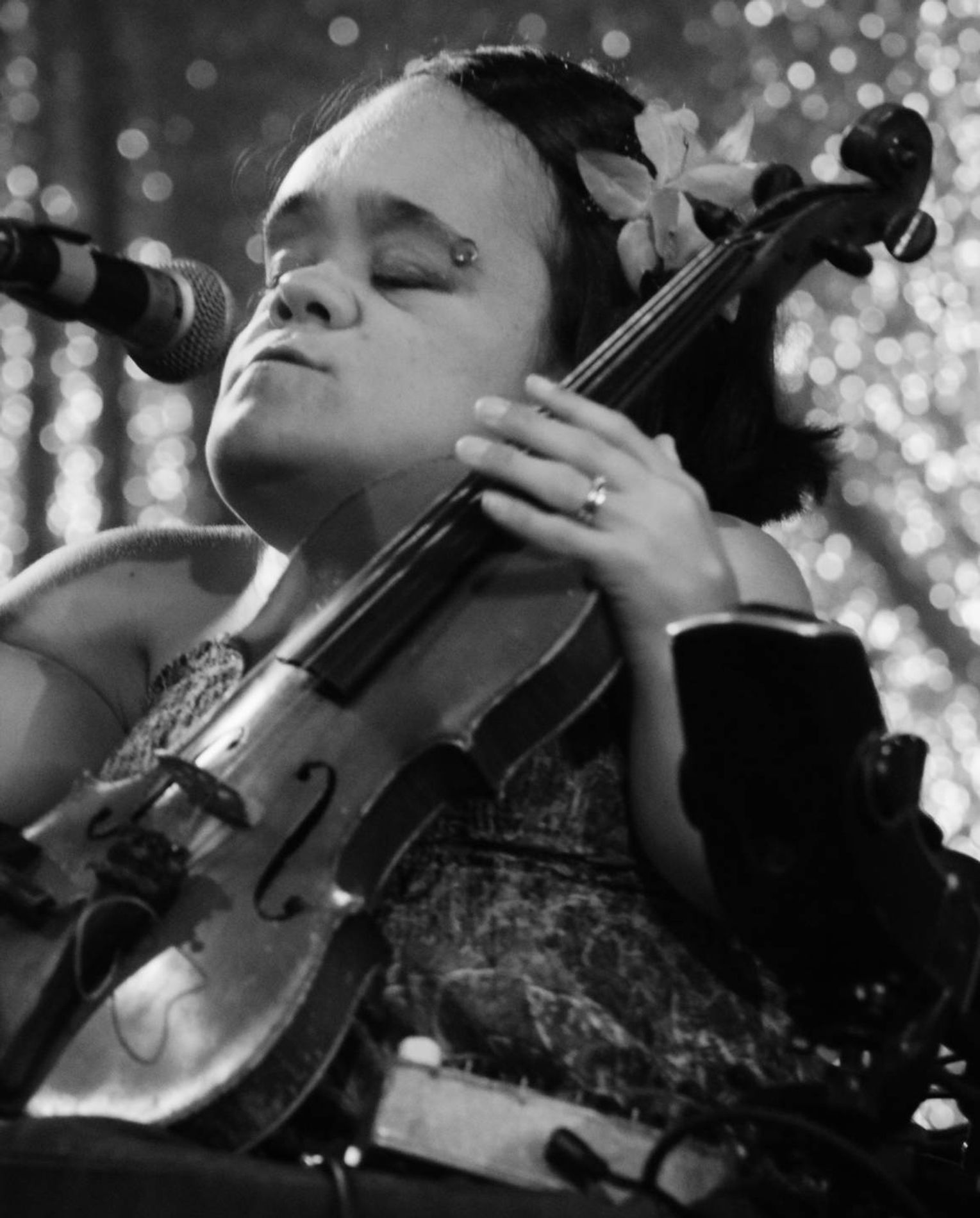 Nancy Rosenbaum: In June 2020, Gaelynn published this open letter to the mayor on her blog. She sent copies of the letter to every city council member and also to the local news media.  She thought that a public letter would make it harder for elected officials to ignore her. Here's an excerpt of what she wrote:
 Gaelynn Lea : Slowing the spread of Covid-19 will require a new kind of social contract that upholds mask wearing as a civic duty and a public health issue, to protect the most vulnerable and marginalized in our community. It's not enough to rely on goodwill…
You really do have the power to change the course of history right now, for disabled, BIPOC, and elderly people all who are currently experiencing disproportionately higher rates of death from Covid... 
And I can't sit aside and watch people die because of our city, or state or nation's leaders didn't mandate that every time you leave your house, you should be wearing a mask with medical exceptions, of course. 
Nancy Rosenbaum: Duluth Mayor Emily Larson responded in an email saying that she didn't think a mask mandate would work. She wrote: "We don't have an enforcement mechanism beyond basic human connection to motivate people to be good to one another." Gaelynn didn't find that argument convincing.
Gaelynn Lea: So I felt that the whole idea of just trusting people to do the right thing wasn't working. 
Nancy Rosenbaum: So she sent the Mayor a follow up letter. She also wrote to the governor. Local news media picked up the story. 
Gaelynn Lea: Luckily a city councilor who happens to be friends my mom called my mom and said I want to know more about this, can I get Gaelynn's number? And so we talked about it. She approached this other councillor and he didn't want to do it but then after she talked about you know these different consequences and how this is such a low impact intervention you know it's not it's not even expensive to require a mask mandate, he got behind it and eventually the city council passed the measure unanimously.
Nancy Rosenbaum: The Duluth city council passed this new emergency ordinance in July 2020... this was a little over a month after Gaelynn came out with her public letter. The mandate required most people to use face coverings while using indoor public spaces like stores, restaurants, and public transit. 
Gaelynn Lea: It felt really rewarding to do something that ended up having an impact and not to malign the mayor, I mean we didn't agree, obviously, but since then she has made it clear that she's glad that people pushed for it.
It reminds you that a democracy can work. That's what I felt. You know I'm a poli-sci nerd, I was a poli-sci major in college and I think especially in the era we just got through, for me personally, it was kind of like holy cow, does this model even work? I don't know. And then yeah, if you take action, I think that's the whole point of a democracy is that you can reach out to your elected officials and you can work really hard--I mean I spent a lot of time on this. It wasn't like I sent an email and then suddenly we had a mandate. But if you're willing to work hard, the cool thing about living in a democracy is that you really can make change. 
Nancy Rosenbaum: The new mask mandate didn't suddenly resolve Gaelynn's concerns about contracting Covid. She continued to stay home for the most part. 
Gaelynn Lea: The reason I was doing it is so people like my mom for example, at the beginning when there was no mask mandate, she had to be willing to be judged for wearing a mask rather than it just being the law. And so it's putting people who maybe don't visibly look -- like nobody questions if I wear a mask out in public. Like people would be like, good job, good idea, you know like because I look very disabled, but if somebody doesn't and they choose to wear a mask and it's not the law and it's not a popular idea, then they had to be willing to feel judged. And I think that I wanted to take the judgement out of that. And just normalize it, not through education, but truly making it like this is the law. You wear a seat belt. You wear a mask.
Nancy Rosenbaum: The Americans with Disabilities Act became federal law in July 1990. Gaelynn was about six years old at the time and she grew as part of this new ADA generation that was guaranteed legal rights and protections. Her faith in those protections was rattled this past year. With ventilators in short supply, some states announced care rationing plans that put people with disabilities at risk. 
Gaelynn Lea: And that's why I think this past year was so hard is that feeling like okay I do have legal rights theoretically but people aren't even willing to wear masks to like make sure I don't just die. That was a weird feeling because growing up in the ADA generation, I think you do feel like there's redress for you if people are violating the law, for example, but in this case, it was like, I don't know, if health departments are treatment rationing, where's my legal rights to exist? 
I think unfortunately, people with disabilities don't always get treated with the same level of care or there's underlying prejudice or stigma or whatever it is about your disability that it makes getting into the hospital on a good day kind of scary, because it depends on who sees you, right? But in a pandemic, when they're already talking about treatment rationing with ventilators and stuff I was like, I don't want to be at the mercy of a doctor who may or may not deem my life as valuable regardless of my age, just because of my disability. And I think honestly, that reason alone is why a lot of the chronically ill and disabled people I know have been so incredibly locked down is that that's just a part of reality, like the discrimination against disability has some real consequences.
Nancy Rosenbaum: Looking back on this pandemic year, Gaelynn can see how the stigma of disability literally threatened people's safety and survival… as she sees it, the undervalued people in society were put at the most risk.
Gaelynn Lea: The thing about the mask policy, it wasn't just for people with disabilities, it's all people who are traditionally oppressed in our country, were having worse results. And to me, I think a sign of a community that's healthy or like moral is one where you also care about the least of these, like the ones that are traditionally getting left behind. And I feel like a mask mandate is like the bare minimum that you could do to acknowledge the value of those people in your society. And I think disability justice really needs to happen so that this kind of devaluing doesn't keep getting perpetuated.  
Nancy Rosenbaum: At the time of our interview, Gaelynn had just gotten her first dose of the vaccine. She was starting to look ahead to a time when she could see her siblings and other friends...people she'd only connected with through a computer screen this past year. Still, there are other things she started doing in lockdown that she plans to continue.
Gaelynn Lea:
Clip: Hello everybody! Um, this is Gaelynn Lea for another edition of Quarantine Concerts. Going on a year! What the heck is going on. 
You know my YouTube shows, I'm going to keep 'em going after the pandemic because people in other cities, other parts of the world are all gathering in real time and talking to each other.
Clip: I'm very, very excited to invite a couple of really special guests on today. This is Jeff Tweedy. His son Spencer Tweedy. And his other son Sammy Tweedy. 
And that's special in its own right. Not just because of the pandemic. 
It's been a windy road but I think we can embrace the cool parts of this shift and maybe help it mitigate some of the harder parts. So that's kind of what I'm focusing on now.
Nancy Rosenbaum: Gaelynn has also been working on a memoir. At first she wasn't sure if this pandemic year would be part of the story. But now she can't imagine leaving it out. 
For iPondr, this is Nancy Rosenbaum.
Nancy Rosenbaum is an award-winning audio journalist and documentarian based in Minneapolis. Her sound-rich audio features have been heard locally and internationally on NPR, the BBC, The World, and Latino USA among other outlets. She has produced dozens of arts and culture features on everything from Prince to urban ice fishing for KFAI community radio's MinneCulture series and podcast. Nancy has been recognized by the Minnesota chapter of the Society for Professional Journalists with multiple awards for her radio and digital features reporting. She is interested in stories that trace the connections between race, culture, history and identity.
This story was originally published on iPondr, a site dedicated to sharing multimedia stories that can help Build a Kinder America.
Faced with the challenges of a global pandemic, the Twin Cities musicians in our series Pandemic Performances move their performances out of the venue and onto the veranda, or at least into their backyards.
The Minnesota hardcore scene was a close-knit community of artists and fans that encouraged culture and spawned huge talents like Hüsker Dü, The Replacements, Soul Asylum, Rifle Sport and more. Check out Minnesota Hardcore, a fast-paced, musical docu-series that examines the punk scene in the Twin Cities from 1980 to 1985. 
When artist Anita White's husband started to experience more health issues that required more hospital stays, she picked up her sketchbook as a means of expressing her grief and to document the bustling staff. That led to commissioned projects at the hospital – and now she draws to express the topsy-turvy experience of living in a pandemic. Her sketches will add a much-needed shot of brightness to your day.