Artist Anita White Sketches Her Joys, Her Grief and Life in a Pandemic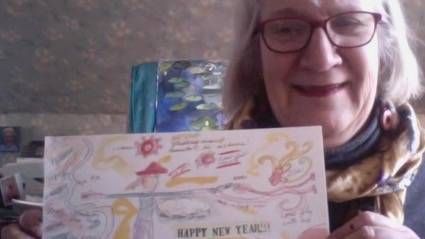 "The pandemic hit so quickly, didn't it? I mean, I think we're all still a little traumatized," comments artist Anita White as she pulls out a sketchbook.
"Initially, I started poking fun at coronavirus and doing drawings, like, 'I used to draw a lot, but now all I do is wash my hands!'" White holds the sketch up to the computer screen, revealing one of the first drawings she made during the pandemic.
White has been drawing her way through life since she was a child. Her parents were both artistic and encouraged her to pursue art school. After art school, she had a 28-year career teaching art to children and, all the while, retained a regular routine of sketching.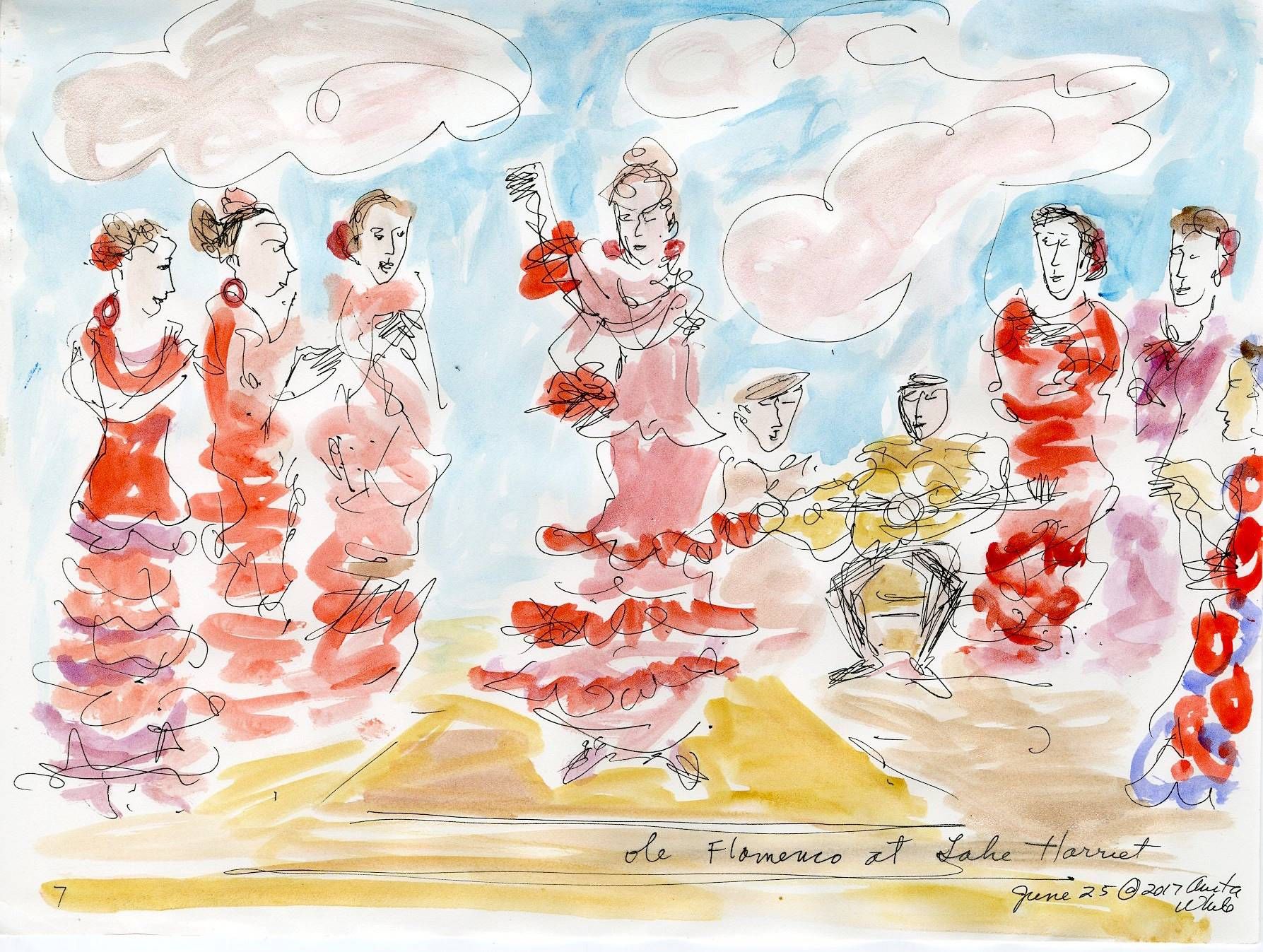 In her sketchbook, she captures the world around her, whether it be her travels, flamenco dancers (a common theme as she used to frequent Zorongo Flamenco performances), or simply capturing moments with family members and friends.
"Well, drawing is really interesting because it helps me pay attention to beauty or pathos. And it's been a navigational tool for me."
White's late husband of 39 years, Josh, had many ailments throughout his life, which increased in his final years. Hospital stays became a consistent part of their lives and, as a way to cope, she pulled out her sketchbook. Turning an extra chair into a makeshift easel, "I drew my way through all the medical challenges," she says. She's also quick to explain that this was in the "Way Back Time," referring to a pre-pandemic world in which visitors were allowed in hospitals.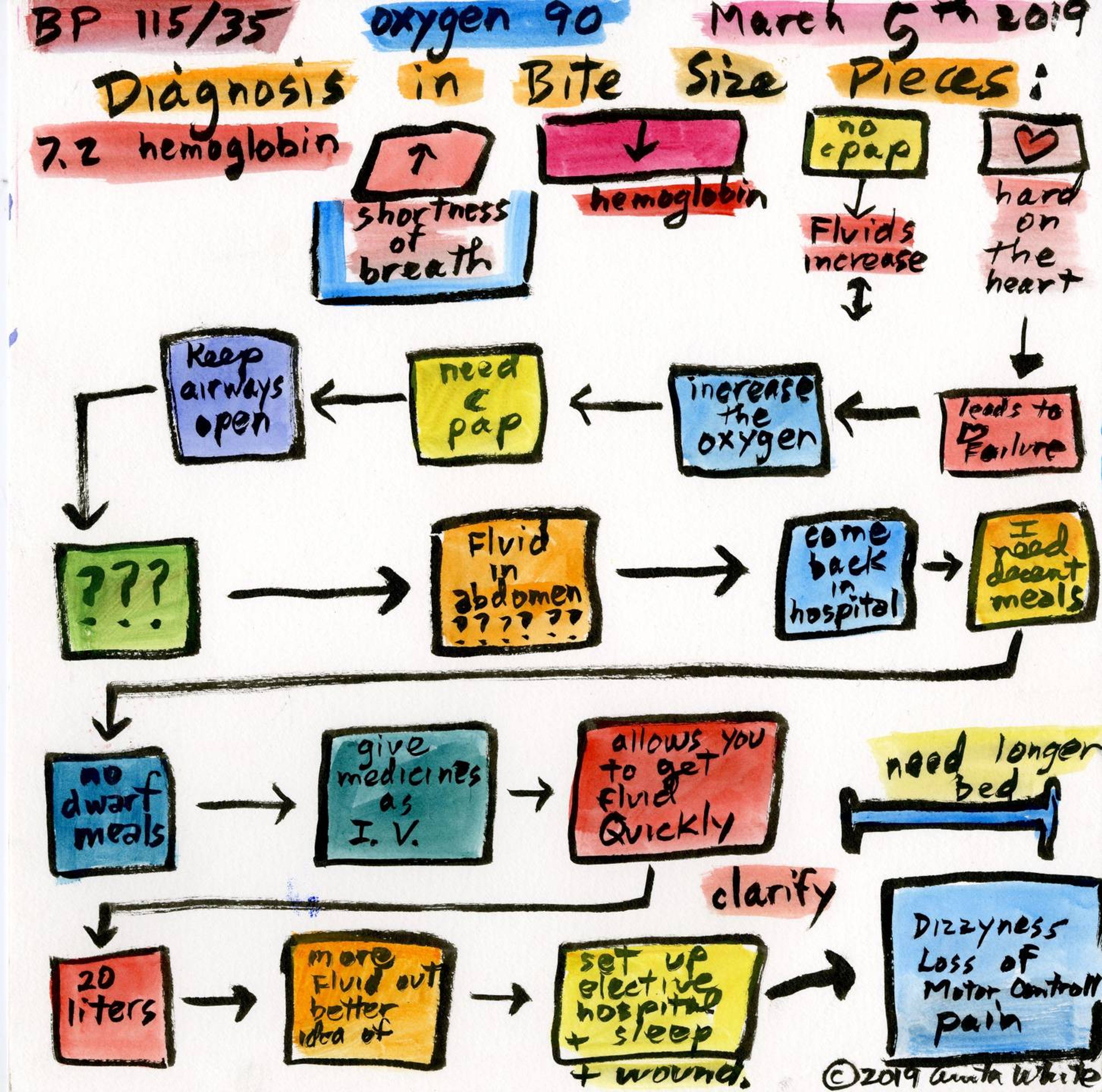 She'd sketch his latest diagnosis in an effort to grasp the gravity it had on their lives and to mitigate anxieties of the unknown. "Drawing just helped me get through because, otherwise, I would have been emotionally a lot more stressed out." And when possible, she'd try to find the humor in the moment. "Humor does a lot for healing as well."
She also turned her attention to the healthcare staff that floated in and out of the room, changing tubes, changing the garbage or changing the food trays. "People are basically kind of shocked to be drawn. And I usually ask them [for permission]. I try not to be too secretive…. It's a way of honoring and it's a fun way of connecting."
The act of someone drawing your likeness (with permission, of course) holds a powerful allure: It means that they are paying attention to you. They see you.
All of her sketching led to a creative relationship with Hennepin Healthcare, where her husband received treatment. Working with Patient Advocate Sheila Moroney, Arts Program Coordinator Wenda Ballinger and Chief Academic Officer Dr. Meghan Walsh, White had an art show in 2017, "Drawing Through Crisis with Courage and Humor." She then worked on the project "A Day in the Life of Hennepin Healthcare" from March 2018 until June 2019, by following various staff members around the hospital and documenting moments of their days.
"I followed an Ethiopian woman around in the medical ICU as she cleaned. I'd met a doctor, and so I did one called 'Doctor's Rounds'…. I ran with people, let's put it that way. I ran, ran with the guy who did translations as he ran from one place to another. I ran with Rosie, who greets people."
Straddling roles as both a caregiver and an artist at Hennepin Healthcare offered a unique perspective on the people - the patients and the medical staff - who populate a bustling hospital. She was touched by the talent, care and the big hearts of all those who serve the public there.
"Anita has a unique gift of capturing a scene with keen observation and gentle humor. One of the comments I received from a member of our staff states, 'As both an employee and recent patient, I truly appreciate [Anita's] whimsical, honest artwork. 'Love Me Just the Way I Am' particularly hit home as often when we are ill, people expect us to be how we were.  Thank you for so generously portraying the patient and family perspective so beautifully,'" relays Ballenger.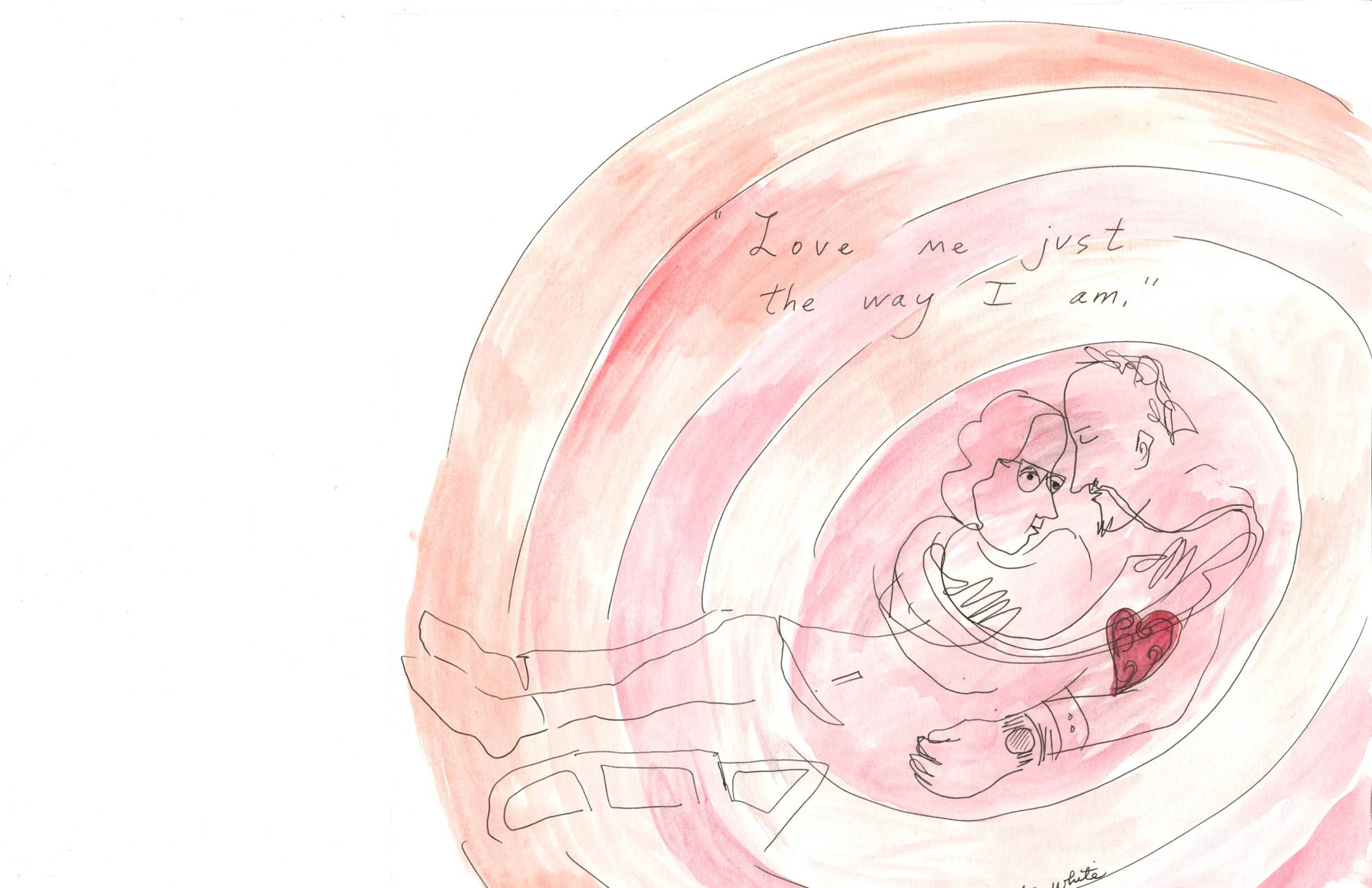 White's husband, Josh, uttered the words, "Love me just the way I am," in a late-night farewell during a particularly challenging hospital stay - and they reflect his realization that life takes on a new shape when confronted by continual health challenges.
In the final weeks of her husband's life, she noticed that her drawings became very symmetrical. "I drew very symmetrical, balanced drawings based on William Morris designs. And this really helped me because things were anything but balanced, anything but symmetrical."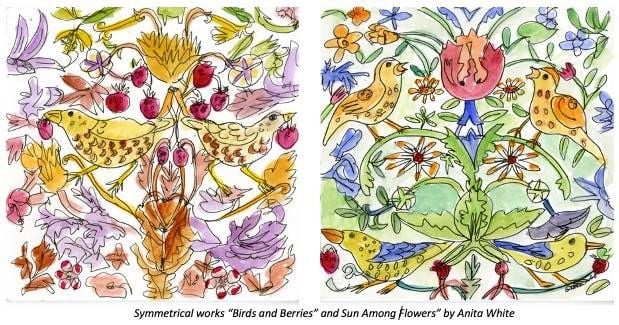 When her husband died in April 2019, "[I] drew my way through his death and actually have been drawing my way through my grief journey, too. So drawing is really interesting because it's like a key that opens the door, and it just helps me see and it helps me feel, it helps me empathize, in other very different ways."
White's work revolves around empathizing with and honoring people that might not ordinarily be celebrated. She was ready to embark upon another project with Hennepin Healthcare in the spring of 2020, but the pandemic took hold and, for safety reasons, the hospital closed to most visitors. To lift the staff's spirits, she sent weekly drawings from her previous projects. In more recent months, she has shared her interpretations of Hennepin Healthcare's Stories from the Field, another documentary project by the hospital that focuses on staff experiences during COVID-19. The stories are poignant and heartbreaking, but show the resilient spirit of healthcare workers in this unrelenting time.
Now that she's spending far more time at home, her sketchbook reflects a more interior life. She captured her cats and window views of construction crews working on her street (she has, of course, learned the names of the crew and shared copies of her drawings with them to honor the work they are doing). She also doesn't mind drawing what's on television, whether it be an address from the Governor or another program that moves her, like Twin Cities PBS's own Hippocrates Cafe: Reflections on the Pandemic.
And certainly her sketchbook carries a continuation of the grief she experiences due to her husband's death and the new grief of the life COVID-19 has bestowed on the world. "It's just one rollercoaster ride after another. Our sense of normal is really disturbed. There's just really a lot of grief and unexpressed grief. I'm really lucky because I've got my creative life," she says, lifting up her sketchbook. She wonders how others are processing - or not processing - these important times.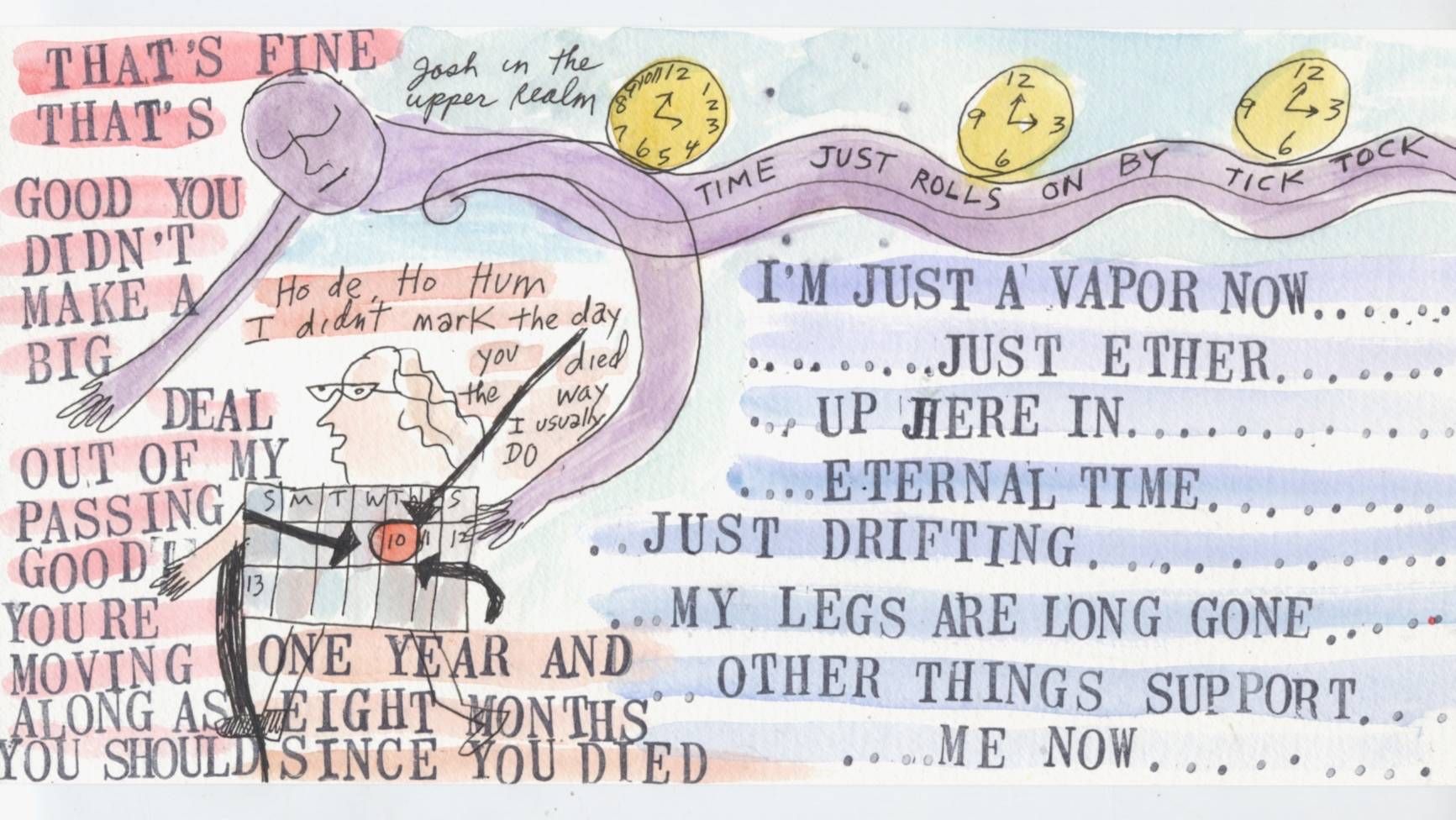 In a moment of reflection, she notes that her sketchbook now has symmetrical drawings in it, too, just as it did in the final days of her husband's life. These are an expression of craving balance in an unbalanced time.
For White, drawing offers many things. It's a way to process, a way to navigate, a way to honor and document those around her. It's a way to process grief, anger and joy, and share in life's journey. It's been a way of life, a creative habit.
Credits: "A Day in the Life of Hennepin Healthcare" was curated by Wenda Ballinger, commissioned by Hennepin Healthcare and funded by Hennepin Healthcare Foundation's Fallon Fund for Humanism. "Drawing Through Crisis with Courage and Humor" was curated by Wenda Ballinger and funded by Hennepin Healthcare Foundation's Fallon Fund for Humanism.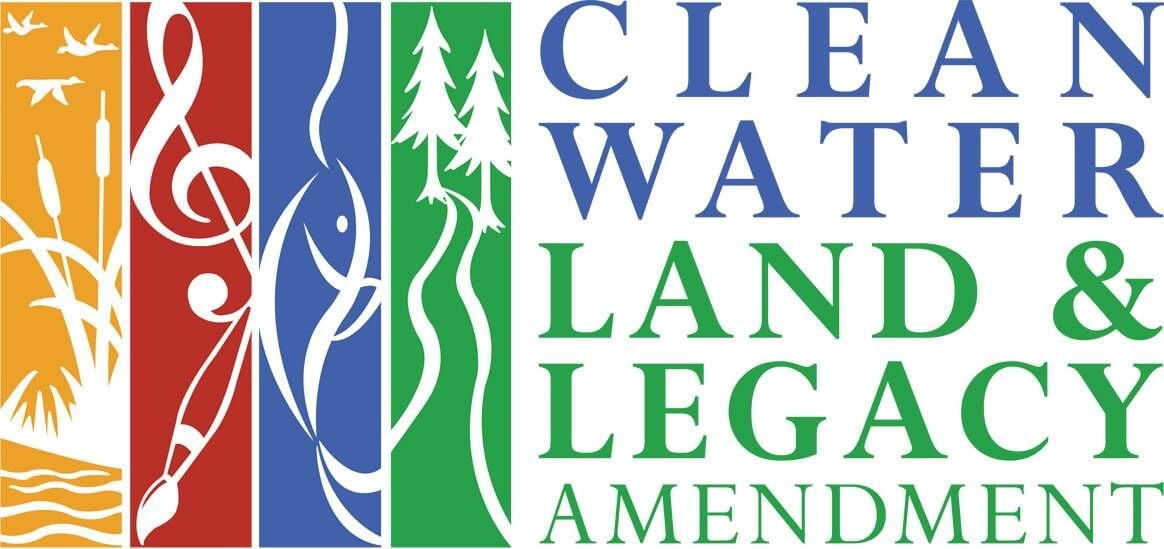 This story is made possible by the Arts and Cultural Heritage Fund and the citizens of Minnesota.
If the wintertime scarcity of outdoor performances has left you with the blues, never fear: We have seven Pandemic Performances from local musicians that will bring a spring to your step.
For only a year and a half, the hardcore music scene in the Twin Cities rippled with exuberance, creative innovation and a healthy dose of grit. Check out the docu-series Minnesota Hardcore, which chronicles the short-lived, but pivotal, influence of hardcore music and the subculture that formed around it. 
When COVID-19 first showed up in the U.S., G. Phillip Shoultz III, like many Americans, had no idea what was ahead. "All of us naively thought this is just going to be a few weeks and we'll get back to our lives," he reflects. But the director of the VocalEssence Singers of This Age youth choir quickly realized that wouldn't be the case. So the choir got creative and performed this rousing choral tune on a downtown rooftop.