Relish: Vegetarian Passover Seder with Imani Jackson
A modern take on a centuries-old tradition.
The youngest of three kids in a single-parent household, Chef Imani Jackson jumped into the kitchen at an early age. "Having to cook was really no option. I had to eat," she says. And that necessity from childhood is proving fruitful in adulthood. "My past isn't defining who I am - it's helping me become who I'm supposed to be."
Today, she is the owner and chef behind Chopped and Served, a catering company focused on sustainable and healthy food. At the heart of the business and the food is Imani, herself, a Black Jew. "I know how to look through two different lenses. So that's what my food is always going to showcase, is two different lenses."
"I want people to know who I am through my food."
Using knowledge she gained studying at the University of Minnesota and her own research into the cuisines of her ancestors, Imani made a shift to plant-based eating. It's the focus of her catering company, too. "There are a lot of things that our ancestors didn't do, therefore, we won't do, because that's a part of the fresh and sustainability aspect.
"I love being able to educate on how to sustain the health and wellness within our body, and reinforcing it through the food," Imani says. "So that's kind of what Chopped and Served is. There's moral and purpose behind it. And that's who I am, and that's what I've wanted it to become," she says.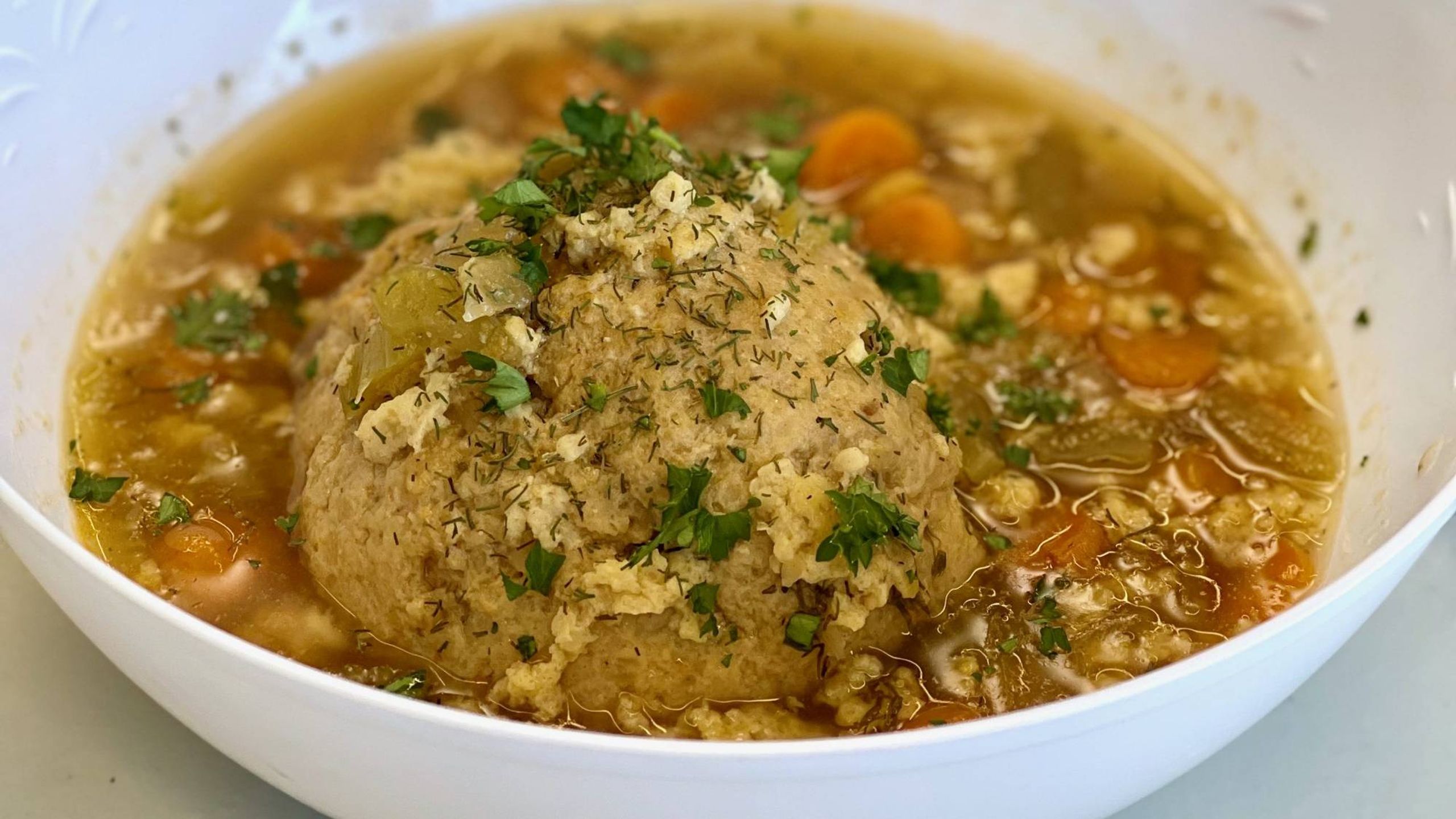 Vegan Matzo Ball Soup
By Imani Jackson
For the matzo balls:
1 cup matzo meal
1/4 cup potato starch
2 tablespoons minced fresh parsley
2 tablespoons minced fresh cilantro
2 tablespoons grated fresh ginger, or to taste
1 teaspoon minced fresh dill
1/2 teaspoon freshly grated nutmeg
1/2 teaspoon baking soda
1/2 teaspoon baking powder
Kosher salt and black pepper
1/4 cup olive oil
3/4 to 1 cup chickpea cooking liquid (from home-cooked chickpeas or about two 15-ounce cans, preferably low-sodium)
For the broth:
8 cups homemade veggie broth (can sub with 8 cups water & 4 tablespoons of better than veggie bouillon)
3 large carrots, peeled and half moon cut
2 celery stalks sliced
1 yellow or white onion, peeled and diced
1 tablespoon avocado oil
3 garlic cloves, chopped
Kosher salt and black pepper to taste
1 tablespoon garlic powder
1 tablespoon onion powder
1 teaspoon of cumin
Abundant amount of chopped dill and parsley
Instructions:
Make the matzo balls: In a medium bowl mix the matzo meal, potato starch, parsley, dill, baking soda and baking powder with 2 teaspoons salt and 1/4 teaspoon pepper. Add the avocado oil and enough chickpea liquid to make a slightly sticky mixture that's not too wet or loose. (The matzo meal will absorb lots of the liquid. Refrigerate for about 30 minutes
Begin broth: In a large pot add the broth, carrots, celery, onion, avocado oil, garlic and seasonings. Bring to a boil for 20 minutes, the turn heat to low and let it begin to simmer.
When matzo mix is cold, dip your hands in cold water and roll out 2 1/2 inch matzo balls. You should have about 10.
Carefully drop the matzo balls into the broth, cover and simmer without disturbing them until tender but firm. About 20 minutes.
Garnish with fresh herbs and enjoy!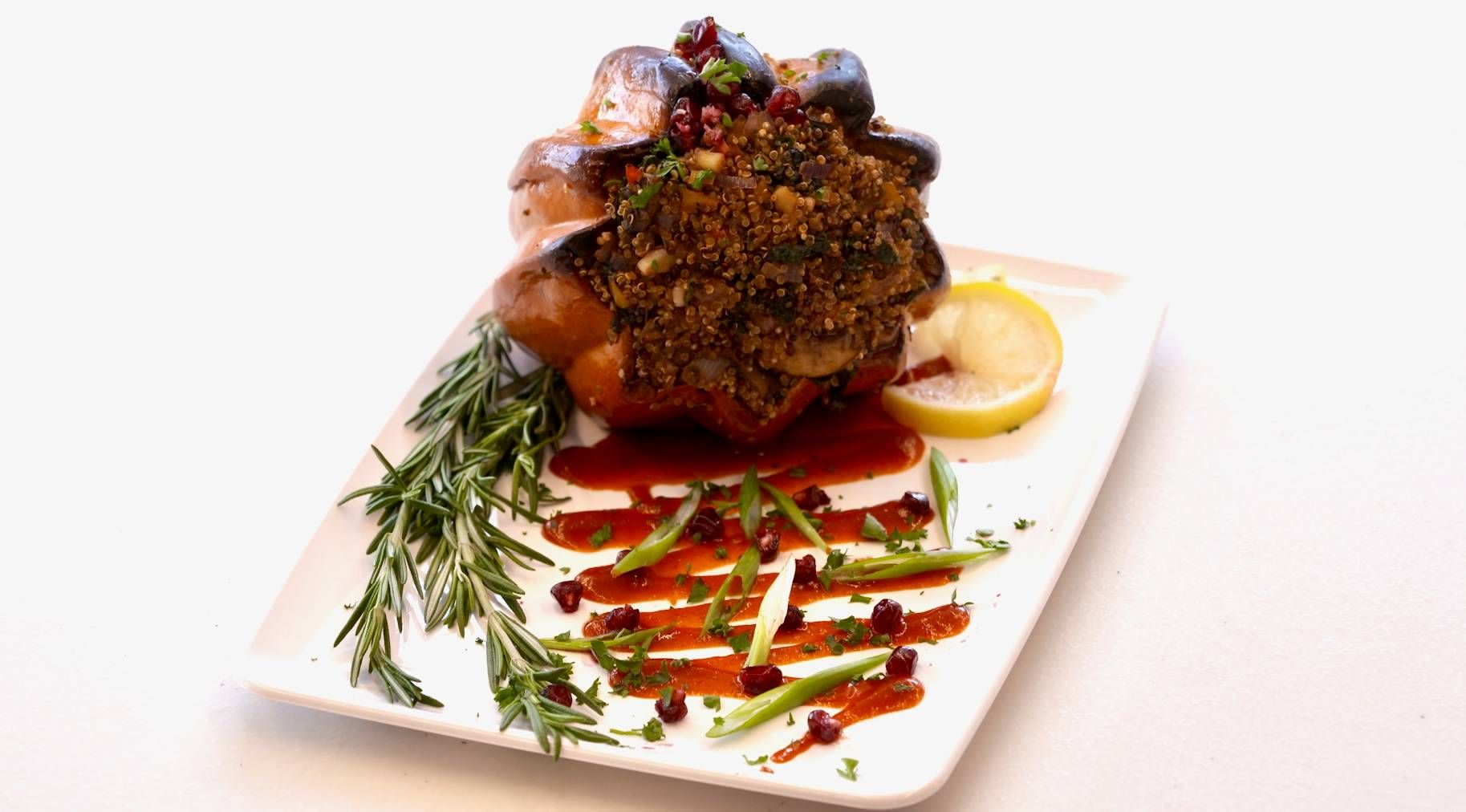 Stuffed Acorn Squash (vegan)
By Imani Jackson
Ingredients:
2 Tbsp avocado oil
3 large or 5 small acorn squash, cut in half, seeds removed
1/2 bunch of kale, chopped
1 medium onion, chopped
12 oz mushrooms, sliced
1 Tbsp balsamic vineagar
2 cloves garlic, minced
1 tsp salt
1/2 tsp black pepper
1 tsp garlic powder
1 tsp onion powder
1/2 tsp cumin
1 Tbsp agave
1 tsp cayenne pepper
1 cup cooked quinoa
3/4 cup dried cranberries
Abundant amount of fresh herbs
1/4 cup fresh parsley, chopped, plus more for garnish
Handful of pomegranate arils (optional garnish)
Instructions:
To roast the acorn squash:
Pre-heat the oven to 400 F degrees. Line a baking sheet with parchment paper.
Drizzle the insides of acorn squash with avocado oil, and seasonings. With a brush or your fingers spread the oil and seasonings around the squash.
Place the squash cut side down and roast for 40 minutes or until a knife comes in and out easily when inserted in the flesh of one of the squash. Let it cool for 5 minutes before stuffing.
To Make the Stuffing:
Sauté kale, mushrooms, and onions, stirring frequently until translucent. About 5-6 minutes.
Add seasonings, balsamic vinegar, and agave.
Stir in the garlic and cook for 30 seconds.
Take off the stove and let cool for 5 minutes. Once cooled add the cooked quinoa and dried cranberries.
Stuff cooked squashes with quinoa mixture.
Bake for an additional 12 minutes
Serve and enjoy!
Special Thanks: Rabbi Justin Held, Minnesota Hillel, Liz Mack, Rabbi Marcia Zimmerman, Temple Israel
Production Team: Dave Bellmont, Kristen Blekum, Peter Chey, Alyssa Franklin Fuller, Adam Geiger, Amy Melin, Eric Pagel, Jennilee Park, Michael Phillips, Nathan Reopelle, Xee Reiter, Brittany Shrimpton, Yia Vang