Relish: Potica, a.k.a. Holiday Sweet Bread
A tradition that's traveled all the way from Slovenia to Minnesota's Iron Range, now you can learn how to make this festive treat in your own kitchen.
With rolling pin in hand, Chef Yia Vang heads to the kitchen to learn about the Iron Range holiday favorite, potica, from bakers Samantha Kelly and Ashley Leonard.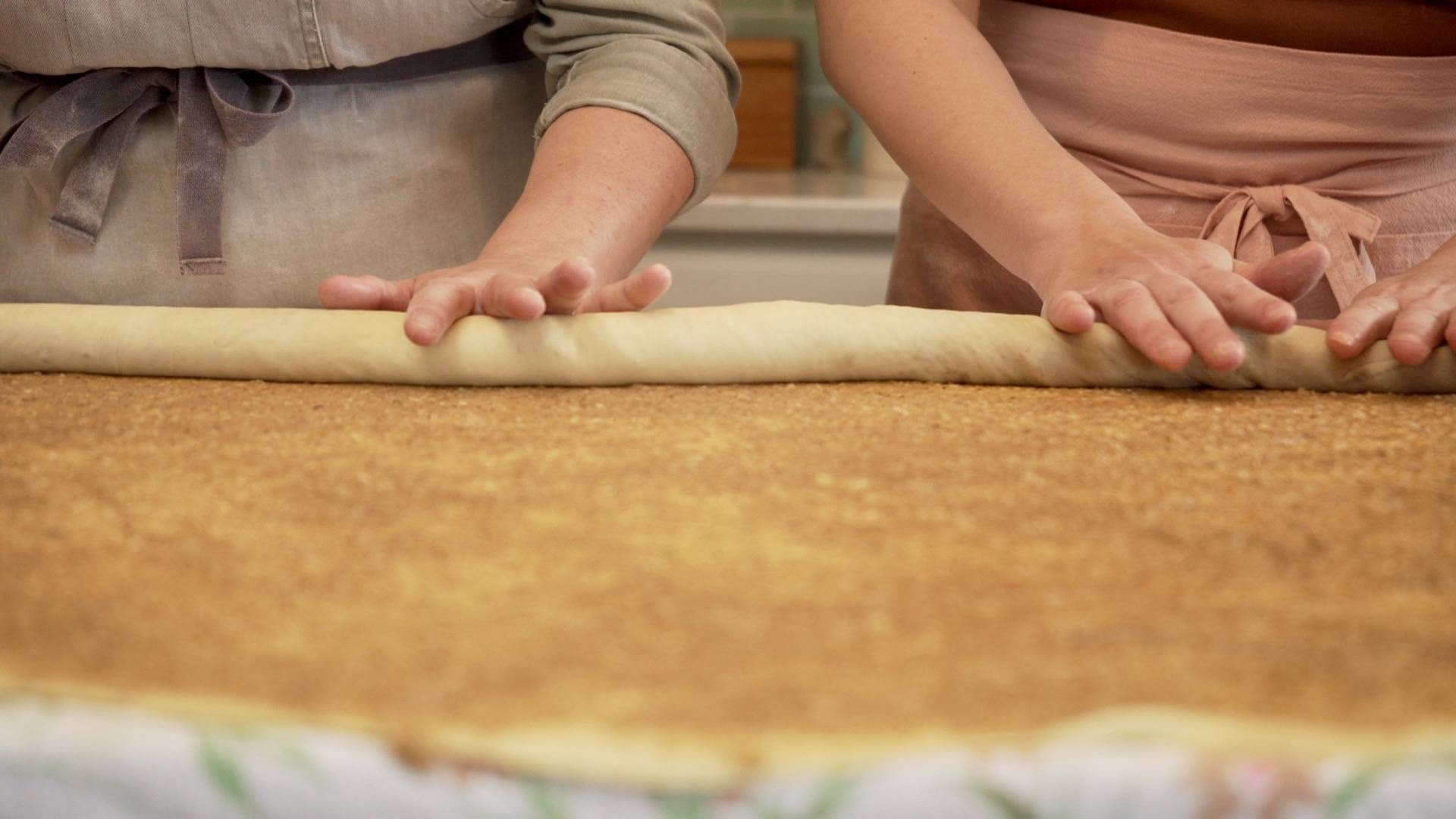 "Potica is a sweet bread," explains Kelly, a recipe developer and Eveleth, Minn., native. "You roll enriched dough out tissue-paper thin. Then spread it with a walnut-honey-cream mixture. And then you just roll it, bake it and slice it. It's so delicious!"  
POTICA JOURNEYS FROM EUROPE TO MINNESOTA'S IRON RANGE
Nut rolls like potica (pronounced "pah-TEET-sah") originated in Eastern and Central Europe. Derived from the Slovenian word "poviti," which means "to wrap in," potica was so important in Slovenian culture that it made an appearance in the first book printed in the Slovenian language in the 16 Century. Fillings ranged from sweet to savory and often denoted one's social class. The wealthier classes used walnuts and cream, while lower socioeconomic classes used herbed fillings. Though recipes are endless today, walnuts and cream continue to be the most popular choice, at least on the Iron Range.
Potica was introduced to Minnesota's Iron Range in the early 1900s as many immigrant populations moved to the area to work in the region's bustling mining industry - but it was the Slovenian and Croatian immigrants who brought with them this delicious slice of home. The recipe spread and is now a staple on many Christmas and Easter tables in Iron Range homes, whether or not they have Eastern or Central European heritage.
"That's the cool thing about recipes from the Iron Rage," says food blogger and fellow Eveleth native Leonard. "A lot of the Iron Range recipes are more "Iron Range" recipes than a specific nationality.  It's just the melting pot of the Iron Range and everyone there makes those recipes and enjoys them and shares them with everyone else."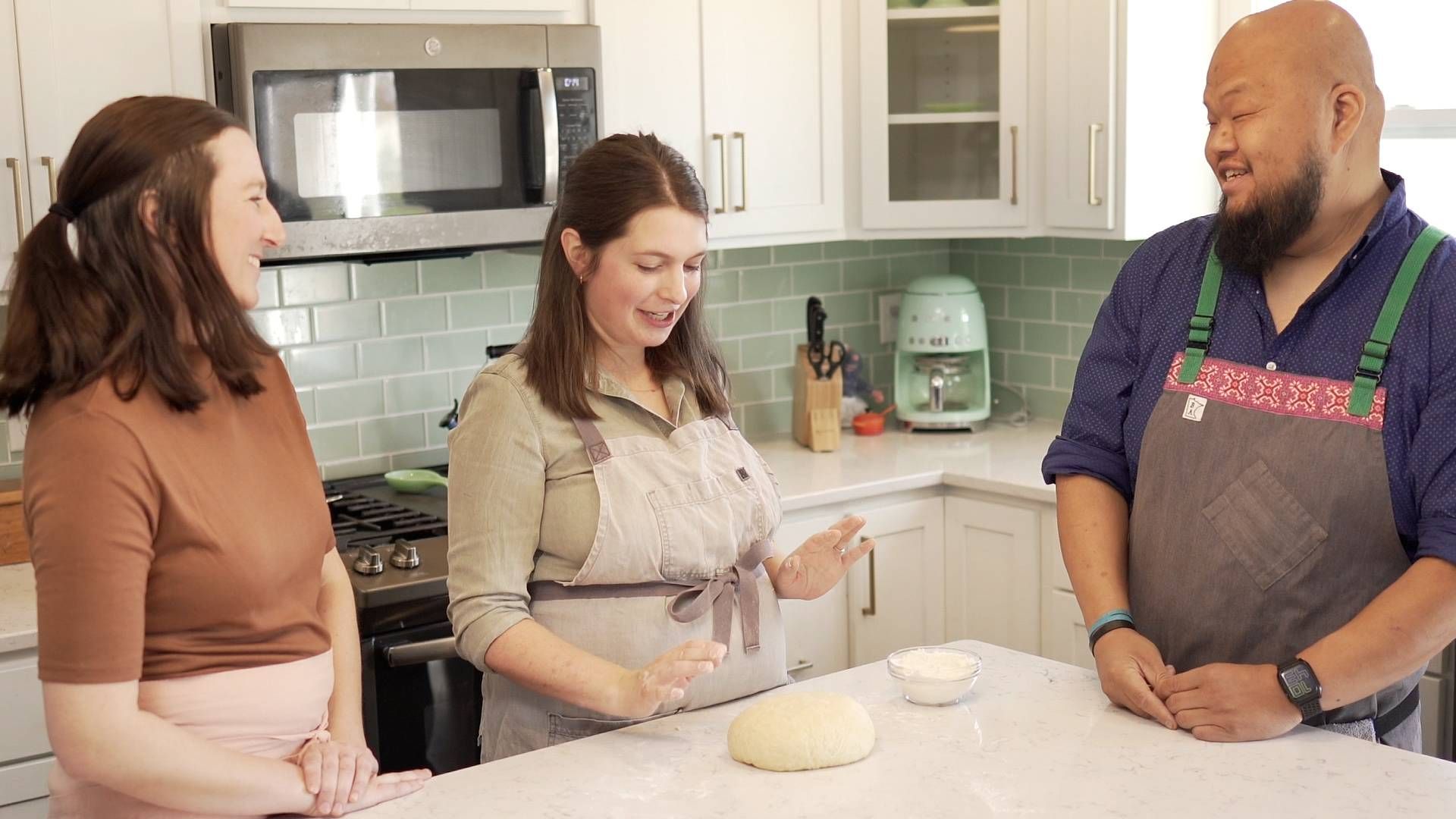 LABOR OF LOVE
Throughout the 1900s groups of (mainly) women would gather on the Iron Range to bake potica together. Unofficially, but affectionately, these women were known as "the potica ladies."
When Kelly and Leonard both found themselves in the Twin Cities area in adulthood, they decided to team up for an annual potica bake."It's always more fun to make it with two people and it's a bit labor intensive," admits Leonard.
Kneading the dough until it has the perfect elastic finish, ensuring it doesn't tear when it's rolled out to its thinnest extreme, and hoping beyond hope it doesn't stick to the surface when rolling it up are a few of the tricks that come with time and experience.
Even though making potica is a little laborious, the two cherish the tradition. "It's so delicious that I would put in twice as much work," says Kelly.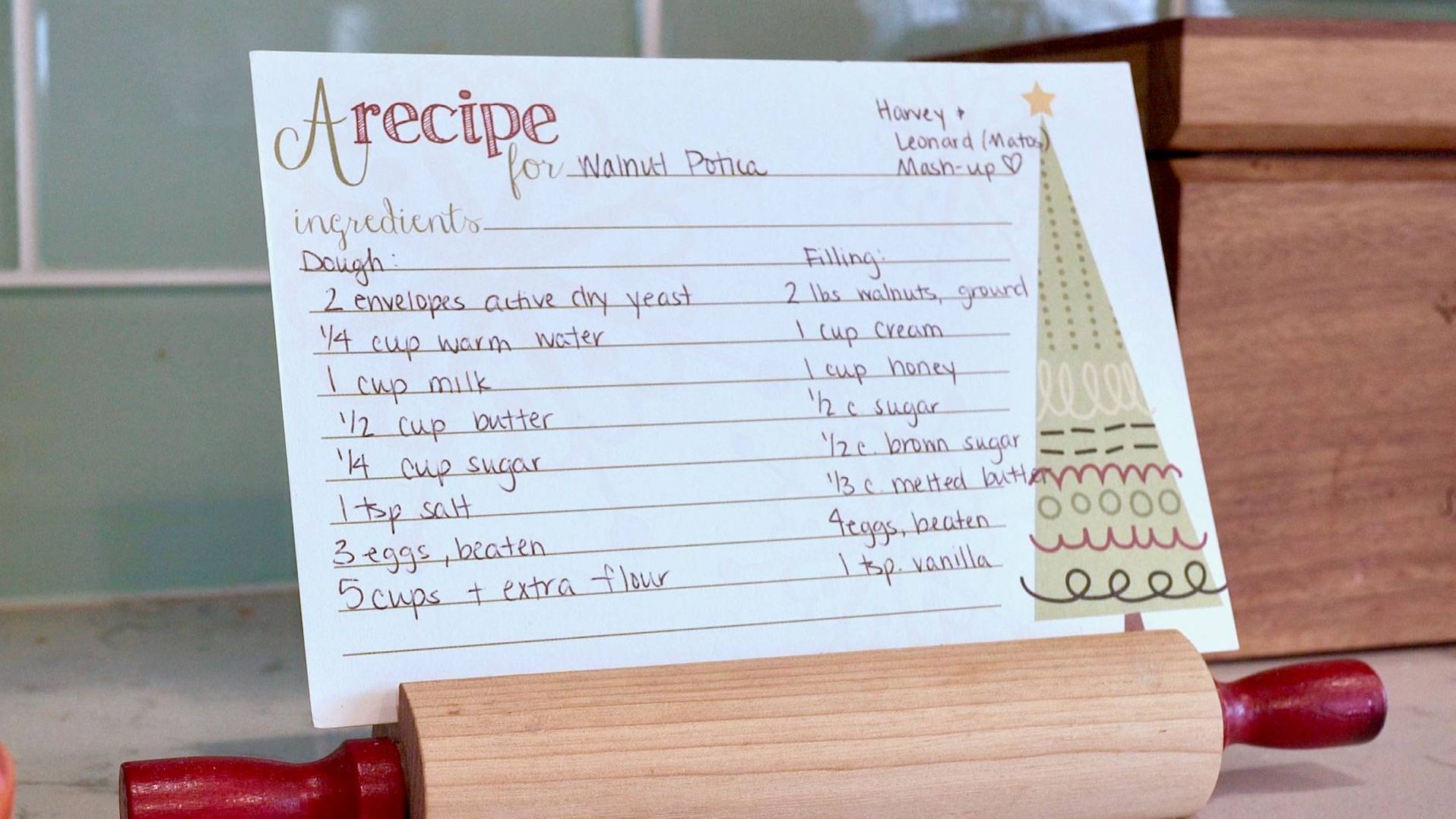 With more and more of the elder "potica ladies" passing on, they both want to ensure their children have this tradition in their lives, "[Potica is] one of those things that if some of the younger generation doesn't keep it going, then it's going to die off and we're not going to be able to pass it on to the next generation."
With that they all take a bite of butter-covered potica and enjoy the rich tradition. So if you are looking to try baking a new holiday treat, try your hand at this delicious swirled bread.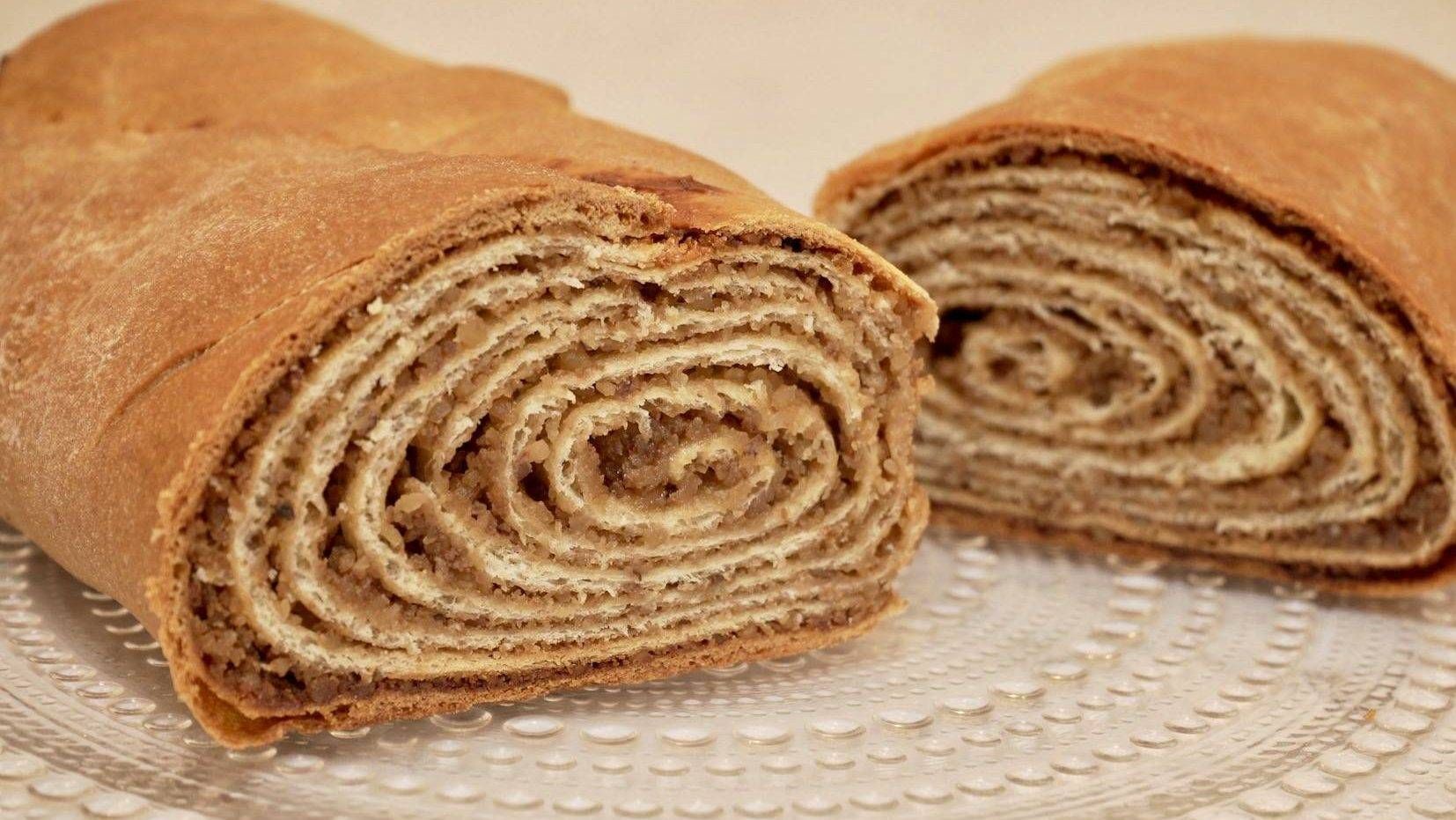 WALNUT POTICA
By Samantha Kelly and Ashley Leonard
DOUGH
2 envelopes dry active yeast
¼ cup warm water
1 cup milk
½ cup butter
¼ cup sugar
1 teaspoon salt
3 large eggs, beaten
5 cups flour (+ extra if needed)
Combine yeast and warm water in small bowl, let sit 5-10 minutes until bubbling and foamy.
Heat milk until small bubbles form around edge and is steaming. Stir in butter, sugar and salt until dissolved. Let cool.
Once milk mixture is cool add yeast mixture and eggs, stir until well combined.
In large bowl add flour and cooled milk mixture. Stir until well combined.
Turn out onto floured board and knead about 10 minutes  to incorporate all flour until dough is smooth & elastic. Add more flour as needed if dough is too sticky to handle.
Grease clean, large bowl with butter, cover with damp cloth and let rise in warm place about 90 minutes or until at least doubled in size.
FILLING
2 pounds walnuts, ground
½ cup sugar
½ cup firmly packed brown sugar
1/3 cup butter, melted
1 cup honey
1 cup whipping cream
4 eggs, beaten
1 teaspoon vanilla extract
Combine walnuts, sugar, brown sugar and butter in large bowl, set aside.
Heat cream and honey is small saucepan over medium heat, stirring constantly, until steaming and bubbling around edges. Pour over walnut mixture and stir to combine. Add eggs and vanilla, beat well.
ASSEMBLY
Heat oven to 350°F.
Roll dough on floured cloth as thin as you can possible get it, should be basically see-through, to a large rectangle approximately 36x60 inches.
Warm filling if completely cooled (will be easier to spread).
Spread filling in thin, even layer over rolled dough, extending all the way to the edges.
Tightly roll dough, starting on long edge, like a jelly roll. Pinch edge to seal. Cut into 5 loaves, approximately 12-inches in length. (Loaves do not get a second rise)
Melt 1 ½ tablespoons butter in 9x13 pan. Roll cut loaves in butter to coat.
Baked at 350°F for 15 minutes. Reduce oven temperature to 325°F (without opening oven) and continue baking 45-1 hour until loaves are a deep golden brown. Let cool before cutting. Cooled loaves freeze extremely well.
Additional Media: Minnesota Historical Society Collections, Norton and Peel, Underwood and Underwood
Special Thanks: Martin Ludden, Bianca Rhodes, SPNN
Production Team: Kristen Blekum, Peter Chey, Adam Geiger, Terry Gray, Alyssa Franklin Fuller, Amy Melin, Michael Phillips, Nathan Reopelle, Xee Reiter, Brittany Shrimpton, Yia Vang