Five Physicians Share Experiences of Racial Inequity in Medicine
Tackling racial disparities in health care and representation - along with the traumas of a pandemic - medical practitioners travel a path less worn.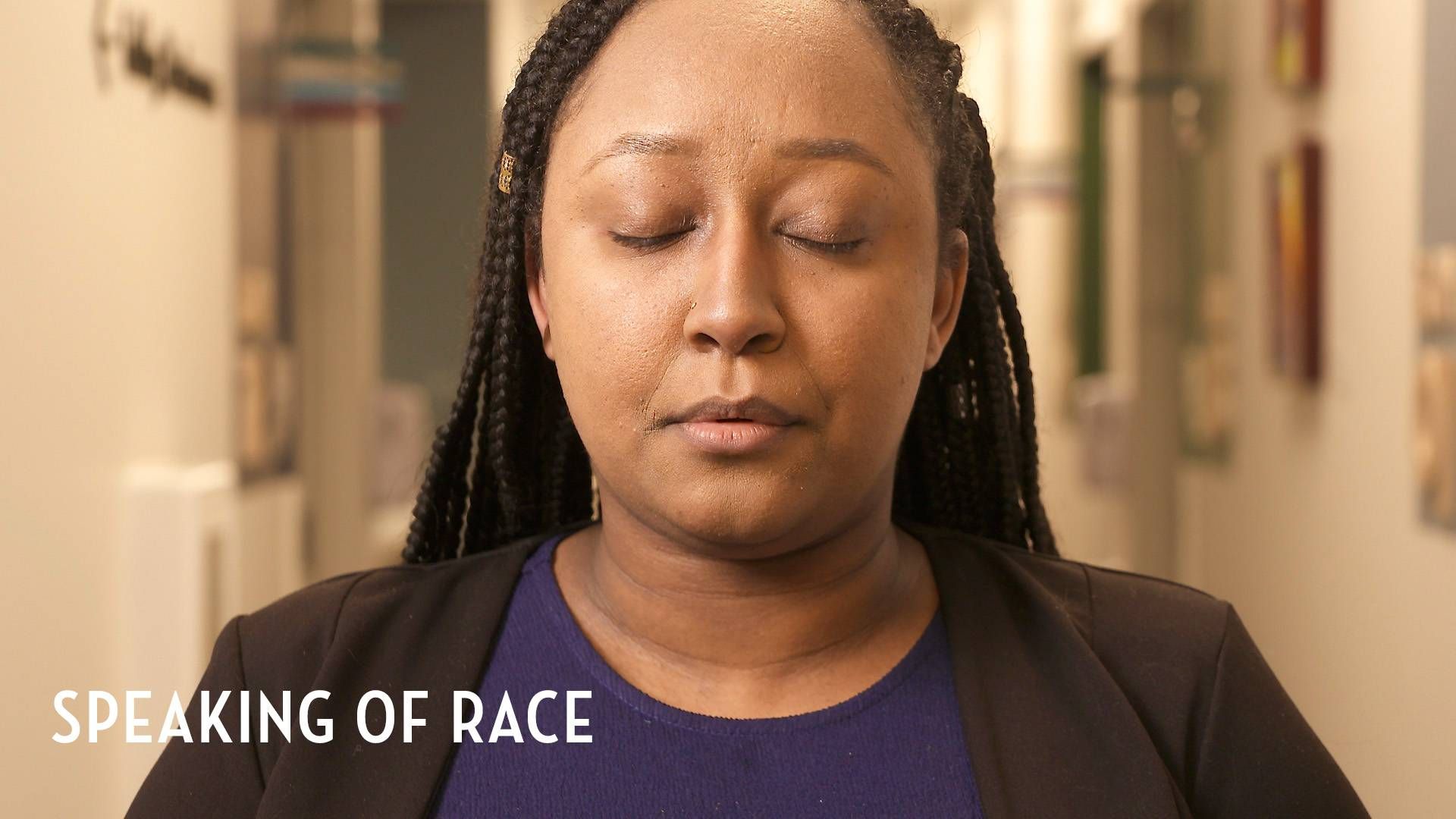 "Traveling a path less worn requires constant calculation and readjustment. It involves celebrating milestones, as well as marking the hazards and pitfalls for those who come after. The experience can be both lonely and exhilarating," says Dr. Tseganesh Selameab, co-host of Art + Medicine: Speaking of Race, a new show from Twin Cities PBS and the University of Minnesota's Center for Art and Medicine.
Lonely, exhilarating and traveling the path less worn can also be incredibly exhausting. Five physicians explore this theme through deeply moving stories and the lessons they've learned: Parrisha Roane, MD, examines this when advocating for equity for her patients and herself in the healthcare industry. For Anthony Williams, MD, his focus is on creating a place of trust in a climate of distrust. For Brenda Her, MD, her story revolves around seeking healing after a lifetime of traumas; and for Drs. Blanche Chavers and David Hamlar, their stories examine the demands for increased racial representation in medicine despite fatigue with its snail-paced progression.
The Consequences of Advocacy
by Parrisha Roane, MD
I have come to understand that, in the fight for health equity, my presence as a black woman physician is welcome — so long as I am seen, not heard. This conditional acceptance has been a painful realization and dissent is not without its consequences, a lesson I learned one night while working on the adult inpatient medicine ward.
I received a call from the nurse of Patricia, a Black sickle cell patient. I learned that a pill found while cleaning out her handbag had been identified as a narcotic medication. Security and nursing staff requested our presence for a room search. Patricia's mental status had not changed, there had been no change in her vital signs or clinical status, and there was no indication that she had consumed any pills preceding security's presence. Upon relaying this to the nurse, and asking for time to review the policy, she paused briefly before asking me to confirm that I would not be participating in the room search.
I sat for a while in stunned silence. If a room search was indicated for Patricia, why had it not been indicated earlier in the week for my other patient, who happened to be a white male, when he left the unit, returned somnolent, and returned to normal when he got Narcan — the antidote for opioid pain medication overdoses?
I have come to understand that, in the fight for health equity, my presence as a black woman physician is welcome- so long as I am seen, not heard.
Parrisha Roane, MD
By the time I'd learned there was no defined room search policy, it had concluded. When I visited Patricia later, she wept while recounting the indignity of being separated from her belongings and being patted down by uniformed staff. Nothing had come of the room search, but she was left alone to pick up the pieces of her mistreatment.
My internal response was a visceral thing — a living, breathing amalgamation of ancestral voices coalescing into a single, reverberating word: No. This was wrong. But, even rooted in the assurance of advocacy and social justice, an insidious, intoxicating fear pressed forward, determined to lull me into the safety of silence. Speaking up would be a radical act of defiance for a Black woman who has been conditioned to keep her head down, to be agreeable, to "not make trouble." The messaging to docile and non-threatening, has been passed down for generations within my family as a matter of survival. It had served me well over the years. Kept me safe.
When Patricia's nurse asked to debrief, I steeled myself in a stance of curiosity and asked many questions: What was the concern from a nursing perspective? How could we have improved our communication? How do we make decisions on when to implement a room search? What alternatives do we have? When invited, I shared my own perspective. Together, we created a plan to address similar concerns in the future. We shook hands and hugged. The chasm between us didn't feel so wide. While it wouldn't change what had happened with Patricia, we could prevent harm to another patient. And that was something. The next night, I was informed that nursing staff had filed a complaint stating I had been unsupportive and refused to act collaboratively.
First came shock, then anger. And then, when the anger was spent, an overwhelming emotional exhaustion. I cried for days afterward. It had taken me years of training and education to learn to abandon the lessons handed down by my forefathers to keep my head down, to be agreeable, to not "make trouble." I wondered if they understood that, through the weaponization of their feedback, they had taken something from me that I couldn't get back. What had they given up?
I had waited, patiently and politely, to join the ranks of the physicians of color fighting for equity. I was prepared to stand on the shoulders of giants, prepared to do the work. I was ready to have difficult conversations, to bridge the divide. But even though I had arrived — had been welcomed even — I am still subject to the same inequities that my patients face.
I think of Patricia often. I worry that the damage done to her is irreparable. I worry that progress is too slow and patients are being harmed while we strive for what could be. I worry that, while I believe being the dissenting voice was right, I may not have the fortitude to always be a voice for the voiceless.
A Human Space
by Anthony Williams, MD
"Are you the doctor?" Your frayed undertone alerts me to what's coming: grievances waiting for a scapegoat. I suppress a sigh. Seventeen patients to see and you were the only straightforward one — this is not how I wanted to start my day.
I fix my face. "Yes, I'm your doctor." My hollow words hang silently in the air. The most charitable observer would find no warmth in your gaze. The nurse's curt assessment of you is still fresh: 'difficult and standoffish'. 
"How are you feeling?" I silently repeat the mantra: 'I'm here to help, tell me your story…'; projecting a safe space that doesn't exist. You reject the mirage. The rigid lines etched into your face don't soften, but it's your eyes that speak the truth. Exhaustion has smothered everything, leaving muted embers of anger in its aftermath. Dread crouches at the periphery…waiting.   
"I came here because I can't breathe. I've been asked four times already if I do drugs. Why do y'all keep asking the same thing?" This question is not an extended olive branch. It's the crisp crinkling of a test booklet as you prepare to grade my answer. I'm restless. Precious time is leaking away. Weariness coils tightly around me, like a boa constrictor made of impotence and cynicism. My legs can no longer bear the weight.  
 "May I sit?" You nod. I settle in at the edge of your bed. There is no quick way through this conversation. I could say we ask all patients about drug use — normalize it and attempt to sidestep the traumatic undercurrents. I might acknowledge your distress and ask you to tell me more — the med school answer. I could even say "I'm sorry that happened", and then take control of the conversation by asking about your breathing — the hospitalist answer.
Suddenly, I'm back in college. An officer is approaching my black Honda Civic with his weapon drawn. He's shouting: "show me your hands!" They shake as I stick them out of the driver's side window. I'm taken to jail. I spend my phone call on a friend who doesn't pick up. I'm released the next day with a gruff apology from the officer: "You weren't the right guy. Sorry."        
I silently repeat the mantra: 'I'm here to help, tell me your story…'; projecting a safe space that doesn't exist.
Anthony Williams, MD
My doctor mask slips exposing the human beneath. My answer is all bitter edges: "Some people get the benefit of the doubt. Others don't. I can't promise it won't happen again, but I'll do what I can." I don't elaborate because I don't need to. You're already there, inhabiting the space of shared experience. Your eyes glisten with unshed tears. Your shoulders loosen. Only now can fragments of your story trickle into the silence.
At some point I ask you: "When did your symptoms start?" You have trouble answering me. I reach back to a conversation with my dad "I don't get why doctors expect us to know the difference between 'regular' discomfort and 'bad' discomfort. Life is pain. You work through it…until you can't."
I reframe the question. "When did life start getting harder than usual?" Your answer is instantaneous: "5 months ago". Gathering the rest of your history is easy. You're comfortable with my plan. You smile for the first time. "Thank you, doctor."        
Later today, we'll discuss your abnormal results and upcoming procedures. You'll cry. I'll sit with you again. You'll talk about the pressures of your job and the challenges of being a single parent.
When I look at you, I see family. Several generations of hard lessons discouraging vulnerability. You cannot afford to be less than invincible when shielding others from the struggle. And yet you're here— unable to go on. I can't resolve this cognitive dissonance for you. All I can offer is this small, fleeting space carved out with the keen edges of shared trauma. Maybe here you can temporarily afford to be human.  
Two days from now you'll ask me about life as a Black hospitalist. You'll listen as I talk about George Floyd, sick family members, protests, and COVID-19. I will no longer track the time during our visit. Flakes of clinical detachment will fall from me like a shattered cast, revealing the exhausted husk beneath.
The wall separating the personal from the professional will completely vanish, trapping me in a moment that is both cathartic and triggering. You'll extend an incredible amount of compassion as tears soak my mask and ragged breaths fog up my face-shield. You'll take my hand, lending me your resolve. Somehow, you'll know exactly what I need to hear: "Don't give up on us, Dr. Williams. You're not alone. We need you."
Healing Intergenerational Trauma
by Brenda Her, MD
My new therapist peers at me through Zoom and asks me to describe my childhood.
Where do I start?
In my culture, childhood begins before you're born.
I am the daughter of Cher Thang Her and Xong Yang.
I am a descendant of the Hmong people who fought during the Secret War, some who were shaman spiritual healers.
I carry the imprint of trauma from war and genocide, sexism and racism, passed down from one generation to the next through parenting, modeling, and societal pressure.
I carry the unhealed wounds of my mother, my grandmothers, and Hmong sisters living in a culture of silence ruled by patriarchy.
I carry the imprint of trauma from war and genocide, sexism and racism, passed down from one generation to the next through parenting, modeling, and societal pressure.
Brenda Her, MD
I witnessed my parents hide their wounds and suffer from the unresolved trauma they didn't have the luxury of healing. And so, they imprinted their children with the lessons of survival that they were given by our ancestors.
The survival lessons I learned in childhood continue to be my inner struggle. I learned that in order to survive as a Hmong woman in America, I had to please, perform, and perfect. No exceptions. No mistakes. Anything less was a failure.
I worked hard on fixing myself — cycling between podcasts, online cognitive behavioral therapy, and self-help books.
Searching for something to teach me how to balance my mother's worsening heart failure and dialysis-dependent kidney disease. To teach me how to make sure my brothers and sisters had what they needed to thrive in school. To teach me how to navigate grueling work hours while in the middle of a pandemic. To prove that I belong as a person of color and woman in medicine.
But all of my efforts only led to frustration when I fell back into old habits and gave in to the negative thought patterns, the critical inner voice, and the behaviors that I thought would help me fit in but instead dimmed the light of who I really was.
And that is what led me to that moment. Sitting on my couch. Laptop in front of me. Asking for help for the first time in a long time.
It was worth it.
Through therapy, I learned mind-body practices that have transformed my life. I learned to ask for and accept help, not just from my therapist but also from family and friends.
Healing meant going inwards, embracing my roots as a Hmong woman, finding community, and honoring the warrior in me who had overcome the challenges of childhood trauma and abuse, sexism, and racism. It meant learning to accept that my parents are human beings with their own unresolved trauma that they didn't have the luxury of healing.
Healing meant going inwards, embracing my roots as a Hmong woman, finding community, and honoring the warrior in me who had overcome the challenges of childhood trauma and abuse, sexism, and racism.
Brenda Her, MD
My journey to healing and understanding my own traumas has helped to shape and influence my career in medicine. It has inspired me to empower women, children, and people from underserved communities through healthcare and education.
Healing is a daily practice and ongoing journey. With it, I honor my ancestors and parents, their blood, sweat, tears, and efforts that led me to where I am today.
How the Medical Field Has Changed Racially Since the 70s
by Blanche Chavers and David Hamlar
Career-long physicians Blanche Chavers and David Hamlar discuss how Black physician representation has (and has not) changed since they entered the field in the 1970s.
Curatorial Team: Jon Hallberg, MD; Maren Olson, MD, MPH, MEd; Jennie Magner- Parrisha Roane, MD; Tseganesh Selameab, MD; Ben Trappey, MD;  Anthony Williams, MD, MS
Production Team: Abdifatah Abdi, Elizabeth Crippen Allen, Daniel Bergin, Jonathan Camp, Julie Censullo, Peter Chey, Carrie Clark, Jack Davis, Alyssa Franklin Fuller, Adam Geiger, Anne Guttridge, Laura Hammerbeck, Ted Hinck, Jacob Kelso, Slade Kemmet, Jim Kron, Ben Malley, Eric Pagel, Jennilee Park, Michael Phillips, Brittany Shrimpton, Scott Trotman
These personal reflections are a part of Art + Medicine: Speaking of Race, a one-hour special funded by the Center for the Art of Medicine at the University of Minnesota Medical School.
They are presented online by Racism Unveiled, TPT's digital storytelling project funded by grants from the Otto Bremer Trust, HealthPartners and the Saint Paul & Minnesota Foundation.