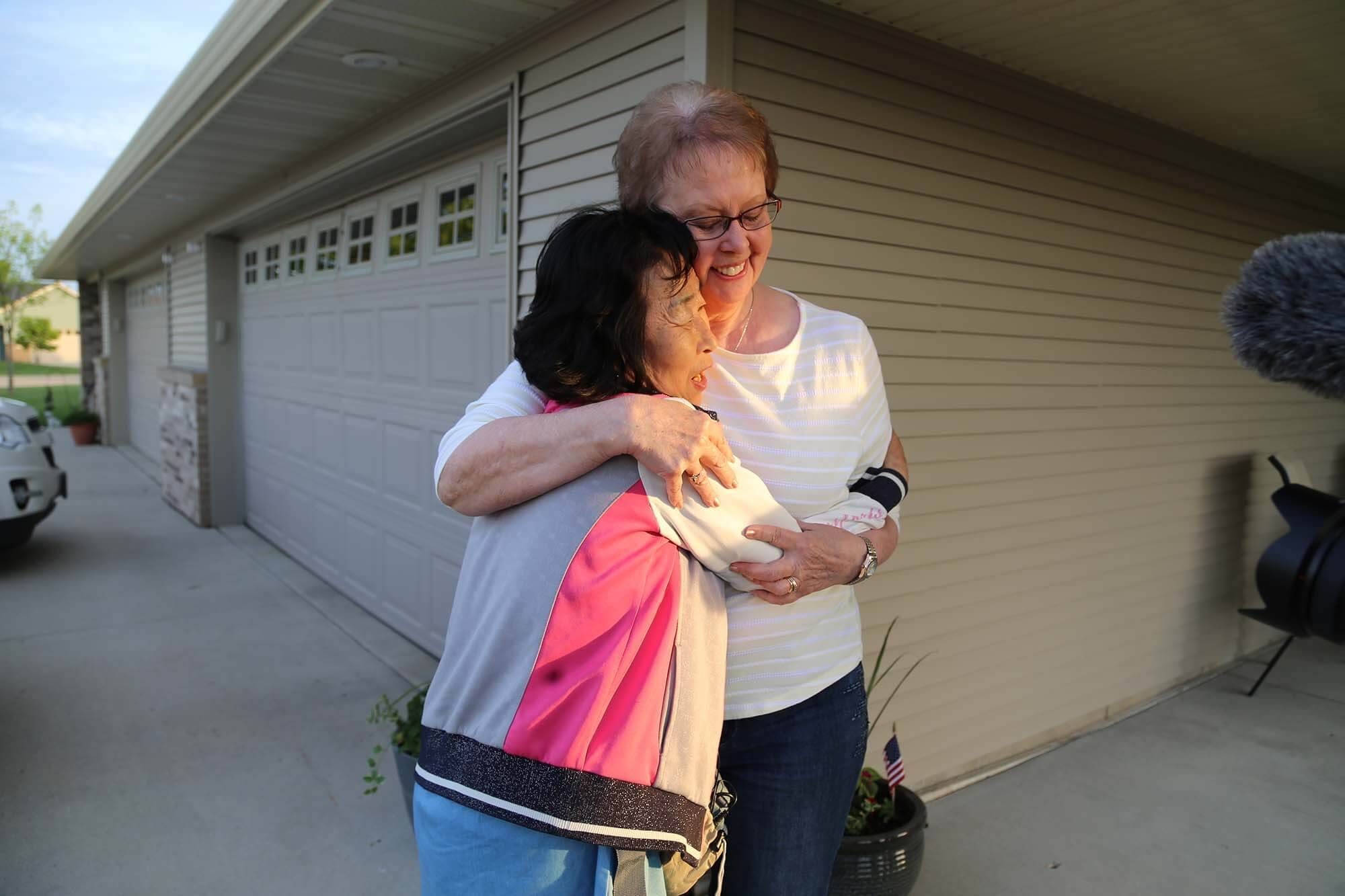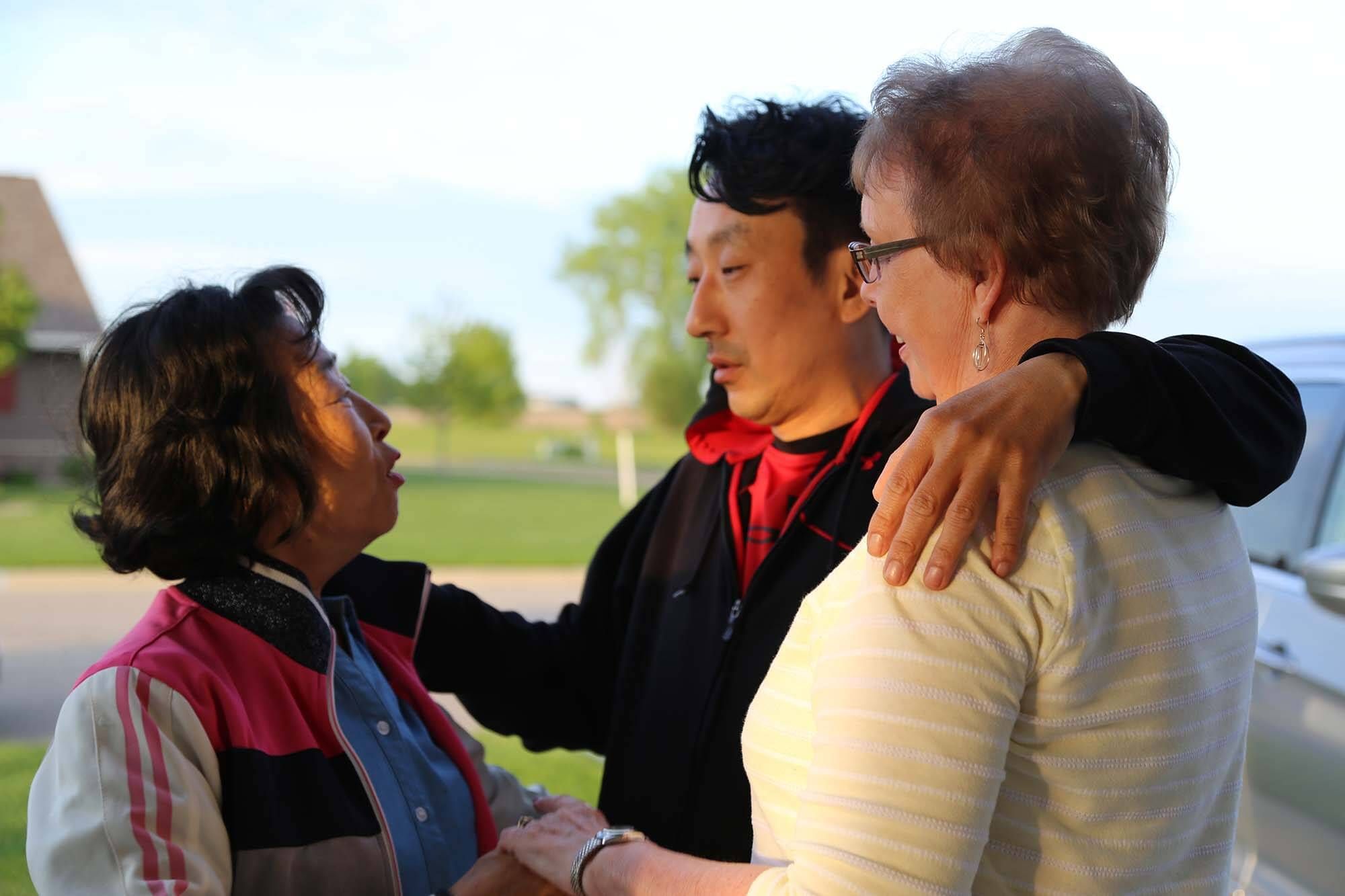 On a late Sunday afternoon, people weaved in and out at the Minneapolis-St. Paul airport, lugging suitcases with the usual faraway expressions.
Many were traveling to see family and friends for the busy Memorial Day holiday.
At the International Arrivals gate, three travelers appeared without fanfare – but their trip was no less significant.
As the doors opened, a 47-year old man walked through, arriving from Korea as he had 45 years earlier, when he was adopted by Americans.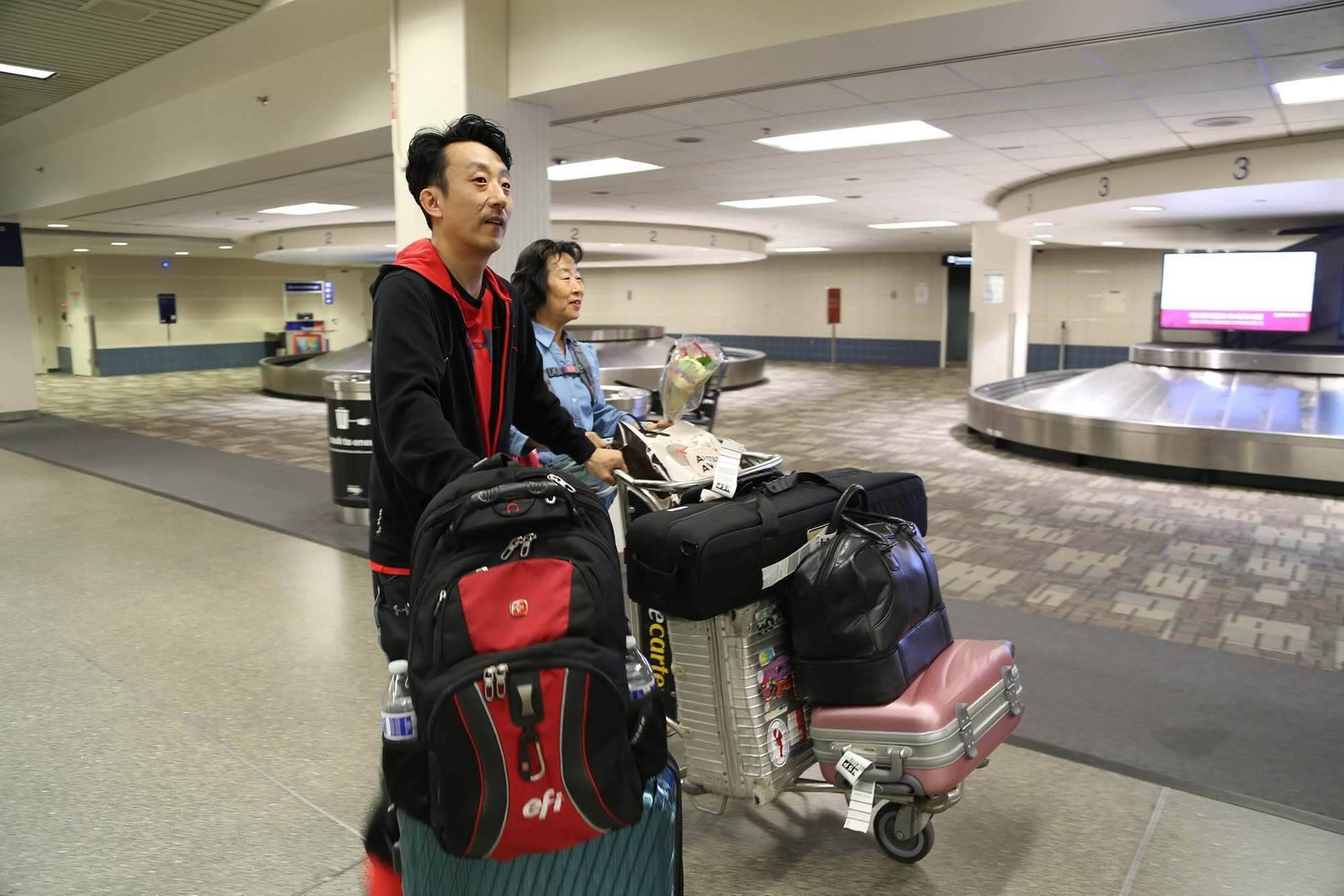 This time, Layne Fostervold had come to visit his family in Willmar, Minn., but with his biological Korean mother in tow.
His two mothers – the one that birthed him and the one that raised him – would finally meet in person for the first time.
Dressed in sparkly leggings with a long shirt and peep-toe booties, his Korean eomma seemed upbeat and ready for the moment.
"I'm not tired," she exclaimed after the grueling trans-Pacific flight from Seoul, her first international trip.
I first met Layne when I lived in Korea two years ago. I'm also a Korean adoptee.
He had found his birth mother, Sook-Nyeon Kim, now 71, and had decided to move to Korea to help her recover from a battle with breast cancer.
As improbable the odds, Fostervold, or Il-hwan Kim, was able to reunite with his Korean biological family because his mother had searched for him.
She told the adoption agency she would like to find him, but he and his American family were never notified.
For most of his life, Fostervold had grown up in the farming community of Willmar, Minn., knowing little about his origins.
He was the only son of Lowell and Lois Fostervold, both white, with an older sister, Lynn, raised in a county in which 93 percent of the residents were white circa 2000.
Being a transracial and transnational adoptee presented certain challenges like not knowing how to deal with racism and identity issues, common experiences among adoptees that even Fostervold admitted he often kept to himself.
As for his origins, he knew only that his mother in Korea had been forced to give him up, due to the country's harsh societal stigma on unmarried women and their children.
After Fostervold, then in his mid 40s, decided to conduct his own search in 2015, the agency finally disclosed that his mother had searched for him, some two decades earlier.
The agency cited strict Korean privacy laws for not relaying the information.
Adoptee advocates say these laws often stymie Korean adoptees who later try to search for the identities of their biological parents.
Those same laws can also prevent parents from finding the children they lost.
Such was the case for Kim and her first-born, Fostervold.
But on this day, the two mothers met. Ms. Kim finally got to hug Lois Fostervold, 75; two women bonded by circumstance, love and a son named Layne, in the small rural community where he had grown up.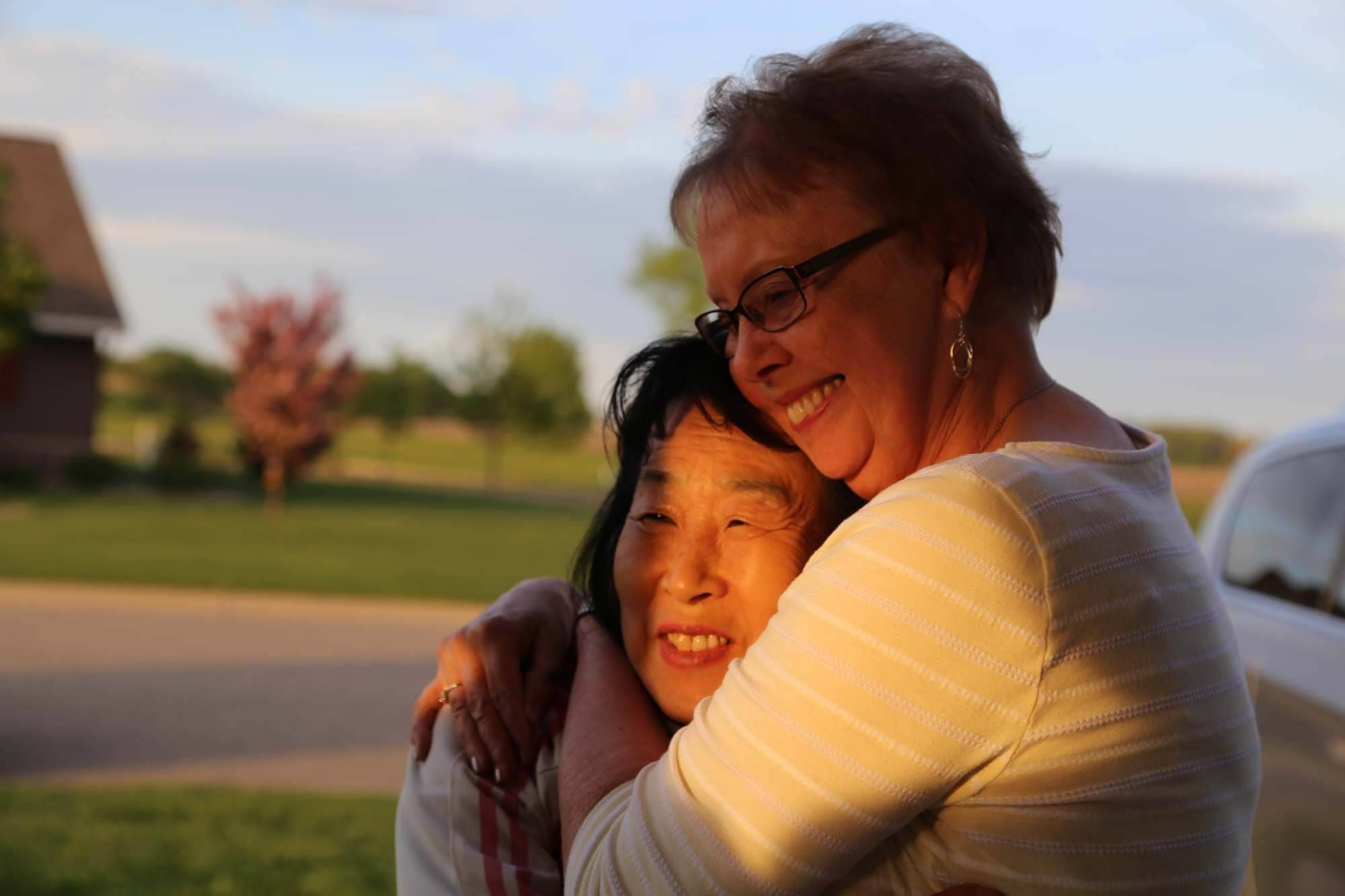 "Thank you for raising Layne so well," Ms. Kim said in Korean, holding her son's other mother's hands. "Komawayo" or 'thank you,' she said as the afternoon sun faded.
"And thank you for sharing him with us," Mrs. Fostervold said, overcome with emotion.
It's estimated that more than 200,000 Korean-born children were adopted internationally over the past sixty years.
The adoptions first began in the aftermath of the Korean War during a time when widespread poverty swept the country.
Over the years, abandoned children in Korea continued to be adopted internationally in the West, reaching a peak in the '80s. Thousands left the country each year.
In the decades since, Korea has become one of the wealthiest countries in the world.
Yet reuniting adopted Koreans with their biological families remains an elusive feat for a variety of reasons, including restrictive privacy laws and, in many cases, an imprecise or wholesale lack of records.
Some Korean citizens who have relinquished children also have some motivation not to reconnect.
Cultural shame and a societal stigma on unmarried mothers prevent many from coming forward, especially in cases where they've married and have kept the earlier births a secret.
Two years ago, Ms. Kim was also hesitant about sharing her story publicly. She was afraid of being judged by wider Korean society.
A widow, and in the later stage of her life where finding a marriage partner was of less concern, she eventually agreed.
Sharing their story was also important to Layne, himself an adoptee advocate who has helped countless others search for their biological parents, while working at a non-profit adoptee advocacy organization and now, on his own.
More than two years since being reunited, their relationship has had its share of challenges.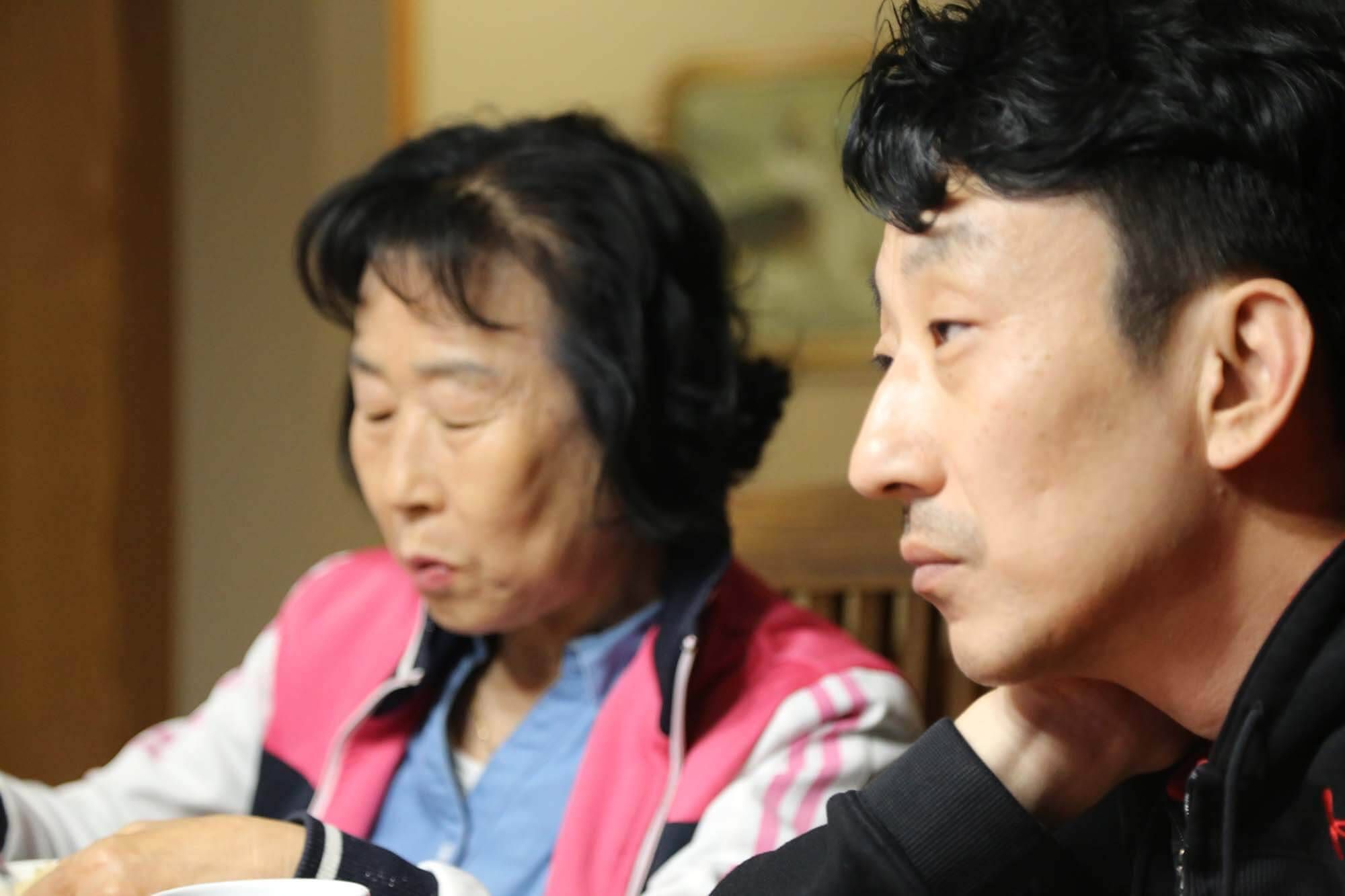 Fostervold remembered moving in with his eomma in 2016, only to have her try to enforce a 10 p.m. curfew on her then-45-year-old American son, who had been married, divorced and had lived on his own for years in the U.S.
But having his two mothers meet was something he said he could never have imagined.
He shared photos and some feelings about it on Facebook recently.
"It's been interesting making plans with your mom, about your mom and you coming home. I can only imagine how they both feel, as I know they've both thought about it. One gave birth to me, and thinks she can tell me what to do now. The other raised me, and quickly learned she could never tell me what to do. Both have shaped me in ways I'm still finding out about. I wish my father was here to see this, but I know he would have been proud," he posted.
His adoptive father, a National Guard veteran, passed away last fall.
On Memorial Day, the blended family went to his gravesite after the veterans' salute.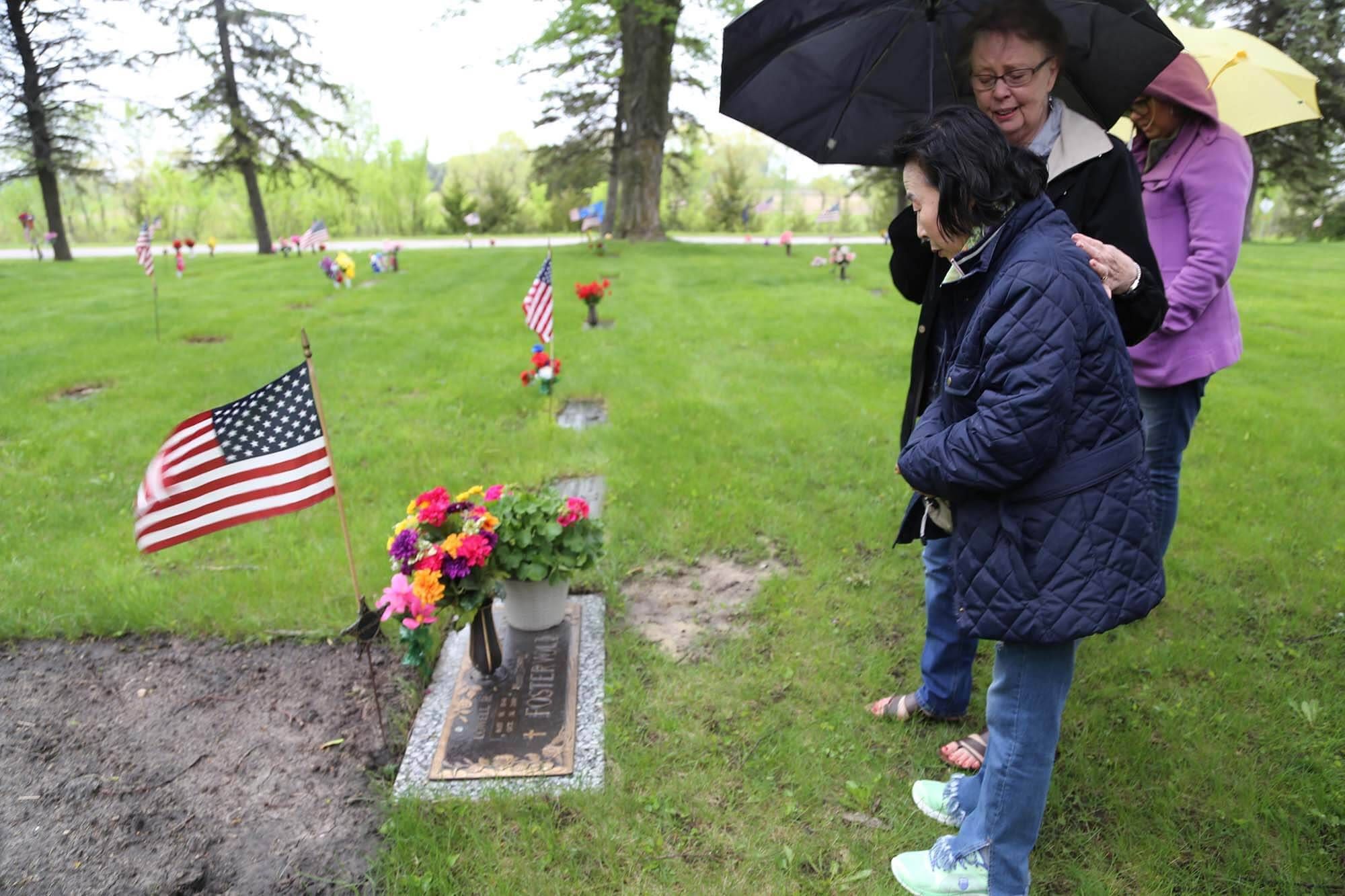 "I should have come sooner, I'm sorry," Kim said in Korean as she clasped her hands and bowed her head solemnly over the grave in the bleary rain. "Thank you for raising my son."
Despite having limited English language ability, Kim demonstrated a fluency in something just as effective – the language of emotion.
She connected with Layne's older sister, Lynn Wells, 51, her daughter Olivia, 18, and other extended relatives with affectionate hugs and laughter, with liberal douses of "saranghae," or "I love you," to all.
When Layne rubbed his Korean eomma's shoulders, she motioned for him to do the same to his American mom.
"What we were told, your mom had had you for almost two years, and she had tried hard to keep you," Mrs. Fostervold recounted. "That's the story we were told. I always felt you had been loved," she told Layne, choking up in tears.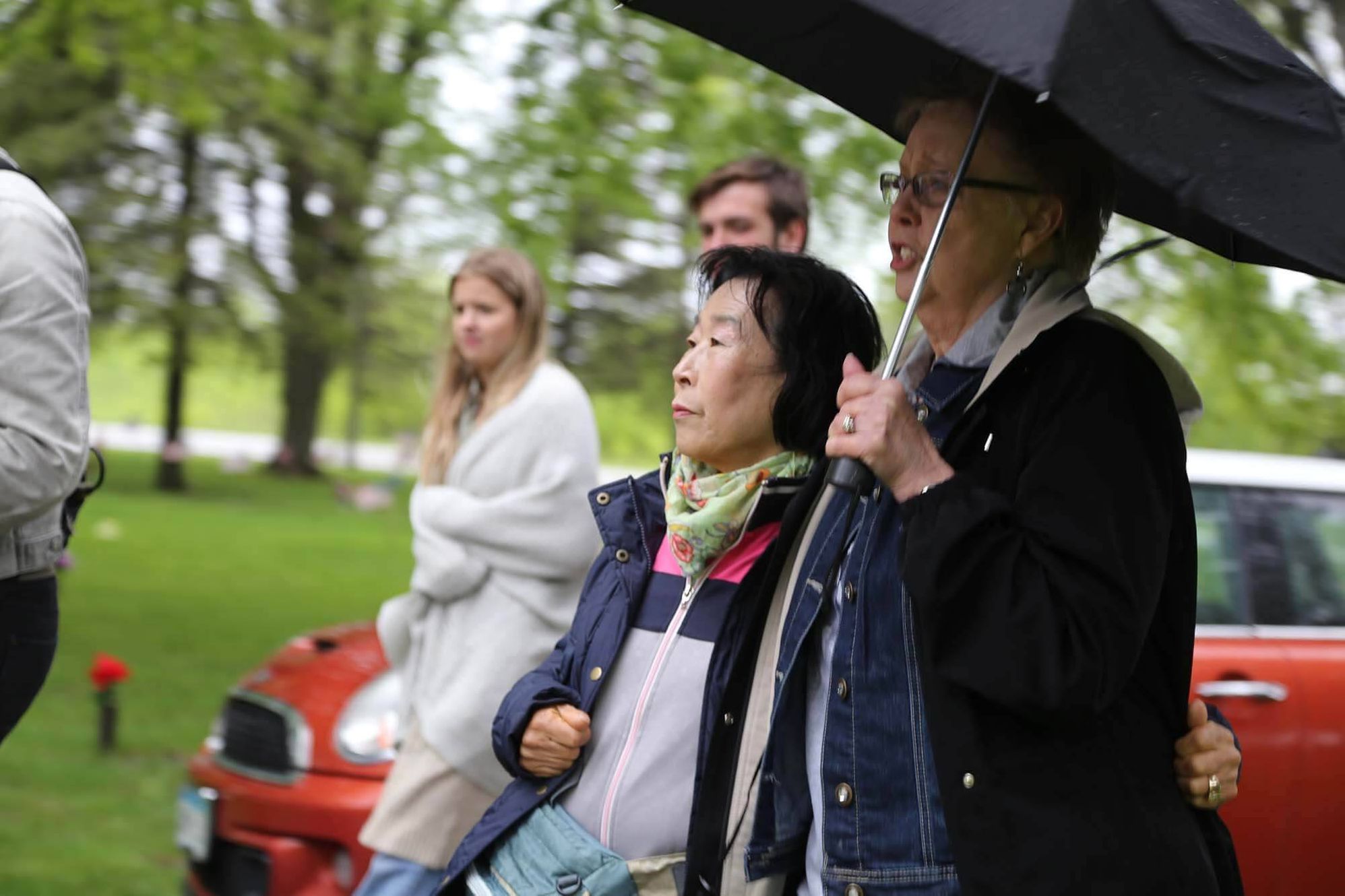 Sook-nyeon Kim, instinctively reached over and hugged Lois Fostervold, showing that understanding can transcend language.
It was a meeting that until a few years ago, no one had thought possible, though it probably was something they all had surely thought about.
Since finding his Korean mother in 2015, Fostervold relocated to Seoul and has no immediate plans to move back.
"There's no manual for this," he said at a restaurant afterwards. "There is no right or wrong way [to do this]."
That's something Lois Fostervold accepts. She said she wished her son would be better about staying in touch, even if he did live in a time zone 14 hours ahead.
But she said her son seems "more complete now" and understands how important connecting back to his biological roots has been.
"People ask me, why aren't you upset, don't you feel like he's abandoning you?" Mrs. Fostervold said to me. "But you can have more than one child, and love them both. Why can't you have more than one mom? I just want him to be happy," she said.
"It's something I wished for my whole life for Layne," said Wells, who remembers being overjoyed at age six when her parents adopted her younger brother from Korea. "[My wish] was for him to find his birth mother."
For Layne, he said his family in Minnesota can never be replaced.
And developing a relationship with his eomma has not been a fairy tale.
There is the language barrier and the realization that a reunion does not magically fill in the gaps of lost years and shared memories.
Instead, the Korean mother and her adeul, or son, have focused on the future.
Fostervold has tried learning Korean, by all accounts a tough language for native English speakers to learn.
And she has learned some English, like "Nice to meet you," delivered with determination.
In Korea, the retired restaurant worker cooks food for him. They eat together, gesture and laugh.
In Minnesota, Fostervold's adoptive family marveled at how the biological mother and son shared such striking similarities in personality and temperament.
He said those similarities, like a stubborn streak, can also be a source of friction.
For the past two years, award-winning Korean filmmaker Wangmo Yeon has been documenting most of it. He's filmed in more than 70 countries, including Syria and South Sudan.
He said this story is about identity, building trust and the human condition.
"It was to focus on their journey - her journey and his journey. It's about language and love," Yeon said, in Willmar. "She's good at communicating her emotional language. They [have come to] know each other."
The film will be completed by early 2020. Fostervold said he hopes it will show the realities of reunion, both the light-hearted and the darker times.
When finished, it will certainly be a rare chance to see the story of a Korean adoptee after reuniting with his biological family and following their lives in-depth, for so long.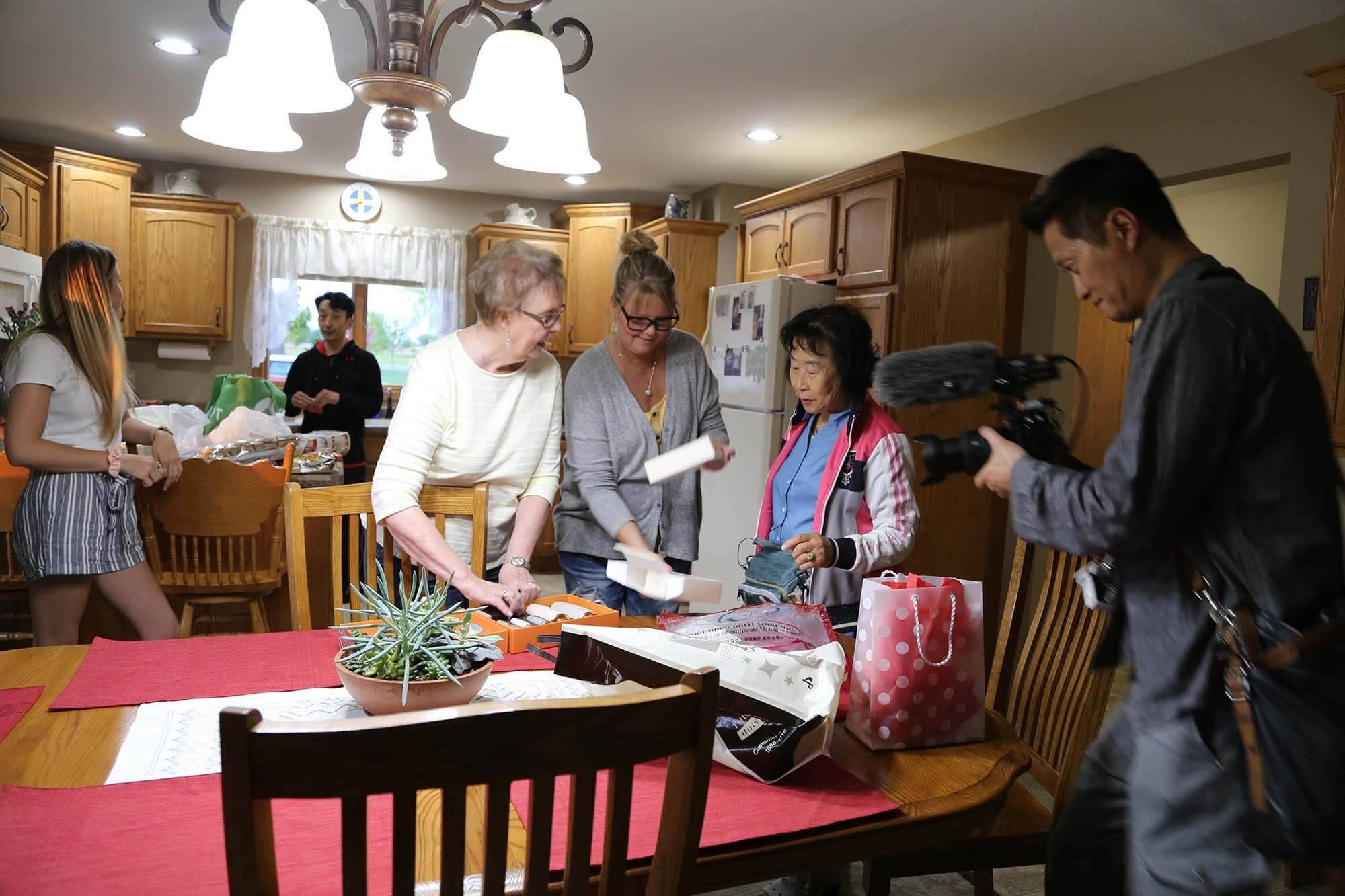 "I wanted to have this documented so I wouldn't have to write down everything, so I was really happy [to do it]," Fostervold said. "It's been difficult at times, sometimes you don't feel like having a camera on you and recording it. And I'm a private person."
As for having two mothers, he admits he's still getting used to figuring out what to call them.
"It depends on who I'm talking to," Fostervold chuckled. "With a lot of people, sometimes I call them eomma and mom, a-mom (adoptive mom) and K-mom (Korean mom), mom 1 and mom 2. I haven't really figured out a good way to separate the two. I think most people understand," he said.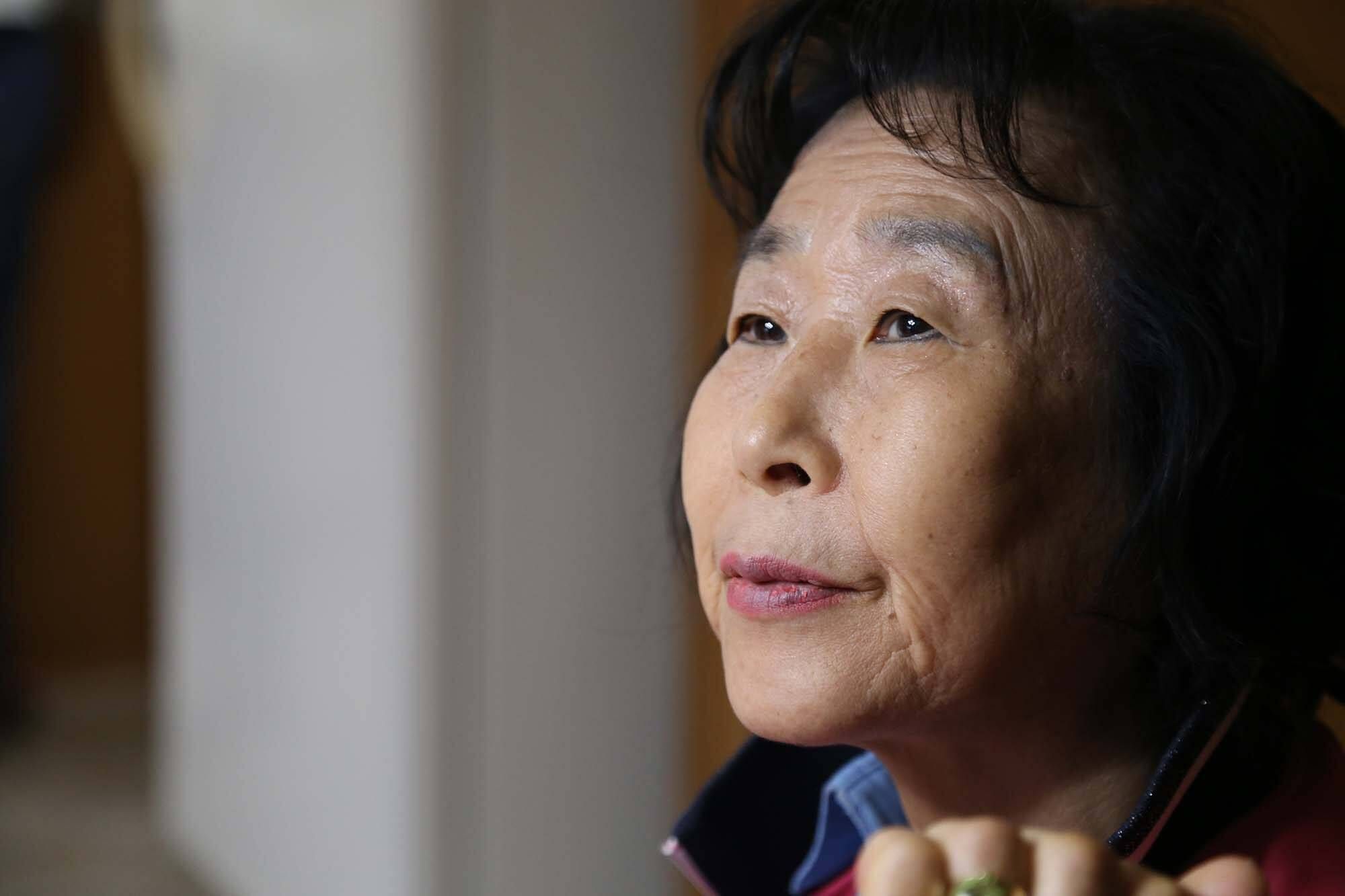 For Kim, coming to Minnesota nearly didn't happen. She feared flying and cited various ailments for the sudden trip cancellations over the past year.
But after meeting Lois Fostervold, Kim said through a translator that she felt happy seeing how much Layne had been loved and cared for.
With with her cancer now in remission, Kim said she regretted not coming sooner, but added, "everything has its proper time."
This story was published May 30, 2019.