Relish: Mole de Plátano with Amalia Moreno-Damgaard
This classic Guatemalan mole is a favorite sweet treat.
Scroll down for Mole de Plátano Recipe.
When chef Amalia Moreno-Damgaard is missing home, she heads straight for the kitchen. There, the smells and tastes bring her right back to her native Guatemala. Now she's on a mission to share the delicious cuisine she grew up with. "When I left Guatemala, I felt that I had lost part of myself," Moreno-Damgaard reflects. "For me, that fire about sharing about food, cooking and so on was really ignited when I moved to the United States. Not being with my family, I found that comfort for me came through the food."
Guatemalan cuisine is rooted in the seasonality and availability of ingredients. Many dishes contain staples native to the region, like corn, squash and beans, which are combined with fresh ingredients picked up at the local market. "The markets in Guatemala are a feast to the senses," Moreno-Damgaard recalls. "The spread is absolutely wonderful because you are going to see a lot of different textures and a lot of different colors, a lot of different varieties of the same vegetable that you don't see anywhere else."
"My goal is to entice people to cook."
Moreno-Damgaard wants to get people into the kitchen. She shares her Guatemalan culture and recipes through her two cookbooks, cooking classes and speaking engagements. "One of the reasons why I like to recreate my dishes here is because it keeps me closer [to Guatemala]," Moreno-Damgaard says. "I love to use food as a common denominator, but also as a teaching platform, because when you tell a story behind a dish, behind the cuisine, it makes more sense. It makes it more interesting, and I think it makes it more fun."
Ready to taste the flavors of Guatemala? Find the recipe for Amalia's favorite dessert below. Or if you prefer something savory, check out her traditional Mayan stew, Jocón, here.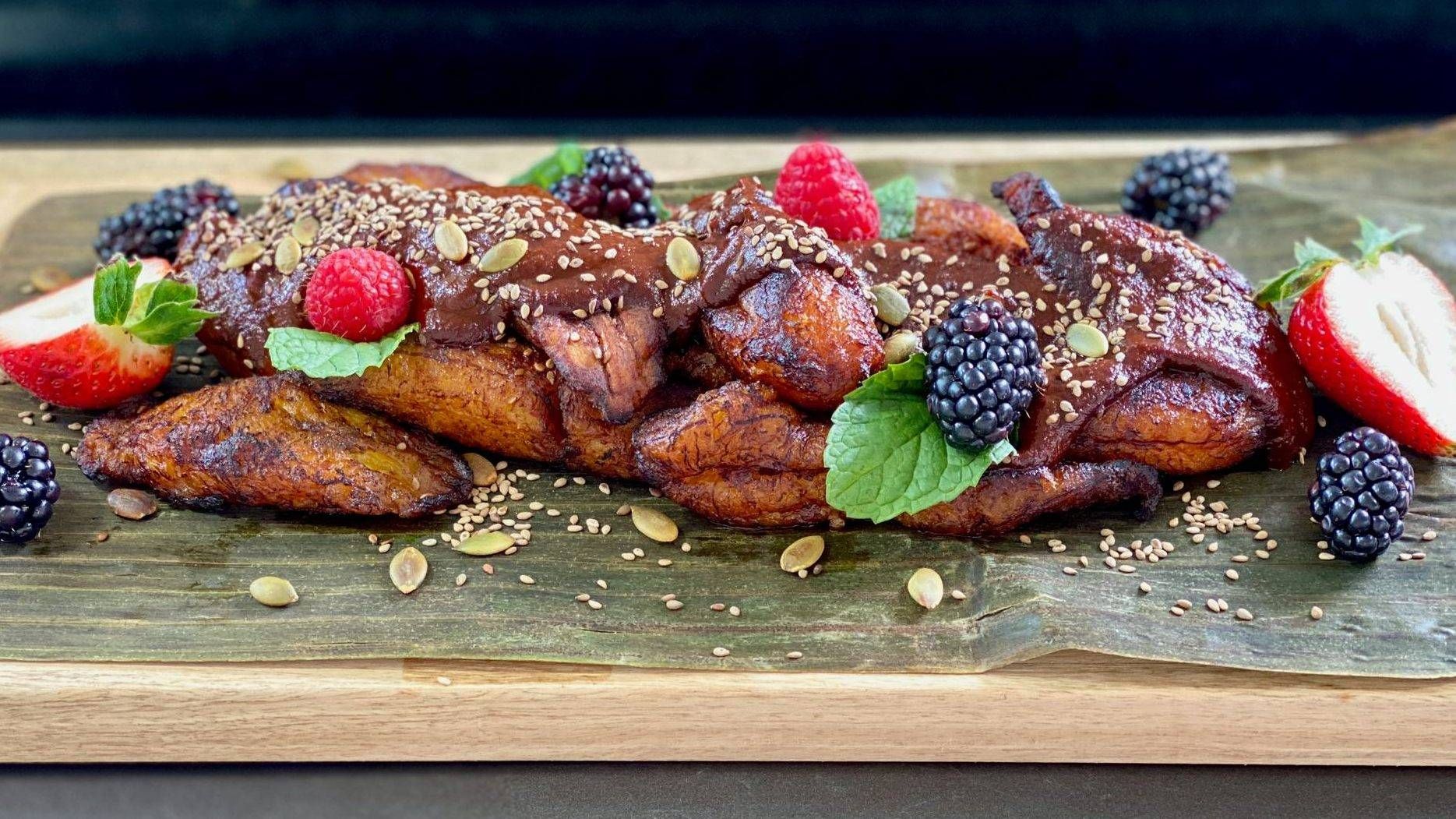 GUATEMALAN MOLE 
By Chef Amalia Moreno-Damgaard
Makes about 1 1/2 cups 
Ingredients
4 Roma tomatoes
3 tomatillos 
1 to 1 1/2 ancho chiles, seeded
3 pitted prunes or 1 tablespoon raisins, soaked in very hot water
1 tablespoon ground pan-toasted pumpkin seeds
1 tablespoon ground pan-toasted sesame seeds
1/2 teaspoon ground canela (Ceylon cinnamon)
1/2 teaspoon ground allspice
1/8 teaspoon ground cloves
1 teaspoon sugar (optional)
1/8 teaspoon kosher salt
Freshly ground black pepper
2 teaspoons canola oil
1/4 to 1/3 cup Guatemalan artisan chocolate
Sesame seeds, berries, mint for garnish
Instructions
Heat a skillet for 2 minutes over medium heat, then add the tomatoes and tomatillos. Dry pan roast until charred all over and mushy (about 8 minutes). 
Separately, dry pan roast the chiles over medium heat (3 to 5 minutes). Keep a close eye on them, as they burn easily. Soak the roasted chiles in 1 cup of very hot water for 10 minutes.
Dry pan toast the seeds over medium heat (3 to 5 minutes). Keep a close eye on them, as they burn easily. Grind the seeds in a coffee mill or a small food processor.
Combine the roasted tomatoes and tomatillos with the soaked chiles and 1/4 cup of the soaking water, as well as the prunes or raisins, and the ground pumpkin and sesame seeds, and purée in a blender to a fine consistency. The sauce should look smooth and velvety. 
Heat the oil in a medium saucepan. Add the purée and the seasonings.
Add the chocolate and let it melt gradually. Lower the heat and simmer the sauce for 5 minutes, stirring occasionally. The sauce should be a little thinner than spaghetti sauce and should look brown, smooth, and glossy. If it's too thick, add a little water. If it's too thin, cook it a little longer. Taste and adjust seasonings, if needed.
Use the sauce on fried plantains, tamales, roasted pork, or as a base for chicken stew. Adjust the sweetness to taste.
Special Thanks: Kenn Damgaard
Production Team: Kristen Blekum, Peter Chey, Alyssa Franklin Fuller, Adam Geiger, Laura Hammerbeck, Slade Kemmet, Amy Melin, Eric Pagel, Michael Phillips, Nathan Reopelle, Xee Reiter, Brittany Shrimpton, Yia Vang