Relish: Mexican Tortas with Manny Gonzalez
One of this chef's childhood favorites was perfected right here in Minnesota.
Fresh off culinary school in 1982, Manny Gonzalez moved to the United States to spend four months learning English at Hamline University in Saint Paul. After that, he planned to head back to his native Mexico. But 40 years later, he still calls Minnesota home and has made a name for himself, literally, in the local food scene.
One of the things Manny misses most about his home was the food he grew up eating, especially the delicious sandwiches his mom made for him as a kid. "When I moved to the United States, nobody knew what tortas were. I missed them so much, so I thought, 'I'll just start making my own!'"
And that's just what he did. Manny perfected his version of the popular Mexican sandwich in his home kitchen while he worked in various restaurants and catering companies in the Twin Cities. Years later, opportunity knocked, and he began sharing his signature tortas with the community.
In 1997, developers were opening Mercado Central, a marketplace designed to create business opportunities for the Latinx community in Minneapolis. Manny was one of 20 people who applied for five available restaurant spaces in the market. He remembers knowing exactly what he would propose: "I'm going to make tortas because I know somebody is going to do tacos, enchiladas, burritos."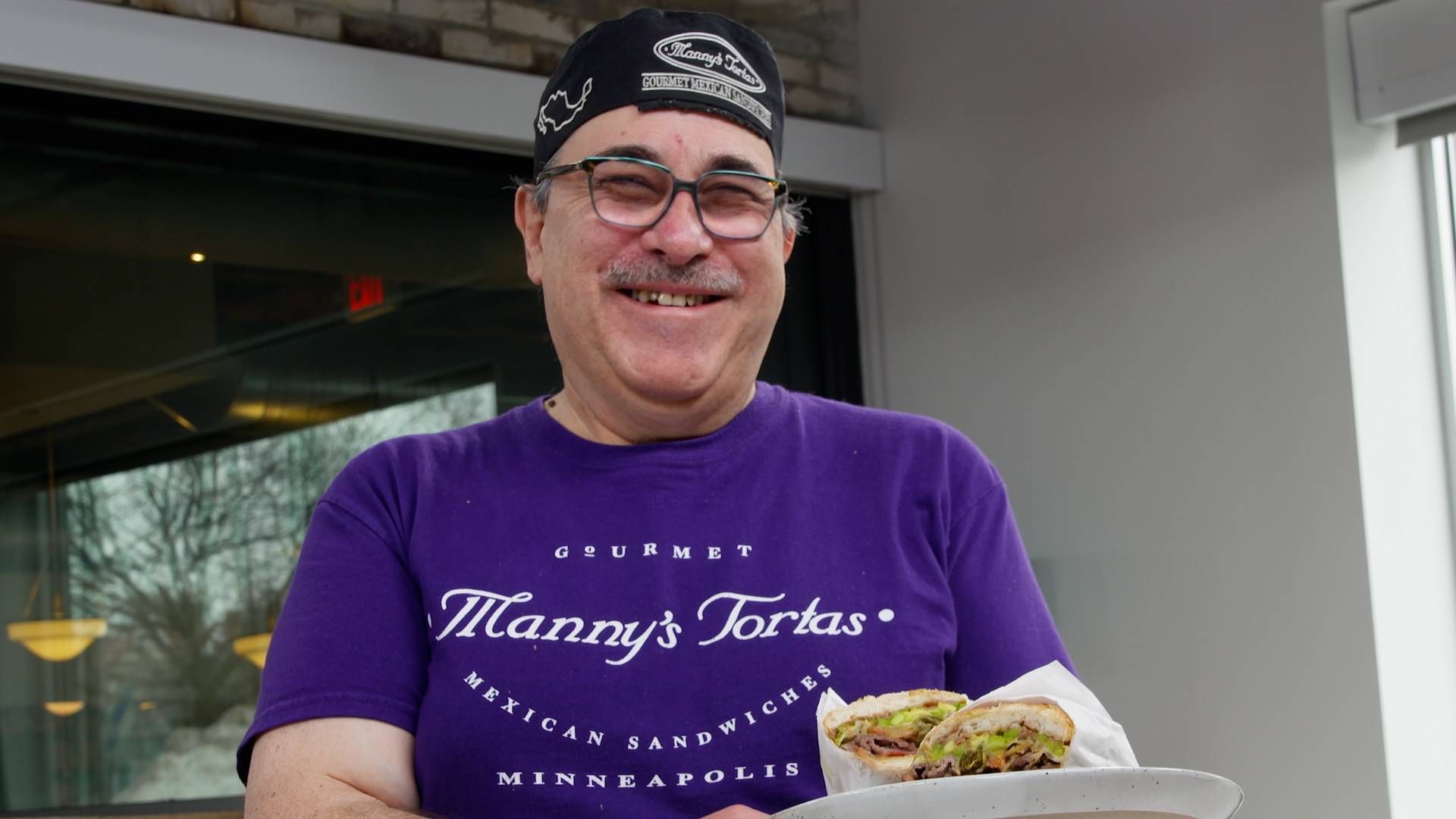 His instincts were right. Manny's proposal was chosen and he opened the doors to Manny's Tortas in 1999. It was a move that changed Manny's life and the Lake Street neighborhood that's home to market. "Mercado Central changed the dynamic of that avenue. More immigrant businesses started to flourish," he recalls.
And flourish he has. Along with his sister, Victoria, whom he recruited as the restaurant's business manager, the duo have been sharing tortas with the Twin Cities for more than two decades. In 2006, Manny's Tortas made the move to a brand new marketplace called Midtown Global Market. And in 2008, they snagged a coveted spot in the Food Building at the Minnesota State Fair.
Manny is grateful for the opportunities he's had to serve his food to people in the Twin Cities. "I'm so glad I made this, and people can try it and see the real Mexican torta. I'm so lucky that I'm able to do this," he says.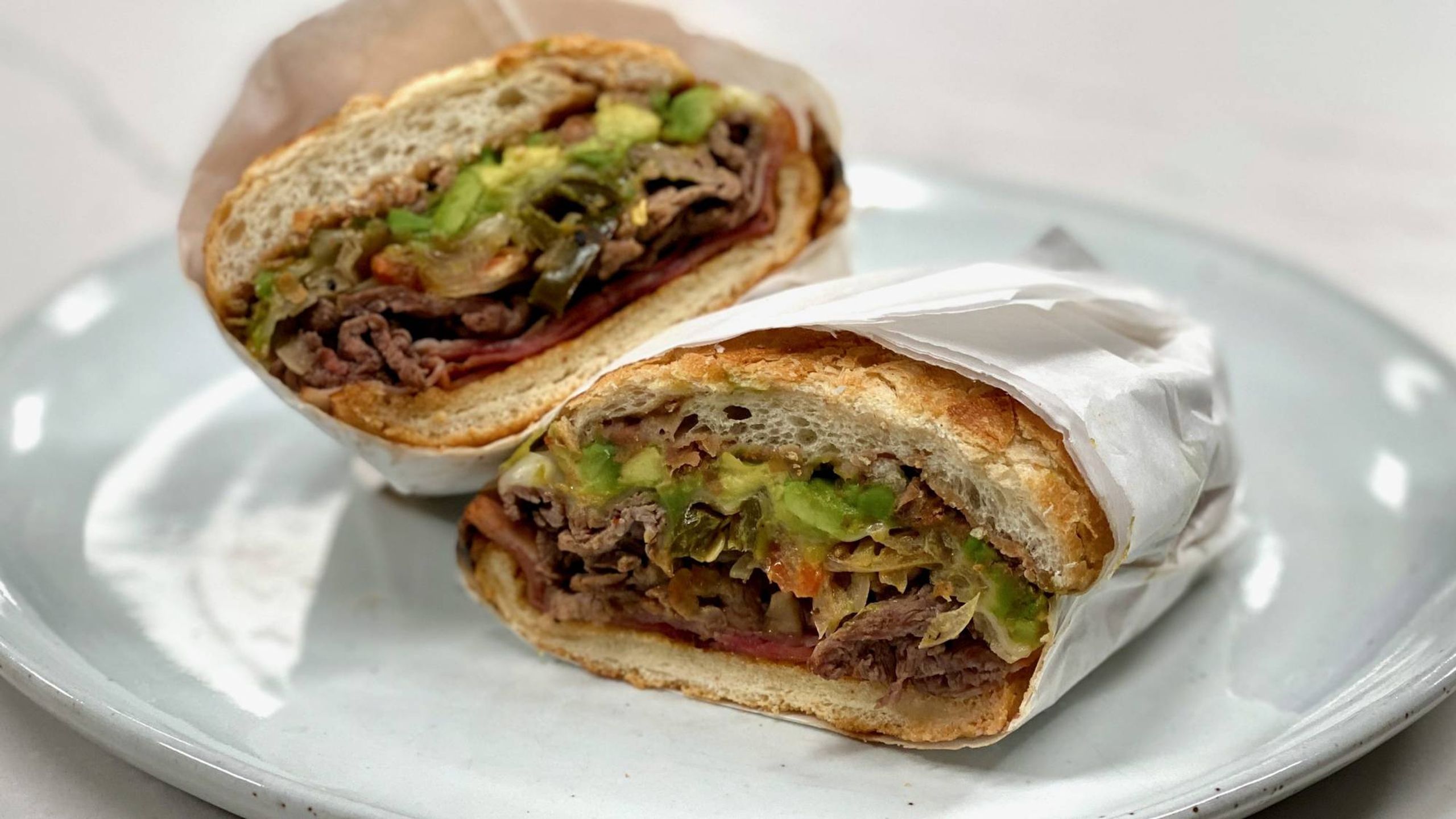 Mexican Torta
"The Manny Special"
by Manny Gonzalez
This recipe is for Chef Manny Gonzalez's signature torta, but you can make it your own by using your favorite ingredients.
Ingredients;    
French Bread- 6" piece, sliced in half
4 oz. Steak (top sirloin)
Tomatoes, 4 slices
Jalapenos, 6 slices
Provolone cheese, 3 slices
1/2 Avocado, sliced
1 cup mushrooms, sliced
1 cup onion, sliced
Ham, 2 slices
Chipotle mayonnaise (recipe below)
1/2 cup Pinto Beans (recipe below)
For the Chipotle Mayonnaise:
7 oz can Chipotle Peppers in Adobo
5 cups Mayonnaise 
For the Pinto Beans:
1 lb dried Pinto Beans
1/2 Onion, sliced thin
Water
1/2 tsp Salt
Instructions:
Make the beans. Pour beans into a stock pot and cover with water (about 8 cups). Cover and cook for two hours until beans are softened. Once the beans are cooked, sauté onions in a separate pan until soft and add it to the beans along with the salt. Using a potato masher (or immersion blender) mash beans until smooth (or your desired consistency).
Make the chipotle mayonnaise. Place peppers and sauce into a blender and blend until smooth. Add peppers to mayonnaise and stir. Mayonnaise will keep for several weeks in the refrigerator.
Make the torta. Spread butter on both side of the bread, then spread beans on the top side of the bread
Place both pieces of bread (butter/bean side down) onto a hot griddle or pan. Cook until both halves are toasted.
Once toasted, spread avocado and chipotle mayo on the top side of the bread.
Sauté the onions, tomatoes, jalapeños and mushrooms until softened.
Cook the steak to desired doneness.
Lay ham on the griddle, cover with cooked steak and vegetables.
Cover all ingredients with cheese and cook until melted.
Use spatula to lift entire pile of ingredients onto the bread. Slice in half and enjoy!
Special Thanks: Linney Studio at Lynhall, Ann Spaeth
Production Team: Dave Bellmont, Kristen Blekum, Peter Chey, Alyssa Franklin Fuller, Adam Geiger, Amy Melin, Eric Pagel, Jennilee Park, Michael Phillips, Nathan Reopelle, Xee Reiter, Brittany Shrimpton, Yia Vang