Leading Through the Pandemic: Dr. Roli Dwivedi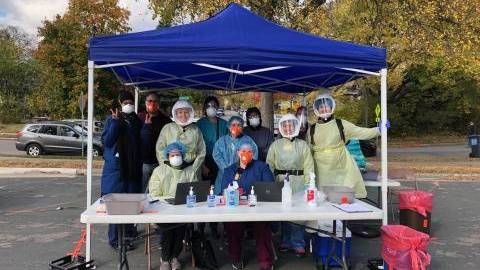 "Leading Through the Pandemic" is a series focused on Twin Cities leaders and their reflections on the year of living during a pandemic and leading their teams into new ways of working.
In April 2021, we spoke with six Twin Cities leaders from various sectors - health care, independent business, nonprofit organizations, and education and religious institutions - about their experiences in decision-making, staff management and service to their audiences, patients and members during the last year of COVID-19 and civil unrest. Without a doubt, 2020 tossed countless challenges at any semblance of stability, but the topsy-turvy year also inspired these leaders' renewed hopes for a more sustainable future, one they might not have imagined without first grappling with so much unexpected turbulence.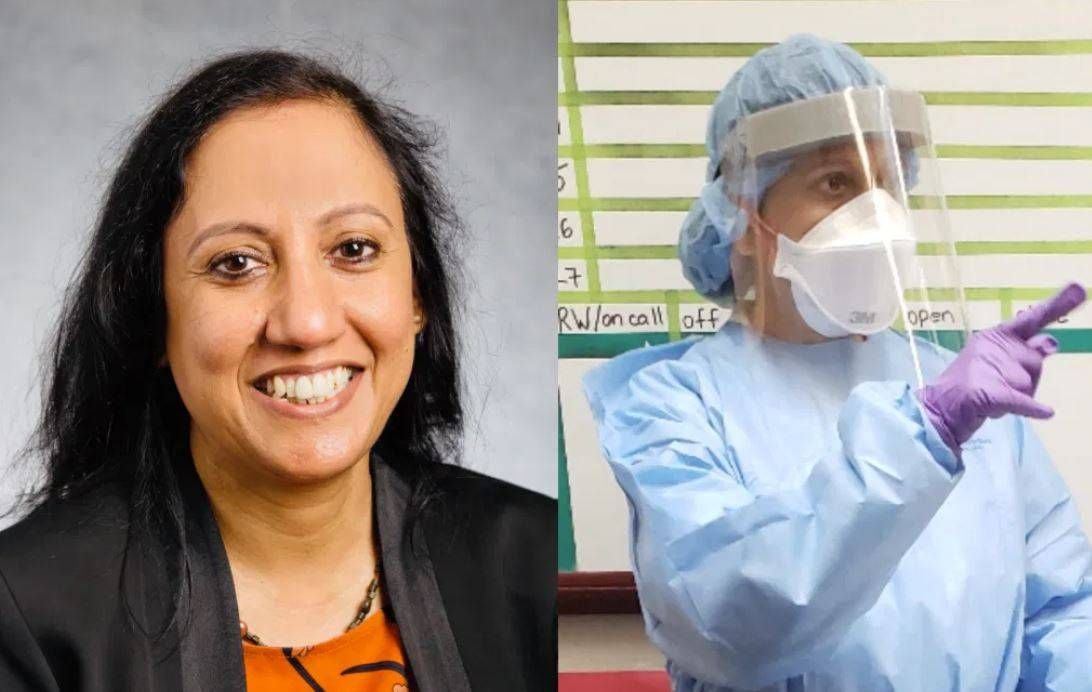 Dr. Roli Dwivedi is an Assistant Professor of Family Medicine and Community Health, and Chief Clinical Officer at the Community-University Health Care Center (CUHCC) at the University of Minnesota, which provides primary care services to children and low-income families in South Minneapolis. She received her medical training in India and completed her residency in family medicine at the University of Minnesota. Before that, she served as the medical director for an organization serving the underserved in northern India. She is involved with several leadership and quality committees all across Minnesota, and serves as director-at-large within the executive committee of Minnesota Academy of Family Physicians (AFP). Serving and improving the health of minority populations is her personal mission. Her interest in education includes global health and culturally sensitive care, improving health disparities, and mentoring medical students and residents.
In her own words, she describes the obstacles, successes and opportunities for experimentation presented by the last year.
IN-PERSON, ONLINE AND HYBRID APPROACHES
At CUHCC, we serve over 11,000 patients a year through nearly 60,000 visits annually. We have several service lines that include medical, dental, mental health, including psychiatry, therapy, case management and Adult Rehabilitative Mental Health Services (ARMHS), along with domestic and sexual assault victim advocacy programs. Patients seeking these service lines have different needs, so we needed to create different models for them. For medical, we are providing 70% in-person and 30% telemedicine visits. Dental is fully in-person, whereas psychiatry and therapy are 20% in-person and 80% telemedicine. Our other services are also functioning in a hybrid model.
INITIAL COVID-19 PLANNING: PATIENTS COME FIRST
In mid-March, as the COVID-19 pandemic took hold in Minnesota, we needed to completely pivot all aspects of clinical, administrative and operational life at CUHCC. First thing that came to my mind was my patients, who have so many barriers when it comes to accessing care. A lot of our patients don't speak English and many do not have the internet or smart devices, or even enough phone minutes to complete a telehealth visit. A lot of patients that we serve experience homelessness, and scheduling an appointment is a barrier for them. They prefer to walk in. While other organizations were very quickly able to pivot to only telemedicine, we needed to design our care delivery to have adequate in-person access all the time. We never were 100% remote and we always had 40% in-person visits. We also needed to make sure that we had enough access for our patients and resources to run the clinic in terms of Personal Protection Equipment (PPE), infection control, interpreter access, etc. We did not have telemedicine services before COVID, though we were thinking of launching it in September 2020. But when COVID hit us, we literally launched, trained staff and started practicing telemedicine within a week. The second thing that I was worried about was my staff - not only their physical health and safety, but also their emotional health.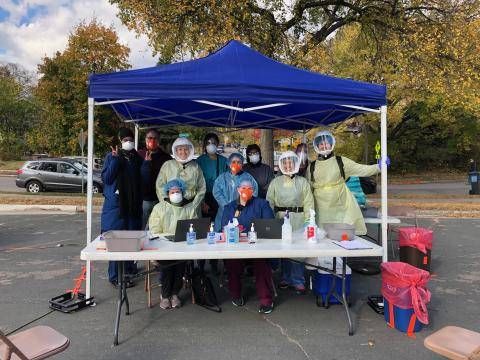 PROVIDING CONSISTENCY THROUGH THE UNEXPECTED
It was very hard back in March 2020 and still is, as sometimes we need to implement things with just hours' notice - to ensure the continuation of quality care while keeping patients and staff safe. We needed to change our COVID testing site several times, starting from implementing the testing both inside and outside the clinic, then when winter hit, creating a mini indoor testing site in a trailer, and finally when we started opening up bringing the testing outside again. We needed to change our Personal Protection Equipment (PPE) guidance several times based on regularly changing PPE recommendations from the Center for Disease Control (CDC).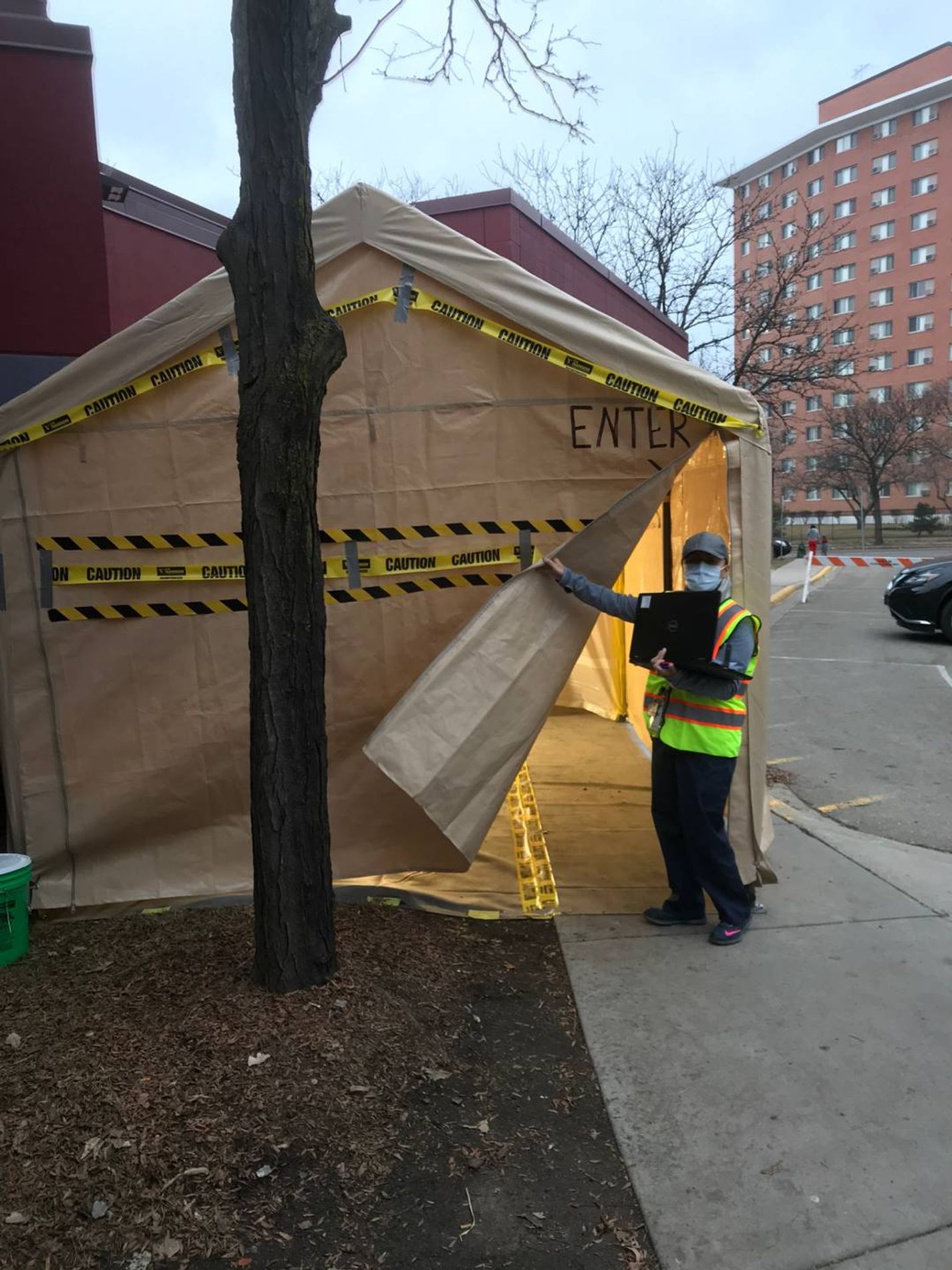 The twin pandemics of COVID and racism and resulting civil unrest has focused attention on the broken trust that many communities have historically experienced with healthcare providers. We used this moment to create care models and partnerships that improve health outcomes and patient satisfaction as steps to rebuild that trust. One of these models uses a community-based care approach which began with pop-up COVID-19 testing events. We did several testing events which were community-informed. We collaborated with the City of Minneapolis and its public housing division to bring testing to high-rises. We also did a two-day testing even at Phelps Park near Mr. Floyd's murder site.
As it was obvious from the beginning that there are disparities in COVID testing among BIPOC populations, I was given the responsibility of leading a task force, which is a University of Minnesota-wide collaboration with Minnesota health departments, local and regional healthcare systems, and communities to increase COVID testing, care and prevention in diverse communities. The Disparities in COVID Response Task Force is working to reduce gaps in treatment and care by coordinating and disseminating resources through mobile care and immunization events. The group also partners with community members to educate and engage around COVID-19 using culturally-appropriate tools to discuss its impact, and the importance of testing and vaccination. During the civil unrest in May/June of 2020 caused by the tragic death of Mr. George Floyd, I helped lead CUHCC staff through virtual and socially distant healing practices; joined "White Coats for Black Lives" in nine minutes of silence on the University of Minnesota Twin Cities campus honoring Mr. Floyd; helped organize and distribute food, medicine and care products in CUHCC's parking lot for any in need in the midst of the civil unrest; and continued to lead clinical care - allowing CUHCC to remain open (even if only for virtual care) during the entire time of unrest.
Our most recent effort has been in mobilizing the vaccination efforts in Somali and East African communities and Hispanic communities. I worked with religious faith leaders and hosted an event at CUHCC where we collaborated with 16 imams from all over both rural and urban Minnesota who came to CUHCC and received their shots and helped educate the community in increasing vaccine confidence. It was a great coming together of health, religion, faith. Community and education together. Currently we are hosting mobile vaccination events to vaccinate as many people as community want before Ramadan celebrations.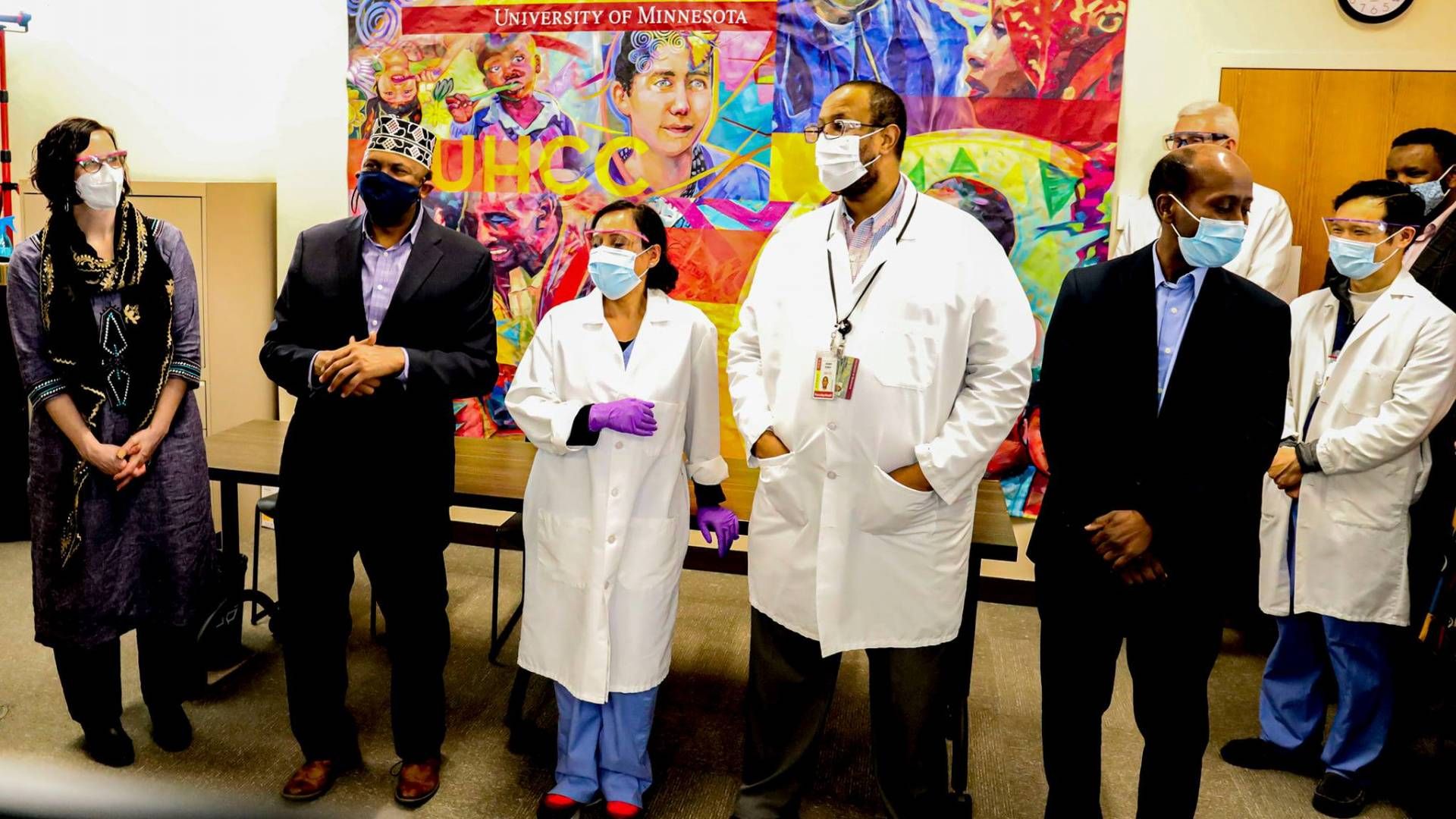 PATIENT-CENTERED CARE
One story that I remember that is very near and dear to my heart is about a patient of mine who is in her 90s and was affected by severe COVID, but wanted to stay home rather than being in the hospital. She was a non-English speaker but with the help of her family, we were able to bring multiple family members from different locations into a Zoom consult a few times a week and they all had different roles in her care: Some were directly providing her care; some interpreting; some responsible for medication pick-up, etc. The best part is that she survived and received patient-centered care.
HEALING AND MOVING FORWARD
Last year has been overwhelming and tiring, not only physically, but also socially and emotionally. We have tried different things for and with staff to keep everyone engaged and informed. We launched daily staff-wide huddle meetings every morning where we do quick updates on sociopolitical changes and clinical updates. We had previously been regularly holding a staff-wide meeting every month or two months, in which we typically started with a mindfulness practice like meditation before jumping on to data, numbers, productivity, finances, expectations, etc. A lot of our providers are engaged in advocacy and antiracism work. We have added moments of silence for the lives we lost to COVID and civil unrest, including eight minutes of silence to honor George Floyd's life. We together have lit a candle for spiritual healing. I strongly believe food brings healing, and so we have provided breakfast, lunch and snacks as a thank-you gift for our providers' continuous hard work. We have celebrated together with online baby showers, retirement celebrations, birthdays, and the like. But the biggest support I could and can continue to provide to them is a schedule that will work for them and their personal needs and challenges during all of this, including changing child-care requirements and at-home schooling.
Racism is the root cause of all inequities. The power of public health and antiracism work play important roles in improving the health of all. I have always walked every step of my life with my personal mission of advancing health equity, and though last year has been very emotional and challenging, I see a ray of hope as more and more people are uniting to do the antiracism work together.
On January 28, 2021, the Twin Cities PBS digital storytelling project Racism Unveiled hosted a live Zoom panel titled "Flight, Fight and Flow: Self Healing" aimed at examining the ways in which Black Minnesotans are affected by trauma, and how we can begin or continue our healing journey. Packed with insight and guidance, discover the six key takeaways illuminated by the event.
Black people and people of color in America have been subjected to centuries of medical experimentation and abuse, a history that has spurred mistrust of the healthcare industry for generations. Discover how some Black doctors are addressing the legitimate concerns of their patients of color who are deeply skeptical of the COVID-19 vaccines. 
Whether doctors use abusive language, refuse to acknowledge a patient's chosen pronouns on medical intake forms or ignore the specific needs of LGBTQ+ patients, normative gender/sexual orientations still abound in the healthcare industry, leaving many with a difficult question: Should I even go to the doctor? Four queer women of color, including Hadija Steen Mills, discuss barriers to LGBTQ+ women's health care and share affirming ways to combat systems of oppressions through health education.