Introducing Long Lost: A Special Investigative History Series
Subscribe now through Apple Podcasts, Spotify, Stitcher or whatever you listen to podcasts.
Minnesota Experience is embarking on a new project with author Jack El-Hai that explores one of the state's oldest active missing persons cases. The Klein brothers, Kenny, David and Danny, ages 8, 6 and 4, left for Farview Park in Minneapolis' Northside on Nov. 10th, 1951 and were never seen again. After an initial, extensive search that turned up almost nothing, it was assumed that they fell into the Mississippi River and drowned. Police closed the case after 5 days, but the Klein family and their community never stopped looking for the boys.
The upcoming podcast Long Lost will explore the 1951 incident, the family's dogged pursuit of the truth, and the work of investigators who recently discovered important new clues and identified suspects.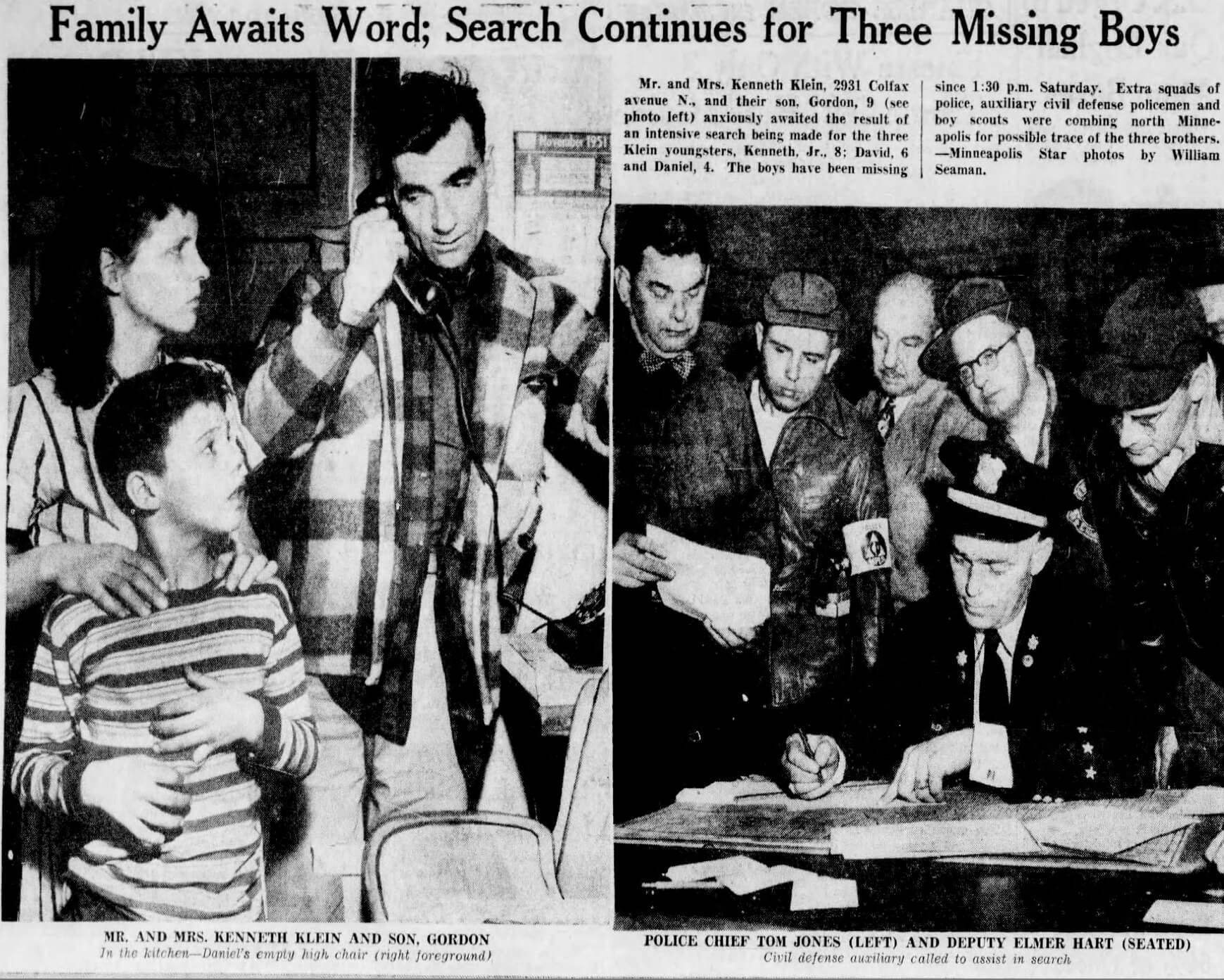 Jack El-Hai first wrote about the case in 1998 and hasn't been able to let it go. "I first learned about the missing Klein boys during the mid-1990s after seeing one of the classified ads their parents placed in the newspaper on the anniversary of their disappearance. I called Betty Klein on the phone, heard her tell her story and was irresistibly hooked. I'm still hooked today."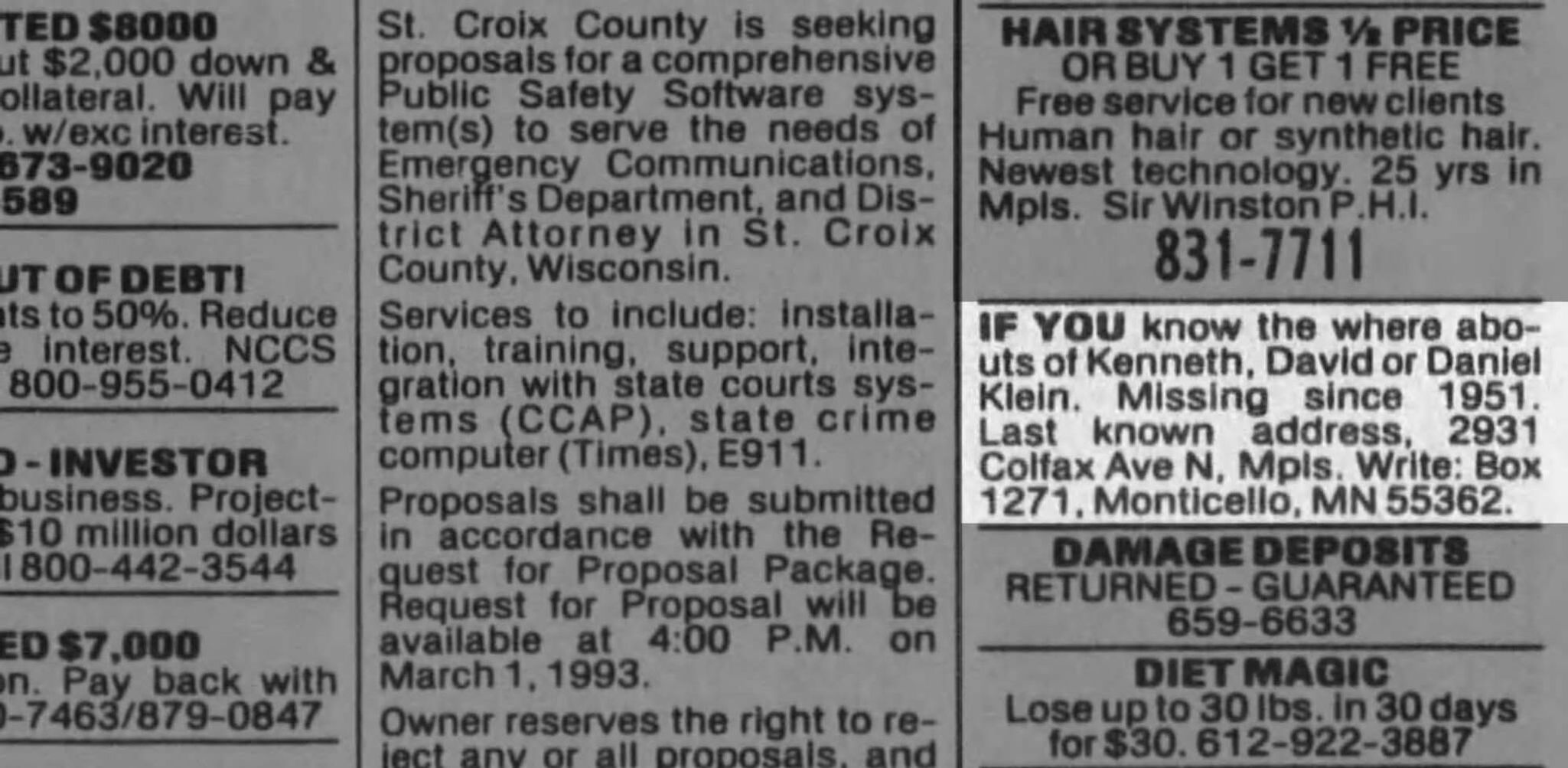 Wright County deputies Jessica Miller and Lance Salls picked up the case and, for the last six years, have been working to move it forward in their off the clock. For Miller, it's the family that motivates her to keep going. "They were constantly reaching out to anyone who would listen to their story, the lengths that they went to, the time that they spent trying to find these boys throughout their entire lives is just amazing. They never stopped looking."
With a case this cold, much of the work being done is combing through old files and following leads - whenever possible - that weren't fully explored in 1951. But what's missing in that is the human story.
If you grew up in the neighborhood, remember the case, knew the family we'd love to hear from you. You can reach the Long Lost team at [email protected] or call us at 651-229-1524.
Almost in time for the November 10 anniversary of the day the boys went missing, Minnesota Experience will soon launch Long Lost, a podcast hosted by Jack El-Hai that explores the circumstances surrounding the cold case. In the meantime, you can get a taste of the first episode in this excerpt.
You can also subscribe to the podcast on the platform you listen to most.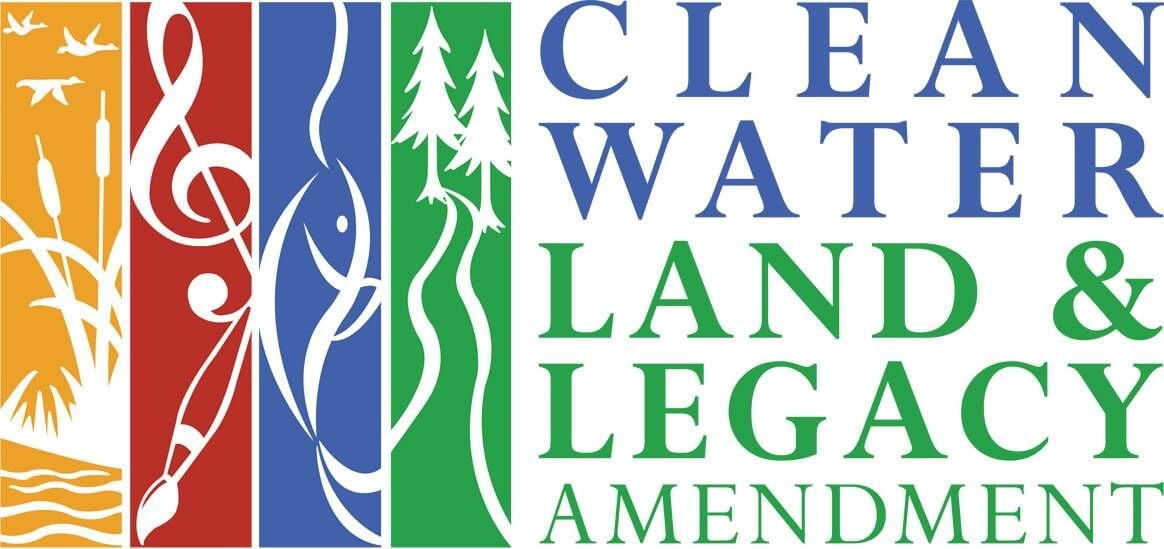 This story and Minnesota Experience are made possible by the Arts and Cultural Heritage Fund and the citizens of Minnesota.