"In Her Blood, There Are Mountains," by Anh Hoa Thi Nguyen
Anh-Hoa Thi Nguyen's poem "In Her Blood, There Are Mountains" speaks of an era in Vietnam - and much of Southeast Asia - that many of us know little about, the era of French Colonialism.  Since the late 1880s and long before the Vietnam War, the French ruled the region. We who know the discrete countries of Vietnam, Laos, and Cambodia might not know that for nearly 80 years they were lumped together and called French Indochina.
While 'French Indochina' may sound romantic to Western ears, the colonialism inherent in the region made it ripe for fomenting instability. Beginning in the 1940s, the land and its people were wracked by a grim tug-of-war as the region whipsawed between invading armies and globally competing power players.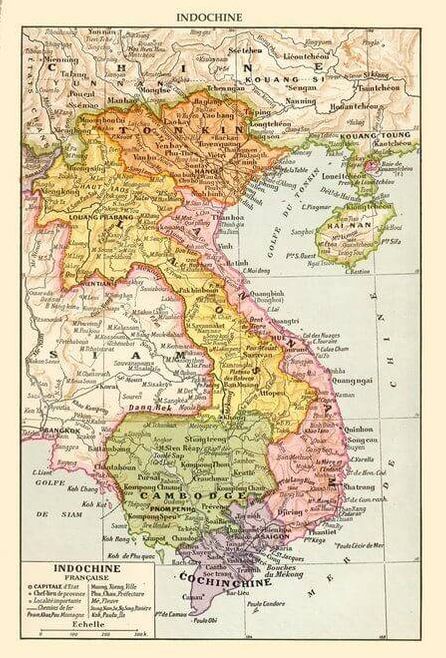 During WWII, through a series of convoluted alliances, the Japanese invaded and took over Vietnam from the French Vichy government. To grossly oversimplify - Germany and Japan were global companions back then (after all, both were fighting against most of the rest of the world).  At that time in history, Germany had invaded and gained control of France. Japan wanted Southeast Asia – which France controlled. Being that Germany controlled France and Germany and Japan were allies – Germany allowed Japan to take over that part of the world. Oversimplified, and even flip, yes, but you can see how Vietnam was not in charge of itself at the time.
World War II ended and the Japanese did not stick around. Because the French had regained a some power in Vietnam, the Vietnamese still weren't in charge quite yet. Vietnamese nationalists (the Viet Minh) and Communists joined forces (backed by China and the Soviet Union—global forces at play again) and fought France for control.  In the West this was the First Indochina War – the Vietnamese called it the "French War".  For roughly nine years the adversaries ripped and tore at Vietnam until the French were roundly defeated in a brutal battle at Dien Bien Phu.  By 1954 peace still did not reign in Vietnam.  The French quickly retreated out of the country and the Vietnamese that supported them had to, quite literally, run for their lives to escape from Communist armies wanting to destroy any and all sympathizers.  French Colonialism was over but a new era had begun.
Anh-Hoa Thi Nguyen's mom was one of the escapees.  She lived this history.  She lives this history today.  It does not go away even if the immediate threat has gone.  And that's how we come to distill global history into this wrenchingly beautiful poem honoring one woman's life.