'Home' Means Many Things to These Art Students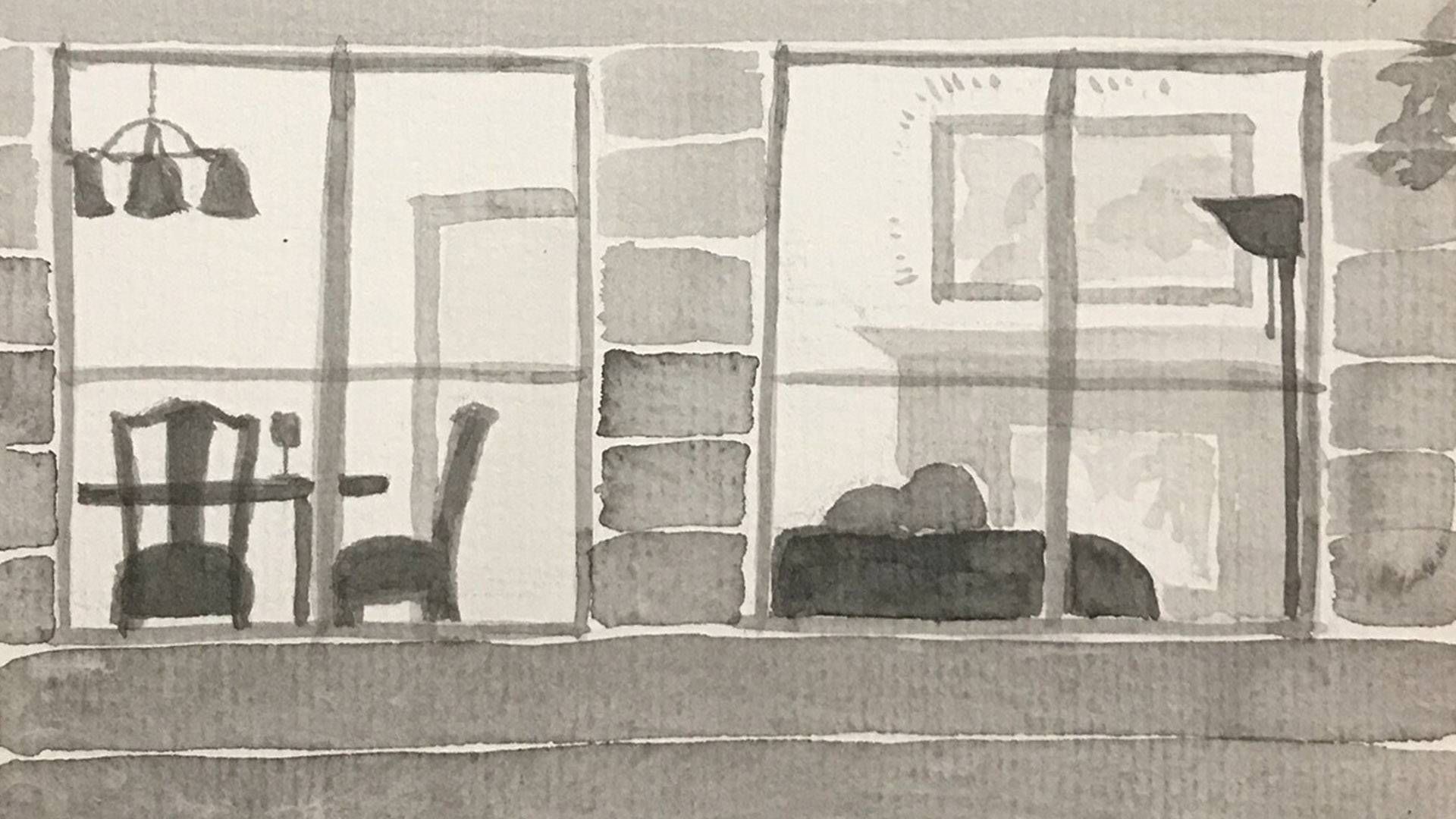 At Saint Paul College, students and staff have engaged in a campus-wide conversation about the concept of home, inspired by the college's 2019-2021 Campus Common Book, Evicted: Poverty and Profit in the American City by Matthew Desmond.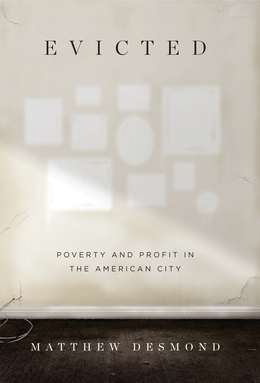 The themes of this past school year's Common Book was woven into campus courses so that students could engage with significant issues facing our communities, including poverty, economic exploitation and desperate choices. The effort also included a series of events and speakers on the topic, designed to build community, deepen engagement and uplift the college's core values: excellence, integrity and respect.
During the spring semester at Saint Paul College, all studio art classes created artwork around the concept of home, including students in art instructor Emily Hoisington's classes, who were tasked with responding to the abstract concept by making ink drawings, prints and two-dimensional line art.
In addition, photography students produced a large photographic body of work that expresses the idea of home. Photography teachers Stephen Geffre and Aaron Bommarito began the assignment with a screening of Say Home by Lembit Beecher. While they encourage students to explore their inner lives through a visual medium, they also pushed them to consider how a specific topic can serve as a catalyst for new creative pursuits.
All of the art and photography students were required to submit prints for possible inclusion in the juried Home Exhibition, which went virtual due to the COVID-19 pandemic. Four students shared their photos and thoughts with us about what they learned about the concept of home through this deeply personal assignment.
Amanda C. Richards - "Treehouse!"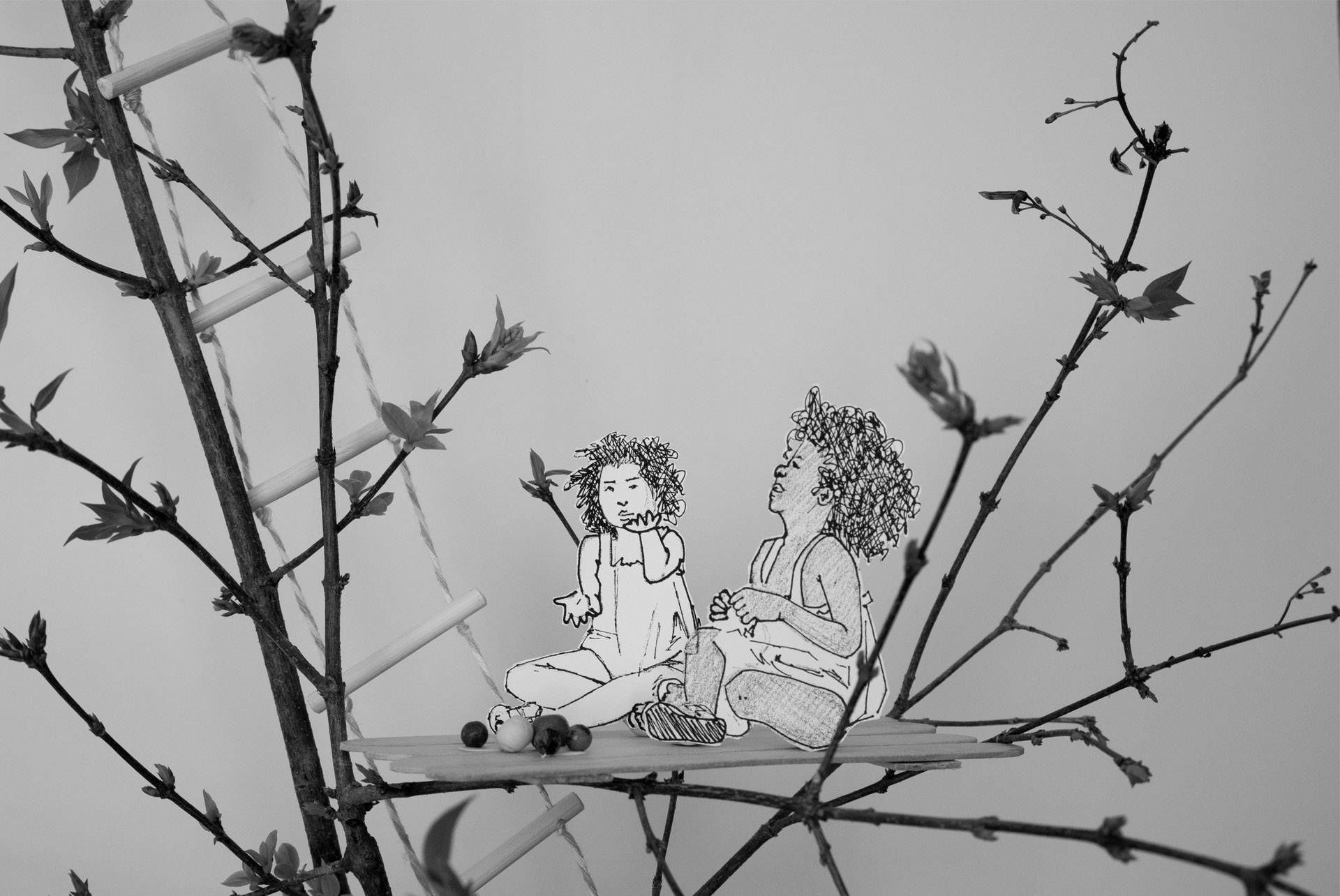 What does your photo represent?
The joy of two children sharing a special time in a space they can call their own.
How has your view of "home" changed through this photography project?
In February, I thought of this project as an opportunity to explore the joy of a child finding one's own space to be alone, read, dream or think. In late March and into April, as I engaged with the project, I thought more about the reality for children and families who live in smaller spaces, children who are afraid, or not allowed, to leave their homes during this time of COVID-19. I am aware that home is not a safe place for everyone due to domestic violence, hunger, lack of privacy and other reasons, and this lack of safety has been magnified during the Stay at Home order. Some children have no choice but to share their space with two, three, four or more people. They have no private space.
In my project, I tried to focus on the range of experiences of children in finding their own space. Treehouse! reflects joy.
Other photos in my project reflected introspection, relationships with pets, or simply the desire to be left alone to think, work, reflect and "just be."
What would you like others to see in this photo?
I hope they see the special relationship and interaction between the two children.
How did the book Evicted help to frame or shape your photo project?
I did not read the book. I was inspired by a different book: A Little House of Your Own. 
Anything else you'd like to share about this piece?
The drawings (paper dolls) were created by my daughter, Bethany Richards.
Kleara McIntyre - "Comforting Chaos"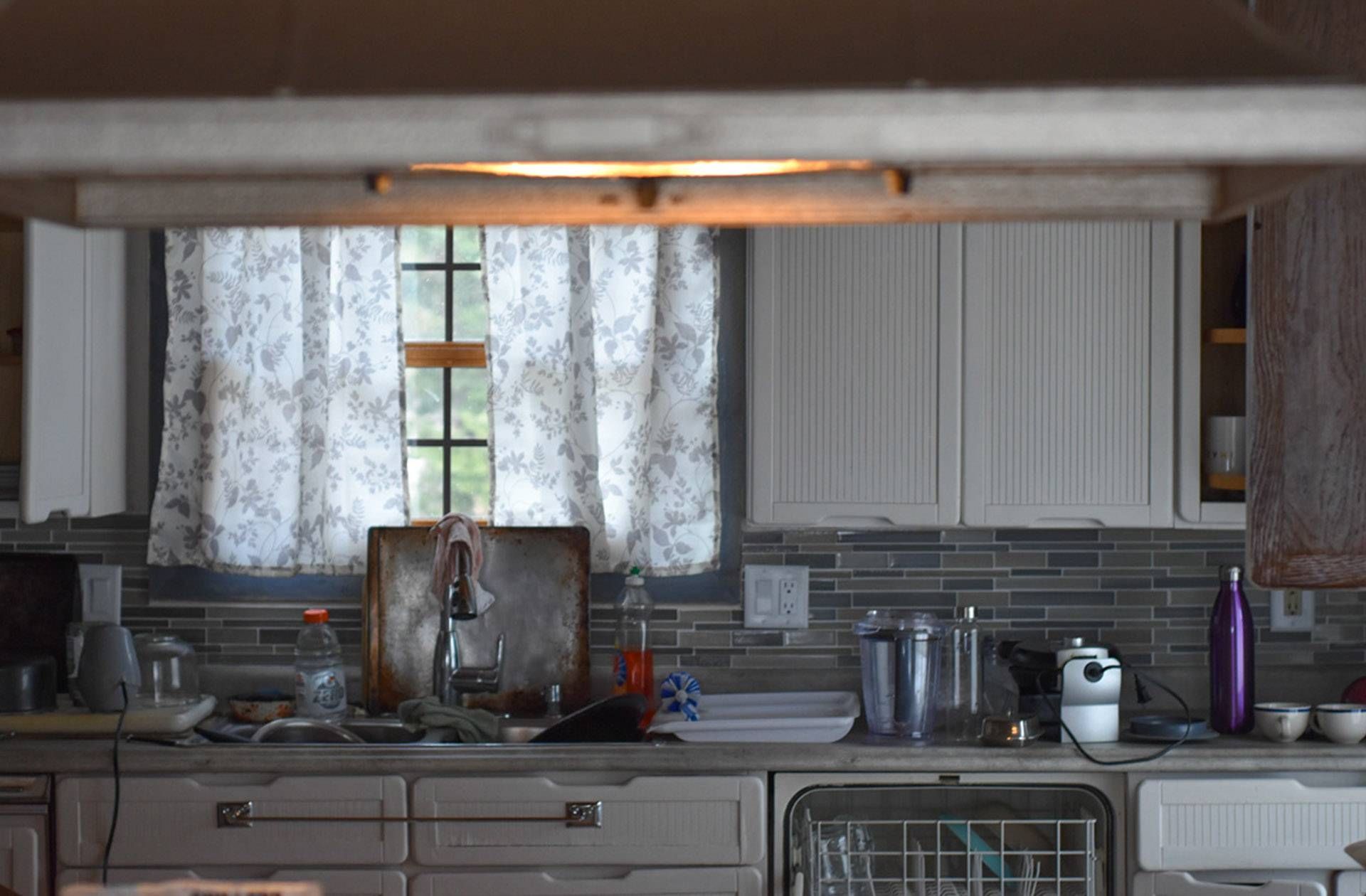 What does your photo represent?
This photo represents numerous nostalgic memories of my childhood home. I picture myself behind the counter, watching my parents cook or clean. I imagine this to be similar to many working class families' kitchens—counters and sink full, things looking unkempt. Life is busy, but there is still beauty among the imperfections.
How has your view of "home" changed through this photography project?
Going into this project, I knew my image of home was of my hometown. That was conflicting for me because I've been trying to create a new home for myself in the Twin Cities. During and after the project, I began to realize that it's okay to not feel completely at home and also that you can have more than one home. Learning to be uncomfortable in new environments is where growth happens and for me, some of my best memories.
Luckily, home is very subjective. You can find it anywhere: in people, communities, the smell of your favorite meal or the sound of leaves in the wind. It can be found in little pockets anywhere.
Anything else you'd like to share about this piece?
This photo was taken on the last day I spent in my childhood home, before it sold.
Mayu Tsuzuki - "Evicted"
What does your image represent?
"Evicted" is a grayscale ink drawing of a house and the word Evicted with "Imagine leaving it all behind" inside the letter "E."
With this piece, I wanted to depict a simple scene that would provoke empathy from those who would otherwise not be affected by this form of tragedy. This perspective is particularly relevant given recent circumstances.
Imagine losing your white privilege.
Ker Lor - "Home"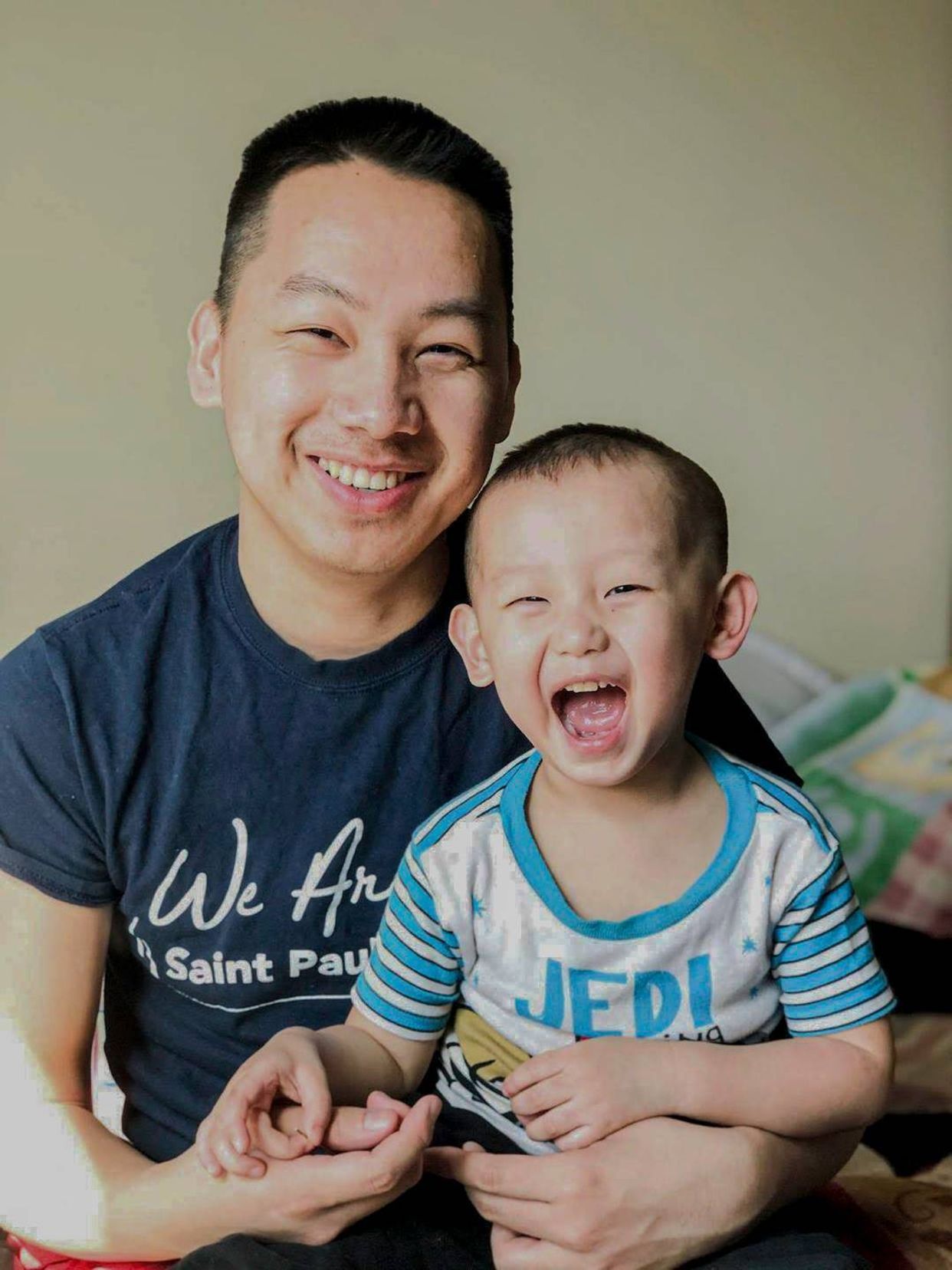 What do your photos represent?
My photos represent what home means to me.
This photo is one of the best moments I captured while doing the project. This photo shows me the warmest and loving bond between a father and son.
When my kids wake up, my partner will always leave home for work and school. He always leaves me and my kids home alone. He won't be home until 6 pm. After he comes home from work, he leaves for school until 10:30 pm. When he finally comes home, the kids have already fallen asleep. He has never had much time to spend time with us; I always hope he has more time to spend with our children, but I can understand that he is working hard to support our family, so I won't ask much from him.
Once a week or once a month, he has a little time to spend with us. These photos show how happy my children are when they see their father. Every moment they get to spend time with their father is the happiest moment for them and me. When I see this kind of love, it makes me feel energized.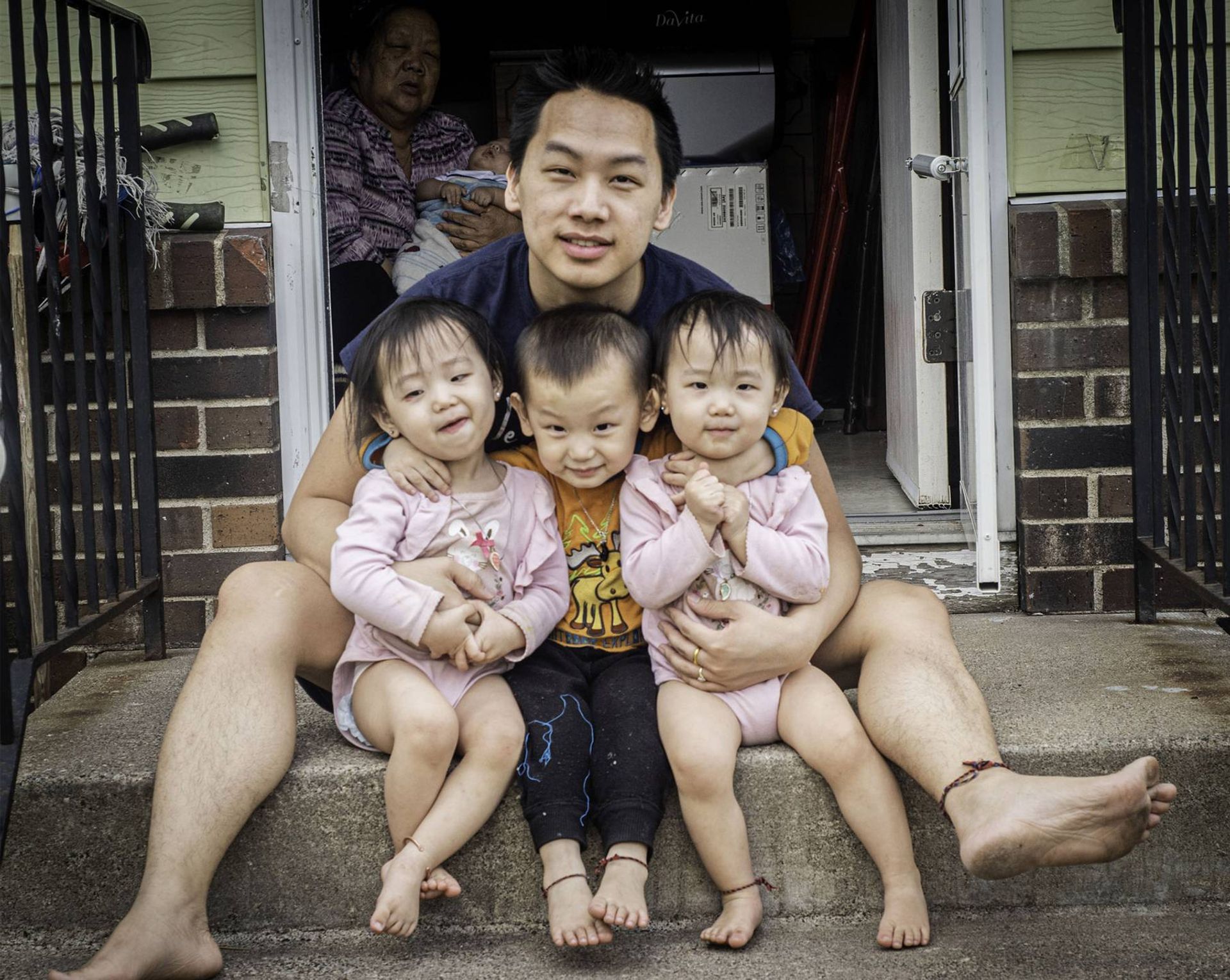 How has your view of "home" changed through this photography project?
I always think that home is where I live and keep myself safe, but this project helps me understand the word home.
Home is a place that matches my personality, where good and bad memories are kept, and how I truly become myself.
Home is where I can live comfortably and smile. A sense of relaxation when I drive from work to home after a long journey of working, with a quiet kiss on the head and cheek of my baby while sleeping in the crib. Every moment of seeing my children's laughter is the best day ever. For many years, I have looked every day to my husband's arms to relax after a long day. For me, home has been where I can smile and enjoy every moment of comfort.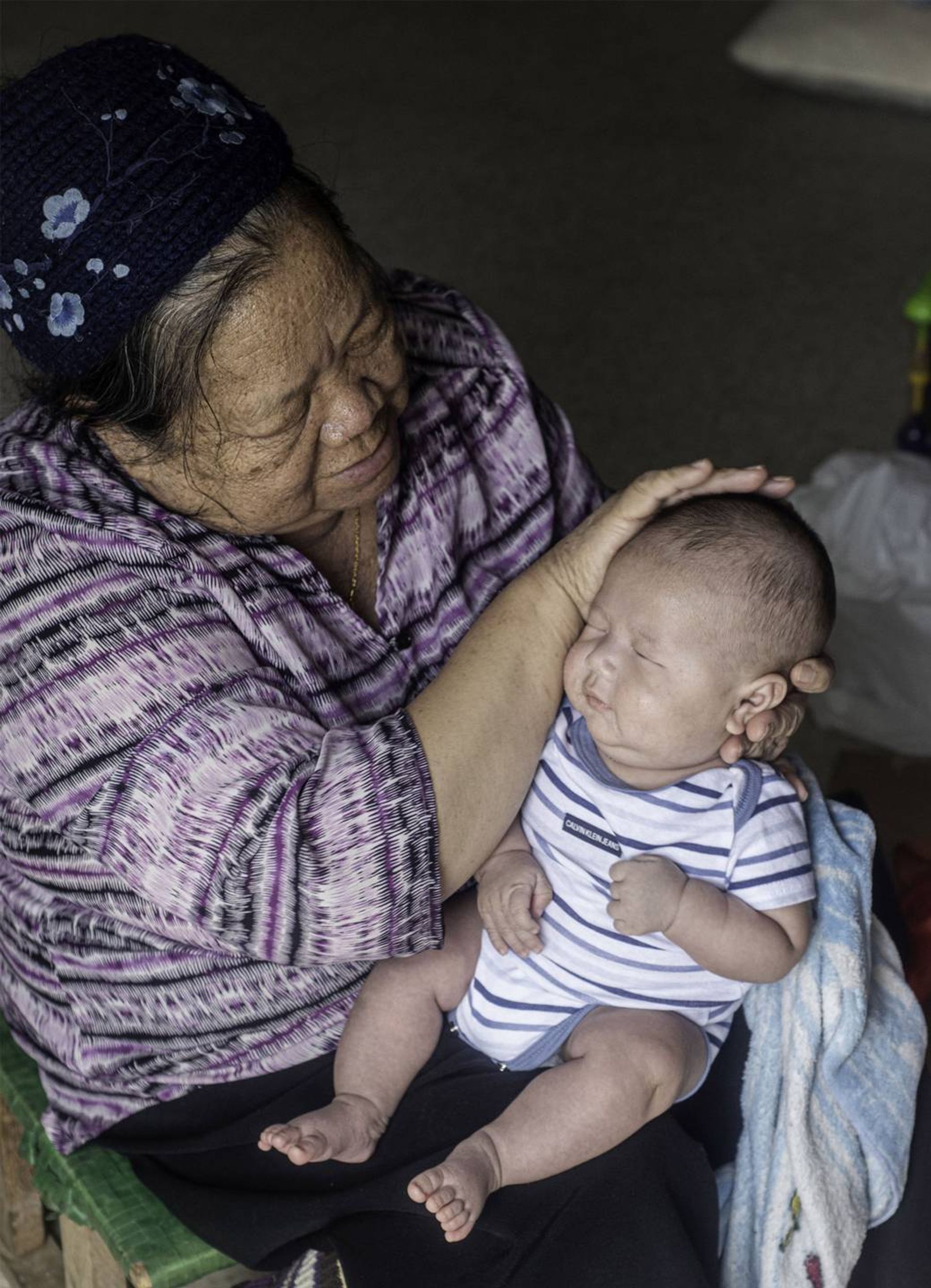 What would you like others to see in these photos?
Everybody has their own definition of home, but one thing we all want is love, happiness, and to understand what is the picture about. With this picture, I want everyone to look back at the past and feel every happy moment in life. Each photo captured is the best moment forever. Good images will always exist forever, handed down from generation to generation.
How did the book Evicted help to frame or shape your photo project?
In order to live in a warm house, we must have love, family and things that make us happy. Even if we live in a beautiful and nice house, if there is no love, family, purposeful things in life, then what is the point of having a beautiful home? Even if we live in an ugly house, but if there are family members around, laughing and dreaming, that is the purpose of the family.
Thank you to Saint Paul College staff, teachers and students for their collaboration on this story.

This story is part of the collection, Under One Roof: Stories on Minnesota's Housing Crisis, which is funded by a grant from the Pohlad Family Foundation.
Along with other urban centers across the country, the Twin Cities have a history of racially discriminatory housing covenants that prevented people of color from buying homes in certain neighborhoods. That history ripples in the present-day affordable housing crisis: By limiting opportunities for home ownership, people of color were stripped of one key way to build equity over time. Discover more in "Mapping the Roots of Housing Disparities in Minneapolis."
When Twin Cities PBS Producer Kevin Dragseth was a teenager, he was mesmerized by the Living Colour song "Open Letter (To a Landlord)." Years later, the song impacted his documentary Sold Out: Affordable Housing at Risk. Aiming to learn more about the song's origins, he reached out to one of the songwriters, Tracie Morris, who sheds light on the roots of the New York City housing issues it addresses.