Historic Waldmann Brewery Celebrates America's Past and Present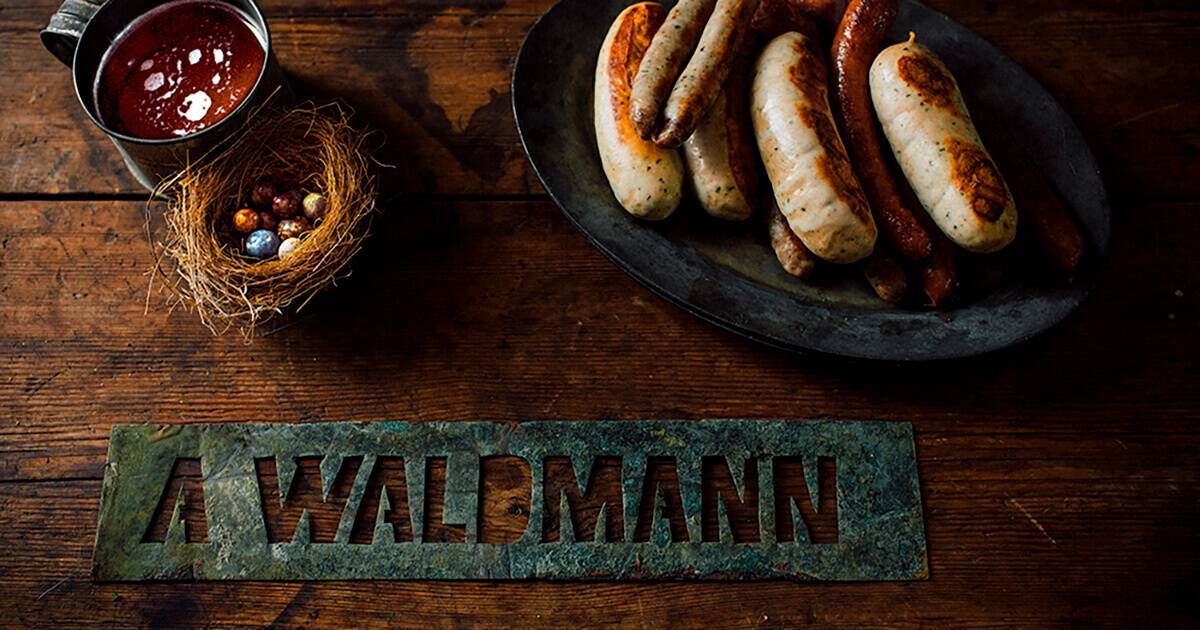 One look at the historic limestone building is all it takes to jump start your imagination. When Tom Schroeder first saw it, decades ago in a deteriorating condition, he dreamed about what it could be. When you see the distinguished-looking Waldmann Brewery today, you dream about what it once was.
Schroeder's curiosity fully took hold of him and in 2008 he bought the time-worn structure in the Uppertown neighborhood of St. Paul Minnesota. He had little idea what was in store for him. What he bought as a residential restoration project, transformed when early renovation work uncovered glimpses of the past; glass bottles, tavern pipes, an "A. Waldmann" metal stencil.
The stencil helped Schroeder dig into the building's history. It turns out the limestone structure wasn't just an old house. It was the "oldest surviving commercial building in the Twin Cities," an old lager beer saloon operated by Anton Waldmann, a Bavarian immigrant, around 1860, a time when the area had an eclectic mix of well-diggers and judges, liveries and saloons.
When the Surly Bill was passed in Minnesota in 2010, which allowed breweries to sell their own beers on site, Schroeder's dream of reviving the business that had once been was born.
Living with history
"I kind of grew up in the midst of ruins," Schroeder explained, when asked about his interest in preservation.
For four generations his family owned and operated a major dairy company in St. Paul, and Schroeder grew up playing in old family farm buildings.
"The old chicken coop was a favorite playhouse, as was the barn with the 1927 white flatbed truck that we'd sit in and bounce on the broken springs and pretend like we were driving… There was just this aura of Roman ruins."
That reverence for the past led Schroeder to pursue History in college. He ultimately chose a law career but nurtured a passion for historic preservation and served on non-profit boards and as chair of the Preservation Alliance of Minnesota for two years.
Stepping inside the Waldmann Brewery, it's easy to see how much care Schroeder has given to every detail; historic and culinary. The interior boasts wide, plank pinewood floors, wood stoves, picture rails, 19th century steamboat chairs and authentic whale oil lamps, which now burn paraffin wax. The menu celebrates "the essential combination of Wurst and Bier" with dishes chef Karl Gerstenberger described as "scratch cooking and locally sourced." Brewmaster Drew Ruggles' period lagers utilize modern equipment and heritage ingredients to craft beer with a flair of authenticity.
"The building became this magnet of all of these people with really incredible talents," Schroeder shared.
"The humble little structure attracted all the heavyweights in terms of the ideas. Far more than just me falling in love with this old building. It became a much larger project and focus because of the building."
A pint and public good
Nine months after opening, the Waldmann Brewery continues to grow and evolve. Their beer menu — currently featuring 6 beers on tap and 9 in growlers — is complimented by craft sodas created by Schroeder's daughter, Elsa and syrups produced by Siri, another daughter. They have plans in July to release a Berliner Weiss beer, a very traditional 19th century German sour, with rhubarb and woodruff syrups to enhance the flavor.
"That's a way to bring in people that aren't traditionally beer drinkers who are looking for just a refreshing summer beverage. It's almost got a Kombucha-like appeal to it," Schroeder explained.
To prove that history is never far under the surface, the construction of a new outdoor gathering space revealed a hand-dug, 50-foot deep well. The Waldmann team has plans to restore the historic well and make it a feature of an area that will include four large, wooden, congregate tables, two linden trees, a hop trellis and a kitchen garden of herbs for Gerstenberger's dishes.
"We're modeling it after traditional German biergartens. We're trying to make it as naturalistic as possible."
Business as usual also means an ample offering of events. The Waldmann Brewery is a Public Benefit Corporation which means while it is a for-profit endeavor, public good is written into their core principles. Their mission is, specifically; "to interpret and to allow people to experience and participate in the architecture, building craft, culture, food, and beverages of the 19th century with a particular focus on American immigration and diverse groups."
To realize this vision, Schroeder has partnered with mission-similar nonprofits in the Twin Cities to host monthly events, tours and other gatherings with a portion of the proceeds going back to the partners.
Sometimes these events mean Waldmann customers may unexpectedly find themselves across the room from women in hoop skirts or men in beaver fur hats. The reenactors are so congruent with the decor that they are welcomed almost without a second glance from the rest of the clientele.
"Some of the staff are convinced there are ghosts. I'm not," Schroeder laughed. "If there are spirits, they're friendly spirits egging us on. Because there is a really great vibe here."
A welcoming experience
Creating that vibe is what keeps Schroeder energized, despite the all-consuming nature of the restaurant business. He admits to perhaps being overly-focused on the details but believes those details can only but enhance the total experience.
"Part of the reason I love this building so much is it is completely the product of the builder and the family who built it. It has a level of comfort, even intimacy, that is immediately inviting. A lot of people have said 'this is like drinking in my home.' And it kind of is – it was somebody's home and business at the same time."
Schroeder's vision and determination along with the talented team of individuals drawn to this humble building have created a preservation project you can experience directly, not through protective glass panels. Waldmann Brewery is a bit of living history on the bluffs of the Mississippi river, a place where you can raise a pint and at once celebrate America's heritage and its future.
This article is part of  "Living for the City," a Rewire initiative made possible by The John S. and James L. Knight Foundation.

     This article originally appeared on Rewire
© Twin Cities Public Television – 2017. All rights reserved.