Relish: Cambodian-Inspired Egg Rolls by Bunbob Chhun
Traditional egg rolls may have originated in ancient China - but as the dish spread across Asia, it gained new flavors and cultural influences.
SCROLL DOWN FOR EGG ROLL RECIPE
There are as many recipes for egg rolls as the number of people who love them. Relish host Yia Vang visits buddy and old boss chef Bunbob Chhun at his restaurant Dumpling in South Minneapolis to learn how he makes his egg rolls.
INDICATORS OF CAMBODIAN-STYLE EGG ROLLS
"Bun, there's a lot of versions of egg rolls. I'm always talking about a Hmong way of making them. Is there a version of a Cambodian way of making them?" asks Vang. 
"The size is an indicator of Cambodian egg rolls. Not too big, but not too small," replies Chef Chhun.
Besides size serving as one indicator of Cambodian egg rolls, another is the ingredients in the filling. Chhun likes to keep his egg-roll filling simple: shredded carrots, onion, garlic, glass noodles, ground pork, salt, black pepper and white pepper. "Has this recipe changed or anything?" inquires Chef Vang.
"I've tweaked it a little bit for the restaurant, but it's pretty close to Mom's recipe," answers Chef Chhun.
Chhun's parents grew up in Cambodia, but they met in a refugee camp in Thailand after escaping the Khmer Rouge, a brutal communist regime that ruled Cambodia from 1975 until 1979. Later, they married in the United States.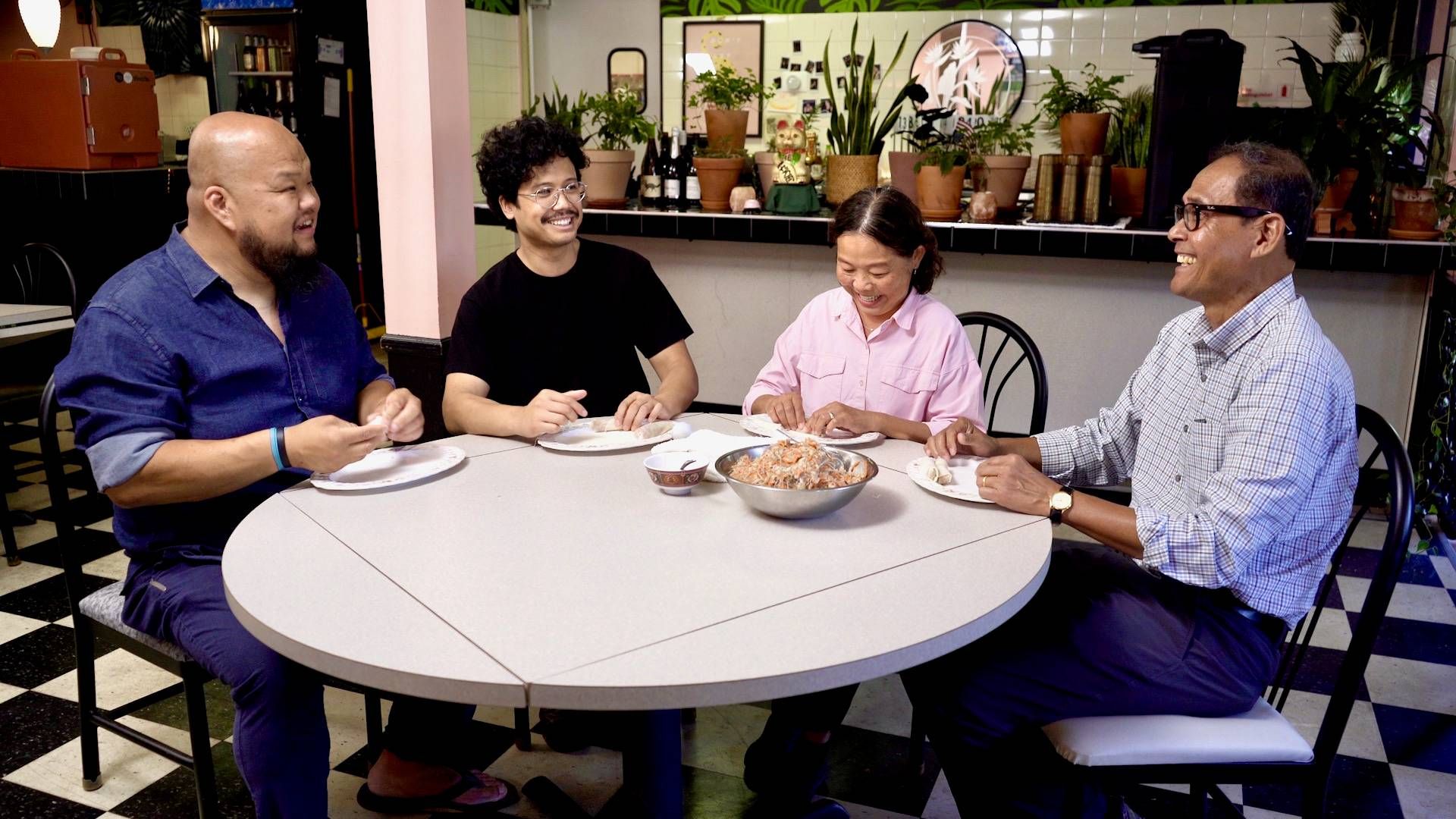 While Chhun grew up with the egg-roll recipe his parents made in the U.S., one key ingredient changed when they left their native Cambodia. Mrs. Chhun explained that, in Cambodia, they used taro - a starchy root vegetable native to Southeast Asia - instead of carrots. When she moved to the U.S., Mrs. Chhun found that taro was not commonly available, so she substituted vegetables that were easier to find: carrots. Both taro and carrots bring a hint of sweetness to the filling, so the substitution stuck.
ORGIN OF EGG ROLLS
The origin story of egg rolls begins in ancient China, where spring-harvested vegetables were wrapped in thin, pancake-like packaging. Because they used vegetables harvested in the spring, they were referred to as "spring rolls." As the Chinese spring roll spread to other cultures, many things about them changed. The ingredients for the wrappers and fillings were modified, the cooking methods varied, and the size of the roll transformed.
BONDING OVER EGG ROLLS
Universal to egg rolls is the labor-intensive activity of making them. But Chef Chhun has fond memories of wrapping egg rolls with his entire family. "Growing up, it was me, my two brothers, my younger sister, my mom, my dad and my grandma. It was a special thing to get everyone together when we could because my parents were working, they were in school. We got together and slowed things down and made egg rolls as a family."
Chef Chhun explained that, no matter your age, everyone had a job. When you were young, you started with mixing, graduated to wrapping and, when you were a parent, then you could do the frying. "That was a mama or papa's job." Now a parent himself, he not only does the frying, but hopes to pass the egg-roll recipe and tradition to his young son.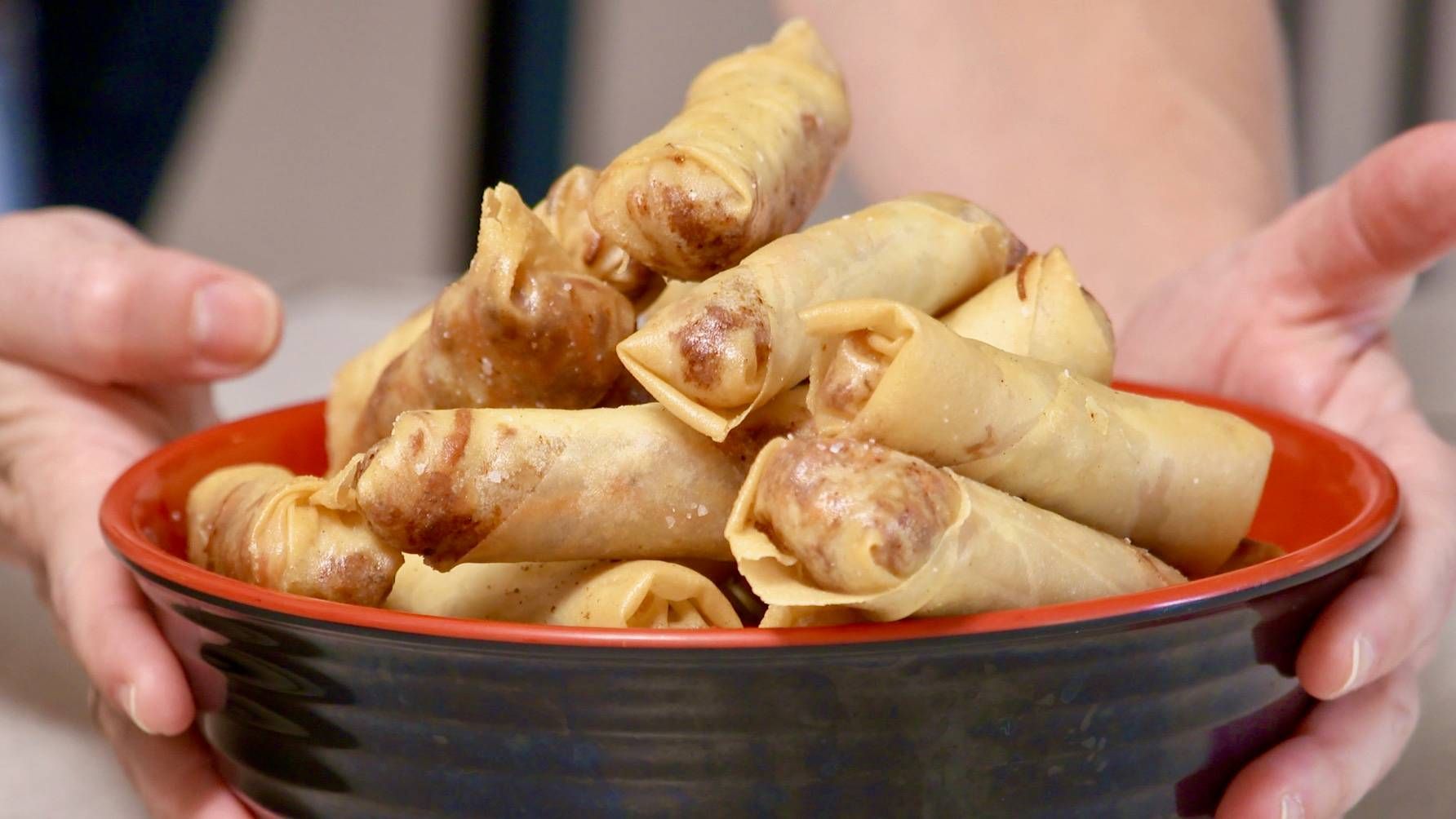 EGG ROLLS
By Bunbob Chhun
INGREDIENTS
2.5 lbs pork, ground
2.5 lbs carrot, shredded
1/2 package Lungkow Brand mung bean thread
1/2 cup garlic (minced)
1 ounce white pepper
1 ounce black pepper
4 oz kosher salt (coarse)
1 package TYJ spring roll pastry
1 oz all purpose flour
FILLING DIRECTIONS
Soak noodles in warm water for 15-20 minutes then drain from water and trim to .5 inch pieces. Discard liquid.
Season shredded carrot in a mixing bowl with 2 oz of salt. let stand for 15 min then squeeze liquid from carrots and place in separate container. Discard liquid.
Combine and mix pork, carrot, mung bean thread, garlic, white pepper, black pepper, remaining salt in mixing bowl.
Mix flour and 1.5 ounce water together for paste to seal egg rolls.
Cut spring roll pastry in half to form two large triangles. Place wet paper towel on top to prevent wrappers from drying out.
Place 1-2 table spoons of meat mix into pastry, fold in sides, then roll. Seal with flour paste. Egg rolls should feel firm and tight.
COOKING
Heat up a high temperature oil such as canola, vegetable, or grape seed in a sturdy pot to a temperature of 300 degrees and reduce heat to maintain 300 degrees.
Carefully place egg rolls into the pot. Do not overcrowd.
Cook egg rolls for 4-5 minutes, remove from pot and lightly season with salt.
Special Thanks: Martin Ludden, Bianca Rhodes, SPNN, Chhun Family
Production Team: Kristen Blekum, Peter Chey, Adam Geiger, Alyssa Franklin Fuller, Amy Melin, Eric Pagel, Jennilee Park, Michael Phillips, Nathan Reopelle, Xee Reiter, Brittany Shrimpton, Yia Vang