Relish: Versatile Egyptian Spice Blend Dukkah by Mo Kotb
The name might be new to you - but chances are, you've tasted this "condiment" before.
SCROLL DOWN FOR DUKKAH RECIPE.
Maybe you haven't heard the name, but if you've glanced at any food magazines in the last few years, you've likely seen the Egyptian spice blend dukkah peppering an oven-roasted chicken breast or artfully sprinkled over hummus. In other words, the delicious spice blend shows up in more recipes than you might expect.
Dukkah is a crunchy nut, seed and spice blend from Egypt that's sprinkled on everything from appetizers to entrees. Dukkah means "to pound" in Arabic and historically requires a mortar and pestle to create its iconic coarse texture.
Relish host Yia Vang met up with DervishMazza owner and cook Mohamed Kotb at Holy Land to gather ingredients and learn more. As they scanned the shelves, Kotb explained, "What I really love about dukkah is the versatility. You can use it in a lot of different things. Sprinkle it on soups, salads, on eggs, even with bread and olive oil."
"The more you talk about dukkah, I just think about how it's kind of a condiment, right?" responded Chef Vang. Chef Kotb nodded in agreement.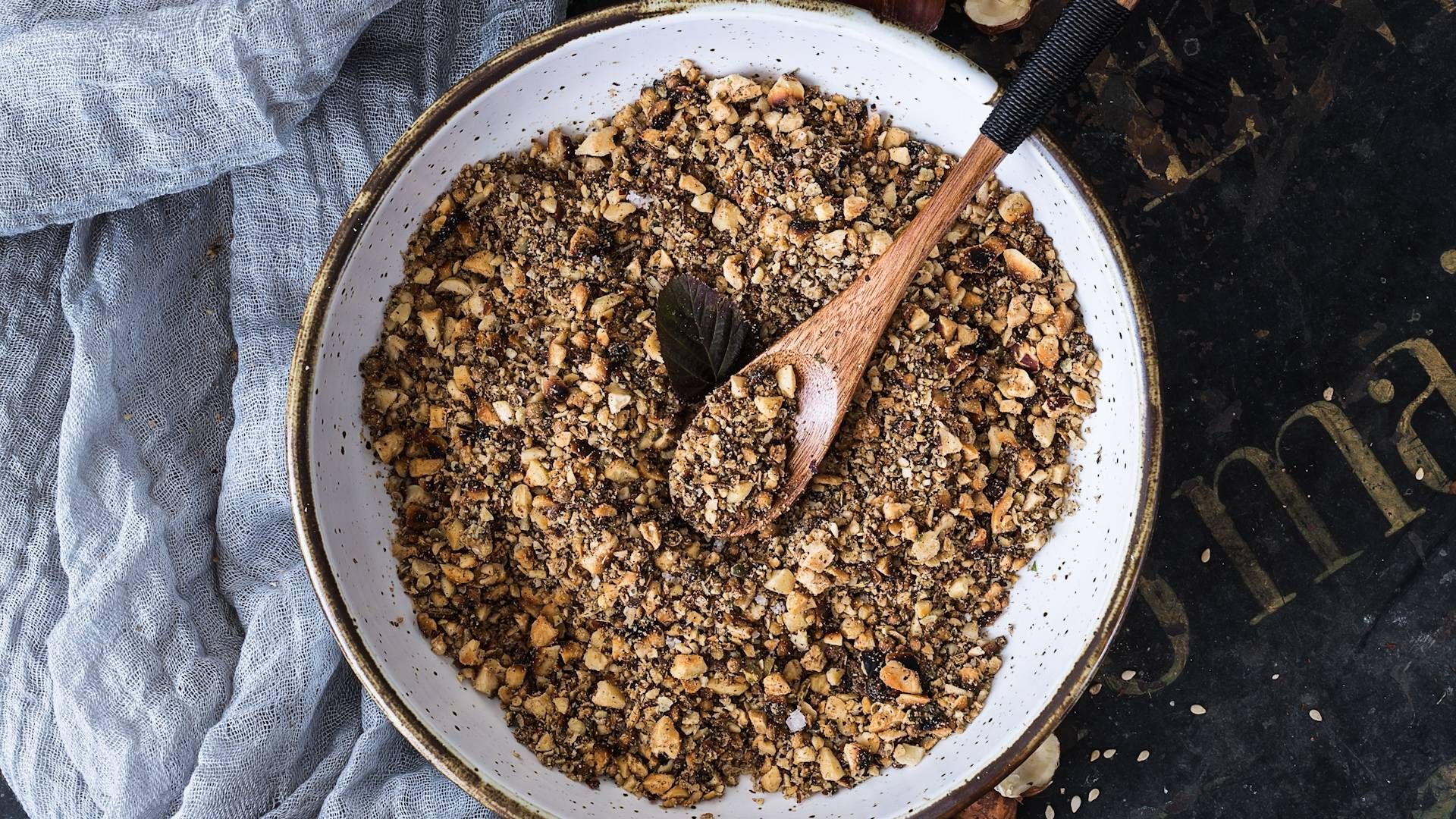 Every family in Egypt has their own twist on the condiment, but some hallmarks distinguish the blend:
• Coarse texture
• Sesame seeds
• A blend of toasted and ground spices
• Salt and pepper
• Toasted nuts
Sesame seeds, whether toasted or not, form the base of this blend. Added to them are a variety of toasted and ground spices, salt and pepper and toasted nuts. The nuts differ from household to household: Some families use almonds, some walnuts or hazelnuts, some even prefer pistachios.
In Kotb's family, the nuts differed based on the occasion. If they were making dukkah for a holiday and wanted to step it up a bit, they'd use almonds. If it was just a regular old Tuesday, he and his friends would use kernels from apricot seeds as the nuts. "When I was a child growing up in Cairo, we had a fruit shop on the corner, so we'd go there and find all the apricot [pits], collect them, crack them and then toast them and add cumin, salt and pepper and that was our Dukkah," tells Kotb. He and his friends would pair dukkah with olive oil and pita for a tasty snack.
APRICOT KERNELS - POISON OR PLEASING?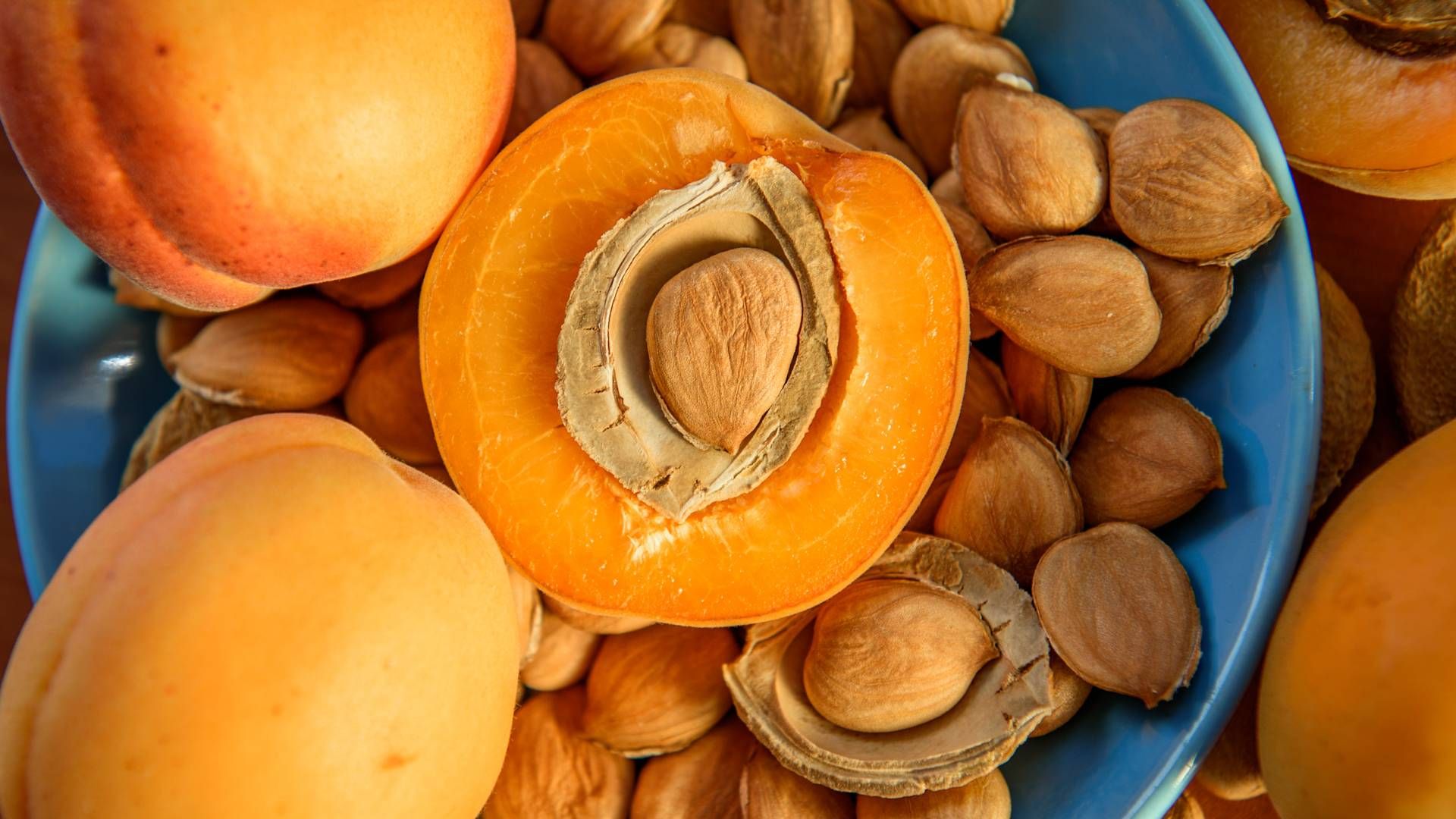 Hidden in the apricot pits are kernels that resemble almonds - but there's a catch: Apricot kernels contain a naturally occurring plant toxin, called amygdalin. Once eaten, amygdalin turns into poisonous cyanide.
However, there are ways to decrease the amount of amygdalin in the apricot kernels. First things first, there are two types of apricot kernels, bitter and sweet. The sweet have less amygdalin levels than the bitter variety. Also, processing the kernels by fermenting, cooking, soaking or grinding them, decreases the amygdalin. So picking sweet kernels over bitter and processing them appropriately, allows the potentially dangerous apricot kernels to be used sparingly in recipes like dukkah, or even ice creams and jams. All that said, chefs recommend leaving this version to the experts and sticking to almonds when making dukkah at home.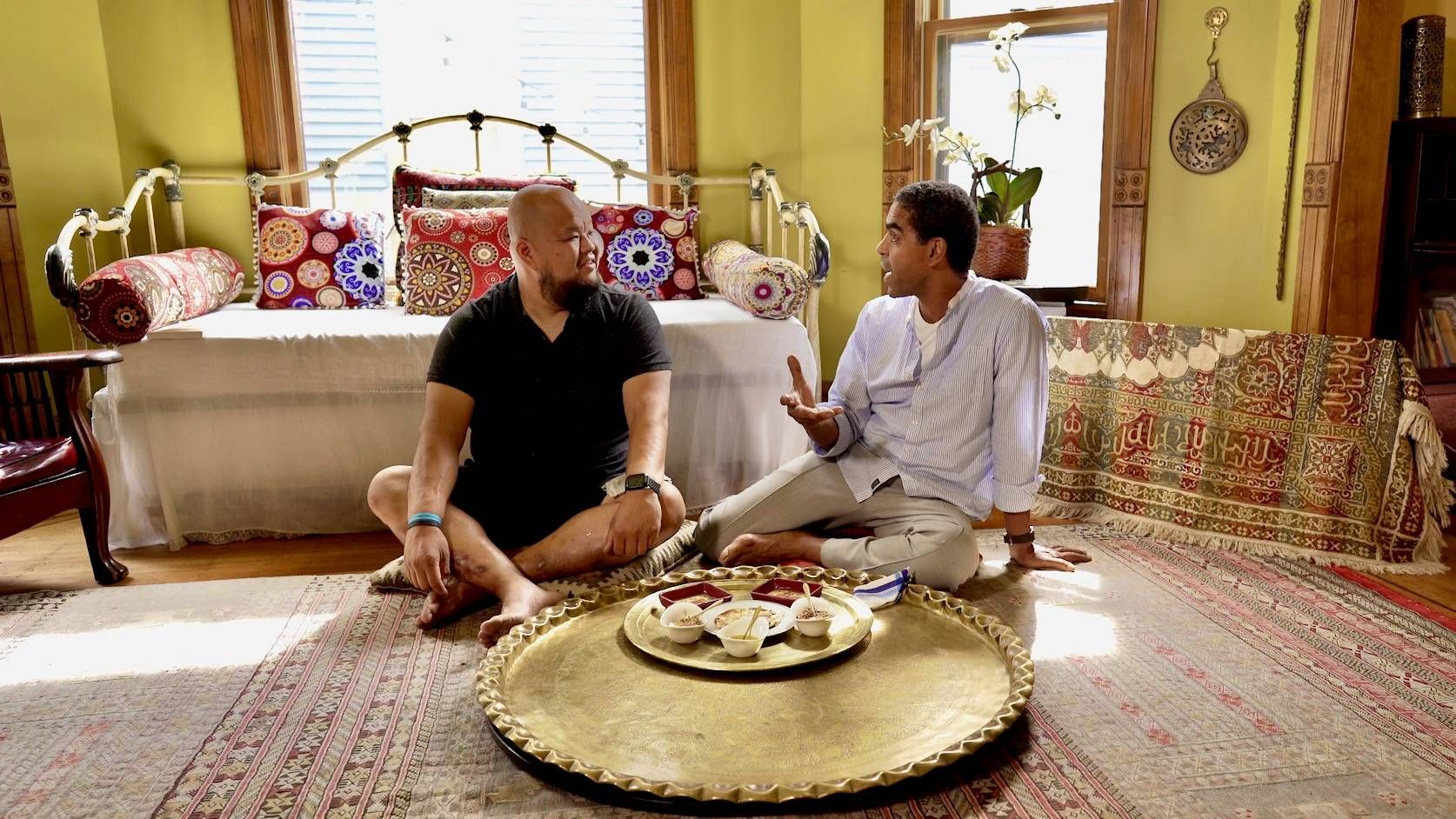 Back from the store, Chefs Vang and Kotb toasted and ground the ingredients into a coarse and crunchy mix. Surrounded by plush pillows, they sat on the floor with a gorgeous platter of the seasoning, olive oil and pita - a nod to Kotb's traditions in Cairo.
"This is so flavorful and delicious, and you're right: The combination of those seasonings is incredible," Vang said after taking a bite.
Whether you're looking to jazz up an appetizer plate or add texture to a soup, give this delightful and simple blend a try.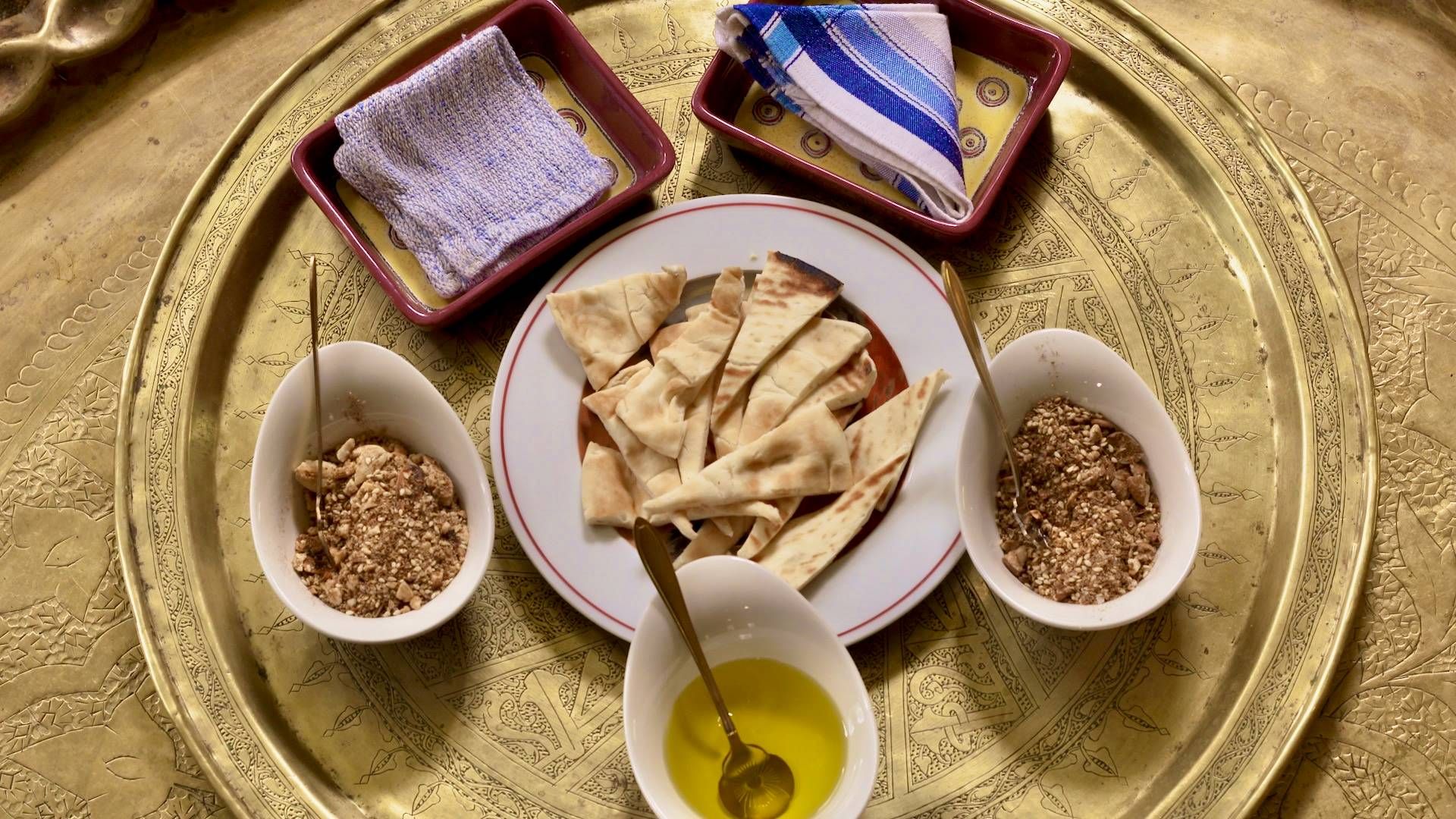 DUKKAH
By Mohamed Kotb
INGREDIENTS
4 tablespoon white toasted sesame seeds
½ teaspoon Aleppo chili or cayenne pepper
1 teaspoon whole cumin seeds
1 tablespoon whole fennel seeds
1 teaspoon whole Coriander seeds
½ cup almonds
Pinch of sugar
Salt and *black pepper to taste 
*black pepper optional
DIRECTIONS
In a small skillet, toast whole fennel, coriander and cumin seeds over medium heat just until fragrant. Remove from heat.
Transfer whole spices to a food processor and grind. Set aside in a bowl.
In the same skillet over medium heat, toast the almonds until fragrant, about three minutes. Transfer to a mortar and pestle or food processor and coarsely chop. Add to spice mixture.
Add toasted sesame seeds, a pinch of sugar, and salt to taste to the mixture. Combine thoroughly.
Dukkah is great served with olive oil and pita bread, sprinkled on soups, salads, poached eggs and so much more. It also makes a great base for a marinade.
Special Thanks: Holy Land, SPNN, Akifa Khatoon, Martin Ludden, Bianca Rhodes, Amjad Wadi, Saeed Wadi
Production Team: Kristen Blekum, Peter Chey, Alyssa Franklin Fuller, Adam Geiger, Terry Gray, Laura Hammerbeck, Jim Kron, Amy Melin, Eric Pagel, Nathan Reopelle, Xee Reiter, Brittany Shrimpton, Yia Vang