Crown the Writer Spreads Joy By Giving Her Books Away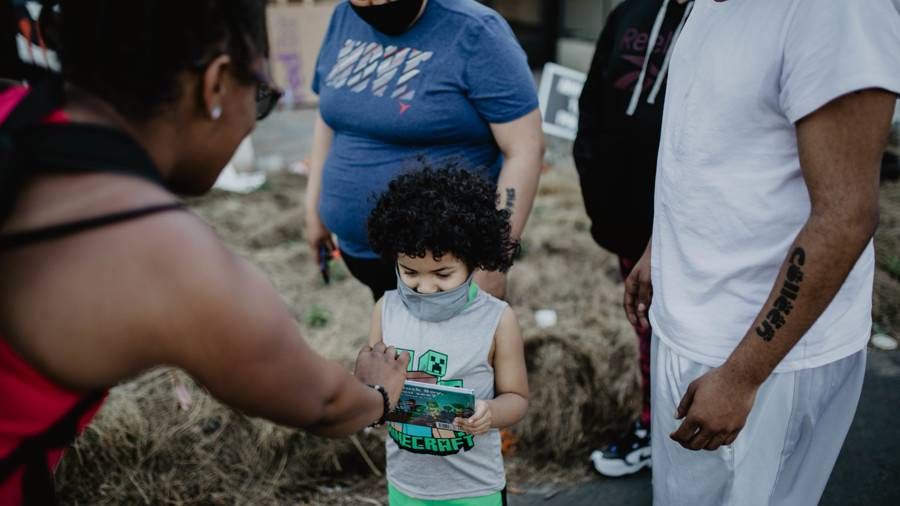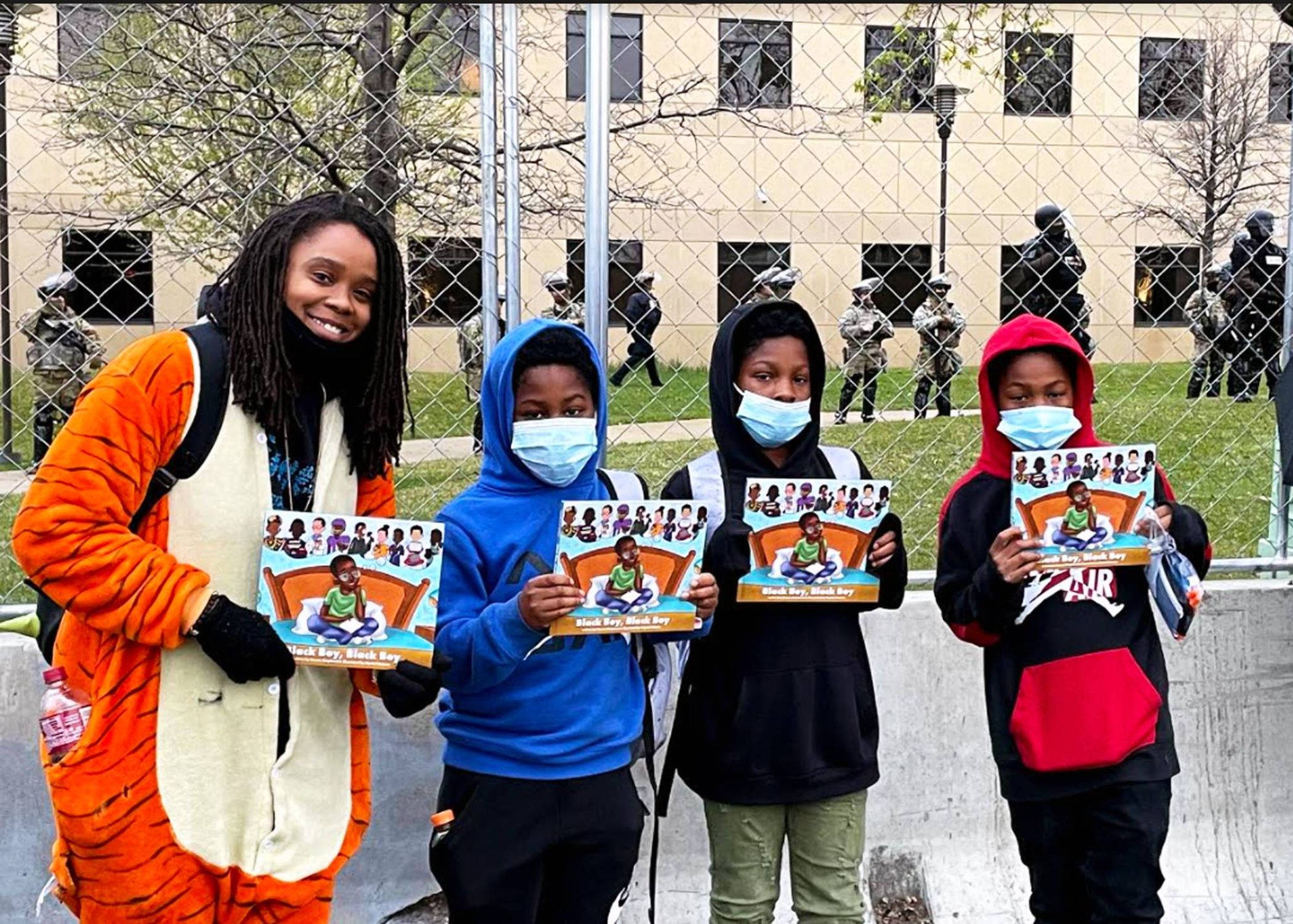 In the hands of a writer, art and activism blend in powerful ways, impacting the hearts and minds of millions of readers. Authors are more than just catalysts for change. The extent and intent of their efforts don't end with the release of their work. They speak out and build up. They debate and demonstrate. They lobby and petition for their cause, as much and more so than anyone else with a passion for equity, equality and justice for all.
Continuing in the tradition of authors taking action is local author, Crown Shepherd, who has passed out free copies of her first book, Black Boy, Black Boy, at demonstrations, protests, festivals and community gatherings in the wake of George Floyd's murder. Written under the pen name Crown the Writer, Shepherd's mission is clear: She aims to uplift Minnesota's Black community amid the turmoil of the last year-and-a-half. 
An illustrated children's book, Black Boy, Black Boy, inspires Black young ones to see a bright future in front of them - one in which they can be anything they want, whether a doctor, an astronaut or the President of the United States.
Shepherd spoke with us about her work, her campaign to teach kids to see a path without barriers and how other independent authors can seek a publishing path that works for them. The following exchange has been edited for clarity and length.
With a title like Black Boy, Black Boy, clearly this is a book that's intended for a specific audience underrepresented in the marketplace. However, the message of the book is universal. At the protests and demonstrations, have you seen the attention for the book kind of going beyond little Black boys?
Crown Shepherd (a.k.a. Crown the Writer): Yeah, I definitely have. I always say it's a blessing when a white family intentionally buys my book, or intentionally gifts my book, because when we first attempted to just hand it out to white boys that we saw at the protest, we started to see them lying around in certain places. So we stopped doing that. But the families that intentionally buy the book from me is a blessing, and I've met a lot of little white boys who have come back to talk to me about the book, saying it's their favorite book. I frequent the farmers market - the Midtown Farmers Market next to Moon Palace Books - and every other weekend, there's a family that comes and they always buy a book off my table. And they have two little boys. And one of the little boys, whenever he comes back, he talks to me about it. And his parents tell me, it's their son's favorite book. And he - I think he is a little boy who is four - and he just runs around saying, "Black boy, Black boy, what do you see?" And I think it's beautiful, because like you said, it's geared towards Black boys, but it is a universal message that everybody, especially white children need to hear, because they need to also know that Black people can be in these roles, but you will potentially see a Black doctor, or an astronaut, and we need to normalize these things. So yeah, it has moved over universally to non-Black children also loving the book.
What made you think, "I'm going to go to this march, this demonstration, this gathering, and just start passing out my book for free?"
I have a really close friend, a white man named Max who has been very much with me throughout the entire process of Black Boy. And when Boy first came out, he bought a whole handful of copies. And he started handing them out just randomly to like kids he saw in his neighborhood. And I remember one time we were at the gas station, and he just popped the trunk, pulled one out and handed it to a little boy that was, you know, sitting in his mom's car, waiting. And so, we were at a protest, at the police station. And he had a backpack on. And that's when he just did the same thing: opened his backpack, told his wife to grab a book. And then he just handed it to a little boy. And like, in that moment, I was like, this is what I need to do. Like this is why I wrote the book, to get it into their hands. And they're out here fighting for a reason. And I asked him, I said, "Why did you do that?" And he was like, "It just seemed like he needed the book." And it was very casual to him. And then it actually just kind of exploded into this thing, where I started bringing 30 to 50 books with me, whenever we went out to protest and just started handing them out. Then it started into this whole campaign where people were like, "Well, you know, can we donate a book."
And then I did a fundraiser so that people could donate money so we could then donate more books. Over a year later, we're still doing it - we are about to launch a huge campaign to give away 3,000 books throughout the Twin Cities. And it's been a blessing. It's been, I think, the best decision that I've made when it comes to the book as a whole.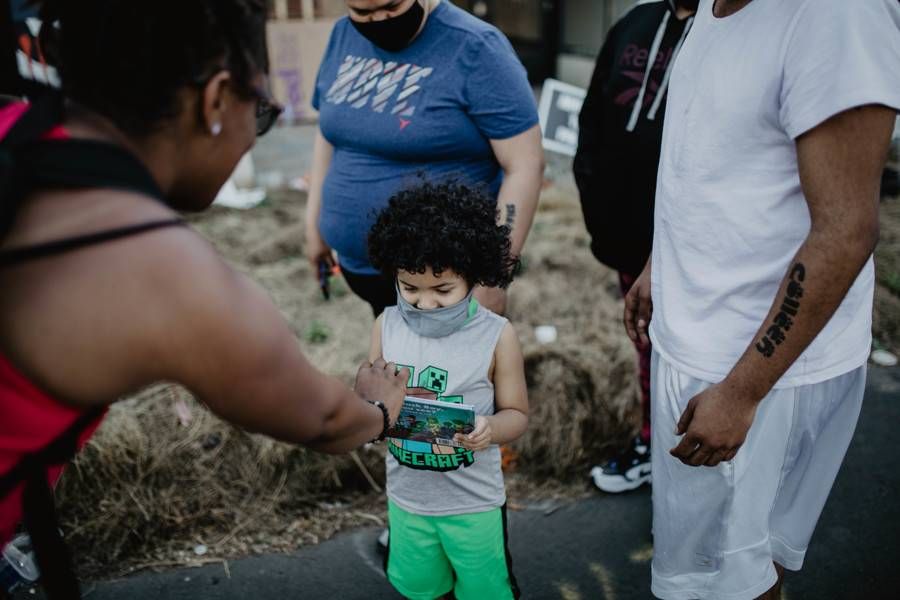 Are there ever moments where people see you passing out your work, for no charge, and in fact, raising money to be able to give away more of your work, for free and ask, "Why are you doing this? Aren't you supposed to be trying to make money off your creations?"
I get more of a "How can we help?" response. How can we donate? That's how the big campaign to giveaway 3,000 books came about. Somebody said, "I want to help. I want to help you give away these books. And I have all these resources that can help." I mean, my mentor at one point was like, "Stop giving away free books! You've given enough away!"  Because I live solely off the sales of my blog, and other commission work that I do. But yeah, most people have been pretty supportive, which is good.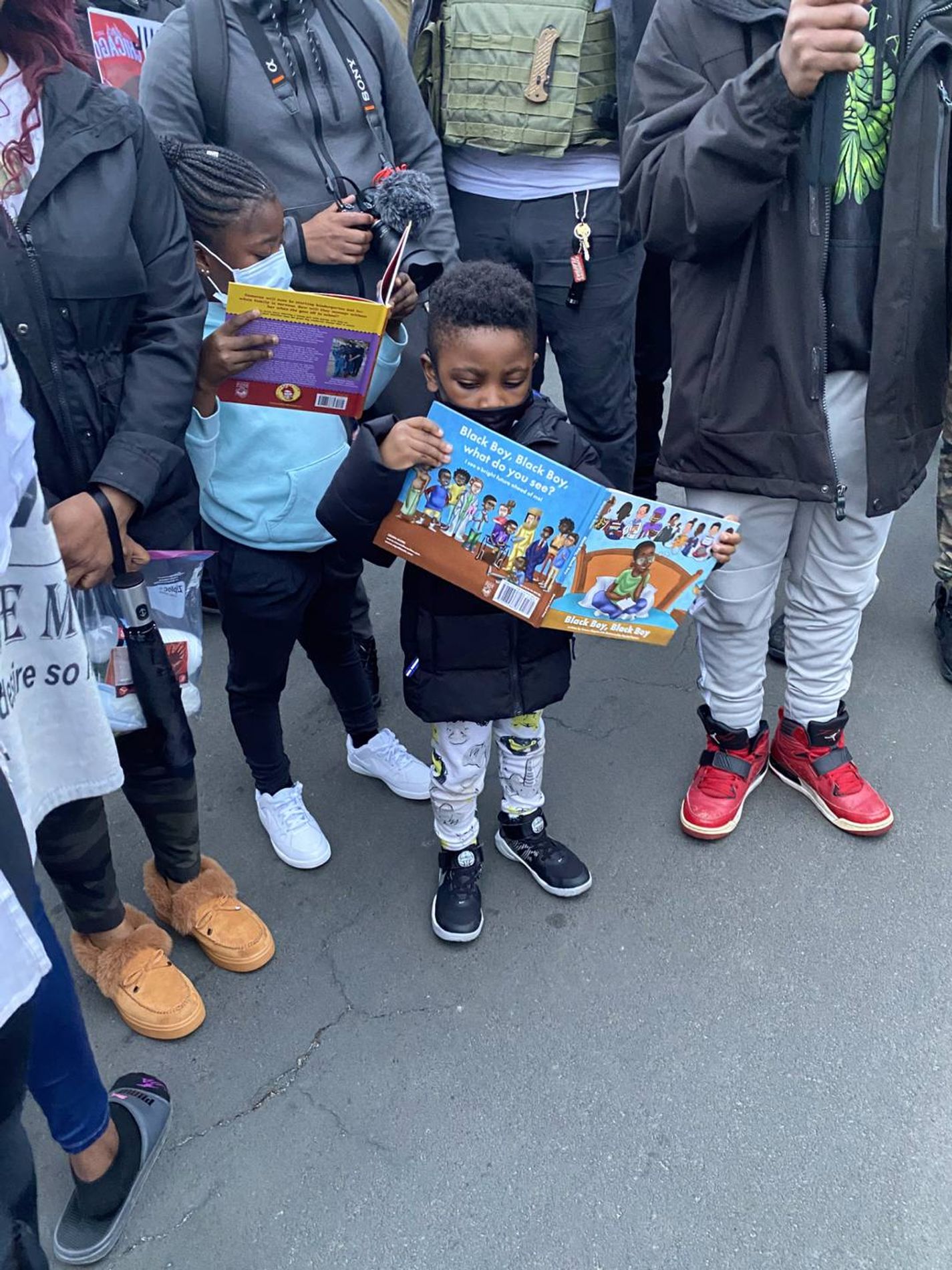 Although the Black community is not a monolith, we're still a somewhat close-knit community. If you meet someone, they often know someone who knows someone who knows you. So have you had Black families that you met at one event or one demonstration tell you they already knew the book? Tell me about these sorts of interactions?
Yeah, I do. I have them frequently. If I pop up at a random event, I'll see little kids that say, "Oh, I have that book" or "That's my favorite book." Or sometimes I'll just get them saying, "Hey, Black boy, Black boy, Black boy, what do you see?" Just two days ago, I was in Target, and there was a little boy in the aisle with his mom, and he was singing, "Black boy, Black boy, what do you see?" to his mom, and she was saying back, "I see a doctor looking at me." And then he'd say it again, and she'd pick a new occupation. So yeah, definitely one of those aha moments. I sat there for a minute, thinking, "Do I go introduce myself or should I just let this moment be?"
That's amazing. So what did you do?
I just let the moment be, because it was a beautiful moment between mother and son. And just to hear something that I wrote inspiring him to make it into a song?
That's kind of where it all started. It was my nephews singing to me, and me singing that to them, and challenging them to tell me what they saw in themselves that was beautiful or powerful or strong.
So yeah, it was just - what's the word I want to use? I don't want to necessarily say it's been an outcry. But the response from little Black boys has been powerful, not even just little Black boys. I've gotten older boys, teenagers telling me that it's been impactful. I've had grown men, you know, hit me up on social media and say, "I bought the book. I love this book." There's a doctor I've talked to frequently on Instagram, and he said that, when he gets discouraged because he's in medical school, he goes back and looks at the book. And it's just, it's a reminder of what he's doing and why he's doing it and what he can be. So it's been pretty powerful.
Now that we've gotten past 2020 and we're more than halfway through 2021, with the incredible success of both the campaign of giving the books away and the overall reception to the book itself, what's next for Crown the Writer? How are you looking to expand and move forward? 
Black Girl, Black Girl. I'm hoping to have it out in November, but it's still being illustrated. We're at the final phases of illustration. And before that can be published, Crown has to be published [Crown refers to the superhero character in the comic Crown Universe]. She needs a few edit changes, but that shouldn't take long. So hopefully within the next month, I'm launching another pre-sale campaign for Crown, and then hopefully shortly after that, I'll have Black Girl, Black Girl. 
Black Girl, Black Girl is going to be just as amazing as Black Boy, Black Boy, no doubt. But tell me about Crown.
It's your typical superhero story. Right now, the first issue is being illustrated and it's her origin story. I wrote Crown because I wanted a Black, female superhero. We don't have that, where from the get-go, that's who she is. She didn't take over like Ironheart or anything like that. This is her story, her power, and it is about a Black girl whose superpower is her hair. 
For centuries, Black hair has been under attack - and it still is to this day. That's where the relaxer came from. That's where the straightening flat irons came from, and the hot combs. Black people put their hair through so much damage to fit into white standards. I have dreads, and some places consider that unprofessional, for me to have dreads and just Black hair in general, you know. My mom was a beautician, so my hair was always natural. I did go through that relaxer stage of life that all Black girls go through. And that's what Crown is about. Her origin story is about that crucial life experience every Black girl, for the most part, goes through. If you were raised in a Black home, you had a relaxer at some point. You burned your hair off at some point or went bald at some point. I wanted to change that game, especially for my nieces. I want them to love their natural hair. I want to remind women and show little girls how powerful Black hair can be. So it's a story about a Black girl whose superpower is her hair. And when I say her hair, I mean every hairstyle you can think of that Black hair can hold - which is a lot, so she's pretty invincible. She has a limitless arsenal at her disposal, with Black characters rooted in a very Black-centric storyline, and they fight white supremacy. So, I mean, there's nothing better than that.
If someone is reading your work or reading this interview, and is inspired and wants to follow in your footsteps, what advice or insights would you offer them? What have you learned in the past year-and-a-half or so on this journey that they can use to keep building upward from what you started?
As Black or brown authors and artists out there, who are wondering how to get started, give up the idea that the only way to be successful is by going the traditional route. Give up that idea that you need a white man - because that's what "traditional" is, a white man approving your work. You don't need that. Once you get rid of that notion, your possibilities are limitless. Also, if you can hire somebody to help you through the process - I hired an independent publishing house to manage my project, and I think it was one of the best decisions I made. There was so much I didn't know about that process. You know, you can do it by yourself. But if you're able to, I would say, invest in somebody who knows the game and can help you. Because there are many ins and outs, like making sure you get the copyrights for your illustrations? I wouldn't have got that if I were in it by myself, you know. Press kits and releases, I wouldn't have known that you do those for books, you know what I mean? I wouldn't have even known where to get it printed in hardcover, or you know, the fact that you need your book designed. There are a lot of aspects that go into publishing a book that just aren't talked about.
And then the next piece of advice, I would say, if you are in a position where you can't get a management team, and you go a KDP [Kindle Direct Publishing] or other free route (which is fine, by the way) get an editor. Spend money on an editor. You can be a good writer, a great writer even, but you still need your work edited. Even the best writers in the world have their books edited. Everybody gets it edited. I would never put anything out into the world without getting it edited. Because sometimes you know, there's typos or the way you envision something you've written in your head does not always translate the way it's written on the page. Your books will thank you by getting them edited.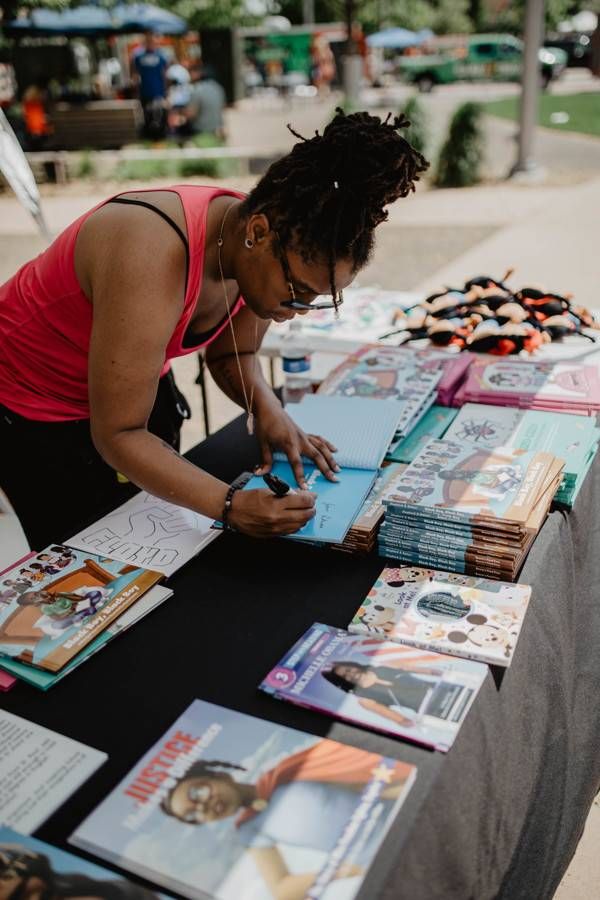 Any final thoughts on the process, where you've come and where you're headed? Do you think that you'll continue the donations, in addition to the more traditional indie author sales and book fairs? 
I definitely plan on giving Black Girl, Black Girl out just as much as I gave Black Boy, Black Boy out. And I don't see anything changing anytime soon. I just see it elevating, getting bigger, getting better. Every day, I find more support and more people that want to help.
So, you know, for me, it's about representation, and getting those kids that representation. Even if I end up giving away every book that I print for the next five years. Because my plan was never to make big money.
In the beginning, it was just about giving my nephews and nieces something they were asking me for. And since they were asking for it, I figured other kids needed it, too. So that's been the mission. It was about getting the books in their hands. So, like I said, if I've got to give every book away for the next five years, then that's what I'm going to do because I know I'm changing lives. Like with the simple words that I'm writing and the simple illustrations that I'm paying these brilliant artists to bring to life, I'm changing lives, and that's the best thing.
T. Aaron Cisco is a cultural essayist and author. His latest book, Rod String Nail Cloth: An Afrofuturist Mixtape reached the top five on both Amazon's Top Science Fiction Anthologies list and Amazon's Black & African American Science Fiction Top 100 list.