Relish: Chinese Dumplings with Peter Bian
Whether made for Chinese New Year celebrations or "just because," everyone needs more dumplings in their life.
SCROLL DOWN FOR DUMPLINGS RECIPE.
Born in Tianjin, China, Peter Bian long searched for the handmade dumplings he grew up with. But the Minneapolis native found his home town to be a bit of a "dumpling desert." He couldn't find anyone making dumplings that tasted as good as his mom's.
Fast forward to February 2021. A year into the coronavirus pandemic, Peter gathered with his immediate family to celebrate Chinese New Year - and inspiration struck. Led by his mom, Peter and his family made dozens and dozens of dumplings for their New Year celebration. While his mom cooked, Peter took detailed notes and set his sights on sharing his family's dumplings with others.
The pandemic provided the perfect setting for research and development for Peter and his wife, Linda. "When everything was shut down, we had nothing but time," Peter says. "We kind of took [my mom's] recipes and figured out how to scale that a little bit while preserving the handmade qualities. We started making frozen dumplings and sharing them with friends and family."
The reaction was instant and overwhelming – the dumplings were a hit. Taking its name from the weekend dumpling drops Peter first did out of his garage, Saturday Dumpling Club was born. Word of the delicious dumplings spread through social media, and Peter's creations were selling out within minutes every single week. To this day, his dumplings are still one of the hottest tickets in town.
A year later, some things haven't changed – orders still happen on Wednesdays and pickups on Saturdays. But the business has grown, so Peter now has a website for sales instead of relying on Instagram, and he no longer works out of his home and parking garage. Instead, he turns out thousands of dumplings every week from a commercial kitchen in North Minneapolis. He's got help these days, too, from some talented family members who help him fill countless orders each week.
Peter never imagined his business would take off like it has, but he's grateful for the opportunity. He says, "To be able to share my culture and my family's recipes with everybody has been a real treat. It's been great seeing my mom's recipes in everybody's homes. That's been really fun to see."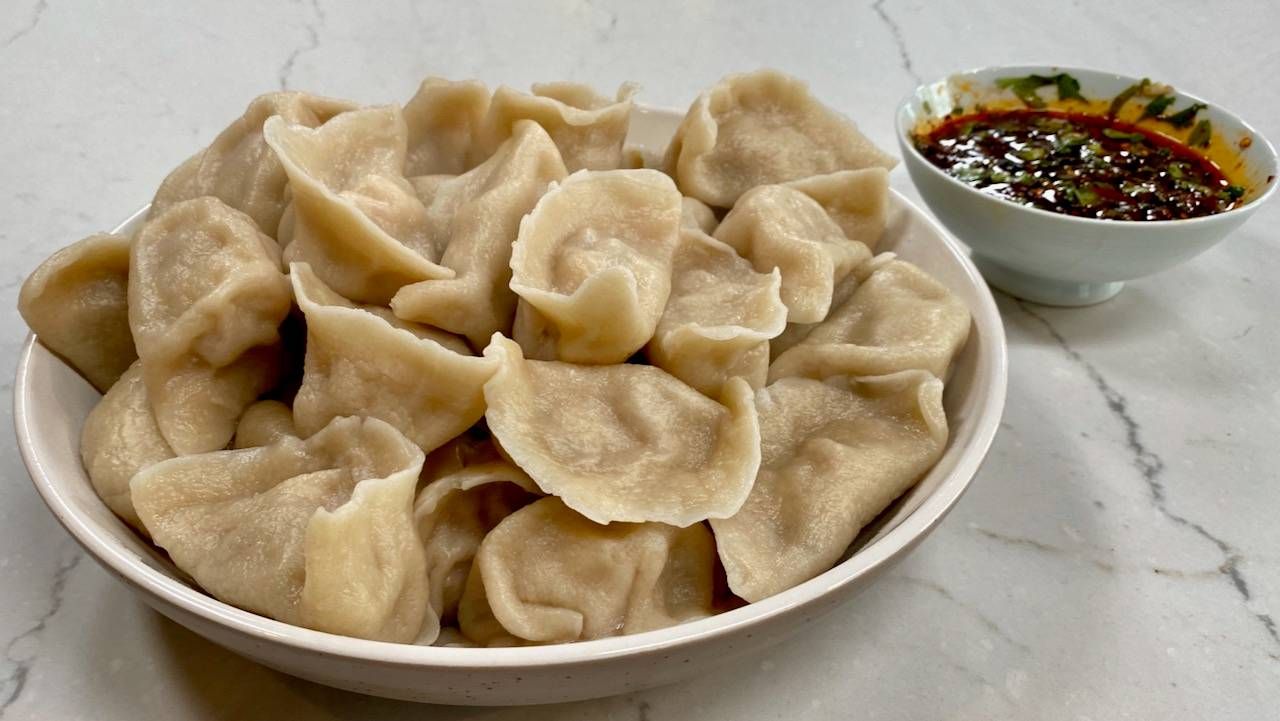 DUMPLINGS
by Peter Bian
Dumpling Dough
Ingredients
500 grams all-purpose flour
250 grams room temperature water
1/8 tsp salt (optional; will create chewier dough texture)
Directions
Slowly add water to the flour, mixing as you go
Once all water is added, bring the dough together by kneading with your hands.
Cover and rest for 15 minutes
Knead a second time.
Cover and rest for another 15 minutes.
Knead a third time. You'll know the dough is ready when the surface is smooth.
Rest a final 15 minutes
Roll dough out into a long rope.
Break or cut off small pieces of dough (about 16 grams in weight)
Dust dough balls generously with flour and roll around until they are spheres
Press each dough ball with your palm to flatten.
With a rolling pin, roll each one from the outside to the center, rotating the wrapper 90 degrees as you go. Repeat rolling until wrapper is formed.
Dumpling Filling
Ingredients
1 pound Pork (or ground protein of your choice)
1/4 cup chicken stock or water
5 Tbsp soy sauce
1 Tbsp neutral oil (like canola or avocado oil)
1 Tbsp sesame oil
1 tsp grated fresh ginger
1/4 tsp granulated sugar
1/4 tsp salt (or to taste)
1/4 tsp white pepper (sub black pepper if needed)
1 cup finely chopped Napa cabbage or green cabbage
1/2 cup finely chopped scallions (green and white parts)
Directions
In a circular motion, mix together protein with stock or water.  You can use a pair of chopsticks (traditional), a spatula or your hand.  The idea here is to loosen the protein and emulsify some of the fat with the liquid to get a consistent texture throughout.  This will take about 3-4 minutes and the end result will look like a loose meatloaf consistency.
Add in grated ginger, and liquid aromatics (soy, oil, sesame oil). Mix again until well combined
Add in remaining ingredients and mix until well combined. 
Note: This filling can be stored in the fridge and reserved for later use up to one day in advance, however, it is best used right away.
Simple Dumpling Sauce
2 Tbsp Chinese black vinegar*
1 Tbsp soy sauce
1 Tbsp favorite chili oil (if you want it spicy)
1/4 tsp sugar
1/4 tsp finely diced scallions
Mix all ingredients together.
*If you have trouble finding Chinese black vinegar you can substitute equal parts balsamic vinegar and distilled white vinegar OR use rice vinegar
To Make Dumplings
Once all ingredients are made, fill each wrapper with approximately 1 Tablespoon of filling.
Fold wrapper in half to completely cover filling and seal dumpling shut along the edge.
Repeat until all dumplings are made.
Dumplings should be cooked or frozen right away. For cooking instructions, including the boiling method Peter uses, click here.
Special Thanks: The Linney Studio at Lynhall, Anne Spaeth
Production Team: Kristen Blekum, Peter Chey, Alyssa Franklin Fuller, Adam Geiger, Terry Gray, Laura Hammerbeck, Jim Kron, Amy Melin, Eric Pagel, Michael Phillips, Nathan Reopelle, Xee Reiter, Brittany Shrimpton, Yia Vang