A Serving of Pickleball Is More Than a Sporty Side Dish
For players, the sport offers a healthy dose of camaraderie.
You know the scene. Every so often, there's a tennis court near you that's packed with people playing a game that looks vaguely familiar. There are a half-dozen nets set up, and anywhere from 30 to 40 people, mostly older, having fun and staying active while playing a game that might be an easier version of tennis were it not for the sound of ping-pong-like balls hitting the paddles in the players' hands. So what is this newfangled sport?
The answer is pickleball.
And, according to some, it's the fastest growing sport in America - and I recently had the opportunity to discover why. At 8:30 on a Wednesday morning, the first car pulled up to an empty tennis court in Shoreview, Minn. Shortly after, a second, third and fourth car rolled up. As the drivers spilled out of the vehicles, they set to work transforming the two tennis courts into six pickleball courts. Once the temporary nets were up, the warm-ups began.
During the warm-ups, players divided into pairs, and started to dink and dunk the ball - which resembles a whiffle ball - over the net. Gradually the players backed up and hit the ball around the rectangular shaped court that measures about 40 feet deep and 20 feet wide.
This was a beginner-to-intermediate level club, so there was plenty of banter on the court. I was told that, as skill levels increase, the friendly chatter decreases: This is a serious sport. Since I was there to understand the camaraderie of pickleball, and not the hop-spin serves, backhands or in-game strategy, I was happy to hear this. Eventually, the players shed their outer layers and sweatshirts right before they were assigned to their first match.
Roving around the courts, I saw three dozen men and women, all over the age of 50 and a few in their 80s, having a good time. After all, they were outside, they were moving, they were making new friends. At one point, one of the players informed me that, at this age, many of them are in need of replacement friends. Some of the players are widows and widowers - and it swiftly became clear that this pickleball club offers members the opportunity to get out and meet others who are also interested in staying active and having a bit of fun, paddle in hand.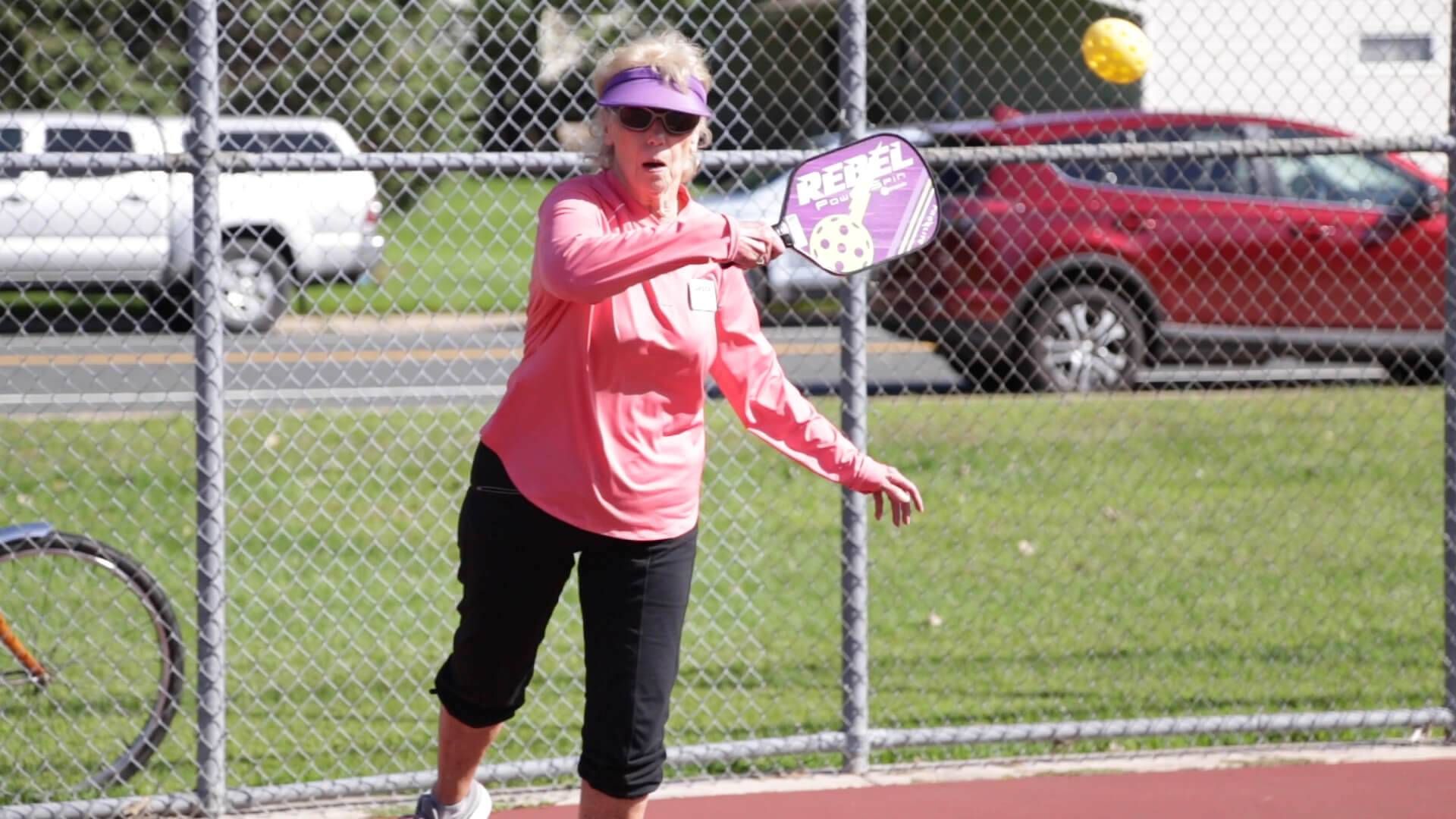 Meeting new people comes easy for club members. At any given time, a player plays with one and against two other players. The games last anywhere from about 10 to 15 minutes before players rotate and play with and against two others. Scores are kept and the goal is to win.
But it's very safe to say that, just by playing on the sun-dappled court on a beautiful Minnesota summer morning, all 40 players went home - or more likely to a coffee shop with their fellow pickleballers - feeling like winners.
Want more sports stories in your life? Check out SportsTalk, our collection of stories inspired by even the vaguest of athletic pursuits.
Saint Paul recently became one of the nation's only cities to build a permanent tuj lub court in a public park. Rooted in 5,000 years of history, tuj lub is an ancient Hmong game that continues to bring together generations of players. Find out how the game came to the land of "Lake Wobegon."
Legendary slugger Harmon Killebrew was a quiet, class act of a man who loved to wash dishes. And he unleashed an unforgettable power on the balls that dared to cross the path of his bat. With 573 career home runs, he still ranks as one of the greatest hitters of all time - and he was the first Minnesota Twin to land in the Baseball Hall of Fame.